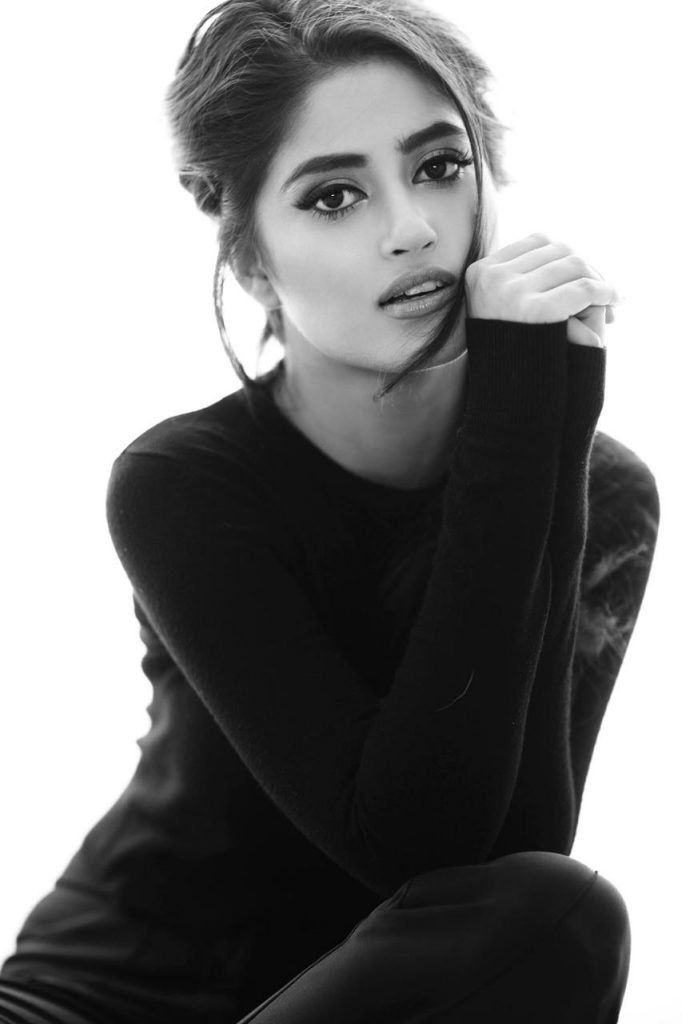 Colourism is a HUGE issue in South Asia and most prevalent in our desi society. People are treated differently because of their skin colour. Light skin privilege is very much alive and well here in many South Asian countries like Pakistan, India, Bangladesh etc.
And what's more problematic is the fact that our celebrities 'willingly' choose to endorse these brands. Fine there's nothing major you can do about the 'gora' complex but the least you can do is choose to walk away when offered to promote a fairness product.
Recently, Sajal Ali starred in a Fair & Lovely ad and received criticism on her choice to do so,
https://www.instagram.com/p/BwP1jy4hzkH/
And ever since the ad has come out, a lot of opinions from fans have poured in:
Really disappointed in Sajal Aly for choosing to do a Fair and Lovely ad when colorism is an obvious issue in our society.

People with darker skin are given poorer treatment, rejected for marriage, jobs, considered lower-class, etc.

— 🔅 (@pkpopculture) April 6, 2019
White supremecy exists even in Pakistani culture where fairer skin is given more importance. If you're white, you get better jobs, better rishtay, better opportunities. "Behold! Verily, you have no virtue over one with white skin or black skin, except by favor of righteousness."

— Pebbles Fish (@chintuandbunty) April 10, 2019
The fundamental problem with the the Fair & Lovely ad is that it promotes racism. #BSE19

— Alya Als (@AlyaAls14) April 10, 2019
heres the thing, i love sajal but what's wrong is wrong. Colourism is a HUGE issue in south asia people are treated like shit because of their skin colour. Fair and lovely literally tells you that you can only be pretty if you're fair? Promoting it is WRONG

— hiba | cies (@zayndeprived) April 5, 2019
I really liked Sajjal Aly, but then she did Fair & Lovely and now I'm kinda sad.

— Alina (@thatkarachigirl) April 11, 2019
Can I sue Fair&Lovely for playing on the insecurities of my fellow brown/dark skinned ladies? And now men too?

— J 💋 (@Qnjayn) April 7, 2019
Fans expressed their disappointment on Instagram as well
https://www.instagram.com/p/BwP6_BnlyC-/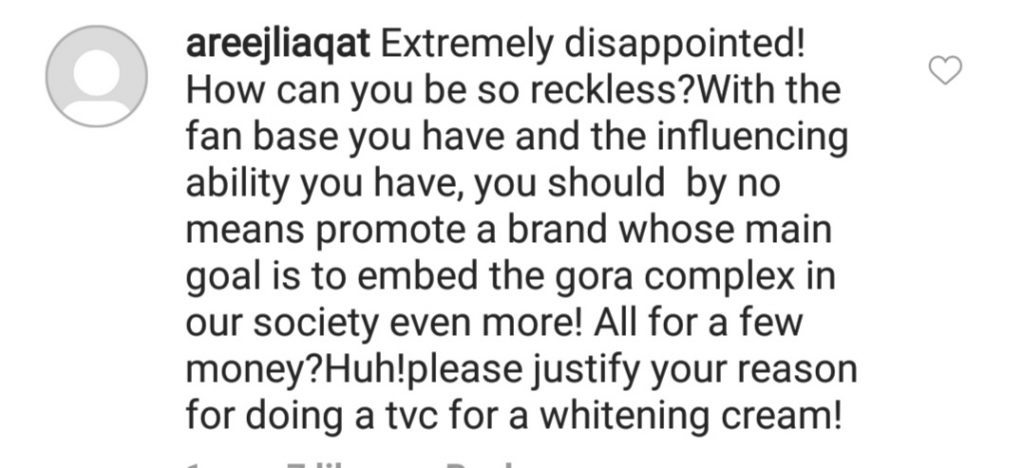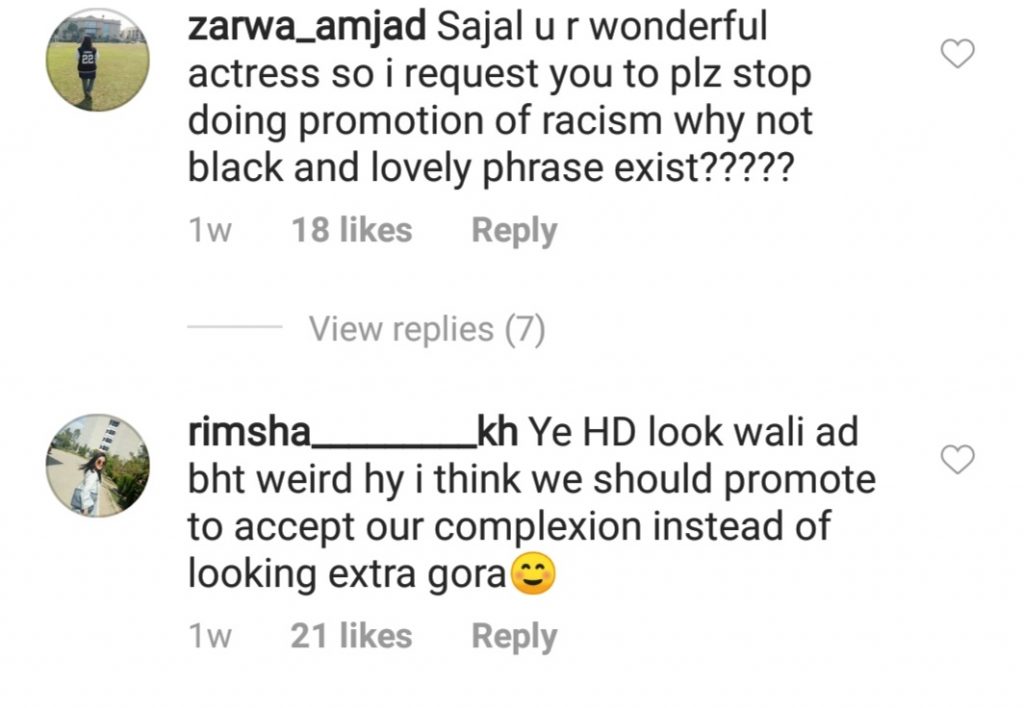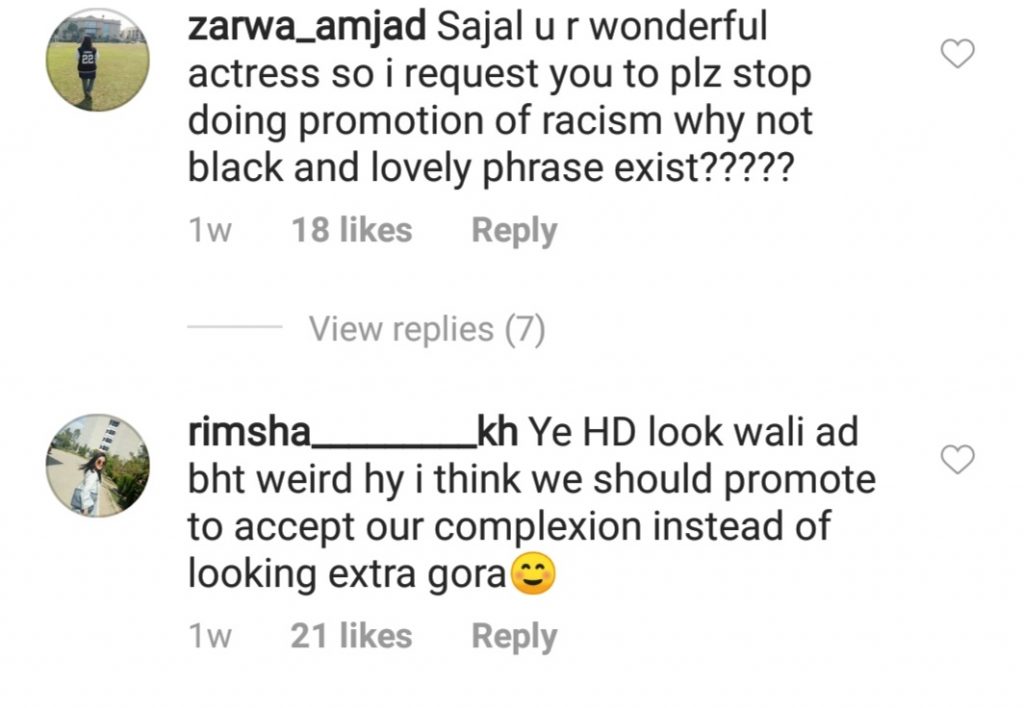 While some criticized the celebrities who choose to endorse these fairness creams. In a society where colourism is already a prevalent problem, the last thing we need are brands and celebrities that encourage this colour divide.
Apart from Sajal Ali other celebrities like Ainy Jafri, Mawra Hocane, Saira Shehroz et al who have endorsed fairness brands in the past need to realize the amount of social responsibility they carry as celebrities for people who look upto them.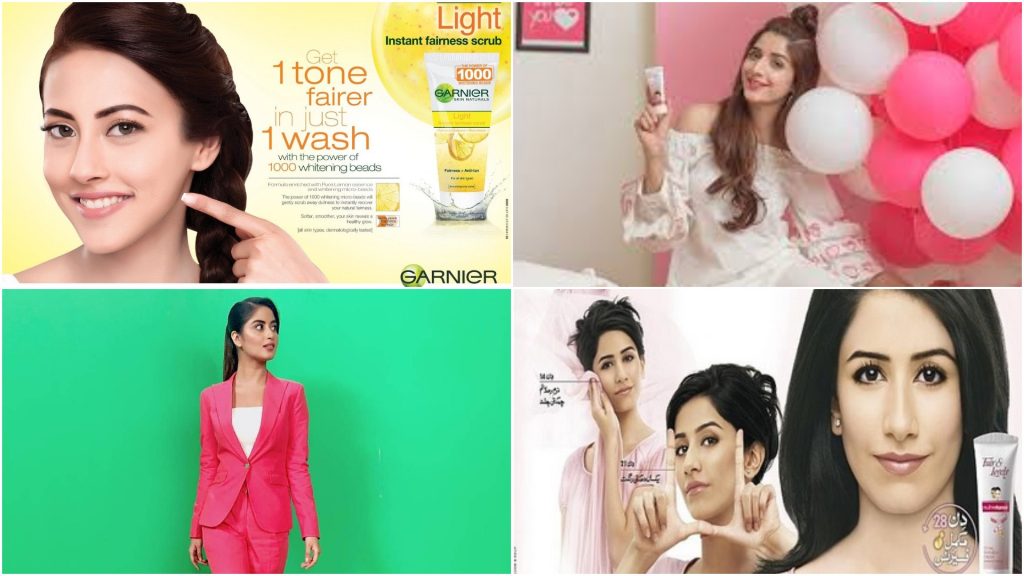 And it's not just women but also male celebrities like Fawad Khan, Shoaib Malik, Shahid Afridi etc have endorsed skin-whitening products also.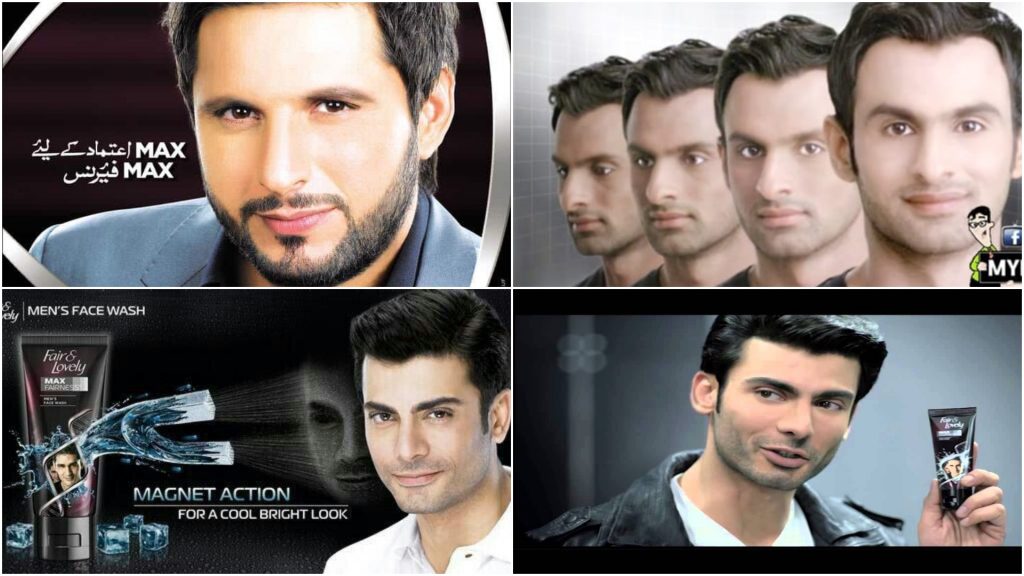 Even A-list stars from Bollywood and Hollywood have been doing the same since ages and it's high time that this comes to an end.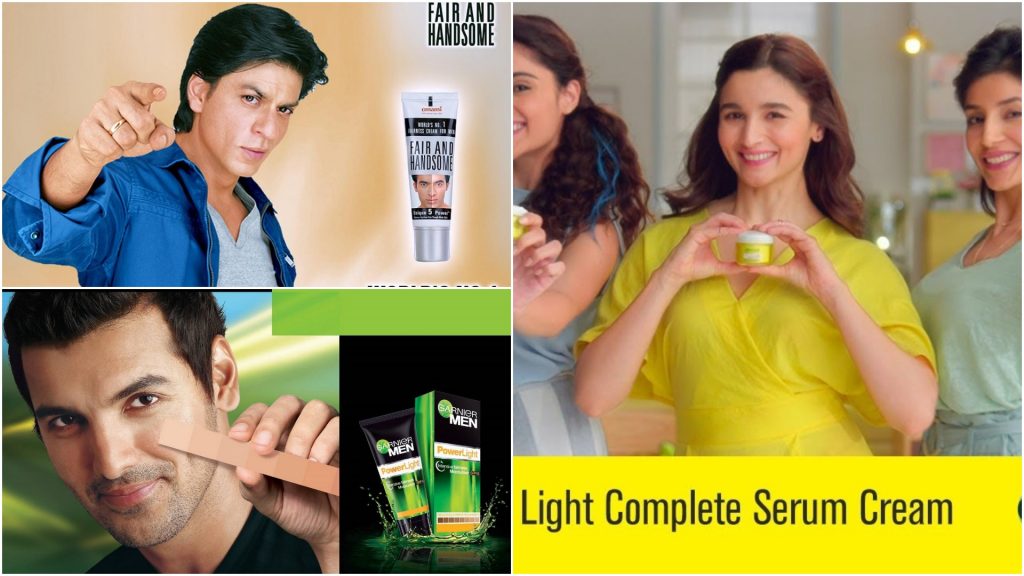 But, there have been celebrities who have openly spoken against endorsing fairness brands and the society's obsession with fairness, Mansha Pasha being one of them
https://www.instagram.com/p/BkiFSUvBuFt/
Previously in an interview with BBC Urdu, Mahira Khan said that she would not endorse beauty creams and she hasn't.
"I don't judge people who use or endorse fairness creams but it is dangerous when this whole concept gives you a complex. Which, I know for a fact, it does because when women talk [about girls] in our society, they ask 'gori hay'? what sort of a question is that?"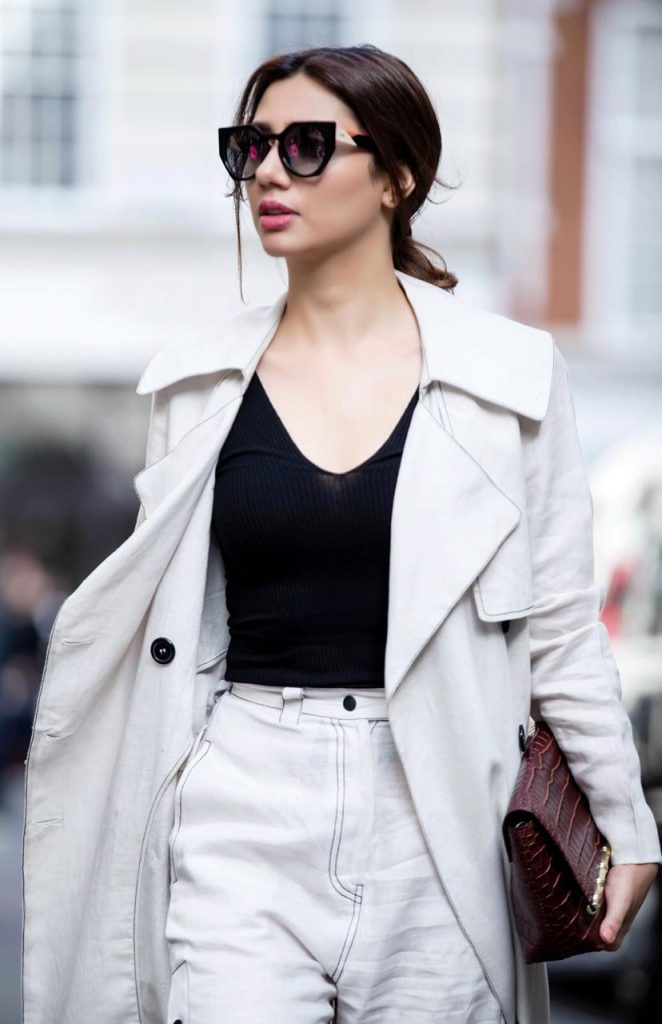 She added:
"I don't know if we have a complex of being fair or whether we are just fond of fair complexion. We have a very powerful entertainment industry, we are the media. We are watched everyday in every household. If we don't break this concept, we will drive it in more. I have strictly decided not to do a commercial that has anything to do with fairness creams."
We're living in a world that is becoming more socially aware day-by-day and thus, actors are becoming more and more responsible for their career choices. While it's about time we start promoting that every shape, size and colour is beautiful, it is also time that our stars start taking their influencing powers seriously.
#LillyRemixesBollywood #LGBTQsquad
Don't need fair&lovely bcz i love me 🥰😚 pic.twitter.com/QINweBqDbd

— Noyan Batoor (@noyan_batoor) April 6, 2019