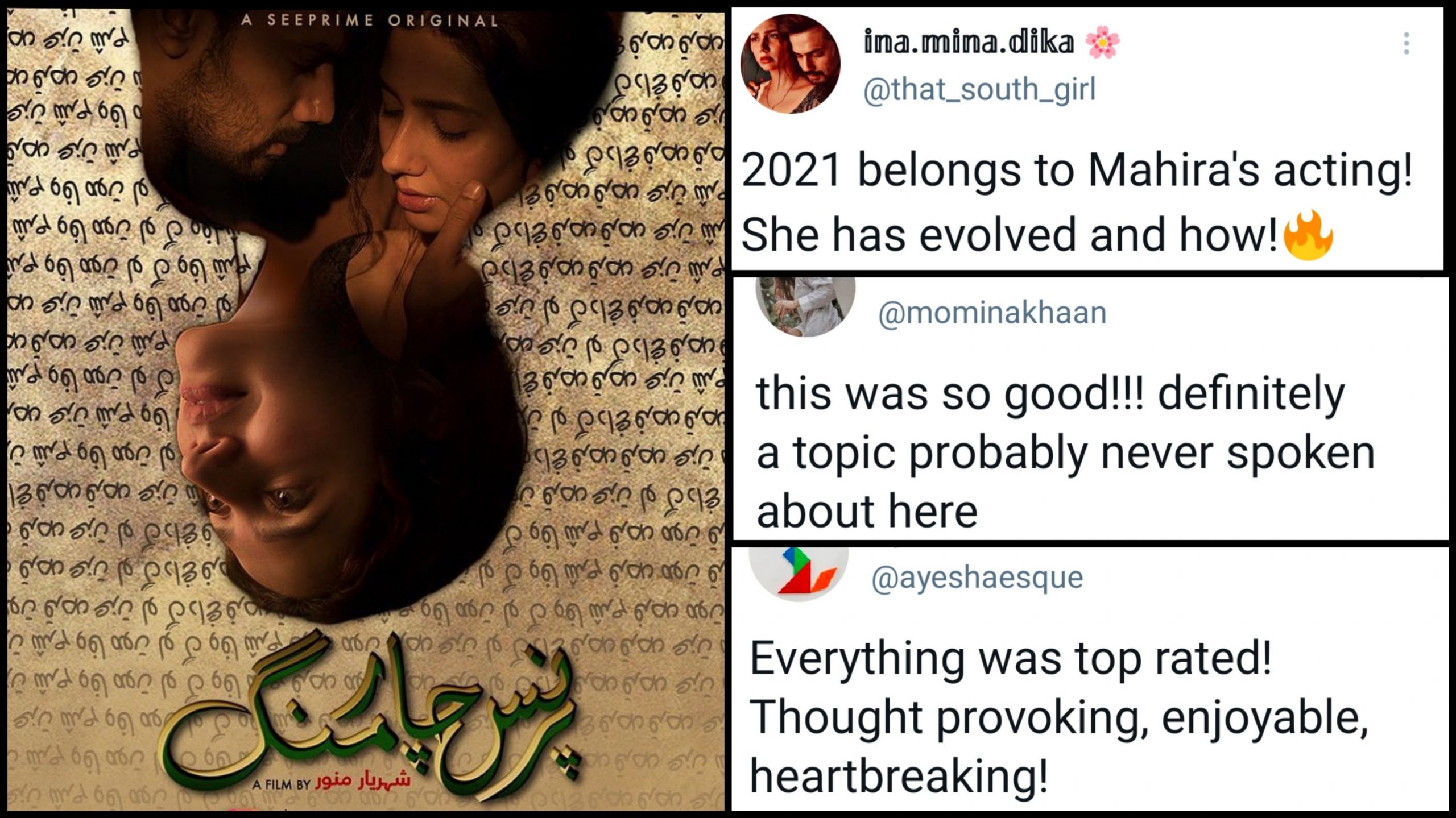 Mahira Khan is back in the game with a bang, from dramas to movies and even short films, she's on a roll and we're here for it! And while we're enjoying her performance as Mehreen in Hum Kahan Ke Sachay Thay, fans have been particularly excited for her short film alongside the acting brilliance Zahid Khan, Prince Charming also marks Sheheryar Munawar's directorial debut and was released yesterday.
Needless to say, the short film was an 11 and a half minute long crisp and phenomenal feat to watch, portraying the taboos of post-marital depression and the monotony of it, and fans are blown away:
The premise of #PrinceCharming is depression after marriage. Mahira Khan is a star. As a society, we harbor dreams towards marriage & are not prepared for the mundane reality & ultimate lack of romance. @zahidahmed_ & @TheMahiraKhan are beautiful together! #PakistaniDramas pic.twitter.com/xmhxWInTDM

— SophiaQ (@SophiaAQ) August 6, 2021
It's all in the details!
OK this was p o w e r f u l ❗ Took me somewhere else for those 12 mins with every second giving goosebumps. @TheMahiraKhan love the diversity in your work + your willingness to work for sensitive causes. This was EPIC. https://t.co/y58gt2jYTs

— Anza (@Anzaa__) August 6, 2021
People found it to be poetic and emotionally raw:
Such a thoughtful, poetic and emotionally raw short film! Brilliantly directed by @ItsSheheryar with amazingly performed by @TheMahiraKhan & Zaid❤️ GOOSEBUMPS!! Do check it out guys!! #PrinceCharming pic.twitter.com/soykoLfoYs

— Toheed🇵🇸 (@toheedx_) August 6, 2021
FACTS!
Shehrezade, Mahira Khan's best performance, right here. 🤍🌹 #PrinceCharming pic.twitter.com/hesjoPKP1v

— 🌌 (@Aesthet1callyFM) August 6, 2021
Definitely our new favourite couple!
Never thought Zahid and Mahira could look this good together 🥵💘 #PrinceCharming pic.twitter.com/u0tISdVApq

— . (@shafaq_durray) August 6, 2021
And it's okay to talk about it:
Post Marital Depression is real and you're not alone.#PrinceCharming 👍#mahirakhan #zahidahmed 🔥

— Yumna Stan Account ❤️ (@lizathereal14) August 6, 2021
Yes!
What an outstanding short movie. They message they deliver, our people really need that to get that into their minds.سنا ہے لوگ"✨✨#PrinceCharming #mahirakhan pic.twitter.com/cmo14EGDN7

— Aniqa_Nasir (@TheWoman2001) August 6, 2021
Oof!
'Ab us ke shahar mein Thahren ki kouch kar jaen… Sharey-e-zaad aao sitāre safar ke dekhte hain'
Ufff! @TheMahiraKhan voice gives me goosebumps😭💘#MahiraKhan#PrinceCharming pic.twitter.com/8p1GIfrTRL

— 🦋 (@Shahzadi_Sipra) August 6, 2021
People were lauding Sheheryar for portraying a topic so daring:
What a masterpiece. Watched & blown away.
Post marital depression is a reality & nobody talks about it. U get goosebumps when u see Mahira's expressions, restlessness, her body language, even her blink of any eye talks depression.
Zahid what an incredible actor. #PrinceCharming https://t.co/C3BFBHtxxx

— Lala Rukh (@Lala02rLala) August 6, 2021
The pain and agony in those eyes!
People says eyes can speak, yours were screaming!! The pain, the confusion, the anger, the dreams, feeling lost, the vulnerability, the darkness…i could feel it all…just phenomenal @TheMahiraKhan 🙌👊💕#princecharming pic.twitter.com/sRtMEHGwTR

— SoNi💫🦋 || Ignore & Fly 😌 (@fanatic_devil16) August 6, 2021
People were thanking Sheheryar for conveying the message so loud and yet so subtly:
@ItsSheheryar dude you created magic and I can thank you enough for it. The message, the cast everything was perf 😭😭😭#princecharming broke my heart. Thank you for discussing such an important matter which is so easily neglected 😣♥️

— Saher (@Saher_Aftab_) August 6, 2021
Agreed!
this was so good!!! definitely a topic probably never spoken about here@ItsSheheryar is so talented wth!!! https://t.co/qwjFWDVl8n

— Momina (@mominakhaan) August 6, 2021
Unfortunately, yes!
This is beautiful @TheMahiraKhan

Post marital depression is real. And it is ok to speak about it. Although women are often negated and gaslit when they do confide in other people. https://t.co/kXKPrhq8t0

— Javeria K (@JavKhal) August 6, 2021
Her eyes really speak:
@ItsSheheryar has done a very very fine job.
And for @TheMahiraKhan , it's all in the eyes. Brilliant!

Also loved the #InTheMoodForLove reference.#PrinceCharming https://t.co/Iz5n7eQiQd

— Muhammad A'raaf (@MuhammadAraaf2) August 6, 2021
People had a great time watching it:
Everything was top rated! Thought provoking, enjoyable, heartbreaking! https://t.co/qTsUlciTLs

— Ayesha (@ayeshaesque) August 6, 2021
chef's kiss
Such a brilliant piece of work. Loved every bit off it! Kudos to #shehryarmunawar for the poetic direction. @TheMahiraKhan and #zahidahmed.. could be felt. The way Mahira protrayed Shehrezaad; terrific. https://t.co/hKt2XQGf1y

— Maham (@Mayhem2107_) August 6, 2021
Kudos to Sheheryar!
What a powerful message! @ItsSheheryar most people shy away from such topics. U not only chose to shed light on it, but conveyed & executed it beautifully. It was precise and to the point, every second had me gripped. And those small details -they were Infact the most impactful! https://t.co/o1XcrXUj49

— Rehana✨ (@HeartChez) August 6, 2021
People were transported into a whole new world:
This just transported me to a whole different space.@TheMahiraKhan you were brilliant in every scene…got goosebumps watching it…those 12 mins def conveyed alot more than any feature film could!!
Loving the kinda challenges you have been taking up and love you for this ❤❤ https://t.co/EHuj6Dc2Ok

— SoNi💫🦋 || Ignore & Fly 😌 (@fanatic_devil16) August 6, 2021
Have you seen Prince Charming yet? Let us know in the comments below!