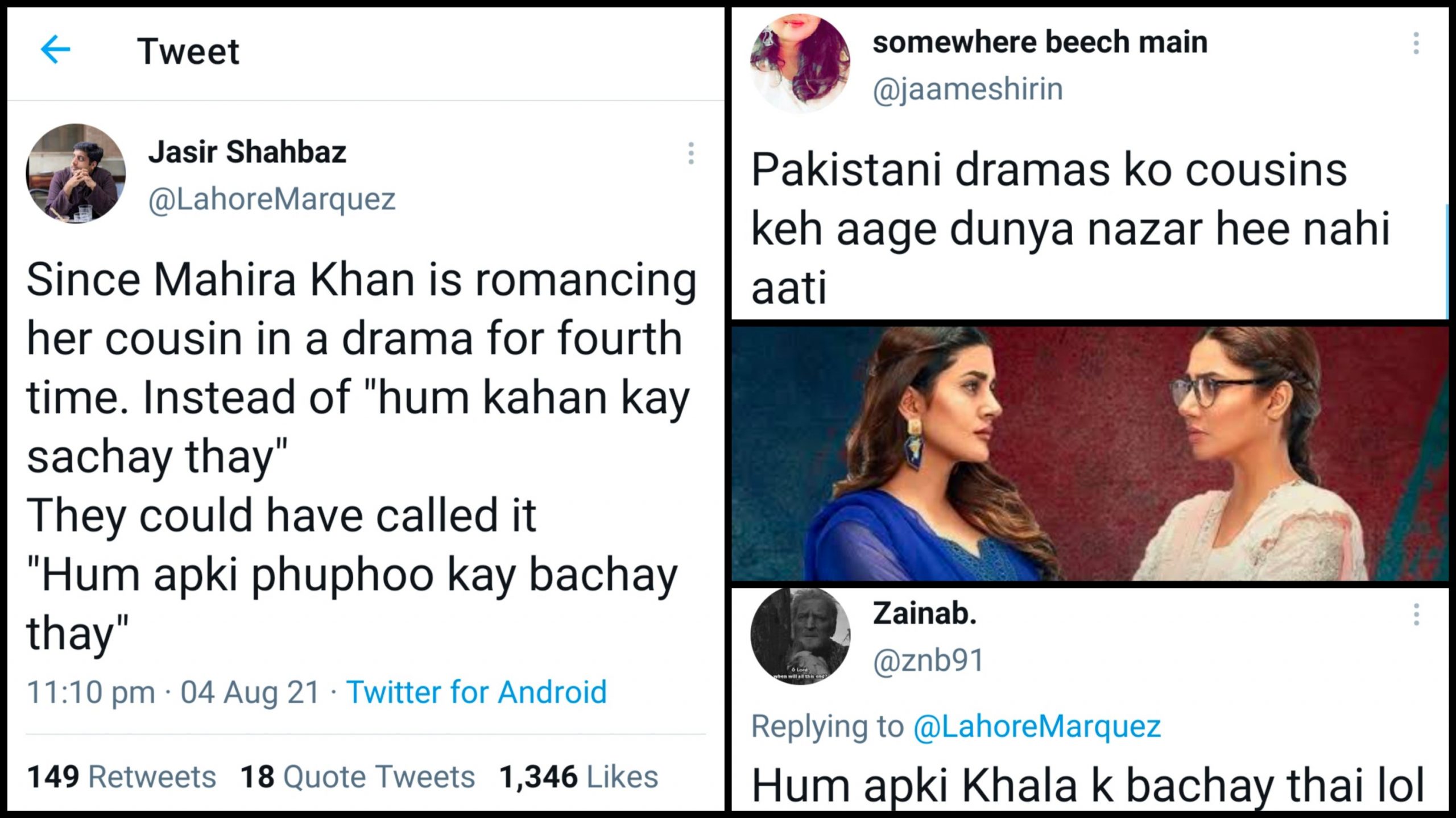 Hum Kahan Ke Sachay Thay has easily become one of the most discussed dramas as people dissect each and every aspect of it. From finding the climbing on the roof of the bus scene unrealistic to romancing cousins, people now have a hilarious new title for it:
Since Mahira Khan is romancing her cousin in a drama for fourth time. Instead of "hum kahan kay sachay thay"
They could have called it
"Hum apki phuphoo kay bachay thay"

— Jasir Shahbaz (@LahoreMarquez) August 4, 2021
This is the fourth time that we're seeing Mahira romance a cousin, first it was Khirad and Ashar from Humsafar, then it was Shano and Khalil in Sadqay Tumhare, then Saba and Irtiza in Bin Roye and now it seems like Mehreen and Aswad will end up getting married. And the netizens kind of agree with the new name!
I see Pakistan still knee deep in cousin marriages and romances. Nice. Some things don't change.

— Aouney || 저녁과 소주 (@GhostOfDiaby) August 4, 2021
People found it to be spot on!
Spot on

— Haibat Khan (@HaibatK35548742) August 5, 2021
Point!! https://t.co/MYJ1zwvcte

— Zainab (@bzainab27) August 5, 2021
😂
Hum apki Khala k bachay thai lol

— Zainab. (@znb91) August 4, 2021
🤷‍♀️
the moment I show interest in a pak drama and this pops up smh https://t.co/fYawptm8Ec

— abdullah (@badshahobadshah) August 5, 2021
People weren't surprised:
What do you expect from Umera Ahmed's stories lmao https://t.co/Er6SqetcDf

— Mrs Avan Jogia (@Wroksha) August 4, 2021
Yeh bhi hai:
As sanam saeed said somebody has to pay the bills. She doesn't have a choice :/ https://t.co/4iXxcaWHsY

— . (@ayfkm00) August 4, 2021
👀
Pakistani dramas ko cousins keh aage dunya nazar hee nahi aati https://t.co/IM3znmS7fY

— somewhere beech main (@jaameshirin) August 4, 2021
People were having a field day!
Pure Gold https://t.co/XCTpyB41Ds

— Jeramie Dean (@DeanJeramie) August 4, 2021
Ussi ne likha hai:
Yeh umaira Ahmed ne he likha hoga https://t.co/cY5sv2tKUy

— 🐥🔪 (@KounMerry) August 4, 2021
But she barely looks 40 and that's what matters:
She is forty, the cousins are in thirty. The childhood shown by producer, Aswad was 18 and Mehreen was 12 🙄

— Aisha Bajwa (@ghaffar_aisha) August 4, 2021
What do you think about this new title? Let us know in the comments below!