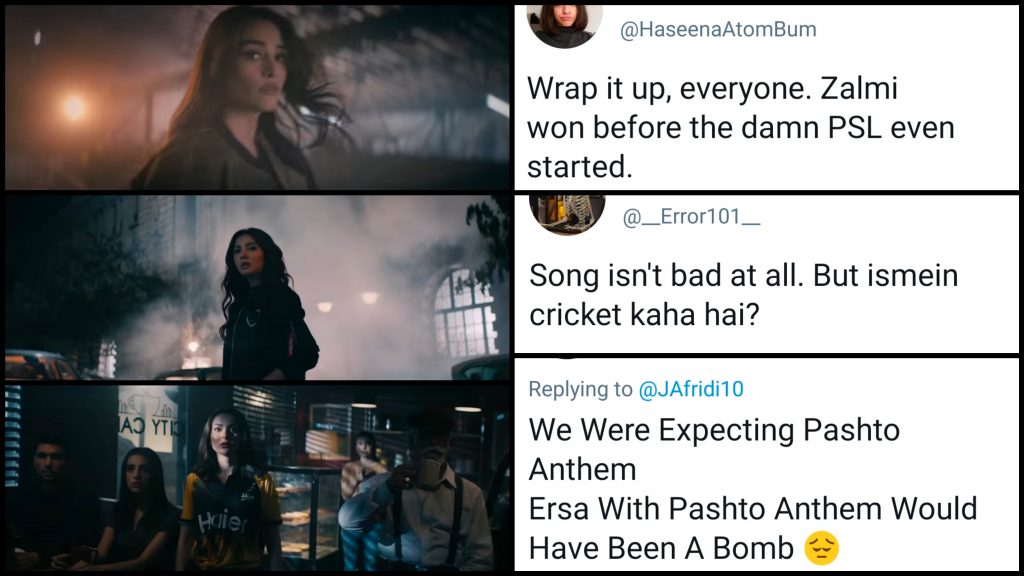 One of the most anticipated team anthems this year has been that of Peshawar Zalmi and it's finally out!
ZALMI OFFICIAL ANTHEM 2021

FURTHER LINK: https://t.co/0yVT4Z0Lco #ZKINGDOM #MahiraEsraHania pic.twitter.com/vsy4daEigw

— Javed Afridi (@JAfridi10) February 20, 2021
Backed by the powerful vocals of Abdullah Siddique and Altamash Sarvar, the anthem features 4 very prominent ambassadors of Peshawar Zalmi including Mahira Khan, Esra Bilgic, Hania Aamir and Ali Rehman Khan.
And as the anthem dropped, it's been gathering mixed reactions from people, with many loving the anthem!
Ooooof 🔥🔥 This is what I call an anthem! https://t.co/dMj8rUAEfM

— AT (@itsaaafreeen) February 20, 2021
People were blown away!
apni team jeete ya nai, the creatives have definitely won #PSL6

THIS IS AN INSANE PRODUCTION i can't even process https://t.co/xtylCb7HsD

— swe etta lker (@aceariver) February 20, 2021
Zalmi ki game hai. What an anthem 🔥🔥🔥 https://t.co/uTc7uxVKpn

— ibu (@issuekhor) February 20, 2021
WOW. PESHAWAR ZALMI ARE HERE.

What. An. Anthem.

— Change of Pace (@ChangeofPace414) February 20, 2021
Everything was done to perfection!
Excellent production. Love this concept. Kudos to the Director and cinematographer. Very well Peshawar Zalmi⚡ https://t.co/DiM92uio5F

— Fahad Quazi (@FahadQuazi5) February 20, 2021
All of a sudden, we're supporting Peshawar Zalmi too!
I'm announcing Zalmi as my second team in case Islu get knocked out cause fucken hell this is awesome!! https://t.co/YFdowtEkM3

— ⎊ Childish Ghambino 🍉 (@Sarkhail7Khan) February 20, 2021
People found it to be better than the official PSL anthem:
Much better than official PSL Antham https://t.co/wKT3DrMyeO

— M Zeeshan Siddiqui(Stay At Home) (@MZeeshanSid) February 20, 2021
Yaaas!
I literally just woke up and saw this and I'm so impressed! I absolutely LOVE the anthem like it's so freaking good!! YOU GUYS HAVE NO IDEA HOW MUCH I LOVE ABDULLAH SIDDIQUI AND HIS MUSIC HE'S SUCH AN UNDERRATED ARTIST AND IM SO HAPPY THEY CHOSE HIM AND AS ALWAYS HE KILLED IT👏♥️ https://t.co/5e5MXKUMo5

— Shalinaaa 🥀 | Exhausted as hell (@Rambelhoe) February 20, 2021
People loved the fact that young artists were given a chance:
Wow. This is everything that PSL anthem is not. Don't @ me. Naseebo is alright but this is progress too, giving a chance to young artists. https://t.co/bHUxjMKeiK

— Nadia (@novocainerush) February 20, 2021
We know right!
Wrap it up, everyone. Zalmi won before the damn PSL even started. https://t.co/tVKjSppkAN

— – (@HaseenaAtomBum) February 20, 2021
Hahaha!
Bhai ap cricket mei kaha agaye. Thora Hollywood mei jao Movies banao. Yaha umer akmal hai toh Zalmi ko dekh leyga

— Lady Ramos❤ (@Ronaldonia2) February 20, 2021
We wish!
Please someone tell me that is #PeshawarZalmi an upcoming Hollywood movie? Can I find it on #Netflix? Thanks

— Dr. kashif khattak (@mkashifkhattak) February 20, 2021
😂
Oh my lord, I was scared for minute from the John wick theme song #PeshawarZalmi

— asimaltaf (@asimaltaf) February 20, 2021
And while lots of people loved the vibe of the anthem, others weren't too impressed:
Slavery of Eng
No cultural dressing sense,No Peshawar heritage,No food…by such anthems u can improve ur tourism but rahther u did that…Javed bhai plzz aapse aese ki umeed nhi thi

— Abrar Ahmed🇵🇰 (@AbrarAh76178139) February 20, 2021
Many thought it should have been in pashto:
Ok wow but shouldve been pashto or whatever https://t.co/yef2KdWcuK

— midnite toker (@retromanz) February 20, 2021
Ceo of Peshawar zalmi is "PATHAN"–fans are pathans–city is of pathans….then why the anthem is in english…? I know that this will attract the international audience but first attract your own audience and promote our own pushto language….🤦‍♂️😔😒

— Muhammad Azlan Khan (@MAzlanshah17) February 20, 2021
We Were Expecting Pashto Anthem
Ersa With Pashto Anthem Would Have Been A Bomb 😔

— Najeeb Khan (@whonajeeb) February 20, 2021
Some didn't really find it PSL-y enough:
It is fab no doubt but it doesn't look like a song for a cricket team. It's more like just random song. https://t.co/4XJRyNr5hS

— Sania,Jughead, Daenerys & Darkling deserves better (@ssabasays) February 20, 2021
Song isn't bad at all. But ismein cricket kaha hai? https://t.co/VR5KwTCCaR

— Meri Bas Hogai Hai… ⁷ (@__Error101__) February 20, 2021
People were disappointed:
Was expecting something great. Great cast but bad choice of song and lyrics. Disappointed. It was @PeshawarZalmi anthem, it should have had urdu and a great portion of Pashto in it. @JAfridi10 you are someone who promotes culture, was expecting much different from you.

— Umer Khan (@umerkhanown) February 20, 2021
Is that a compliment?
Its More Like A Movie Trailer Rather Than A Cricket Song …

— Najeeb Khan (@whonajeeb) February 20, 2021
A lot of assumptions in one tweet:
Best (& da most)U need right nw is an Honest Review & I'm saying this with all conviction based on the music sense coupled wid passion 4 Cricket I hold'this anthem is a sheer DISAPPOINTMENT.& Ask urself pls' U weren't convinced wid this' but U cld'nt say NO..probably in courtesy.

— Kashif Faheem Khan Peerzada (@Kashifpeerzada) February 20, 2021
How did you guys like the 2021 Peshawar Zalmi anthem? Let us know in the comments below!