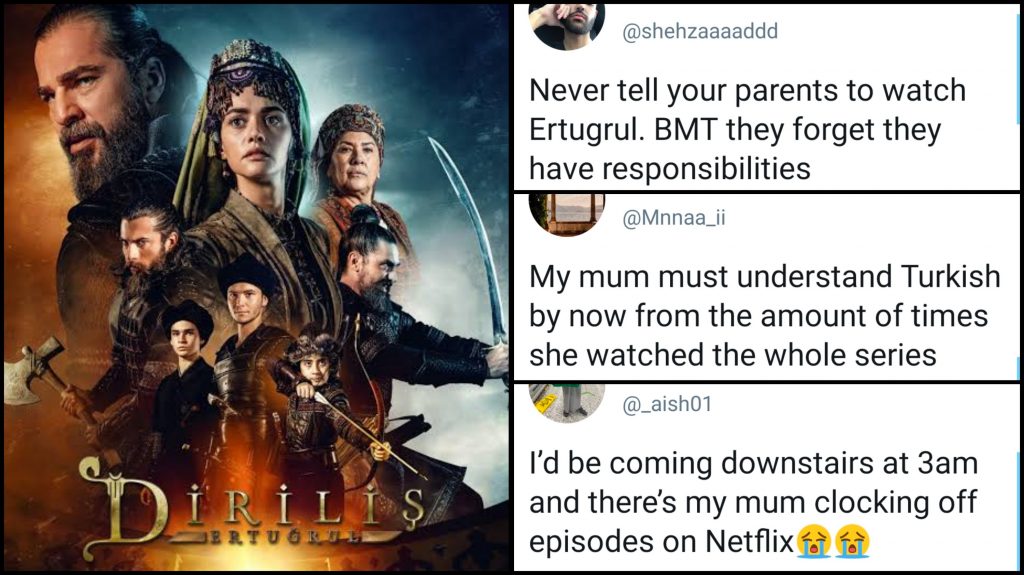 Turkish series based on Ertugrul Gazi has taken the Pakistanis by storm and people from all ages are addicted, be it our parents, grand parents, cousins, or kids, everyone's hooked onto it!
And to make sure our parents had a good time during quarantine, many of us introduced our parents to the series, but what we didn't know was how obsessed they were going to get, hear it from the internet!
Never tell your parents to watch Ertugrul. BMT they forget they have responsibilities

— shehzaaddd (@shehzaaaaddd) June 22, 2020
Girl, same!
I'd be coming downstairs at 3am and there's my mum clocking off episodes on Netflix😭😭 https://t.co/mKFQeJXVxS

— Aish (@_aish01) June 23, 2020
Haha, you bet!
My mum must understand Turkish by now from the amount of times she watched the whole series https://t.co/TumhUnYjK8

— Mnaa (@Mnnaa_ii) June 23, 2020
Love it when parents actually beat their kids to it, lol!
https://twitter.com/eman_zhr/status/1275476327970279424?s=19
My mum binged the show quicker than me😶 https://t.co/PW2qVTmzMP

— Khadijah (@khadijahkhanom_) June 23, 2020
Haha, must have been fun to parent your parents!
I had to tell my parents to turn off the tv and time for bed when they were hooked on this https://t.co/T8Fkal9J8p

— ifrah (@ifrahj1) June 23, 2020
We feel ya!
Havent had a hot meal in about a week https://t.co/XEpviLDtww

— ummer (@UmmerYasin) June 23, 2020
Chances are, his friends might have already told him:
this is why I'm not telling my dad https://t.co/1rUZZEKUG2

— Sadiyah (@_sxdz_) June 23, 2020
😂
When my mom first started watching we didn't eat for a week . https://t.co/LDpZ61Int2

— Ridah Jo(ke)sephs (@JosephsRidah) June 23, 2020
Living for your grandma!
My grandma legit referred to the characters as her 'Turkish family' I thought she made friends with her neighbours or something https://t.co/XTTwFxhz3y

— aliyah⁷ (@Ar_lee_yuh) June 23, 2020
LMAO 😂
I didn't see my daddy for a month 😔 https://t.co/8KIC0zg6b5

— cyril ramapoedjies (@rashieda_ahmed) June 23, 2020
It's just that addictive!
told my dad to stop and wait for me while I had exams (bearing in mind we started TOGETHER) yeh he's on season 5 now and I'm still where we last left off at s3🤧 https://t.co/2PoLfhdqm5

— raazia (@raaziabatt) June 23, 2020
Table talk, everyday, for about a month now!
my whole family are obsessed with Ertrugrul, it's all they talk about 😔 https://t.co/x1IxRYiQK5

— sabah (@sabahafsaa) June 23, 2020
That's the spirit!
My dad literally watched all of it in Turkish and then started watching it again in a version with Urdu instead https://t.co/op20ANepZU

— R 🇵🇰 (@xologyy) June 23, 2020
That's every dad in the country right now!
FULLY! MY DAD WILL HAPPILY SIT DOWN AND WATCH ERTUGRUL THE WHOLE DAY IF HE COULD! https://t.co/rKGxANfg4r

— Mariam (@_mariamm_ii) June 23, 2020
Paaye and Erutgrul together are a mood!
My dad goes to his boys house every weekend to eat paye and watch this 😭 https://t.co/jmGJdRrJw1

— zarz (@zarzzzz) June 23, 2020
Cuties!
I made this mistake, thankfully they're up to date now but before they'd stay up all night watching it 🤦🏻‍♀️🤣 https://t.co/EOUz6qrTg7

— Kainaaat (@KaiKai_Ali) June 23, 2020
The betrayal!
https://twitter.com/JalebiJess147/status/1275406302903181312?s=19
Haha, all attempts to leave Ertugrul behind in vain:
Literally went away to a cottage in the middle of nowhere..Ertugrul didn't leave us there either 🙄 https://t.co/4FCqHcl3lQ

— Shiza Khanani (@KhananiShiza) June 24, 2020
How obsessed are your parents with the show? Let us know in the comments below!