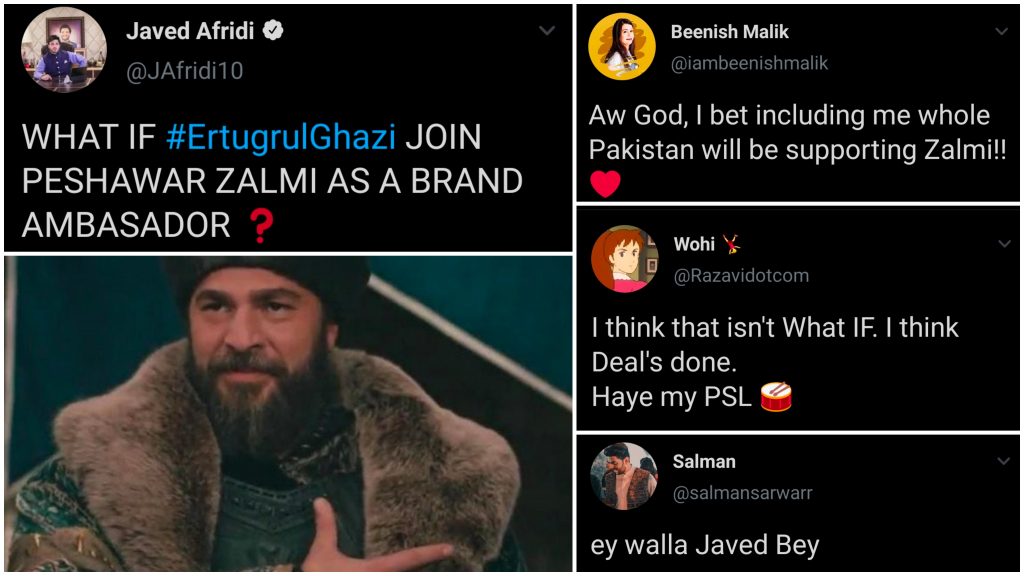 Jumping on the Ertugrul bandwagon, Peshawar Zalmi's Chairman, Javed Afridi has fans excited as he hints a little something about Ertugrul Gazi actor, Engin Altan Düzyatan, being the ambassador for Peshawar Zalmi in the next PSL season!
WHAT IF #ErtugrulGhazi JOIN PESHAWAR ZALMI AS A BRAND AMBASADOR ❓

— Javed Afridi (@JAfridi10) June 30, 2020
The tweet spread like fire and all the Ertugrul fans are way too excited!
— Ihtisham Ul Haq (@iihtishamm) June 30, 2020
Some even imagined him in a PZ jersey!
LaLa we Want to See him Wearing Zalmi Jersey in Pakistan For PSL6

— Muzammil Ahmed Qazi (@MAqazi12) June 30, 2020
Pakistaniyon ke liye toh wohi Ertugrul hai!
you mean the actor who plays Ertugrul?

— Abdullah (@michaelscottfc) June 30, 2020
Some were suggesting Halima Sultan:
And what about Esra bilgic (HALIMA)? Whole pakistan starts supporting zalmi, think big 🤷🤷. #Psl #Peshawar

— USAMA GHAFFAR (@chusamaghaffar) June 30, 2020
Bring haleema:) whole make crowd will be with zalmi atleast

— Nasreen (@Nas_k27) June 30, 2020
People were already determined to attend:
I should must go for each & Every match of Peshawar Zalmi@PeshawarZalmi

— Shirjeel Ahmad Azam (@TEAMPMkhan) June 30, 2020
Low- keyjealous by the move, Lahoris wanted Saad ud Din Kopek to represent them!
Then We want Saad ud din Kopek in LAHORE..

ALAWWWWWW

— محترم وقاص امجد (@waqas_amjaad) June 30, 2020
💖😍 lhr should hire sadettin kopek as their ambassador then😂😂 https://t.co/uo9Z5O5dQI

— Umair Akram (@ifeelforU) June 30, 2020
Islamabadis didn't mind settling for Turgut:
#TurgutAlp for Islamabad United. That's it. 😑 https://t.co/fKdaWWzz5S

— چڑیل_اول✨ (@Churail_Awal) June 30, 2020
Warm welcomes were already pouring in!
a very warm welcome in advance ✌😃❤ https://t.co/uubU23l2pc

— . (@HumayunQuaidian) June 30, 2020
Welcome welcome https://t.co/B6xZAA5qCu

— 安尼斯 (ān ní sī) (@iamaneeskhn) June 30, 2020
It had people changing their city loyalties already!
I will switch my loyalty from Islamabad to Peshawar then😉 https://t.co/dqnNCfGV01

— mubashar bukhari (@mubashar1993) June 30, 2020
Haha, just do it!
Just do it don't ask.🥺❤ https://t.co/3kVpMGxWCe

— C O C O M O (@momna_tahir) June 30, 2020
People were in disbelief!
Esra is coming to Pakistan… https://t.co/x8BxyMH2NW pic.twitter.com/ZWjgGTkQS1

— undone (@shaat_up) June 30, 2020
Jo baat hai!
That will be a marketing masterstroke! https://t.co/qG7RXdj5QJ

— Alii (@Bhuut_) June 30, 2020
Some were excited but also prepared for the heart break, just in case it doesn't happen!
Excited for it , n please es tara k mazak na kiya karay , Awam umeeday ly kar beth jati hai. https://t.co/BVZNris6Og

— Reen Shah 🌻 (@InOneClick) June 30, 2020
Trophy abhi se Peshawar ki hui!
Aw God, I bet including me whole Pakistan will be supporting Zalmi!! ❤️ https://t.co/PycVqsdudS

— Beenish Malik (@iambeenishmalik) June 30, 2020
Salman Iqbal, please?
WoW. @KarachiKingsARY are gonna hire @esbilgic then? https://t.co/A7qTb0Gwsq

— (ابواذلان)IFTIKHAR (@Iftikhar22213) June 30, 2020
Hahaha, you never know!
Na kr plz..ye qoum per talwary le kr stadium ponch jaye ge 😂
@JAfridi10 https://t.co/8GCnpR4tq4

— Hanif Badshah (@HanifBadshah123) June 30, 2020
Some were convinced the deal's been sealed!
I think that isn't What IF. I think Deal's done.
Haye my PSL 🥁 https://t.co/0c0GjEMz3l

— Wohi 🤸‍♀️ (@Razavidotcom) June 30, 2020
Will? This tweet already has everyone supporting PZ!
Wow if that happens everyone will start supporting @PeshawarZalmi https://t.co/DF3s14r3bb

— Javed Ali (@JavedAliOffical) June 30, 2020
Exactly!
He wants all the Pakistanis to support Zalmi😂…It would be great❤️ https://t.co/nMkFipqseX

— Summyia Noor (@summyia_noor) June 30, 2020
What do you think? Let us know in the comments below!