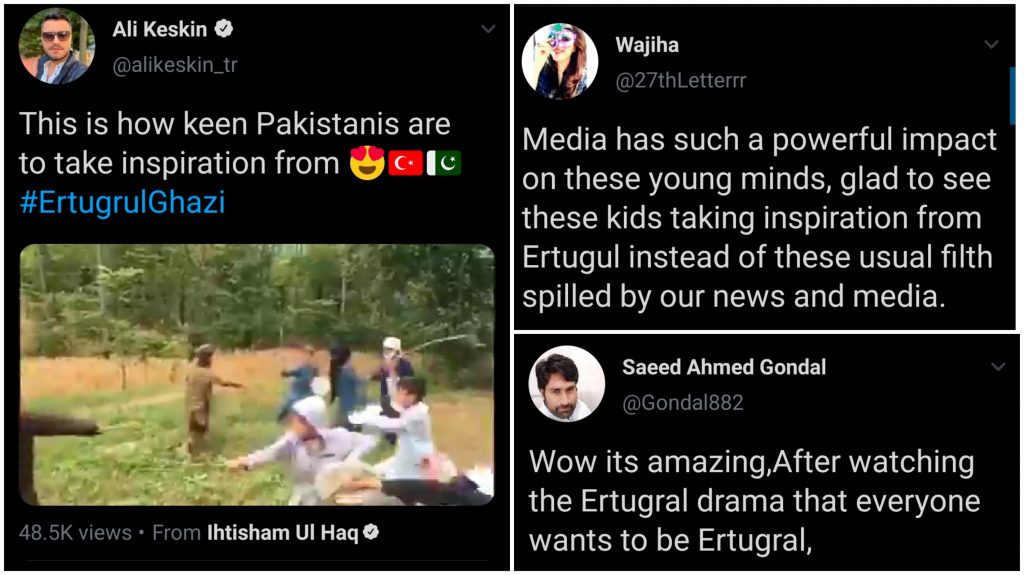 Ever since the Turkish series Ertugrul Ghazi aired in Pakistan, Pakistanis have fallen in love with it and they've been expressing their love by recreating their favourite scenes from the series, but we think this recreation beats them all!
This is how keen Pakistanis are to take inspiration from 😍🇹🇷🇵🇰 #ErtugrulGhazi pic.twitter.com/HzbRAKCCyF

— Ali Keskin (@alikeskin_tr) June 3, 2020
And we're not the only ones who adore this video, the internet agrees with us!
Media has such a powerful impact on these young minds, glad to see these kids taking inspiration from Ertugul instead of these usual filth spilled by our news and media. https://t.co/nZeDn9Ecrd

— Wajiha (@27thLetterrr) June 3, 2020
People were praising the kids:
It's so beautiful very well done. Zindabad https://t.co/ZEKbqFYD7N

— Asrar Nasir اسرار ناصر (@AsrarNasir) June 3, 2020
Parents were sharing how their lids love practising their favourite action sequence:
yes my daughter practices it with me and her father

— Sana Malik (@MalikSana28) June 3, 2020
Haha, kids!
Hahahahha really same 😂😂
My lil cute czn is saying i m not halima sultan….i m ertugrul ghazi😂😂😂 https://t.co/PFJy511smg

— Wirshuuu….🌸(Alizii,hina) CHURAIL B'day soon🎂 (@Wirsha_Khan) June 3, 2020
Baat toh sach hai:
ارتغل کو پتا نہی کہ یہ کس قوم کے ہتھے چڑھ گیا ہے😝😝😂😂 https://t.co/bkdMuYyd69

— ⚔️Ninja⚔️ (@Ninj_aa) June 3, 2020
Definitely!
Jazba Jihaad was already there. Ertuğrul Ghazi has polished it more. Eyvallah ❤️

— Zuhaa Khan (@ZuhaaKhan03) June 3, 2020
People thought this is how one builds a nation:
As a Muslim, we should remember our history, our heroes. They are our inspiration and I'm happy that our new generation is watching and listening to them. That's how you build a nation.

— Sherbaz A l شیرباز (@realsherbaz) June 3, 2020
People were loving it!
Love it💖💖 https://t.co/002HEwuW4C

— [email protected] (@rosymoutiz) June 3, 2020
Many were taken back to their childhood days:
Hahah the scene remind me of my childhood https://t.co/mO7aQa1mIG

— Malik Naveed Awan (@abdulnaveed75) June 3, 2020
Yessss!
@DirilisDizisi Pak kids are ready 😍,, I mean it's really great following https://t.co/VWmHzL37w9

— Ali Yazdan Ghumman (@Yazdan80) June 3, 2020
Kids are growing up seeing real heroes!
Wow its amazing,After watching the Ertugral drama that everyone wants to be Ertugral, https://t.co/qKDuMzWKrC

— Saeed Ahmed Gondal (@Gondal882) June 3, 2020
People could see the love there children had for their heroes:
Pakistan's children are full of love for their homeland🇵🇰🇹🇷 https://t.co/yt1mfSe6T3

— Haseeb (@Haseeb45235325) June 3, 2020
People couldn't get enough of it!
Ay maşaallah

— Rümeysa Nur (@tturk_01) June 3, 2020
Ay MashAllah 😍 https://t.co/ZqXAETONvZ

— Murtaza Sheikh (@Murtazasheik99) June 3, 2020
ہائے ماشاءاللہ ۔۔۔

— میناشہباز (@Menamaliks) June 3, 2020
Eh Maashallah our Aslihaan https://t.co/zZjSJyquKf

— Saima Malik (@SaimaRMalik) June 3, 2020
People were sharing videos of their own kids in the comments:
Farwa Zainab in Action pic.twitter.com/qbnDf1vUwO

— Touqir Nasir (@TouqirNasir8) June 3, 2020
People were grateful for the series being made:
Bro we pakistani even every muslim will be very thankful of turkey and #MehmatBuzdag who gave such a wonderful drama series on our greatest muslim hero #ErtugrulGhazi. We pak people have tied to watch our rubbish dramas so cold love stories and saas bow etc.

— SaQib AbbAsi🇵🇰(ثاقب عباسی) (@SaQibAb12878634) June 3, 2020
Thank you turkey for giving us dirilis ertugrul ❤️

— Dr 🚭 (@Hitler_sayings) June 3, 2020
People were happy with the content:
Thanks God our kids learning good things from Islamic history and got rid of fake indian dramas n catroons

— Capricorn (@77CAPRICORN77) June 3, 2020
Some however, were not too keen:
The only thing we need to take inspiration from Ertugrul is the ladies of Kayi Tribe or Ibne-Arabi.

Kids involved in such heinous act of copying a battle scene is insane. How can we expect peace in coming 20 years? https://t.co/vUaKgtH6cz

— Tanveer Nawaz Khan (@tanveernawazkhn) June 3, 2020
What do you think about this video? Let us know in the comments below!