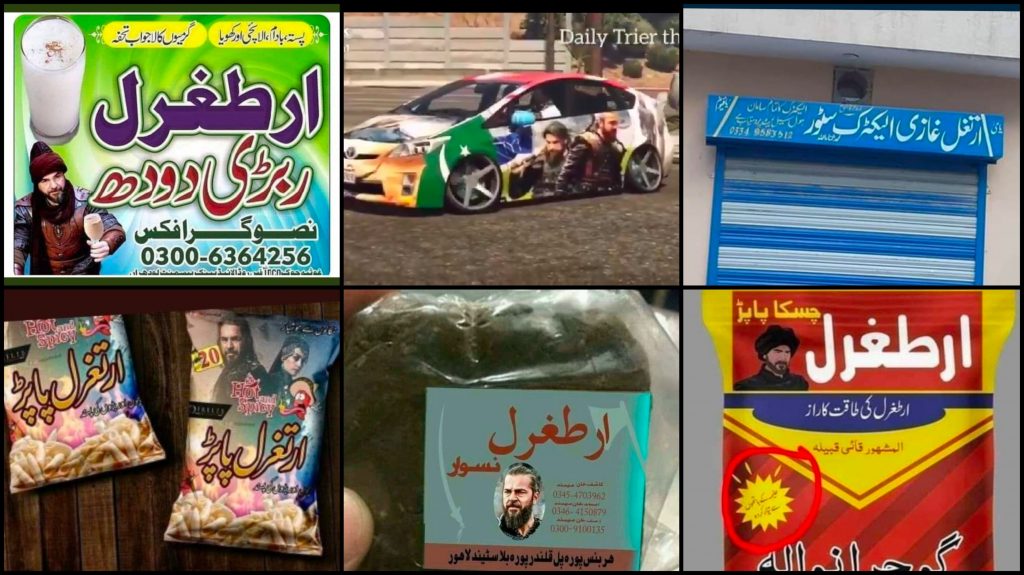 Ertugrul has taken Pakistan by storm ever since it aired on national television and people are so obsessed with the show that they've started making things on Ertugrul, trust us, there's an Ertugrul solution to all your problems!
Feeling hungry? Craving some snacks? You've got Ertugrul chips!
Wait is Over !!
Hot and Spicy #Ertugrul_Papar
This is just a trailer !! pic.twitter.com/xQZNPv2x3j

— 💕 Unjoo 💕 (@Farmaiyei) May 10, 2020
And just in case Ertugrul chips weren't enough to convince you, we've got 'Halima Ke Haathon Ke Banay Paapar:'
Haleema k hatho bny " papar" kis kis ny khany hai. stock are Available😂😂@mahwashajaz_ @GFarooqi @janbaazsania @hinaparvezbutt @CynthiaDRitchie @amnakhani123 @FarooqAleena @iihtishamm @mishaalmughal85 @NatashaKLondon @mona_qau @RabiaKhanGul @Mairble @zaraali17 #Ertugrul #CSS pic.twitter.com/BcMnzbHRWa

— Abidullah (@577_abidullah) June 25, 2020
Craving something sweet? Ertugrul rabri doodh is here to save the day!
Ab to bus Ertugrul beauty parlour ka wait hi 🌚😂 pic.twitter.com/nFg1McoNcc

— Hani💤 (@iLsa__here49) June 23, 2020
Have problems with your electrical appliances? You can definitely count on Ertugrul Electric Store:
Presenting you Ertugrul electric store😑😂 pic.twitter.com/9yf8n50988

— FiLzahhh💫💕 (@BaLoChZaDi6) May 18, 2020
Want some BBQ? Try Ertugrul BBQ!
Ertugrul barbeque point on banks of Dal Lake Srinagar in Indian Occupied Kashmir.#ErtugrulGhazi #Ertugul #Kashmir pic.twitter.com/ppOdYLMLS6

— 𝑭𝒂𝒊𝒛𝒂𝒏 𝒁 𝑩𝒉𝒂𝒕 (@FZBtweets) June 11, 2020
Nasha toot raha hai? Pssst, here's some Ertugrul naswar 😂
#Ertugrul naswar is available now
😁 pic.twitter.com/GIhZVWuS7c

— Sahaf Kashmiri voice of Kashmir (@sahafkashmiri) May 11, 2020
Bike's feeling a little meh? Welcome to Ertugrul Service Station!
" It's just Beginning 😃🤭#Ertugrul #ertuğrulghazi #ErtugrulUrduPTV_TRT pic.twitter.com/TVcWRkRby5

— Umaır Şhahzad 🇵🇰 (@ImUmairShahzad) May 3, 2020
Need motivation to get moving? Here's how!
Ertugrul is taking over in Pakistan 😂 pic.twitter.com/rljyj1SCdy

— ✌🏼 (@DreemsVisionary) June 28, 2020
Does your car need a makeover? Ertugrul to the rescue!
پاکستانیوں 🇵🇰 کی محبت کا انداز ❤#Ertugrul @eadksk @CngzCskn @nsonmezofficial @cemucann @GyulsimAli @AliSahin501 @mmehmetbozdag @Riy pic.twitter.com/TkiceKERcV

— Mohammad Haنif (@Engr_Haniff) May 18, 2020
You think your kids are lazing around? Put them to work!
You think your family is obsessive over Ertugrul ? My brother's made a sword 😂😂😂 pic.twitter.com/7HIfAiLCBn

— Sumayah (@iisumayahxo) June 22, 2020
All caught up with the series and are bored? Read the comments under the cast's personal pictures and hit your head!
Pakistanis literally think that these actors don't have life outside Ertugrul. 😂🤦‍♂️ pic.twitter.com/2dRiir7kN1

— UsmaN Khan 💜 (@ConnectTiger) June 20, 2020
With so much of Ertugrul everywhere, people were guessing what might be next!
Wo waqt dur nahi jab haleema nimko haleema chooran Ertugrul papar #Ertugrul kulfi shops par bikti nzar ayengi.

— حمزه🔥🇵🇰 (@dadu_charger) May 9, 2020
Haha, excited for the salon 😂
Abi Ertuğrul papar, chips, samoosay ki dukan or han Ertuğrul hair salon b aye ga 😂🤣😂🤣😂

— that_pindi_girl✨ (@bixmashah2411) May 3, 2020
Ideas hi ideas!
#Ertugrul nimko, ertugul falooda , ertugul service station or ertugul cafe !!
They all coming soon

— M i r (@MYUwrites) May 6, 2020
We reckon it's a little too late for that 😂
For the love of God, please don't name your newborn Ertugrul. 🙏

— Baji Please (@BajiPlease) May 10, 2020
What do you think about this nation's take on all things Ertugrul? Let us know in the comments below!