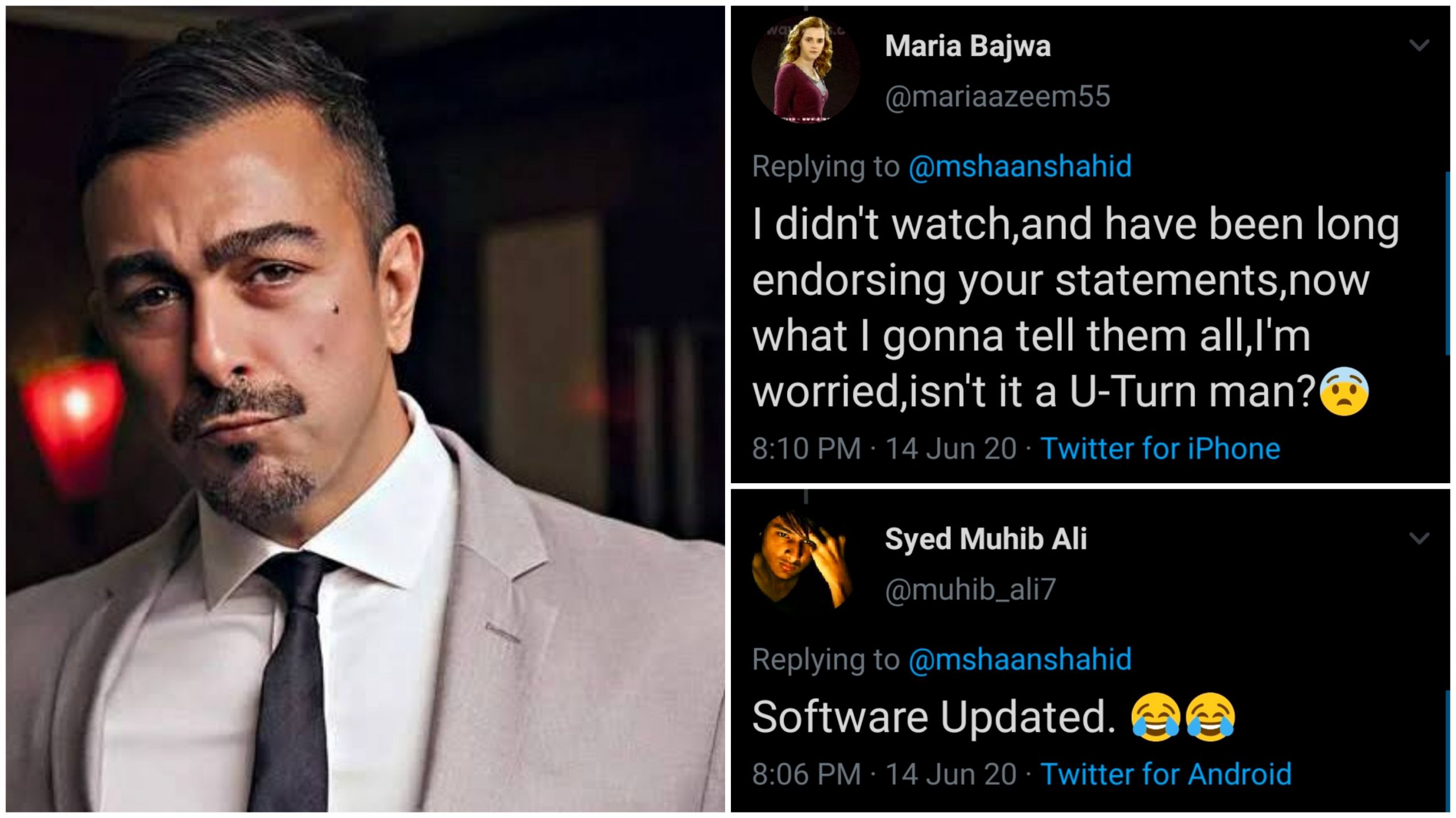 Ever since PTV started airing Dirilis Ertugrul, Shaan has been against it and made strong statements that PTV should broadcast local dramas and films instead of Turkish ones.
However, things took a turn when Shaan tweeted how he loved watching Ertugrul on Netflix and called it a masterpiece:
Just finished watching it what a good effort.. a classic masterpiece. Special thanks to the producers #mohmatbezdag #kemaltekden directors #akifozkan #metingunay #hakanarslan . The cast ♥️ and the technicians who all worked tirelessly to make this epic.thankyou #Netflix pic.twitter.com/AydxQU1N3v

— Shaan Shahid (@mshaanshahid) June 14, 2020
And people had a lot to say!
That's the spirit. Let's enjoy good art. Let's do the same in Pakistan. Let's collaborate with them and do something similar. Together, one nation two countries. 🇵🇰 🇹🇷

— سہیل | Sohail (@SohailAnwer) June 14, 2020
Many thought this was a 'software update' scenario:
Software Updated. 😂😂

— Syed Muhib Ali (@muhib_ali7) June 14, 2020
Fans admitted how they were hurt when Shaan spoke against the Turkish series being telecasted on PTV:
Really really really Thank you so much for watch and supporting #ErtugrulGhazi sir you know I'm a biggest fan of you. Pichly dinu bahut hurt hua jab dekha k ap es k haq men nhi hen. But after this tweet shaan sir you made my day i Swear. Love you so much. More respect for u now. pic.twitter.com/uwQzJE8u0O

— Imran Khan (@ImranKhan_IK7) June 14, 2020
It seemed like a U-turn to some:
I didn't watch,and have been long endorsing your statements,now what I gonna tell them all,I'm worried,isn't it a U-Turn man?😨

— Maria Bajwa (@mariaazeem55) June 14, 2020
Halaal U turn?

— Güzel (@RumzSk) June 14, 2020
But Shaan clarified that he watched the series on Netflix and not PTV:
I watched it on Netflix

— Shaan Shahid (@mshaanshahid) June 14, 2020
Some were speculating how this could be because of a collab with Turkey:
What do you reckon, did Shaan start watching Ertugrul after news of Turkish – Pakistani drama collaboration hit us? https://t.co/SSzz13XOF2

— N. (@novocainerush) June 14, 2020
Some were happy:
Thanks for finally realizing… https://t.co/PdXLPSsb4q

— Waseem Abbasi (@Wabbasi007) June 15, 2020
People had high expectations:
Shaan, we all know you can do such a great piece of serial from our history. No glamour and vulgarity are required for such a huge success like Ertugrul. A producer with right actor for right character, good script and definitely an exclusive director are the only ingredients. https://t.co/YvPCJEhGdS

— Naeem Zarrar (@naeemzarrar) June 14, 2020
Have u finished all seasons? I hope u will find a way to produce such masterpiece in Pakistan…

— یَاسِفْ Yasif (@IamYasif) June 14, 2020
Some were confused!
What happened here 😂😂😂😂😂😂 https://t.co/7zMHWVy2LA

— Keshef N Mir (@kashmirichai__) June 14, 2020
Some were calling him out on having double standards:
Speaking of double standards. 🙄 https://t.co/x3lWNYuSSF

— Snober Abbasi (@snobers) June 14, 2020
Some agreed that people should be allowed to have a change of mind:
People should be allowed to change their mind when they know better or have a change of perspective. https://t.co/WWSvqNXPvt

— Afifah (@afifahtweets) June 14, 2020
Some weren't too happy:
You're the one who is always talking about promoting our own content and culture then why watched it on Netflix? What about promoting your own national Tv channel? https://t.co/Fe3pX34byA

— Ayeshay (@champagne_lassi) June 15, 2020
Some thought he was trying to be sarcastic:
Am I the only one who thinks he is being sarcastic ? At least he got people off his back for a while. Smart move boss. https://t.co/5V25bREtSN

— XULQI MOON (@XULQIMOON) June 14, 2020
Some thought he was trying to get into the 'good books:'
Bhai trynna make it back to pakis' good books. Sorry bro too late. https://t.co/NA5aQoiwKf

— شِزہ🇵🇰 (@shizakhaled) June 14, 2020
Some thought he was hacked!
Who hacked Shaan Shahid's account? 😂 https://t.co/kjUzNQH7Ql

— Talha (@talha33) June 14, 2020
What do you think about Shaan's change of mind? Let us know in the comments below!