Ever since the Lux Style Awards 2019 revealed the nominations, it's faced a lot of criticism on the jury being unfair. People even went to the extent of calling them the Parchi Awards because of the biases in the nominations. Many celebrities and their fans have been disappointed in the list.
Ahsan Rahim, the director of the blockbuster film 'Teefa in Trouble,' also expressed his disappointment about how the film was not nominated in the music category. He took it to twitter and posted how the jury was biased and presented screenshots of how well the songs from Teefa in Trouble had done in terms of views and numbers on YouTube.
@omair78 @Fareshte @KamranJawaid @LuxStyleAwards @FriehaAltaf
My appeal to the team of #LSA2019, #unilever and those who believe in standing for the right. pic.twitter.com/OIVTLwbOKX

— Ahsan Rahim (@theotherahsan) March 30, 2019
"It goes to show how certain biases of certain individuals can turn the game upside down just because they don't like you or your film personally or you didn't let them use your music for free for their performances. I won't be surprised if my film -the biggest non-holiday blockbuster of all times in Pakistan- goes unnoticed at the awards just because the voice of a few in charge is louder than many millions," he shared in a note on Twitter.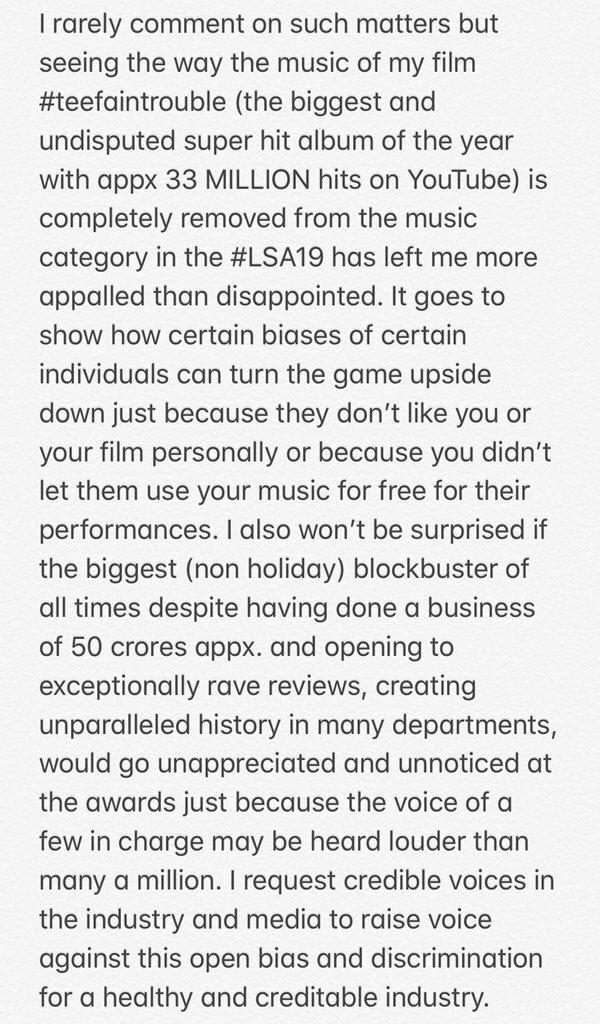 Fellows and fans quickly came out to support Ahsan Rahim and Teefa in Trouble with the hashtag #IStandWithTeefa
Let the quality speak out, not the hatred! @AliZafarsays @theotherahsan @mayaali07 #TeefaInTrouble https://t.co/USgOyioSJQ

— Hammad Rais (@hammadrais32) March 30, 2019
Ahsan Rahim wasn't the only one disappointed with the list of nominations, Shani Arshad too expressed his disappointment on Koi Chand Rakh's OST not being in the nominations despite being one of the most popular OSTs of the year.
Koi Chand Rakh is one of the most popular OST of the year and more popular than the nominated ones, but not added in the #LSA2019. Some research is needed before announcing the biggest awards of the country. pic.twitter.com/Lit8JArEZ9

— Shani Arshad (@shaniarshadali) March 30, 2019
What do you think about the LSA nomination list? Let us know in the comments below!