By Zurain Imam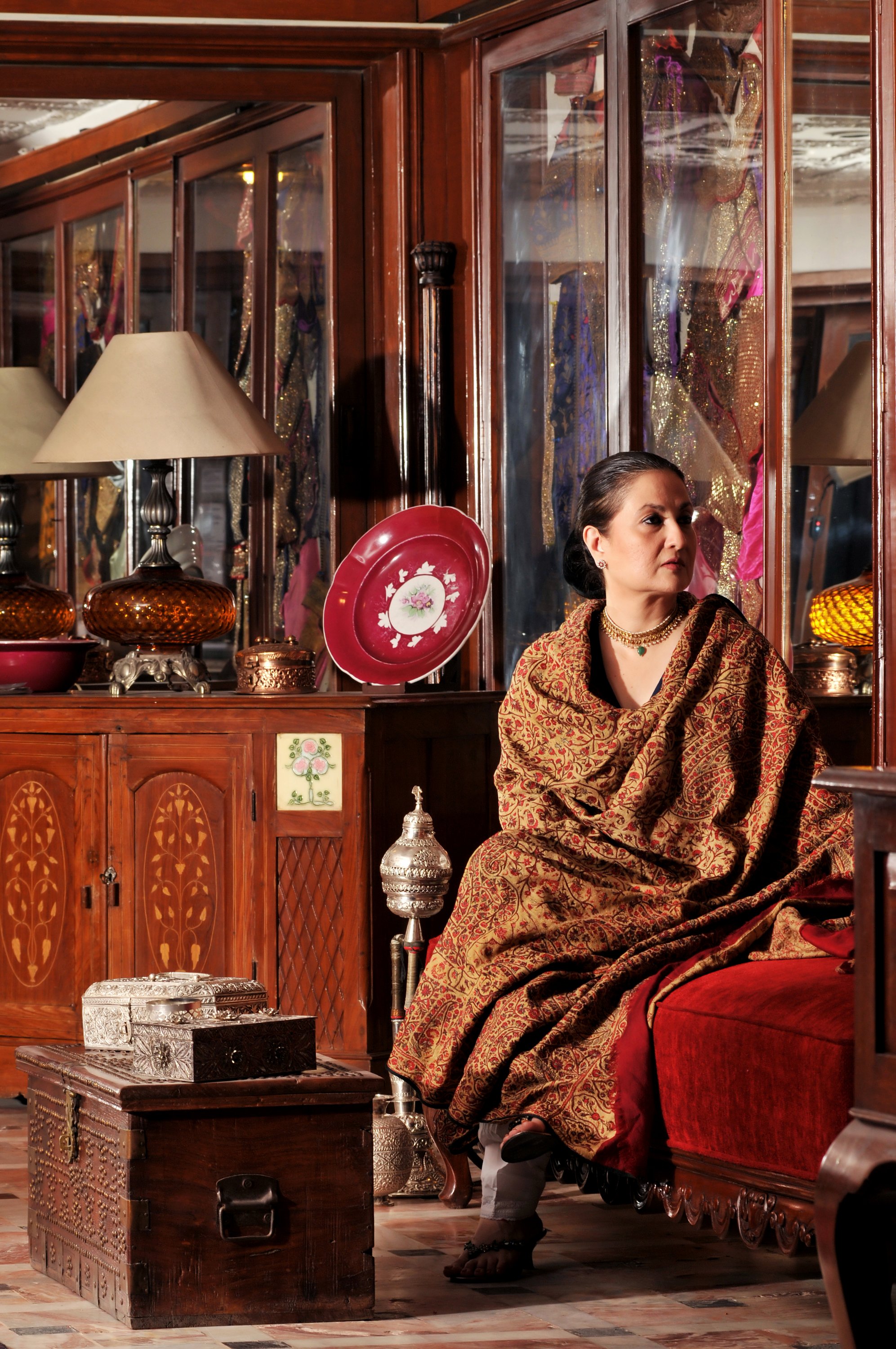 Bunto Kazmi is the undisputed queen when it comes to intricate and beautiful bridals. A Bunto Kazmi jora will always stand out from the rest, and today we're going to find out the secret of what goes into the making of a signature Bunto Kazmi bridal.
When and how did your mother-in-law (and maternal aunt) Sughra Kazmi begin her bridal atelier and business?
My mother-in-law Sughra Kazmi who is also my khalla began work in the fashion business in the late 1950s. Creating bridal trousseaus was her hobby which she made for friends and family.
How soon after your marriage did she rope you in to help her?
The best thing was that Mrs. Kazmi never asked me nor forced me to join her. She said I could join whenever I felt like it. But when she fell ill and needed a surgery I thought I'd be the good little bahu (daughter-in-law) and help out, this was in 1979.
Did you have an inherent interest in fashion, particularly of traditional trousseau and bridal wear?
Not at all. My interest in fashion was limited to that of an average woman's. In the beginning I sat with all the women helpers in the back of the workshop, I was like any other staff worker. I did not attend clients until I learned the ropes, getting boxes down from shelves and learning how to fold clothes. Mrs. Kazmi really stressed on learning how to fold!
When one hears of bride deciding to wear a Bunto Kazmi ensemble, one usually assumes she covets an extremely classic and traditional bridal look. Wearing a Bunto Kazmi is also the hallmark of and synonymous with "the very best" akin to wearing a Vera Wang bridal in the west. How does that make you feel?
How does one answer that? It does make one feel good. I adore tradition, as it is our link to the past. But after a time I wanted to bust out of traditional conventional strictures call it a taste for challenging traditions. I would say now 50 percent of my orders remain traditional and 50 per cent I make into contemporary bridal wear.
Do you ever have the urge to make something totally atypical and contemporary? And if you did have to make a modern outfit what would it look like? Or do you believe bridal outfits should be timeless heirlooms?
Over the years I have sent traditional looking outfits with a contemporary edge abroad particularly to India. But essentially I try to make heirlooms. Recently a girl was wearing Mrs.Kazmi's outfit to a mehndi and it looked good as new. It gives me immense pleasure to create something so classic and realize that it hasn't gone to waste.
How would you describe the Bunto Kazmi signature style aesthetic? Does red always play a part in it?
Elegance with a little bit of drama. I am a stickler for attention to detail and finishing and the right colour is essential. People think I only make red bridals, which is not true. When my brides wear a red jora, I ask make-up artists not to use red lipstick with my red joras. Red does not really suit our sallow yellow complexions and if one is to wear red one should learn to do light make-up.
Describe the process of designing for a bride. Do you still meet all of your prospective brides face to face?
I see every client of mine personally face-to-face even if it is for several hours. After the initial meeting when they have discussed the colour and the cut and what they like they leave the rest up to me. I have a carte blanche. The embellishment is all up to me.
In these difficult economic times how do you justify the price of your wedding joras? Please describe the painstaking process that goes into the making of an outfit in terms of time and handiwork.
My foreign clients who live abroad spend more.
Creating an outfit takes a lot of time up to three to four months sometimes up to a year. There is painstaking detailing involved. I ask the client her budget and tell her straightforwardly that this is what she will get within that budget. I tell them if I can accommodate and spend less on the embroidery and offer a little more, I would try. I am following my mother in law's footstep in how she dealt with clients. When a client has always dreamt of wearing a Bunto Kazmi bridal jora I can't send them away disappointed just because of the budget. It's about marrying art with commerce. Creating a bridal jora takes physical and mental dedication and immense patience because of its sheer physicality!
What is the busiest month for bridals?
I would say all year around! But the holiday season abroad is busy with January through March being the busiest times.
Have you seen your designs plagiarized?
Brides often put up their wedding pictures on Facebook where they do get copied from. Colour combinations? Oh my God. But there is no copyright on fashion and if you change seven things on an outfit it is technically your own!
What is your favourite look for a bride? Sari lehenga or gharara?
I like a farshi gharara made from banarsi but I prefer plain silk.
Your favourite colour on a bride?
I love colour combinations that are not run-of-the mill. I enjoy mixing different colours not only red.
Your ideal bride is one who is…?
My ideal bride is someone who is simply dressed. My mantra was always 'less is more' although now the call of the day is just more! An ideal bride would be someone who is also patient.
What did you wear on your own wedding?
My mother-in law Mrs. Kazmi and her eldest sister Bajia (Fatima Surayya Bajia) co-designed the most beautiful outfit for me! My outfit was a melon pink and royal blue huge farshi gharara with a short kurta called a shaluka which I wish would come into fashion. The back was the most stunning and quite bare for those times although I also of course wore a heavy dupatta on the head. I had just returned from the US and thought I knew it all and did my own make-up. It was truly horrible and made me look like Godzilla! However my jora and mother-in-laws's truly antique jewelry made up for it!
What advice would you give to a young bride shopping for a bridal outfit?
I would tell her to invest in something classic and which suits her personality. She should love her bridal jora in 20 years as much as she did when she wore it on her wedding day.
You have mentioned/threatened to stop designing bridals and instead concentrate solely on your passion of making tapestries. How is that plan coming along? Are you managing to do both simultaneously?
I still threaten to give it all up! These days I am much more into tapestries as it is my passion. I am also making my shawls which are based on the French influence on Kashmir shawls. I don't copy the designs but am greatly influenced by them. I also have a passion for cashmere shawls.