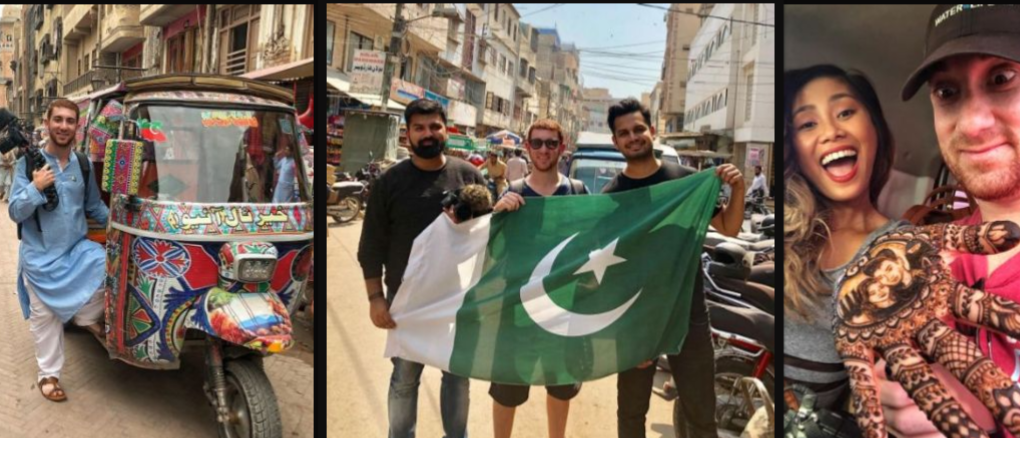 Vloggers Drew Binsky and Deanna Sallao have been on a quest to travel all 197 countries in the world and their current stop is Pakistan. They've been sharing their experience to Instagram and it's nothing but pure bliss to see them fall in love with Pakistan, its culture and it's people! Safe to say that they've been having the time of their lives, for instance:
Getting a head massage for 100 rupees
He also shared his first impressions of Karachi
He also got some precious life advice
He then shared how he was overwhelmed by the hospitality and the warmth of the people here in a post
He also celebrated Pakistan Day in a way no one would have expected
His companion also seemed to have a great time here, posing in the sun, looking oh-so-gorgeous and getting henna
Lahore too, took his breath away
He also uploaded a video on how safe Pakistan is to visit
He was also glad to find a fellow red-haired local
He also posted his experience in Peshawar, posing next to a colourful rikshaw
This picture though, CUTE AF!
He also shared in a video how people refused to take money from him
He then shared how Pakistan was such a misunderstood country: "Basically, all the people who had been here before told me that it's amazing, and ironically, the ones who haven't been told me to be careful about terrorism, kidnappings and random acts of violence."
In a recent post he shared how Pakistan was the complete opposite of what he and many others had thought of it to be.