Controversy and the LSAs have been quite the inseparable duo this year. Soon after the nomination list was made public, there have been a lot of withdrawals and disappointments expressed towards the Lux Style Awards 2019. The jury for the award show released an official press statement regarding the criticism they had been facing in attempt to cut down the backlash, but it backfired.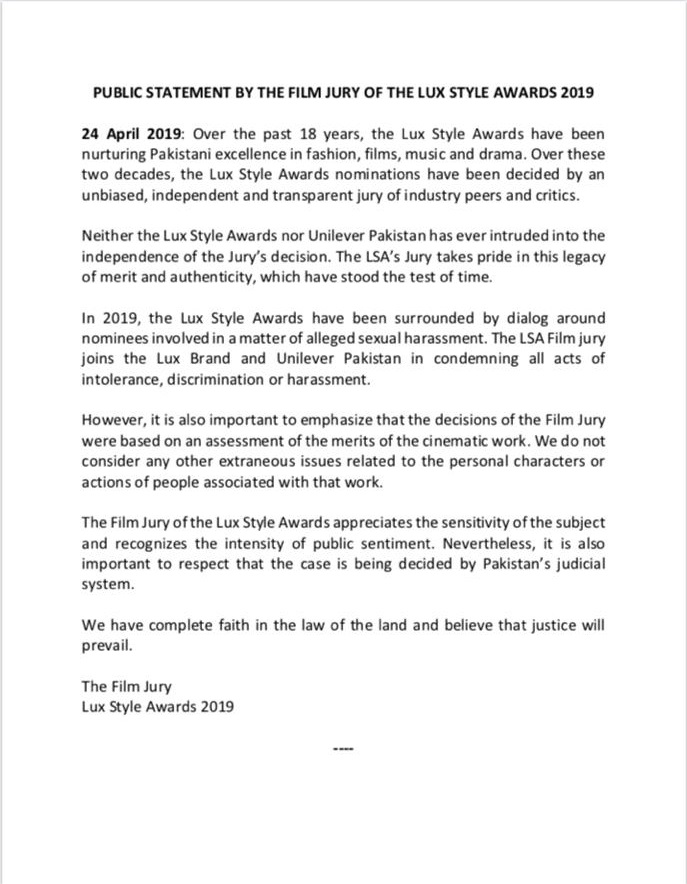 What started with Eman Suleman pulling out her nomination was then joined in by Generation and the makeup artist Saima Bargfrede. The industry was waiting on Meesha Shafi's take on her nomination for the song 'Mein' which has been nominated in the category of 'Best Song.' Meesha then took to her social media and requested her name and song to be removed from the platform:
To all concerned. #LSA2019 🙏🏼 pic.twitter.com/nfoHUlTf4W

— MEESHA SHAFI (@itsmeeshashafi) April 23, 2019
Soon after Meesha's withdrawal, came another withdrawal by the band 'The Sketches.' They had been nominated in 4 major categories of Best Song, Singer of the Year, Best Playback Singer and Best Original Soundtrack. In a press release, they confirmed that the decision was reached upon unanimously.
The Sketches has unanimously decided to withdraw from all the nominated categories of Lux Style Awards 2019.We hold no personal grudges or biasness against LUX and it's attendees. With this, we thank all those who voted for us or intended to do #LSA2019 #TheSketches #iBelieveHer pic.twitter.com/j89bJ7el7E

— The Sketches (@sketchesart) April 23, 2019
Soon under Meesha's withdrawal tweet, replied Jami, the director of Moor which won the Lux Style Award for 'Best Film' in 2016. The reply was immense love and support for Meesha.
We at azadfilm company stand by Eman and Meesha. Complete Boycott of this LSA

— jami (@jamiazaad) April 23, 2019
Jami then posted a photo of his 2016 LSA on the street in a tweet, disowning the award:
Lux Award for Best film Moor is now on the road outside my gate. We believe and stand by our Women stories! @Unilever @LeenaNairHR pic.twitter.com/lUwJUmaXq0

— jami (@jamiazaad) April 24, 2019
There was a mix of praise and criticism under Jami's tweet, when a follower criticized him for his decision:
Now, this is insulting. You had received it 4 ur work. I totally get the point why people are taking their nomination back but putting ur previously won awards on road is not only insulting to award but to ur work too. you could have sent it back to their office instead.

— Tehreem Azeem (@tehreemazeem) April 24, 2019
Jami replied back in the most savage manner:
Nothing bigger than trusting our women. Plz dont worry about my honor my work my awards. Relax calm down. Breath.

— jami (@jamiazaad) April 24, 2019
Soon after, 'Fatima Nasir' who had been nominated for the fourth time in a row in LSA's 'Best Hair & Makeup' category announced on Facebook that she's also withdrawing her nomination this year. Which now leaves the 'Best Hair & Makeup' with NO female nominees at all.
The model 'Rubbab Ali' who had been nominated for 'Model of the Year', also withdrew from the awards in support of Meesha and the rest. She made it public in a post on Instagram:
What are your views on this situation? Let us know in the comments below!