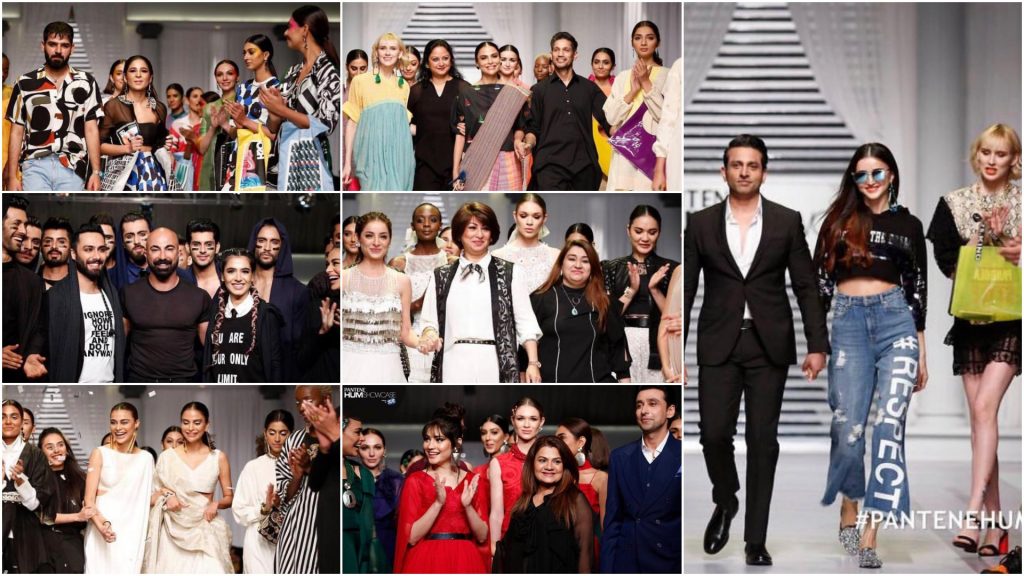 Day 2 of Pantene Hum Showcase S/S '19 was a heady and often fun mix of athleisure; youth fashion; rustic, ethical wear, faux socialite dressing and the avant garde.
HSY
Showman HSY aimed to push fashion boundaries with its unique athleisure collection 'HSY Active' which ostensibly intended to promote a more healthy and active life, albeit with an unconventional aesthetic and vibe and which was also an ode to non-conformist trendsetters who live according to their own rules.
The safe – except for perhaps an oversize asymmetrical black jersey men's overlay tunic –  collection nevertheless successfully put a high-fashion spin on contemporary Athleisure clothing and included charcoal grey long kurtas worn with short jackets; zippered hoodies; textured kurtas; jersey cowl turtlenecks; hoodie and  sleek double pocket zippered jackets and slim coats with glittery logo T-shirts. A jolt of colour was added with a camel and taupe men's overall and shirt combo and a line of HSY-blue slim jackets and separates including hoodie long coats and asymmetric jersey tunics.
A clever mix of sportswear and high fashion, HSY Active was created for the energetic man and woman for athletic outings as well as casual, social soirées.
The stars of 'Lal Kabootar' Ahmed Ali Akbar – wearing an inspirational logoed top with 'Ignore how you feel and do it anyway' – and Mansha Pasha in a logoed 'You are your only limit' tunic were HSY's showstoppers.
NEELO ALLAWALLA
Neelo Allawala took a fashion detour from her usual ethnic wear with her decidedly fusion, "faux socialite" evening-wear collection. Using a colour palette of bold white and black contrasts, blush pink, other pastel hues and light camel, Allawalla  presented tulip shalwars; rose-coloured belted tunics worn with flared pants; a light camel lace top worn with a white long shirt-coat and blush coloured palazzos; a latticed trailing overlay coat; a black gold-studded slim jacket; a graphic black and white fern printed voluminous tunic; a grey combat-print can-can dress; a ribbon shalwar worn with sleeveless fringe blouse and other  ensembles in the decidedly un-cohesive rather than eclectic collection.
Although the silhouettes were seemingly simultaneously both classic and contemporary and created from light breathable fabrics which rendered the collection a year-round wearability; the surfeit of misplaced and gauche embroidery and detailing plummeted the ostensibly aspiring socialite capsule which was supposedly created to appeal to millennials and Gen X and Y alike.
Actor Sarwat Gilani (who received a 'Strong is Beautiful' award for her charity work) wore a two-layered gown with a belly-dancer beaded top as she show-stopped for Allawalla.
U&I BY UMER & IMRANA
'Living Traditions' by U&I was a mindful attempt to highlight Pakistan's multi-faceted handloom tradition and its potential for use in mainstream menswear and women's wear. With a strong CSR impetus and  a desire to maintain sustainable design practices while influencing trends and stay at Fashion's epicenter, the debut 'Living Traditions' collection drew inspiration from Pakistan's own classic, timeless garments including the kurta, shalwar and angrakha but imbued with a contemporary silhouette for today's woman and man.
The design approach was buoyed by versatile upper and lower separates that offered freedom and individual style statements. Using broad plaid, checkered and bold striped prints and melding grey with Technicolour rainbow hues as well as bold yellow, green and turquoise, the silhouettes were intelligently engineered to utilize maximum fabric without wastage and minimal joinery and included asymmetric kurtis; two-layered boat-neck tunics; and razor-sharp-cut kurtas.
The eclectic collection exulted in a medley of relaxed multi-layered straight-cut and voluminous flowy shapes – some with quirky sailing-boat embroidery details- making it suitable for all body types. It was not just the best debut ever but also the best collection of the night.
MONA IMRAN
Designer Mona Imran's Luxe Prêt collection 'Bejewelled' comprised western-inspired  evening wear separates and coordinates in a medley of solid precious gemstones colours including iridescent shades of ruby, emerald, amethyst and sapphire.
Actor Sami Khan dressed in a slim three-piece sapphire blue suit opened the show which cleverly segued into a line of sapphire blue ensembles including a long pleated chiffon dress and a flouncy frill long coat worn with a tunic and palazzos. The emerald section included another well-cut lace dress; slim pants worn with a boob-tube and a sheer overlay coat; a mini-brio skirt and trailing sheer opera coats. Amethyst pieces included cold-shoulder tunics; floral lace long coats; asymmetric tops; sheer poncho-shaped overlays worn with short skirts; while the ruby capsule featured two-tiered high-waist and drop-waist western dresses and a pleated sculptural bodice award-show dress. 'Bejewelled' also included some ethnic ensembles which included asymmetrical bodice tops paired with brio skirts.
However, the collection's jewel tones were much too stark and heavy and lacked subtlety and might have fared better with some delicate well-placed embellishment and detailing rather than hardly noticeable lace. The collection also lacked a strong personal signature.
Actor Neelam Muneer in a flowing ruby red evening dress with slit hanging sleeves worn with a cinch metallic belt walked out with Sami Khan as Bejewelled's star duo.
OUTFITTERS
High street lifestyle brand Outfitters made their runway debut with their new collection, 'Conversations' an amalgamation of street style fashion inspired by youth culture, Gen Z and Millennials.
Well-designed uber-casual male and female separates included hoodie tops, glitzy logo track pants, a distinctive blue and white sweatshirt mini-dress; glittery khaki jackets, a sensuous canvas army jumpsuit, denim pieces with skyscraper prints and high-waisted pants offset with distinctive and eye-catching accessories styled in a way to express individuality and personal style. The collection was fun, funky and youth-driven; a snapshot of today's pop culture.
HUSSAIN REHAR
Hussain Rehar's 'H20' collection was buoyed by the avant garde rising star's inter-disciplinary approach to creation, traversing beyond fashion while combining the past and the future and transforming into a visionary present.
The H2O capsule by Hussain Rehar went beyond the embodiment of contemporary-modern fashion playing with contrasts and the juxtaposition of vivid optical illusionary lines with curved linear prints and buoyed by the clever almost subliminal melding of bold colours –  blue, red, neon green; fuchsia and tangerine sunflower yellow and rainbow hues. Sheer flowy fabric used as overlay zippered coats and wraps accentuated the simple yet refined silhouettes that included shirtdresses; relaxed tunics, pleated palazzo pants, slim pants worn with short asymmetric shirts; a striped long sun dress; a printed simple T-shirt and slim pant combo and other seemingly simple yet complex ensembles; all of which created a contemporary, bold and emotive vision refined with a stunning high fashion sensibility. Job well-done Mr. Rehar.
Actor, singer and TV host Ayesha Omer with slicked back wavy hair wore three-quarter blue printed palazzo pants and a sheer overlay opera coat as 'H20's' showstopper.
MAHGUL
Critically-acclaimed fashion designer, Mahgul Rashid's S/S'19 luxury collection 'Between Ebony and Ivory' embodied the spirit of contrast and harmony, channeling a new interpretation of femininity. Mahgul focused on the interplay between simplicity and boldness which encapsulates today's multi-faceted and versatile woman whose wardrobe is filled with versatile staples that keep her fresh and evergreen and dovetails with Mahgul's innate classic design ethos and legacy which is  renowned for its edgy, avant-garde interpretation of Pakistani design, juxtaposing elements of fine art with high-end fashion. Predominantly monochromatic. 'Between Ebony and Ivory' was buoyed by form and structure with a sometimes "less is more vibe."
The collection also included a trailing shirtdress; striped and embroidered kaftan; a hybrid cocktail sari; Chinoierie opera coat; a can-can lehnga; flowy gharara pants; an obi-belted coat; a black backless cowl dress; a glitzy gilt blouse and sari; a black jersey turtleneck tunic; palazzo pants and kimono shaped tops et al.
Although each artisanal separate with minimal craftsmanship embellishment was well-constructed, putting all the diverse outfits together – ostensibly to cater to 'Everywoman'- in one collection seemed overwhelming, lacking cohesion and a uniform fashion trajectory.