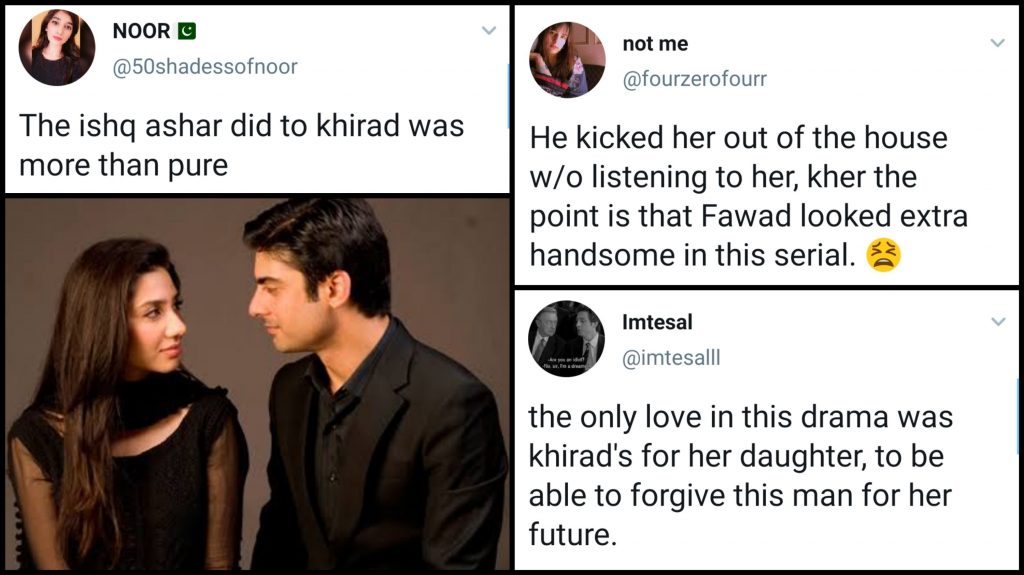 It won't be wrong to say that Humsafar, 8 years after its release, is just as iconic as it was back in the days and people still can't help adoring the bond Ashar and Khirad shared:
The ishq ashar did to khirad was more than pure pic.twitter.com/bL2MhCcGMf

— NOOR🇵🇰 (@50shadessofnoor) July 29, 2020
Taking to Twitter, a fan shared that the love Ashar had for Khirad was the purest of all things, but the netizens are clearly on a different page!
Ashar let his mum kick Khirad out of the house (while the mum knew Khirad was pregnant) and he refused to even listen to Khirad after his mum's disgusting allegations. Kidhr se pure bro? Ye tou baad ki baat hai where he saw he was wrong and they made things right. https://t.co/Nu79Psqq0E

— Sahar 🏳️ (@peshuntzero) July 29, 2020
Some threw shade at how 'pure' the love was:
Yeah like the way he kicked out his pregnant wife over the allegations his mom put on her, making sure not to give her a chance to even explain herself, no doubt so pure💖💖💖 https://t.co/39d1hmW7t8

— 𝘾𝙍𝙔𝘽𝘼𝘽𝙔🦋 (@Baddientt) July 29, 2020
Others were crushed!
Just sometimes, I really hate soaps for creating an unrealistic standard of love and affection because now it's taking me a good part of my adult life to let go of this notion that any human would really love me like this. https://t.co/rvTY1jNLGd

— Anne of Pak Cables (@khasmaanukha) July 29, 2020
Well 🤷‍♀️
Didn't take more than 2 minutes for the pure ishq to be clouded by mistrust https://t.co/hNsFrzgNtU

— Khadija Khakwani (@ishouldstudy__) July 29, 2020
Some pointed out how the real love was just what Khirad had for her daughter:
the only love in this drama was khirad's for her daughter, to be able to forgive this man for her future. https://t.co/zsGSCxxJBE

— Imtesal (@imtesalll) July 29, 2020
There's no denying it 🤤
He kicked her out of the house w/o listening to her, kher the point is that Fawad looked extra handsome in this serial. 😫 https://t.co/Q5M1HQnib4

— not me (@fourzerofourr) July 29, 2020
Some thought that people are idolizing the toxicities:
He kicked her out knowing she had no where else to go. Literally every Fawaad's character y'all idolize is toxic. Without his looks, he's typical egoistic shitty man. https://t.co/xtKae2xruJ

— 🌿 (@PyaasiChudail69) July 30, 2020
Watched it for the 20th time and still can't believe it!
Watching Humsafar for the first time these days & I can't believe Ashar didn't even let Khirad explain herself . I wasn't expecting this 🥺 https://t.co/2A4n4akA1o

— Hafsa (@khaalidabba_) July 29, 2020
She makes a valid point!
Ashar was insecure and shakii husband. There I said it. https://t.co/5VLOC8Qe4x

— stay Away (@chaifrys) July 29, 2020
And while many people had their reservations, others were just so in love!
I want what they have 😭😭 ya Allah https://t.co/ZFSaznPwoI

— cyanide (@yass_kween) July 30, 2020
Aur yahan larki pighal gayi:
How beautiful and soft this scene was🥺❤ https://t.co/AYUMrWhAk8

— Urwa Tul Vosqa (@urwatulvosqa) July 29, 2020
Why tho 😭
Love we all crave for but deep down we know we can't have https://t.co/QzS3ir7GFm

— Qais (@jackouffall) July 30, 2020
What do you think about it? Let us know in the comments below!