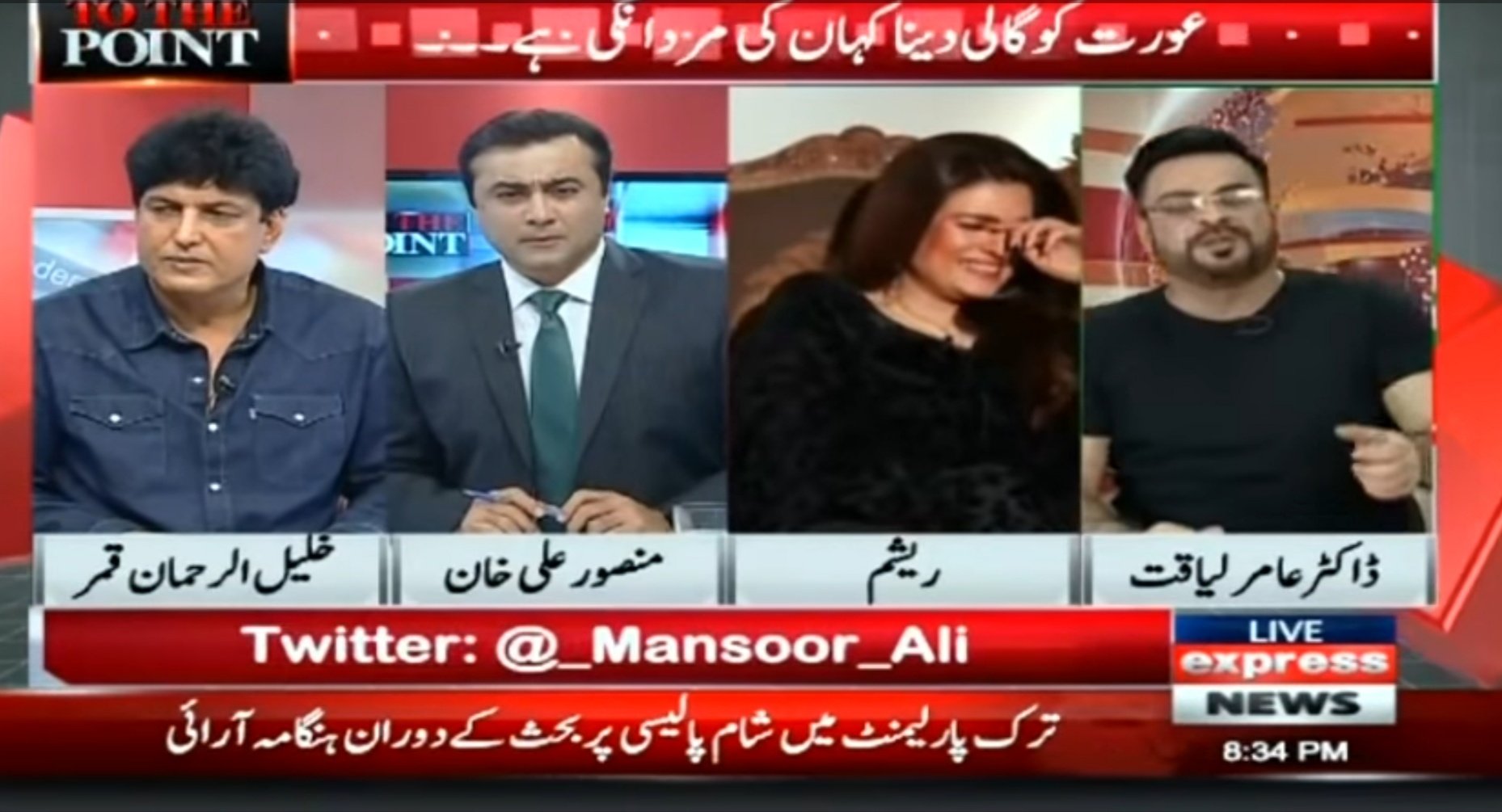 After a very controversial clip featuring Khalil ur Rehman Qamar bashing Marvi Sirmed went viral, the internet was literally shaking with #KhalilUrRehmanQamar being the top trend all day on Twitter. People were actually divided, some were standing in support of Marvi while some were supporting Khalil ur Rehman.
Fellow colleagues from the industry like Mahira Khan, Mansha Pasha, Sanam Saeed, Shehzad Roy, Adnan Malik, Osman Khalid Butt, Ushna Shah and Mawra Hocane amongst many also poured in their support for the Aurat March and Marvi Sirmed.
I am shocked at what I have just heard and seen!! Sick to the core. This same man who abused a woman on tv is revered and given project after project because of what? We are as much to blame if not more for perpetuating this thinking! #khalilurrehmanqamar

— Mahira Khan (@TheMahiraKhan) March 4, 2020
What's scarier than #KhalilurRehman's temper, insecurities and mysogonistic attitude, is us who continue to encourage and engage him. Who cares if you're a good writer. You're a vile human being. Who speaks like that? What gives u the right to pass judgment like that? #Shameful

— Sanam Saeed (@sanammodysaeed) March 4, 2020
To hear Khalil ur Rehman Qamar's side of the story, anchor Mansoor Ali Khan invited him over on his show 'To The Point,' for a brief discussion on how things had escalated this far:
He also invited Resham to add to the discussion and she did school him big time:
Aamir Liaquat gave KRQ a harsh reality check as well:
As Resham and Aamir Liaqaut put forward their points, both of them had everyone lauding them!
You know.. remember when we all said keep KRQ off tv? Ok.. keep him on tv for 3 more days. Let everyone yell at him, and then discard him.

That resham and amir liaqat thrashing was just 👌🏼👌🏼

— Jibby (@JibbyD) March 4, 2020
Many actually found themselves agreeing with Aamir Liaqaut:
Awkward moment when @AamirLiaquat makes absolute sense. #KhalilurRehman definitely needs therapy! https://t.co/OpoQpy792H

— HELLO 🙂 (@hellonheels_01) March 4, 2020
Anchor of the show Mansoor Ali Khan fried, toasted and grilled Rehman, and people were rooting for him:
Mansoor Ali Khan tearing apart Khalil ur Rehman Qamar.
KRQ "being told shut up is a GAALI" for me."

— Faizan Lakhani (@faizanlakhani) March 4, 2020
There was countless praise for Resham:
I have always loved Resham's articulate way of talking but today she has made a very special place in my heart. 💕 https://t.co/xv3e1JTs0H

— Natasha Kundi نتاشا کُندی (@NatashaKLondon) March 4, 2020
People were calling Aamir Liaquat a hero:
the hero we didn't know we wanted lol love u now amir bahi tu hi hai https://t.co/U9io2L3AvO

— zainab (@2smol2furious) March 4, 2020
People were living for the duo:
Amir Liaqat blasting KRQ and Resham laughing uncontrollably is the new mood of 2020

You may not like Amir Liaquat all the time but today he was on point.#khalilurrehmanqamar pic.twitter.com/ZavjNNcJum

— Ayesha Khanzada (@Ayeshakhaanzada) March 4, 2020
People were a hundred percent on board with Khalil ur Rehman being a 'khud parast:'
"Khudparasti" exactly this.

He is filled with proud after that one good for nothing drama serial 'meray pass tum ho' thinking that he is the sole representative of the male gender. He is nothing, he is shit, representing no one but his bloody mentality.
Amir bhai dil leylia apny https://t.co/lHiRSRjvyB

— Naveer Bin Razi (@NaveerBinRazi) March 4, 2020
People had found a queen to stan:
Resham, MY QUEEN SERVED HIM RIGHT!!!!!! #KhalilurRehman pic.twitter.com/zDzSiy43zs

— 🖤 (@notyourmehrum) March 4, 2020
Many were deeming it a win:
Certain spineless celebrities may still silent but the social media backlash has resulted in many people coming out against #KhalilUrRahmanQamar and that can only be seen as a win.

We wouldn't be seeing an anchor, Resham and Aamir Liaquat roast him on national TV without it.

— Shehzad Ghias Shaikh (@Shehzad89) March 4, 2020
Aamir Liaquat gathered quite the fan following:
For once in life #AmirLiaquat said what was needed to be said https://t.co/biCd0RsjRt

— Roheet Qamar (@QamarRoheet) March 4, 2020
That's how it's done:
She killed him in the politest way possible and wow i love resham https://t.co/oMiJjdO9s6

— sheesh | Zalmi 💛 (@ithesheeshkebab) March 4, 2020
And he served!
amir liaquat really said i'm coming for your neck today huh https://t.co/qUf1zTbG3n

— 🅱️ichael (@THICCFILLA) March 4, 2020
People who weren't really fond of Aamir Liaquat found themselves lauding him too:
I personally despise Amir Liaqat, but he did an amazing job here.

Alongside, loved what Mansoor Ali Khan did to this animal. Massive respect for this man https://t.co/9oZAsnQuDV

— Shajee Amer Khan (@shajeeamer) March 4, 2020
People were constantly reminding him how the world was watching it all:
Can't believe it, @AamirLiaquat sir jee thank you for your kind words. The world is watching over how opinionated women are treated by so-called educated men. There are men like you too, who talk sensibly without coming down with personal attacks. Pakistani men should learn! 🙏🏽 https://t.co/9pQU2oe80S

— Salman Khan سلمان خان सलमान खान 🏳️‍🌈 (@ImGreenGuru) March 4, 2020
A feat we've achieved this year:
Did someone order a ROAST? 😂

Please watch this and then lets unpack how we've come to a point where Aamir Liaquat is actually making sense. 🤔 https://t.co/eMeVJnks5H

— Anum R. Chagani (@Anumero_1) March 4, 2020
What do you think about Resham and Aamir Liaquat's opinions about Khalil ur Rehman Qamar? Let us know in the comments below!