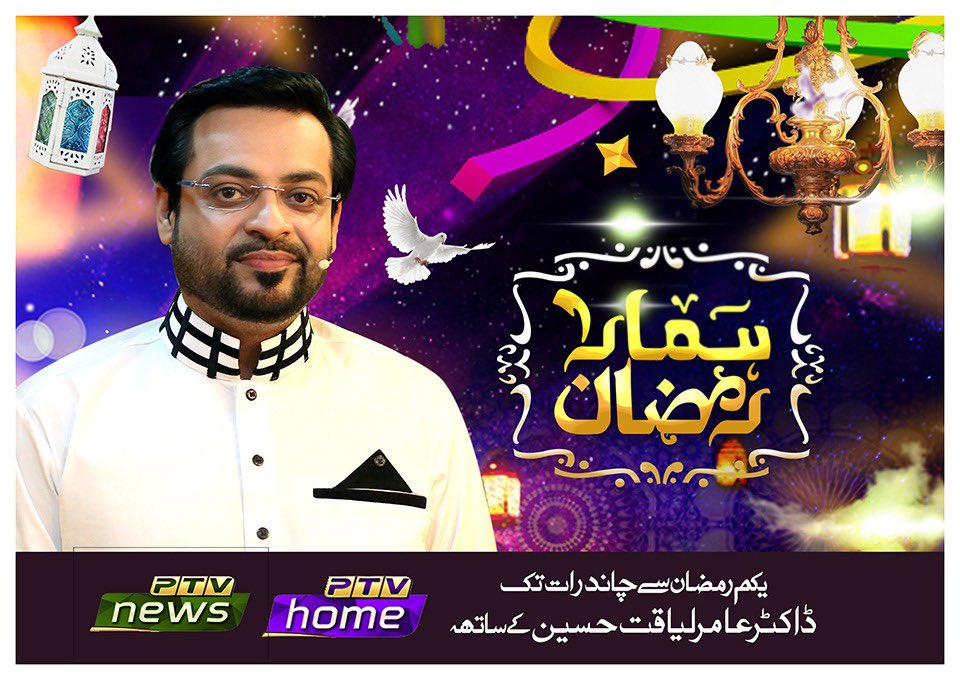 Ramzan is coming and so are Ramzan transmissions, like it or not! Once again Aamir Liaquat Hussain is returning to television. This time though he'll be seen on state broadcaster Pakistan Television's Network (PTV.)
ramzan is coming with amir liaquat, sahir lodhi and 69 others.

— بازل (@bazilkhann) April 21, 2019
Aamir Liaquat announced on Twitter that he will be a doing the Ramzan transmission on PTV this year, yes the same place he started from.
#HamaraRamazan@WorldPTV @PTVNewsOfficial @PTVSp0rts @GlobalPtv

یکم رمضان سے چاند رات تک #ہمارا_رمضان pic.twitter.com/qCxYRvAZY1

— Aamir Liaquat Husain (@AamirLiaquat) April 21, 2019
And the internet couldn't handle it!
Aik shaitan qeed dusraa aany knlye tayar hai😈

— Nabeel Khan (@Nabeelbilonaire) April 21, 2019
Some bought the best to the internet
Ramazan show on PTV this year

Aamir Liaquat changes channels faster than he changes his wives pic.twitter.com/E0BvbwTbEo

— Shehzad Ghias Shaikh (@Shehzad89) April 21, 2019
Some people liked this very naazuk surat-e-haal…
Nazuk surat hal hai i like it.

— 🇵🇰🇵🇰Akshah🇵🇰🇵🇰 (@akramshah1122) April 21, 2019
Yeah, same!
I'm ready for Ramadan, but I'm not ready for Aamir Liaquat

— Tallie Dar (@talliedar) April 17, 2019
Some were furious
Aamir Liaquat was likely to be back on our television screens, but very unfortunate this time it is PTV that is giving platform to a bigot and hatemonger – that too under the guise of religion and piety pic.twitter.com/66RYTUXpu9

— Reema Omer (@reema_omer) April 20, 2019
Some pitied PTV
PTV had to watch this bad time that amir liaquat hosted their ramadan show. IT is too much. pic.twitter.com/BE9gdDOO1k

— Abdullah Waseem (@Abdulla69445317) April 22, 2019
Some were stern that PTV rethink their decision
PTV should reconsider its decision otherwise there will be very tuogh for PTA to take action against it's own Govt Department due to Amir Liaquat' s #Thoughts.

— Asghar Ali Tabussam (@tabussam_ali) April 21, 2019
And some were full of questions, great ones though
I'll never understand the Pakistan awam. Videos of Amir Liaquat disrespectfully behaving in religious settings, abusing his guests and colleagues and making fun of raped women have been released with zero doubt of being fake and yet people hail him as a religious scholar wtf?

— Asma Haque (@PotterheadHaque) April 21, 2019
He also gathered a ton of love and support in the comments, and some really serious advice too!
Love to see you…
Pls avoid to create some controversy as was appeared in BOL transmission…
Pls try to invite the top tier Scholars from All masaliks…
Its much awaiting to see you on ptv..

— ذی شان (@XeeshanQurashi) April 21, 2019
Are you listening PTV? HD chahiye baba!
@AamirLiaquat uncle. PTV ka camera to acha wala lagwa den. Tv per bohat bekar print aa rha hota hai. HD print chahiye.

— AtherPakRock (@AteeAther) April 22, 2019
What do you think about PTV's decision to choose Aamir Liaquat for their Ramzan Transmission? Let us know in the comments below!