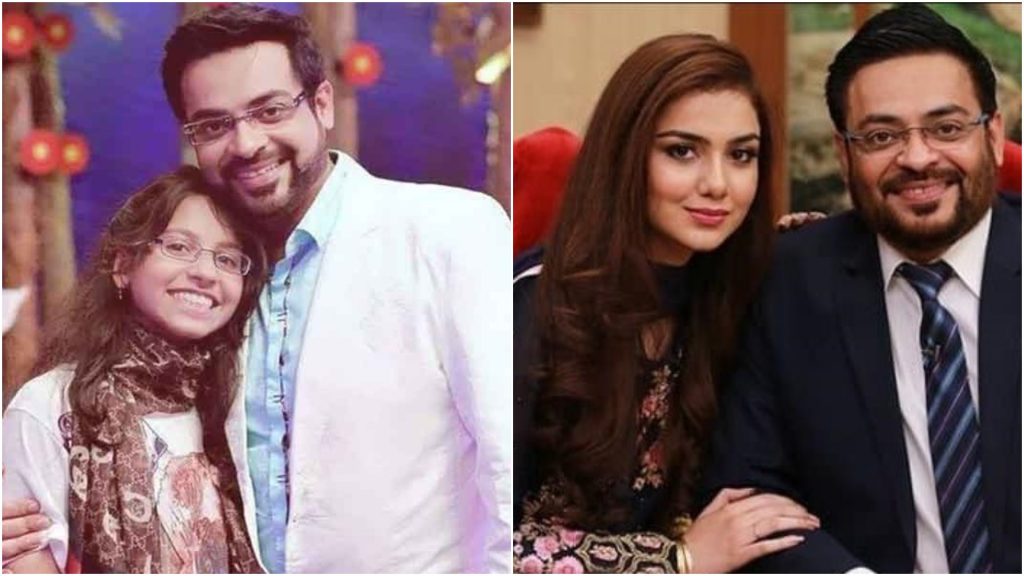 Aamir Liaquat is the undisputed king of controversies. Recently, he has been away to perform Umrah with his second wife Tuba Aamir and both have been keeping their fans updated through social media
مدینہ منورہ میں ہمارا ساتھ!!! #Madinah#مدینہ_منورہ pic.twitter.com/MFyP7iOwrw

— Aamir Liaquat Husain (@AamirLiaquat) June 9, 2019
I am in #Madinah and it feels like Home 🙏🏻 #Blessed #Alhamdullilah

— SYEDA TUBA AAMIR (@TubaAtweets) June 8, 2019
Right Now in #Madinah#AamirLiaquat#ایک_حقیقت#بیشک pic.twitter.com/pndjPtIPxf

— Aamir Liaquat Husain (@AamirLiaquat) June 9, 2019
And while their fans congratulated them, Aamir's daughter sent a very angry sub-tweet to Tuba:
Go to Makkah or Madinah all you want, Allah will not forgive those who have broken families and wronged their own. Its sad to see hypocrisy to such a large extent. Her sins could never be forgiven.

— Duaa (@Duaa_e_aamir) June 10, 2019
In her tweet, Dua mentions how Tuba who had broken their family will never be forgiven for her sins. She also mentions people who have wronged their own, hinting towards her dad. Her tweet got a lot of support from her followers:
It seriously breaks my heart to see children suffer because of marital issues. Duas for u and your mother and family. But u shouldn't just blame her.. It was your father too.

— Anum Rajput (@CenaGirl08) June 10, 2019
Many mentioned how her mother Bushra has emerged a stronger woman after the incident
You r so lucky to have a such a strong mother who is playing part of a father n mother so always pay thank Allah and stay happy…

— aqsa khan (@aqsa_85) June 10, 2019
Your Mom @BushraAamir is a great lady Her teachings shows by you and your brother cool behaviour after a heartbroken inncident May Allah give more power to all of you Aameen💟

— Asma💕@BushraAamir🌙 (@Asma80774961) June 10, 2019
A few tried explaining how her father was equally responsible for breaking their home:
Dua beta plz be patience.. Beta in my view, if u don't mind… She is not only responsible to broke your family,, she is not alone..your father is also responsible and a crime partner of her..Allah aap k dil ko sabar dey aamin

— Anjum chand (@Anjumchand1) June 10, 2019
Majority of the people tried telling her to be patient and not discuss family matters on social media:
Dear dua be patient. U r heart broken. Plz stay silent. Dont discuss ur family issues on social media. May Allah bless u n ur family always. Ameen

— Madiha Iqbal (@1983Madiha) June 10, 2019
Some tried telling her that she is too young to be talking about these matters:
Beta its not her its your father AND her. Theyre together in this marriage. Youre just too small to speak like that. I do not come from a perfect family too. But

— Alysha (@alyshaxbadami) June 10, 2019
Some suggested that she forgives them
Trust Allah and don't wish bad for him or her, Allah loves people who forgive. I know how hard it is, even I hate her every time I see their picture together. But you can't change anything, just accept the truth and take care of your mom!!

— Aiza (@Aiza34782448) June 10, 2019
But Tuba too made a shady tweet, in response to Dua's tweet, saying that "you just don't go to Makkah and Madina but are called there by Allah" and that "there's a reason Allah is the judge and not humans"
The most miraculous thing about Makkah & Madinah is that you can never just 'go' there until you are Called by the Master. Allah is the ultimate judge of everything & no matter how much anyone curses or hate, He knows the truth. There is a reason He is the judge and not humans😌

— SYEDA TUBA AAMIR (@TubaAtweets) June 10, 2019
Aamir Liaquat too joined in as he quoted Tuba's tweet and told her he was proud of her:
Understanding is an art. And not everyone is an artist. Proud of you. https://t.co/YKhAhA2i74

— Aamir Liaquat Husain (@AamirLiaquat) June 10, 2019
And while Aamir Liaquat tried saving her, both Aamir and Tuba faced tons of backlash for picking a fight with a kid:
And second thing if you are realy that good human why do you even rply this way to @Duaa_e_aamir . She is just a kid you are married to her father. Can't you tolerate and show some not love then atleast maturity and sensibility.

— Fatimah Hussain (@FatymahHussain) June 11, 2019
People were furious at Aamir for picking sides:
Aamir bhai she just retweeted a tweet where ur daughter was called a stupid.. U shouldn't be proud of something like that.. Rest is up to u.. May Allah guide all of us to the righteous Path aameen

— سین.. میم (@Movenpick13) June 10, 2019
She is taking jabs at your daughter that too on a public forum and you are encouraging it? Shameful

— Jibran Khan (@kjibi98) June 10, 2019
People also reminded Tuba how corrupt politicians too go for an Umrah very often but don't take guidance
Then how come all these corrupt politicians and thieves go for umrah after every six months? Money can buy everything including plane tickets! They're called to give hidayah and in your case to guide you to not be a home wrecker

— Zazaaaa (@ZAZAA1214) June 12, 2019
Some of her fans were disgusted by her immature behavior
I'm disgusted and unfollowing you can't stand this hypocritical behaviour

— Anaya (@Anaya40A) June 11, 2019
People were appalled at her behavior
R u trying to compete with the daughter of your husband? 🥊🥊🥊

— Alliya (@Alliyarashid) June 11, 2019
Needless to say, she made the people really angry:
Wao!
I hope your duaghter may not go through the same mental crisis @AamirLiaquat first duaghter is going through yet.
If he can leave Mrs Bushra Amir then you are nothing but a piece of shit.

— Fatimah Hussain (@FatymahHussain) June 11, 2019
Many criticized her on her logic and said it's the money that takes you places:
مطلب پھر جن کے پاس دولت ہے ان کا کوئی قصور نہیں۔ کیونکے مالک نے خود نہیں بلایا پھر انسان کا کوئی قصور نہیں اس حسب سے تو ۔Sorry to. say but is insane logic

— khoso (@Ghulam610Ghulam) June 11, 2019
That's why poors are excluded from the prestigious call!

— sheez08 (@sheez08) June 11, 2019
Lol paisy se log jaty hain.. ay bari

— Syeda Nawal (@SyedaNawal2) June 12, 2019
What do you think about this situation, should the Aamir Liaquat family wash their dirty linen in public? Let us know in the comments below!