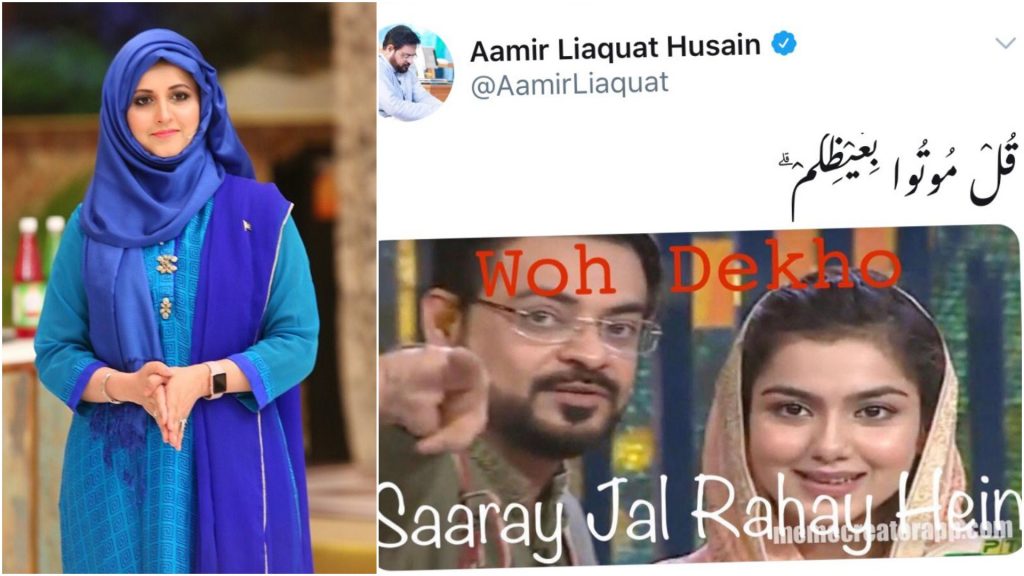 Aamir Liaquat's first wife Bushra Aamir has been hosting a special Ramzan transmission on HUM TV and PTV, she had always been an active part of what went behind the scenes during Aamir Liaquat's transmissions and is a PhD scholar in Islamic Studies. One of her greatest and proudest supported happens to be her daughter Dua who shared how her mother has emerged a much stronger woman after all the hardships they've faced recently.
Mashallah and Alhamdulillah🙏🏻❤️ After enduring several hardships, my mum @BushraAamir emerged stronger than ever and will be making her comeback on television live from @Humtvnetwork and @PTVHomeOfficial . Be sure to tune in #RamadanPakistan at 3:45 pm☺️💖

— Duaa (@Duaa_e_aamir) May 7, 2019
And honestly, we stan a daughter rooting for her mother!
Smashing the patriarchy with beauty and grace. 👏🏻💘 https://t.co/lxQYO0exZ7

— Duaa (@Duaa_e_aamir) May 10, 2019
Her appearance as a host was loved by the audience and there have been praises pouring in from every direction! Some love how graceful and eloquently she carries herself and some are applauding her for moving on with her life, so basically, Bushra is the very talk of town and has clearly stolen the limelight away from Aamir Liaquat this year.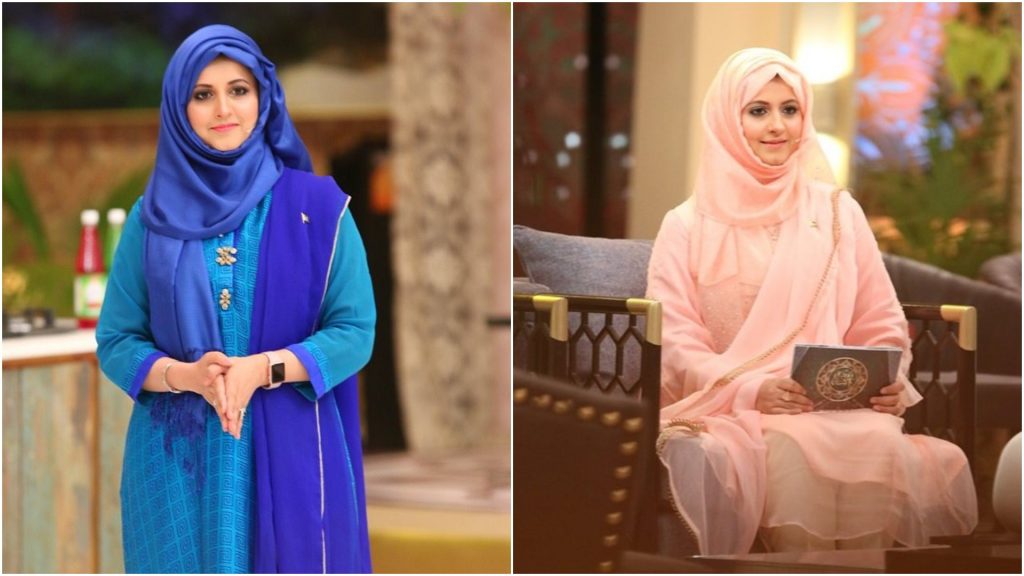 But guess who couldn't live with all the attention being focused on Bushra? Aamir Liaquat Hussain! The king of inappropriateness, only recently one of his videos from the transmission went viral where he was seen narrating a vulgar story which you can check for yourself:
Best of Aamir Liaquat 2019. pic.twitter.com/IlVZoBzj16

— Mirza Lal Baig (@mirzalalbaig) May 13, 2019
Moreover, he also shared a fan made meme of him and his second wife Tuba which hinted that people have been really jealous of the couple and their appearance together!
قُلْ مُوتُوا بِغَيْظِكُمْ ۗ pic.twitter.com/Aap6wWpkwK

— Aamir Liaquat Husain (@AamirLiaquat) May 12, 2019
But people on the internet made it very clear that who was winning the Ramzan Transmission game, and it was clearly Bushra Aamir:
Bushra performed execellent show in private chanell. Amir murgi on goverment PTV channel. Nobody watch ptv. Yeah auqat allah allah

— Shaheen Akhtar (@Shaheen29596143) May 11, 2019
Some pointed out how sharing a meme like this was immature
Acha u really need to grow up and react like a man. No offense. Although I doubt if you're a man or not.

— Habibah Qamar (@Qamarhabibah) May 12, 2019
Some couldn't stop praising Bushra
Aur Han apki is wife se ziyda balke bohattttttt ziyda Bushra achi Hain aap ho bhi nahi unke kabil aap ho bhi aise hi larki k laik achi aur suchi aurat k kabil nahi ho AP barhal ALLAH Pak sub ko khush rakhe

— Princess Angel Mishi Aina (@MishiAina) May 12, 2019
Some expressed their disappointment
Afsoos hota hai ese logon ko daikh kar jinko Allah pak ne Deeni taleem se nawaza hai unki esi harkatain daikh kar afsos hota hai..

— Asad S. Baloch (اَسد) (@Assad_Baloch) May 12, 2019
Some pointed out how he should treat both his wives equally
Sir itna to aap ki dono biwiyaan aapas mai muqabla nahi kr rahi jitna aap apni pehli family k saath muqably pr aay howy hain ,BUSHRA AMIR ny itny dino mai koi double meaning baat nahi ki mgr aap zaroor kr rahy hain,koi aap sy ya aap ki 2nd wife sy nahi "Jalta"ye wehum nikaal dy.

— sumreen zeeshan (@sumreenzeeshan) May 13, 2019
And some couldn't stop comparing the two!
Jal kon raha hy
Jitni bushra anti pyari han utni ye nai
Apki first wife apki boht respect krte han is liay wo aj b khud ko bary fakhr sy bushra amir kehte han
Wo apna show Bina tont kiay krte apky show ko dekh kr kyn asy lagta k Ap unhan tont Mar rahy

— Hurain 🇵🇰 (@Hurain58281990) May 13, 2019