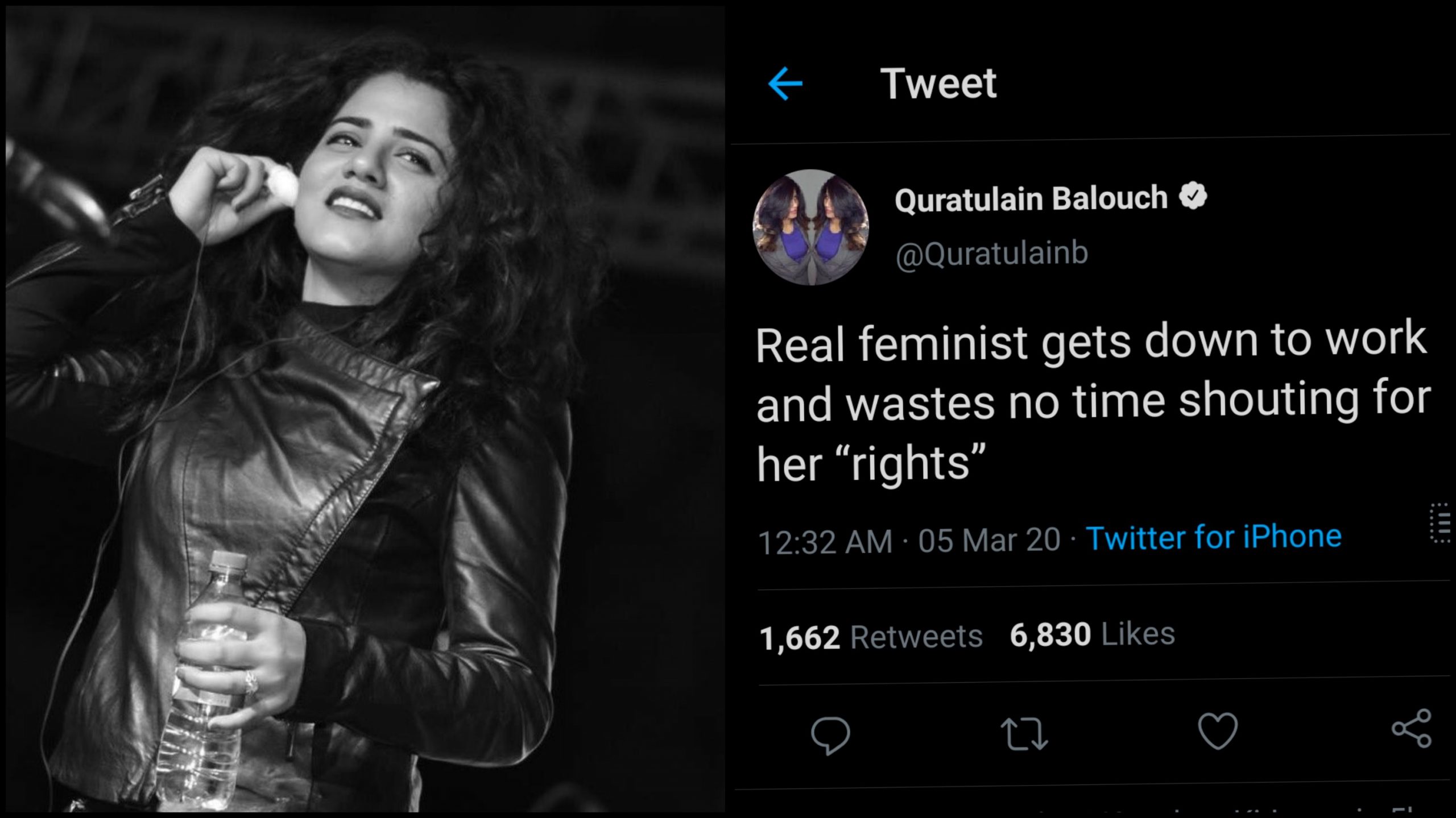 With her distinct vocals, Qurat ul Ain Balouch stands unparalleled, and while the singer likes to keep away from controversies, her tweet just landed her in one of the biggest controversies of the week probably! Wanting to share her thoughts on the Aurat March, QB might have chosen the wrong words in a failed attempt to empower the feminists:
Real feminist gets down to work and wastes no time shouting for her "rights"

— Quratulain Balouch (@Quratulainb) March 4, 2020
And as soon as the tweet reached the masses, it became a topic of debate amongst the netizens:
If real feminists had not shouted for OUR rights you would not be enjoying the privilege of using YOUR voice to sing. And today you would not have this platform and that blue tick. 🤦🏻‍♀️ https://t.co/WUtze6qNPo

— Leena #AuratMarch2020 (@Leena_Ghani) March 4, 2020
Fans were disappointed:
I'm honestly disappointed! If you have some spare time on March 8, this Sunday, please attend the Aurat March happening near you. I am sure that you will see how women don't only shout for their rights but they come together and support each other and listen to each other. https://t.co/IdUBlqRPY6

— Javaria (@JavariaWaseem) March 4, 2020
People made sure she knew what real feminists do:
A real feminist not only shouts for her rights but everyone else's too. Including yours. Be grateful to the women who came before you and fought for your right to speak. Stop making ignorant statements. Stop telling women to suffer quietly. https://t.co/tBNX7xDWYo

— Sehar Tariq (@sehartariq) March 5, 2020
Some partially agreed to the work part:
I understand & relate to the part about show, not tell. But dialogue & protests are equally important. I think both complement each other, cannot be seen as two isolated, divorced parts of our society. Civil society and the economy are ultimately part of the same social fabric 🙏🏼 https://t.co/wZYXEzcVv1

— Safia Mahmood (@Safia_Mahmood) March 5, 2020
Some weren't surprised at all:
Why is this surprising people? Id imagine she has a sheltered life- where shes driven everywhere she needs to go, picked and dropped, hosted and comforted whenever she need someone. #AuratMarch2020 is for those hurt and left alone with no one coming to save you. We save ourselves https://t.co/QLWOTd7LiO

— Nayha Jehangir Khan (@nayhajayart) March 5, 2020
Some presented her with real questions:
What if she isn't allowed to work? What if she is paid less if she does? What if she is facing work place harassment? What if she gets replaced the moment she asks for a maternity leave? What then? https://t.co/LEKV138AYs

— #MeraJismMeriMarzi (@PsychedSam) March 5, 2020
Many thought her tweet reeked of privilege:
Some women in history 'shouted' for their "rights", that's why you are here, living your life 'your way'! These privileged women make me sick.

— SeemaTejani (@SeeemaTejani) March 5, 2020
This is also incredibly tone-deaf. Please don't pretend that this isn't your privilege talking, it is. https://t.co/k1PPyNYuXC

— Nusair Teli (@NusairTeli) March 5, 2020
Privilege can be blinding. https://t.co/rOTk7fGO6B

— Bano (@BanoBee) March 5, 2020
Many thought she could have done without tweeting anything at all:
Should've left this in the drafts and stayed quiet

— the misandrist next door #MeraJismMeriMarzi (@amnaaww) March 4, 2020
Thanks for your input. It was patronising and useless, but thanks anyway.

— Phuppa Pig (@KacchweKiJawani) March 5, 2020
Why 💔
WHY WOULD SHE DISAPPOINT US LIKE THIS https://t.co/wnlNLjmB5H pic.twitter.com/rHtZPqSiN4

— rafay (@ZindagiAzabHai) March 4, 2020
Facts:
Most women aren't allowed to work that is why we have to "shout" for our rights https://t.co/8pq487IvnD

— Zainab (@Syyeda14) March 4, 2020
Many were alarmed:
Guess it's unfair to expect otherwise from a pop star, but to see such intellectual bankruptcy on display is still alarming. https://t.co/8LOYDU8XyV

— Umair Javed (@umairjav) March 5, 2020
Some actually presented a guide as to why she shouldn't have tweeted this:
— Shumail (@Shumyl) March 4, 2020
Exactly!
Shouting for the rights IS work. https://t.co/hRRwJI93bm

— T a z e e n (@tazeen) March 5, 2020
Savage!
It's a meaningless statement which can be made about anyone or any group. For example:

Real singers produce good songs and do not waste their time tweeting to belittle others. https://t.co/AIyAHEfoV0

— Necromancer (@sob4n) March 5, 2020
Shots were fired!
Real feminists dont put down other women who vocalize their demands. Dont paint our struggle as hysterical by using words like "shouting". If you dont have the moral courage to stand with us, the least you can do is not stand in our way because of your internalized misogyny. https://t.co/lgbCCIwlLp

— Imaan Zainab Mazari-Hazir (@ImaanZHazir) March 5, 2020
Some thought it was a tactic for skyrocketing to fame:
Sis just skyrocketed to fame as the face of incel resistance.
KiA bAaT kArDi QB nE.
ReAL wOmAnzs , KuDoS. https://t.co/CBUSNVFbiA

— PANIC AT THE DISCO & LITERALLY EVERYWHERE ELSE (@Ughx3000) March 4, 2020
Some were calling her tweet the state of desi uncles:
"Desi uncle" is a state of mind https://t.co/jXBFpQeIX8

— Hira Azmat (@caustichazmat) March 5, 2020
People couldn't help:
There are so many things wrong with this tweet that I don't know where to begin talking about them! https://t.co/zXONwA83oF

— Hina Tabassum (@KhatriHina) March 5, 2020
In other words:
Emphasis : shouting for her "RIGHTS"
Chaar dewari mei band hojaen, get down to work. Awaz uthanay se kuch nai hota. Be a Real Feminist! Muft mashwara : courtesy QB. https://t.co/AJYYc07YfJ

— khadija siddiqi (@khadijasid751) March 5, 2020
People were calling her out on her selective feminism:
Please stop letting your selective feminism get in the way of women who are RAISING their voices for the oppressed and their rights, women like you who are privileged really need to stop with the misogny, if you don't support us the least you can do is stop coming in our way https://t.co/1C6bGj89WK

— Minahilll (@cminaylsek) March 5, 2020
Some saw the opinions on Aurat March to weigh their friends:
The only thing I like about such incidents is people showing their trueselves which they wouldn't have ever otherwise.
so many mutuals and friends to remove. https://t.co/Qs8zumhRn7

— anastipu (@teepusahab) March 5, 2020
People were calling celebrities like her the real problem:
Mahira Khan, Qurat Ul Ain Baloch and other celebrities are the problem. Not Khalil Ur Rehman.

— Fatah (@fatah_pak) March 5, 2020
Yeh cheez!
A real feminist does both. https://t.co/hzIAb9t2bb

— ara (@Gaiti_amir) March 4, 2020
What do you think about QB's tweet? Let us know in the comments below!