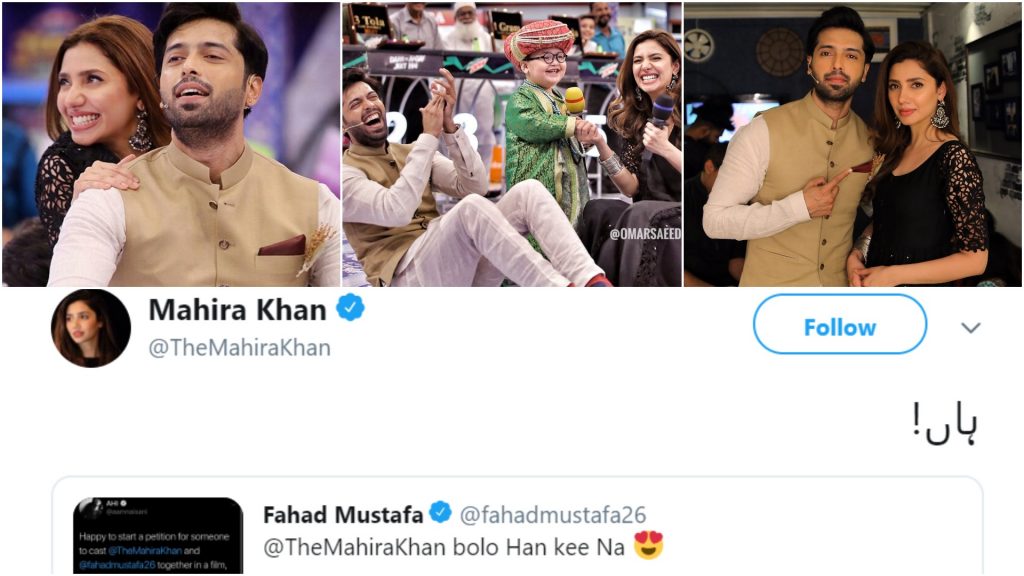 Fifi Haroon is known for being that supportive friend which we all crave for in our lives and she might just have given us the couple of our dreams!
With the recent appearance of Mahira Khan on Fahad Mustafa's Jeeto Pakistan, people just can't get enough of the two! The energy, the chemistry, the giggles, we're living for it!
And it's not just us, but also Fifi Haroon who thinks that both would make a brilliant on-screen couple of cast together and we are here for it. Fifi took to twitter to share how they'd make an amazing couple and how she was appalled at how no one has cast them together yet. She also tagged directors Nabeel Qureshi and Nadeem Baig, asking them to wake up:
Damn I'm missing this! Finally @TheMahiraKhan & @fahadmustafa26 together! Make a movie together already you two! Why hasn't any director seen what a brill pairing this will be is beyond me. Jaago @nabeelqureshi @nadeembaigg Meanwhile much love to 2 of my favourite ppl ❤️❤️❤️ https://t.co/8XO9sRucV6

— Fifi Haroon (@fifiharoon) May 23, 2019
Her tweet was then liked and retweeted by Mahira Khan who sent her love and an Inshallah to her and Fahad working together, CRAZY RIGHT?
Lots of love to you! And yes you've been saying that for a while.. 🙂 inshAllah soon x https://t.co/oNBRi9PJuZ

— Mahira Khan (@TheMahiraKhan) May 23, 2019
And then came Fahad Mustafa, wanting a haan or na, see it for yourself!
@TheMahiraKhan bolo Han kee Na 😍 pic.twitter.com/tx12krPvRP

— Fahad Mustafa (@fahadmustafa26) May 23, 2019
I mean wow, that escalated quickly!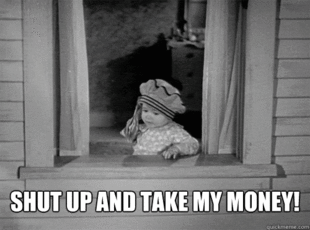 To which Mahira Khan replied with a haan and that too in Urdu, haye sadkay!
— Mahira Khan (@TheMahiraKhan) May 24, 2019
And soon after the brief exchange, Vasay Chaudhry hinted on doing stuff:
@fahadmustafa26
Tu phir Kuch karoon ? 😉

— vasay chaudhry (@vasaych) May 24, 2019
And Fahad told him to get started
Shuru hojayen janab

— Fahad Mustafa (@fahadmustafa26) May 24, 2019
And ever since this brief exchange, fans have been going crazy on seeing the two together in a film for the very first time!
Can't Wait To See U Both On Big Screen 🔥

— Talha Ali (@TalhaAli781) May 24, 2019
Haha, we thought so too!
Its more lyk QABOOL HAI..👌😀

— Yousuf Ameer Ali (@Yousuftin) May 24, 2019
People even replied Fahad Mustafa with puns of his own, sochlein, ek dafa dobara sochlein!
Sochloo!!

— ᏦᏂaن (@oXx_xy) May 24, 2019
And offers that he often gives in his show!
3 تولہ لو ایک واشنگ مشین اور گھر جاؤ۔ آخری آفر

— Arsal Ge (@ArsalGee) May 24, 2019
Yes, it will!
We all know what the movie will earn both in terms of records and business.

— Syed Jawwad ul Hasan (@jay_dei) May 24, 2019
People were really happy ke haan ho gayi
Oooo MashaAllah sai han hugai 😍🎉

— Uzma khan (@Uzmakha92153297) May 24, 2019
Many even directed Nabeel Qureshi to start writing the script for the two!
Han Han Han Han Han! @nabeelqureshi aap script tayaar rakho….hero heroin tayaar Hain!

— Abeeha Fahadian4life (@AbeehaMuzammil) May 23, 2019