DAY 1: HUM SHOWCASE 19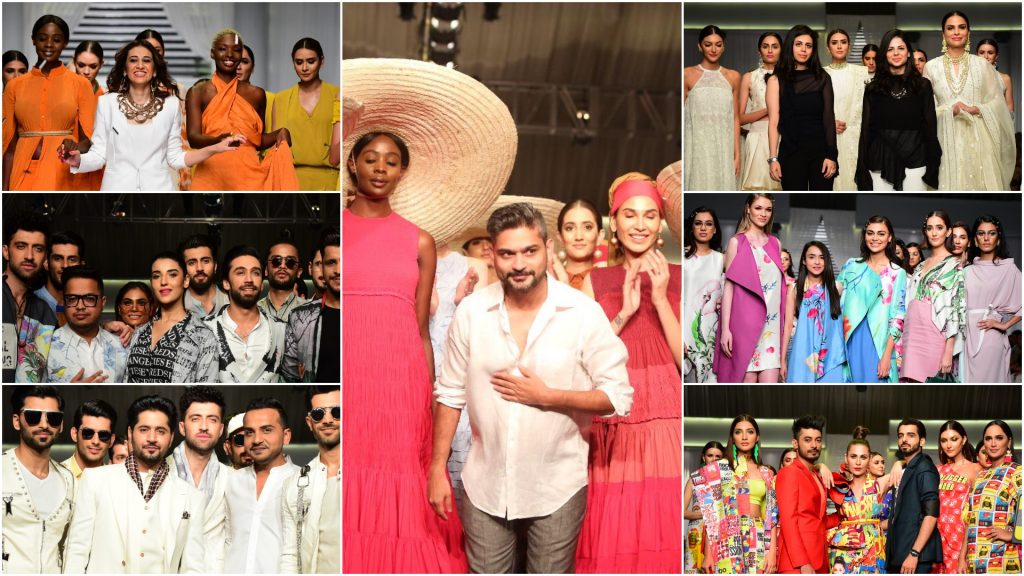 Day One of Hum Showcase S/S 19 presented a diverse and individualistic medley of established stalwarts of the industry juxtaposed with newbie entrants each buoyed by an individualistic and pronounced design philosophy.
ZAHEER ABBAS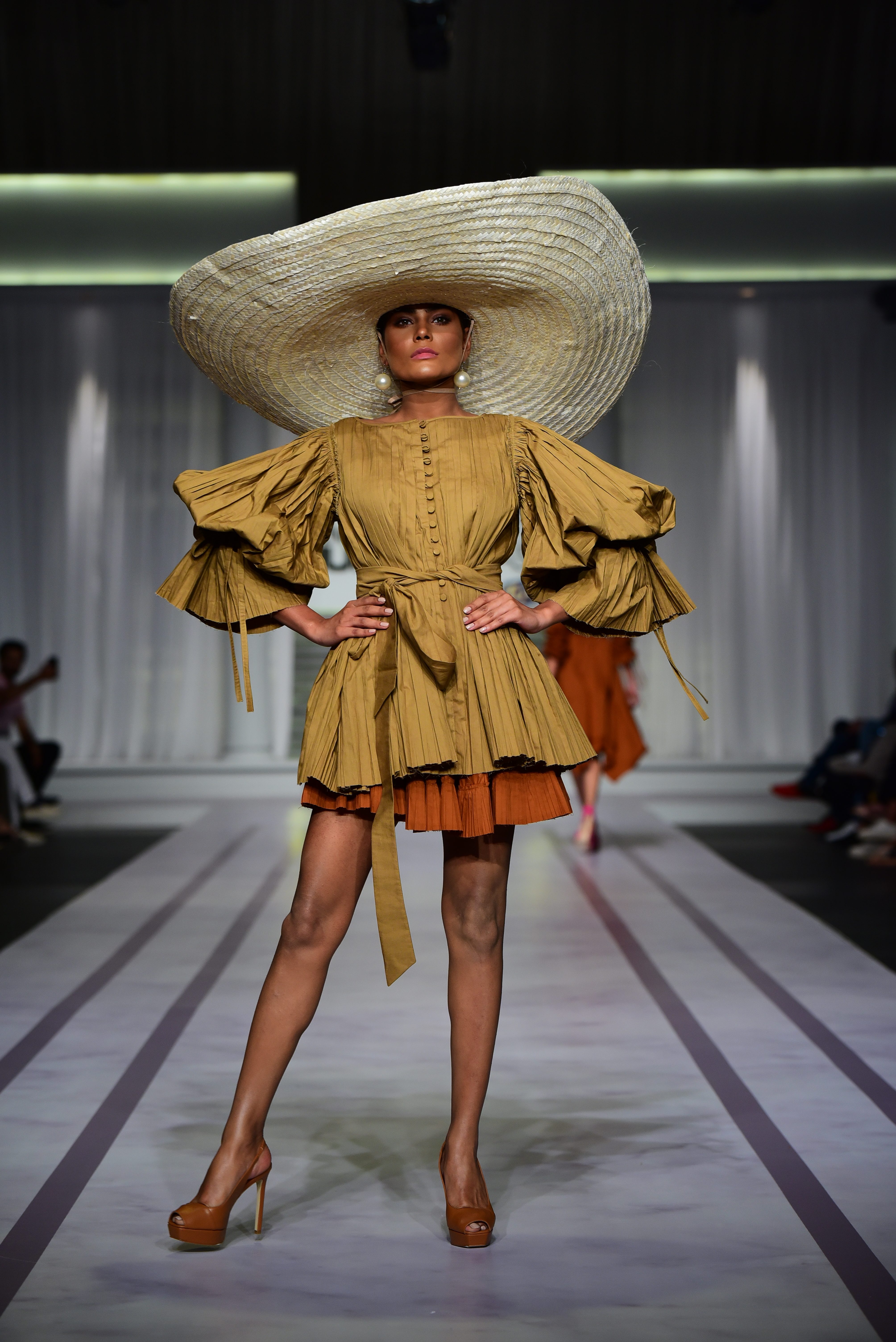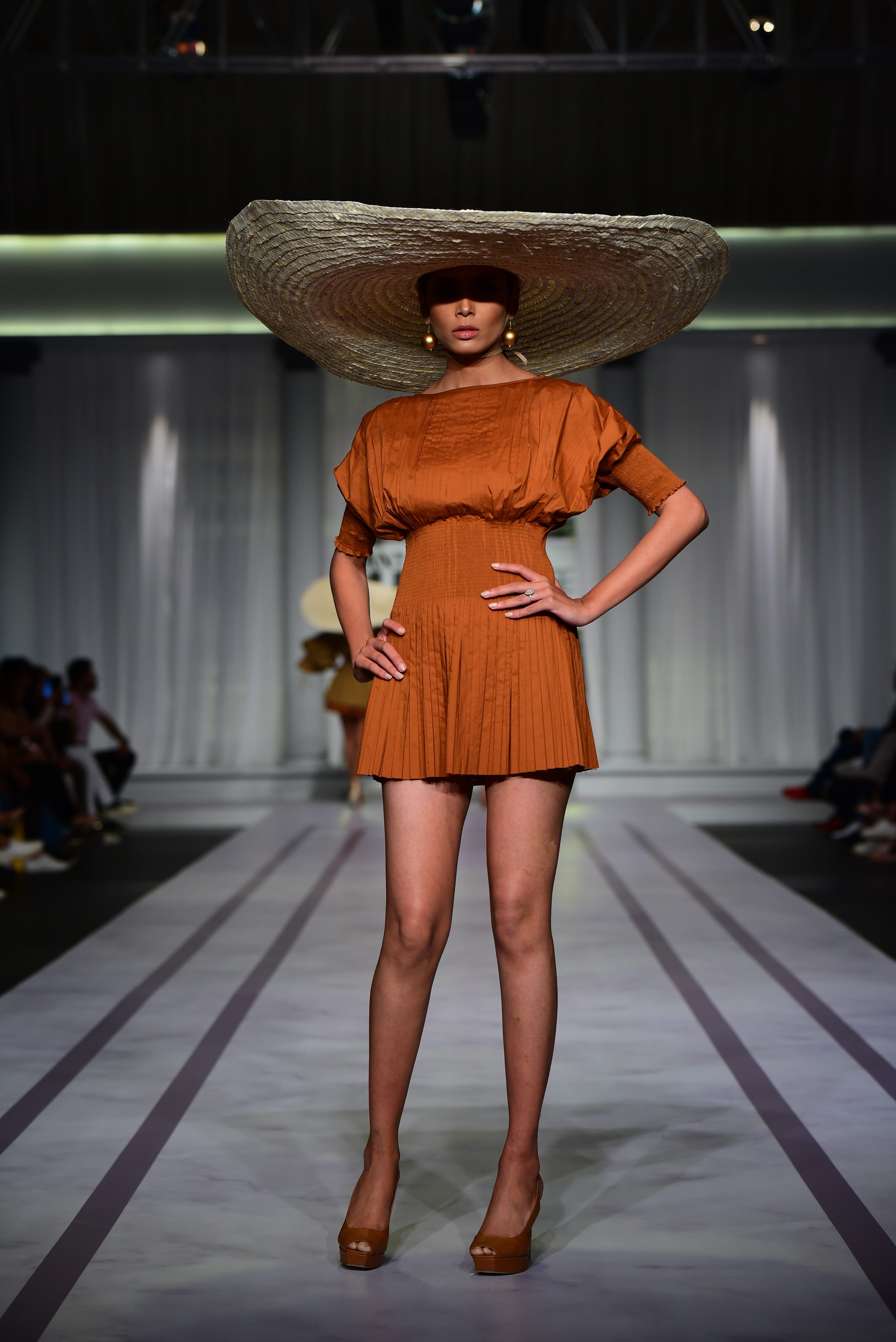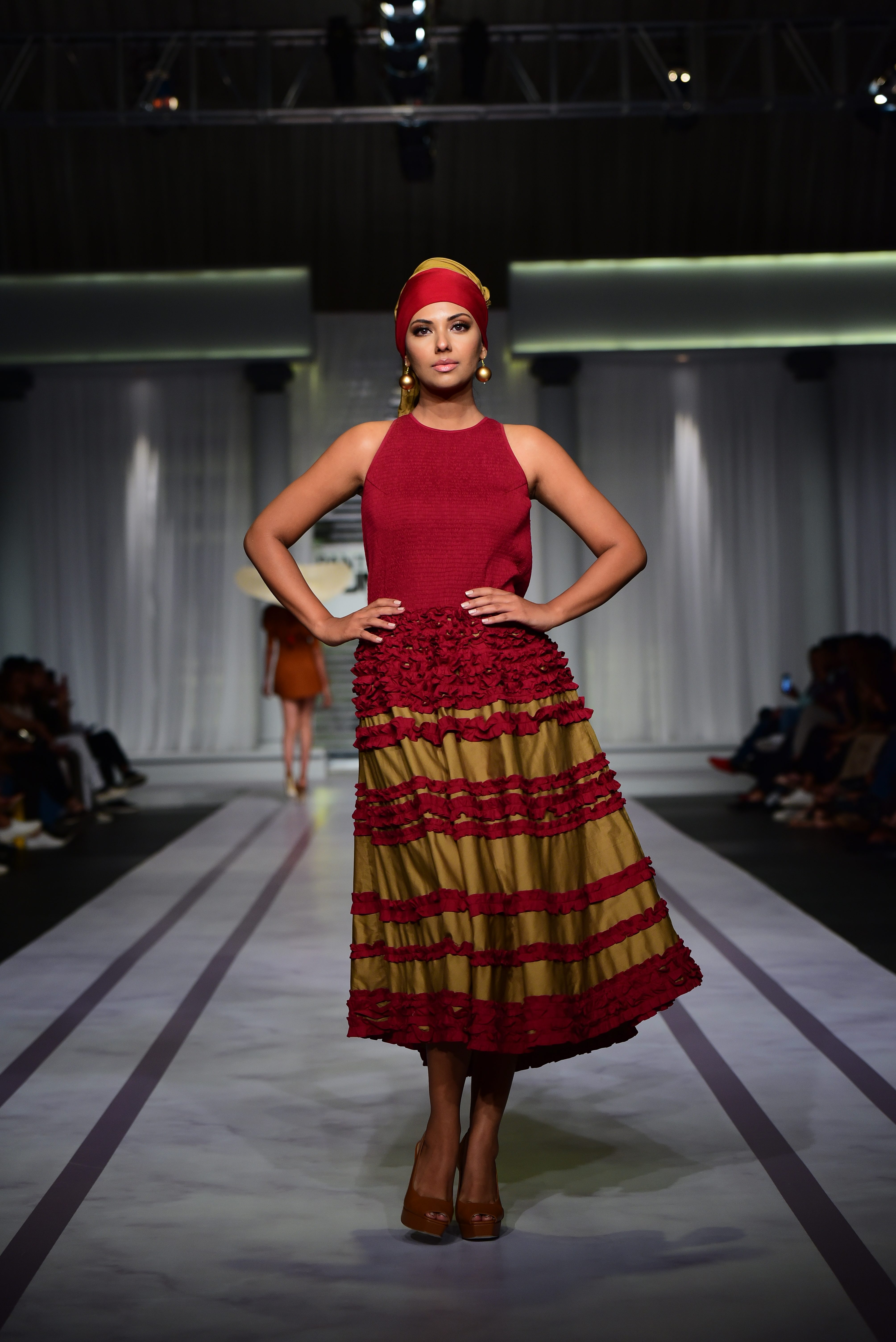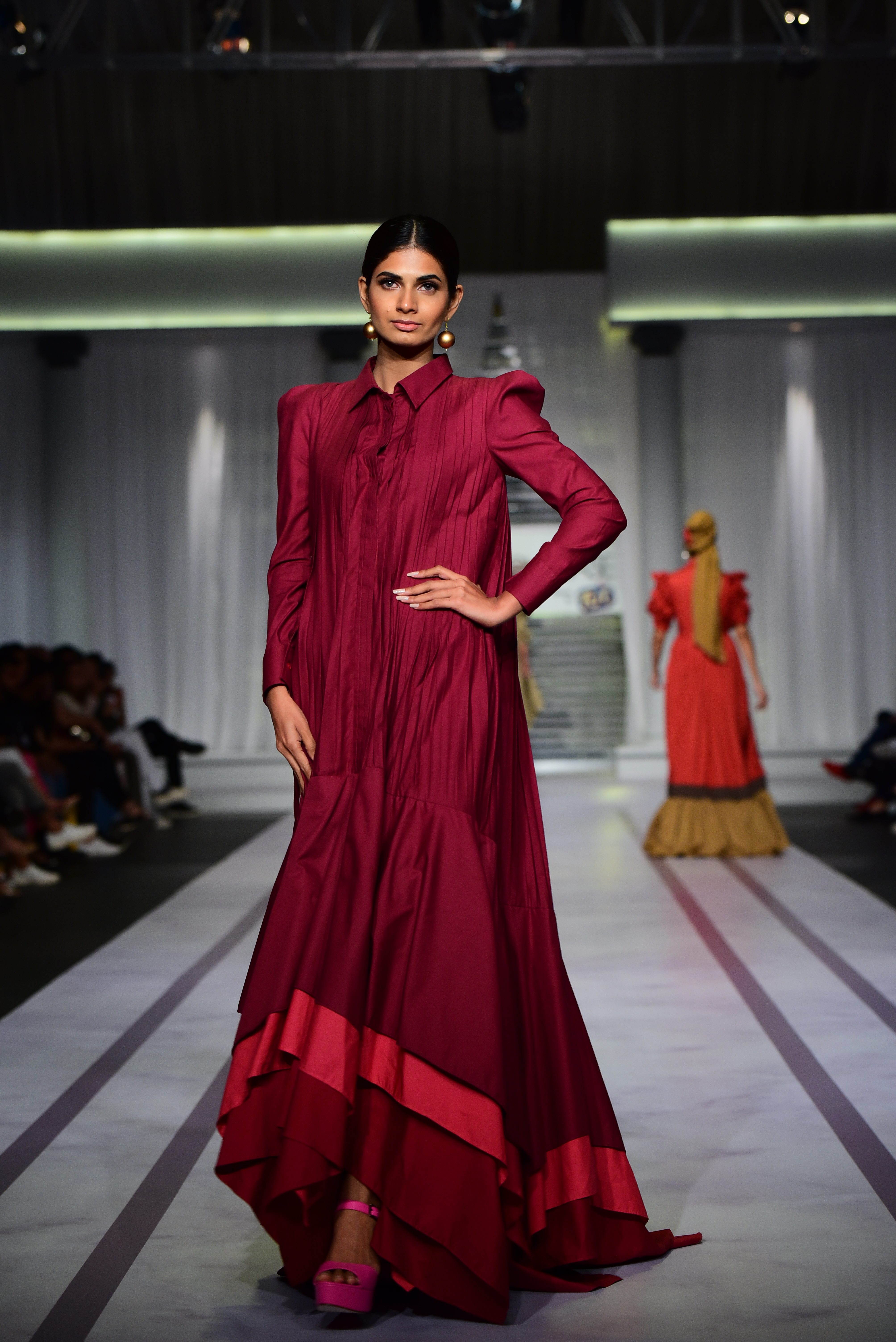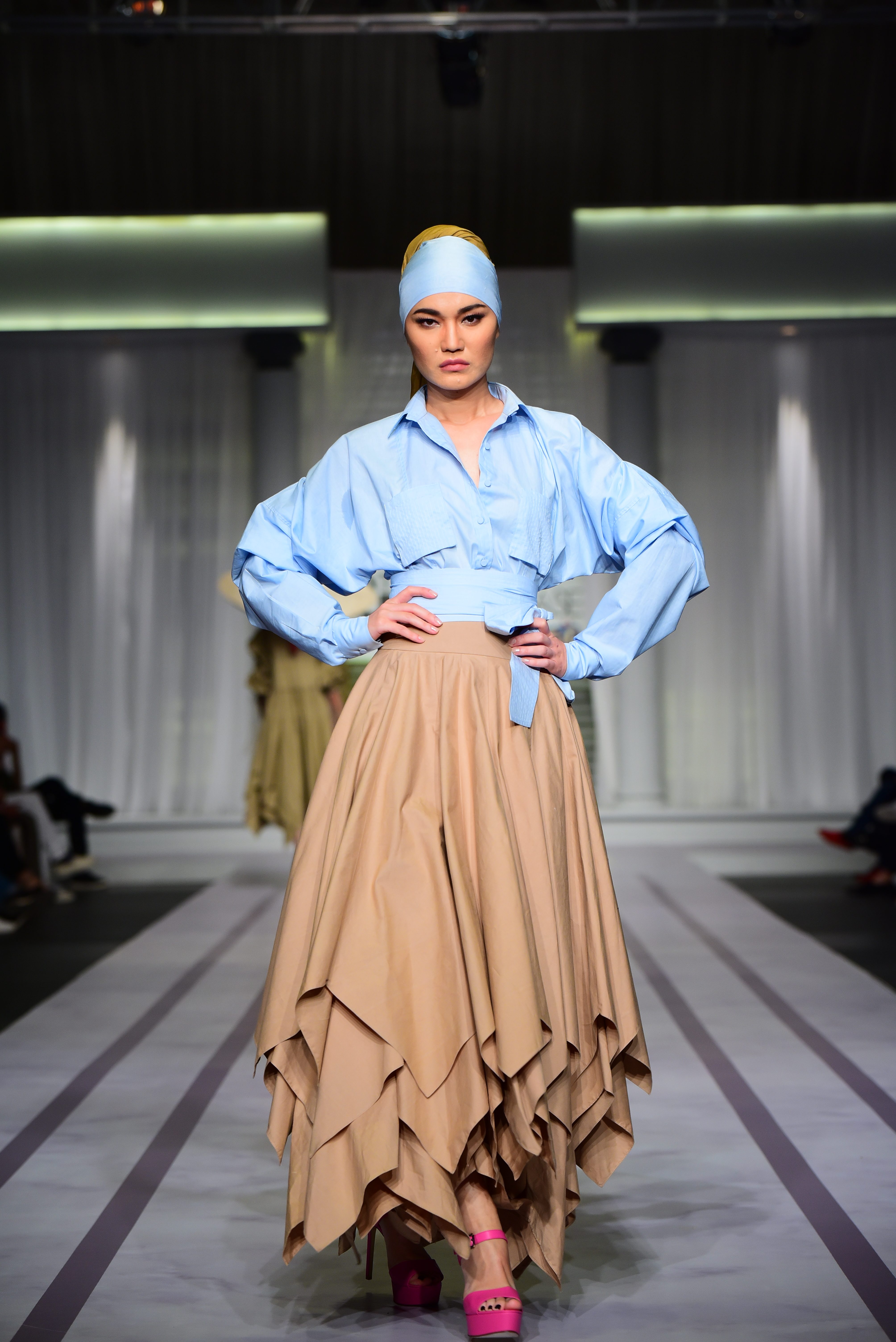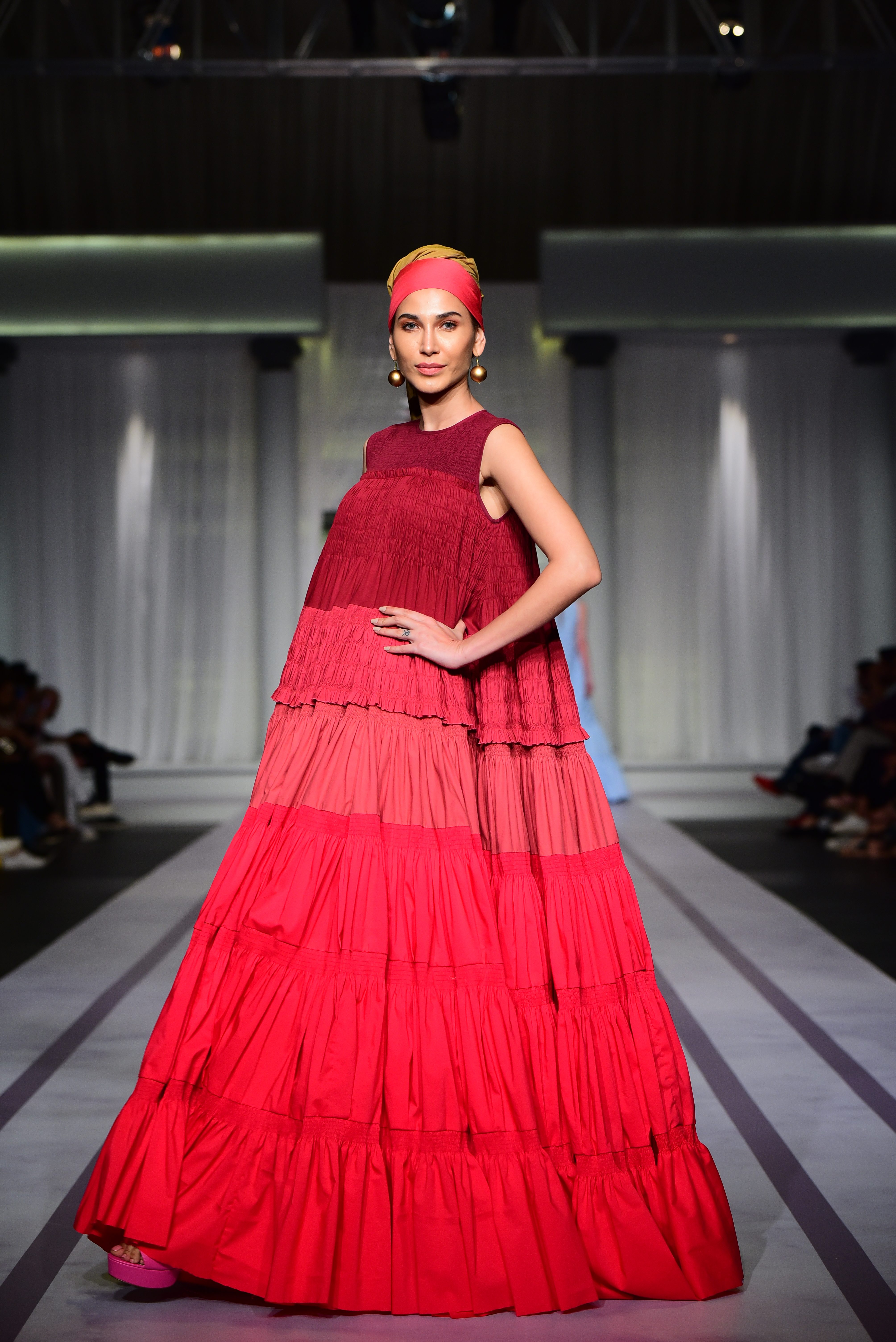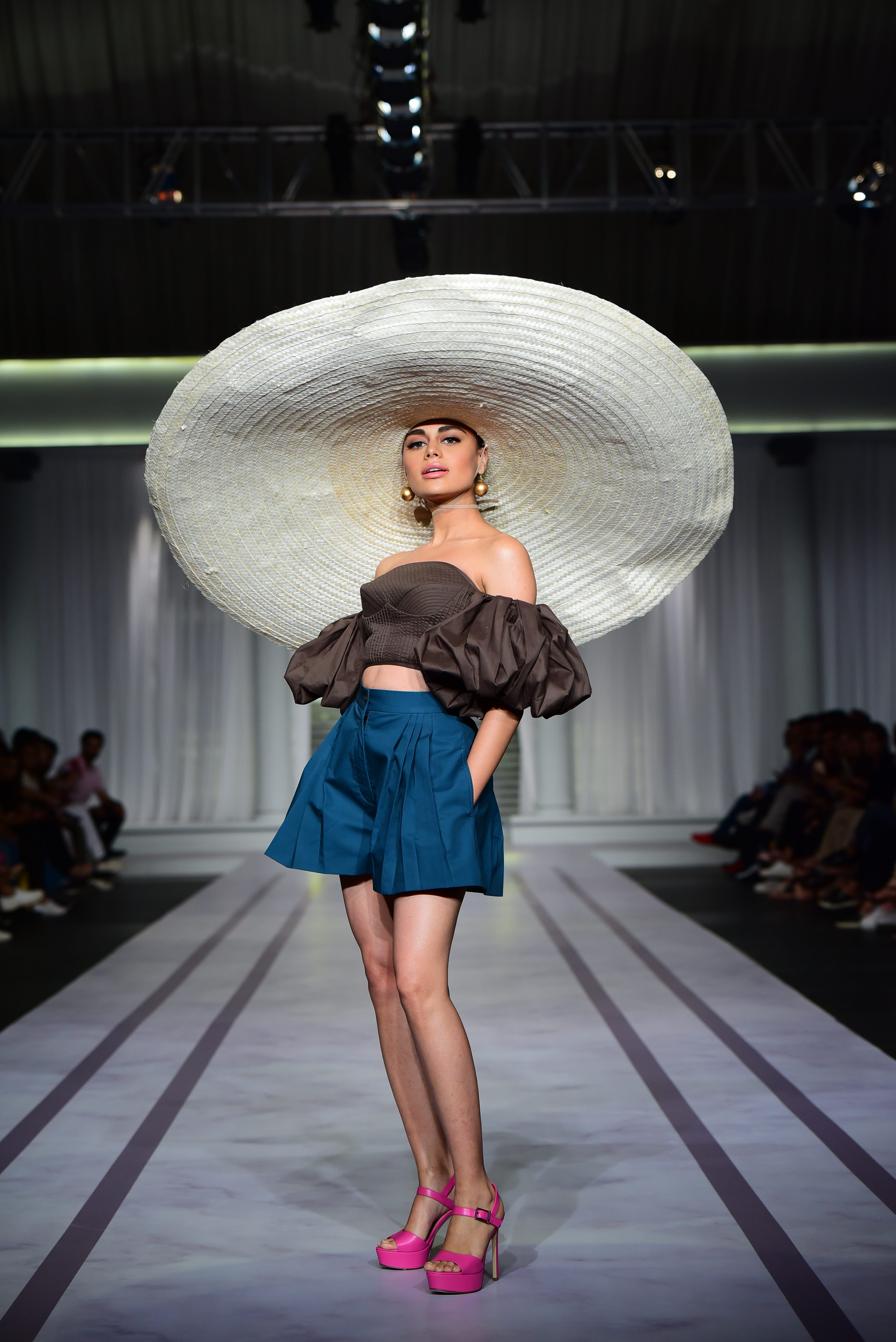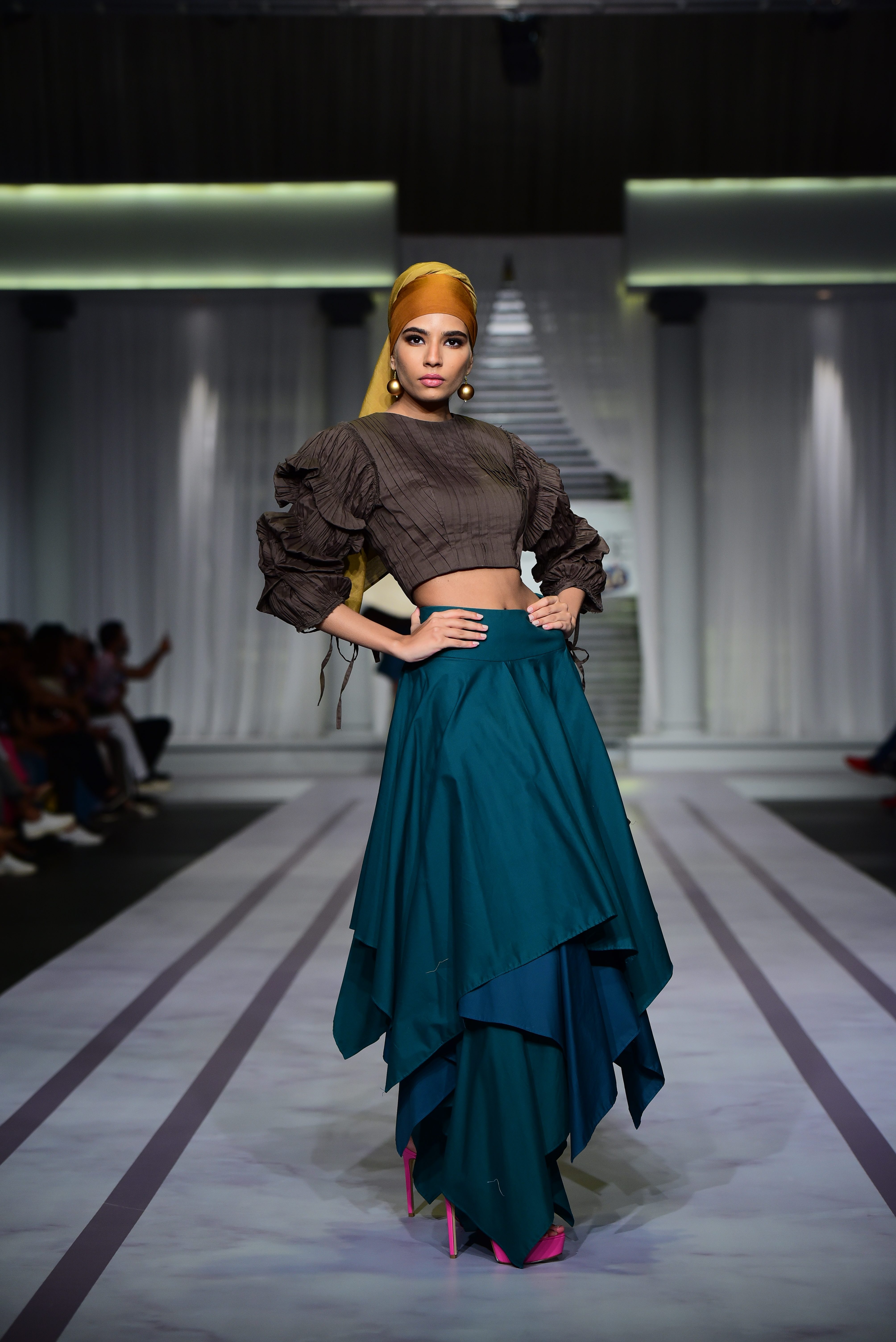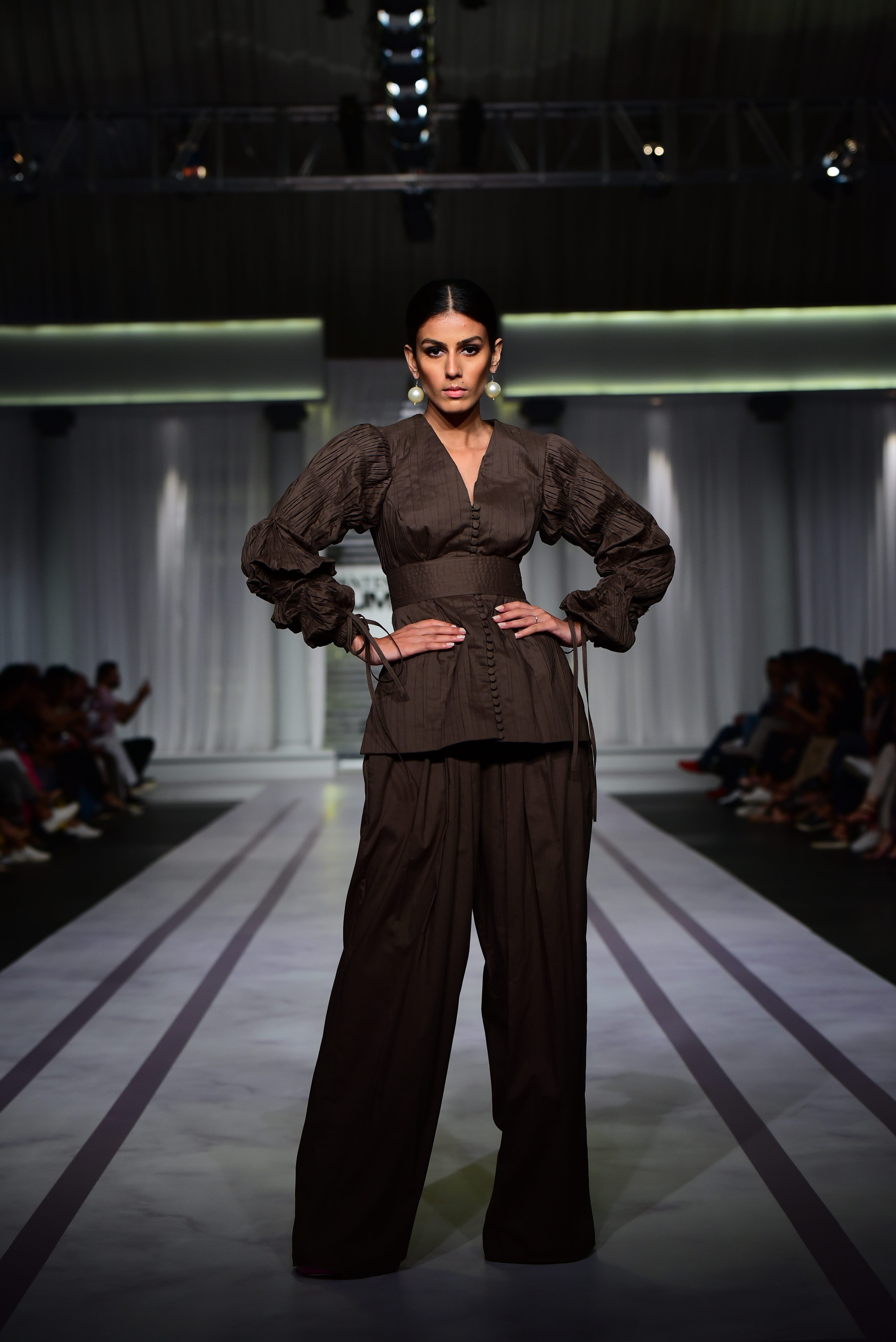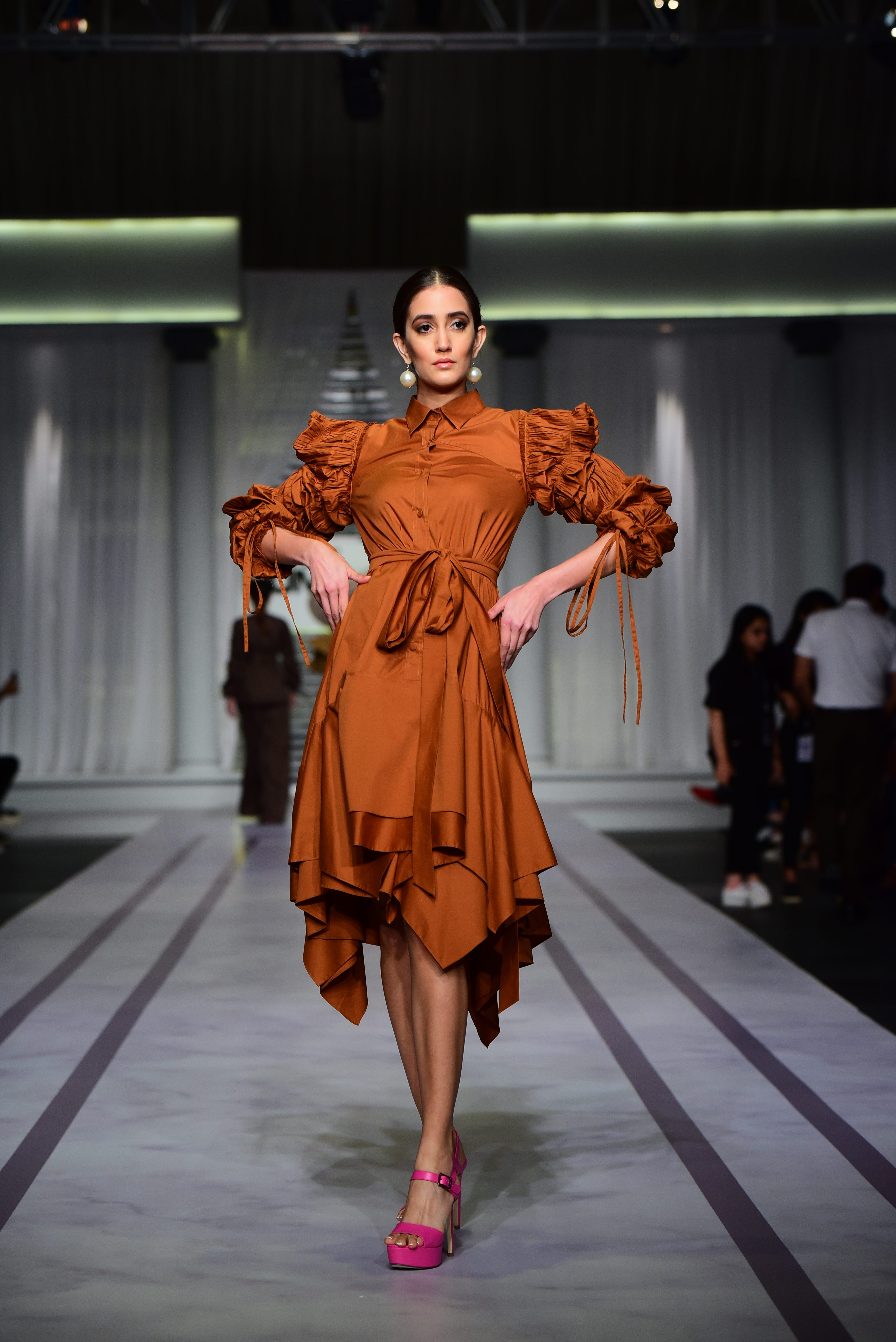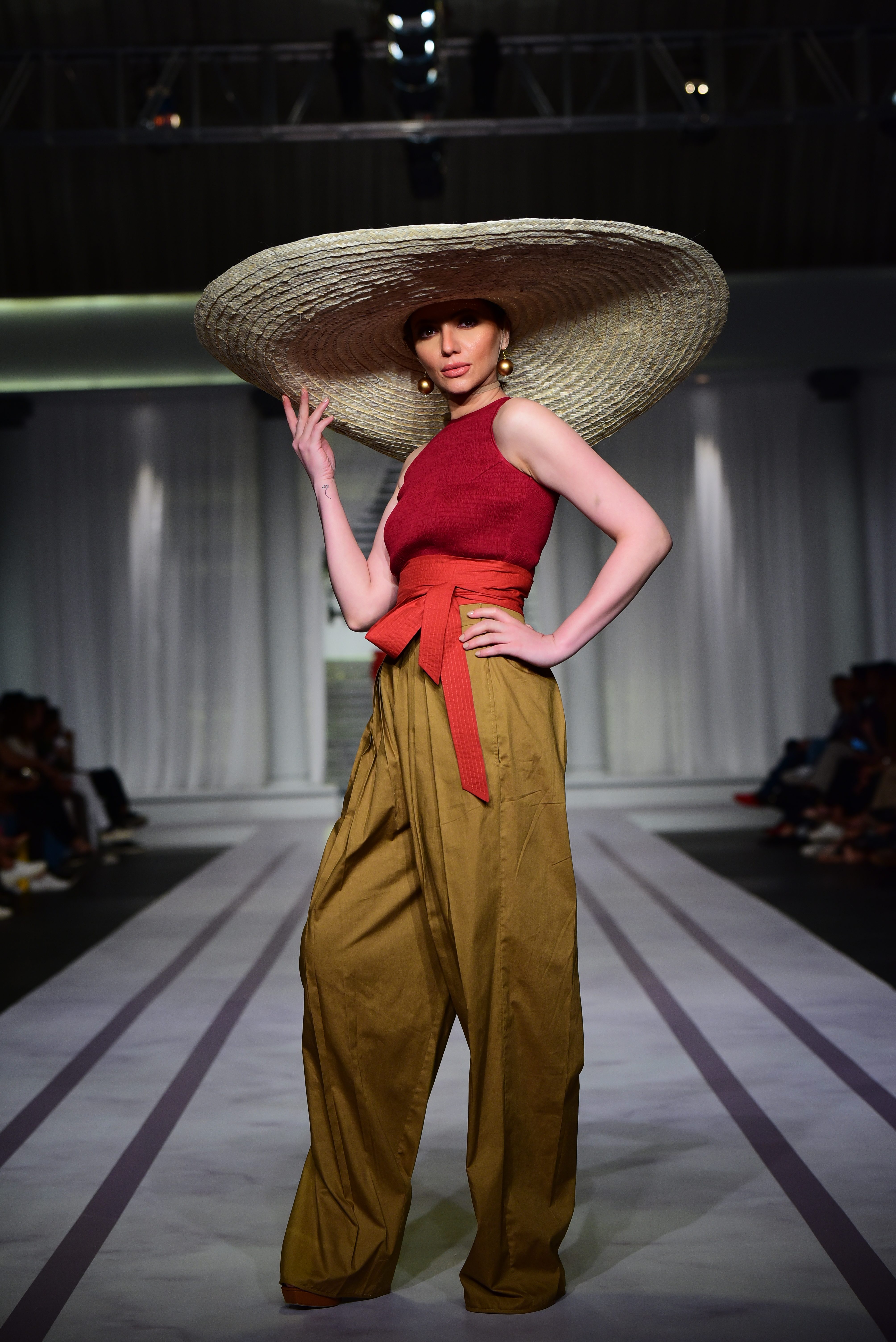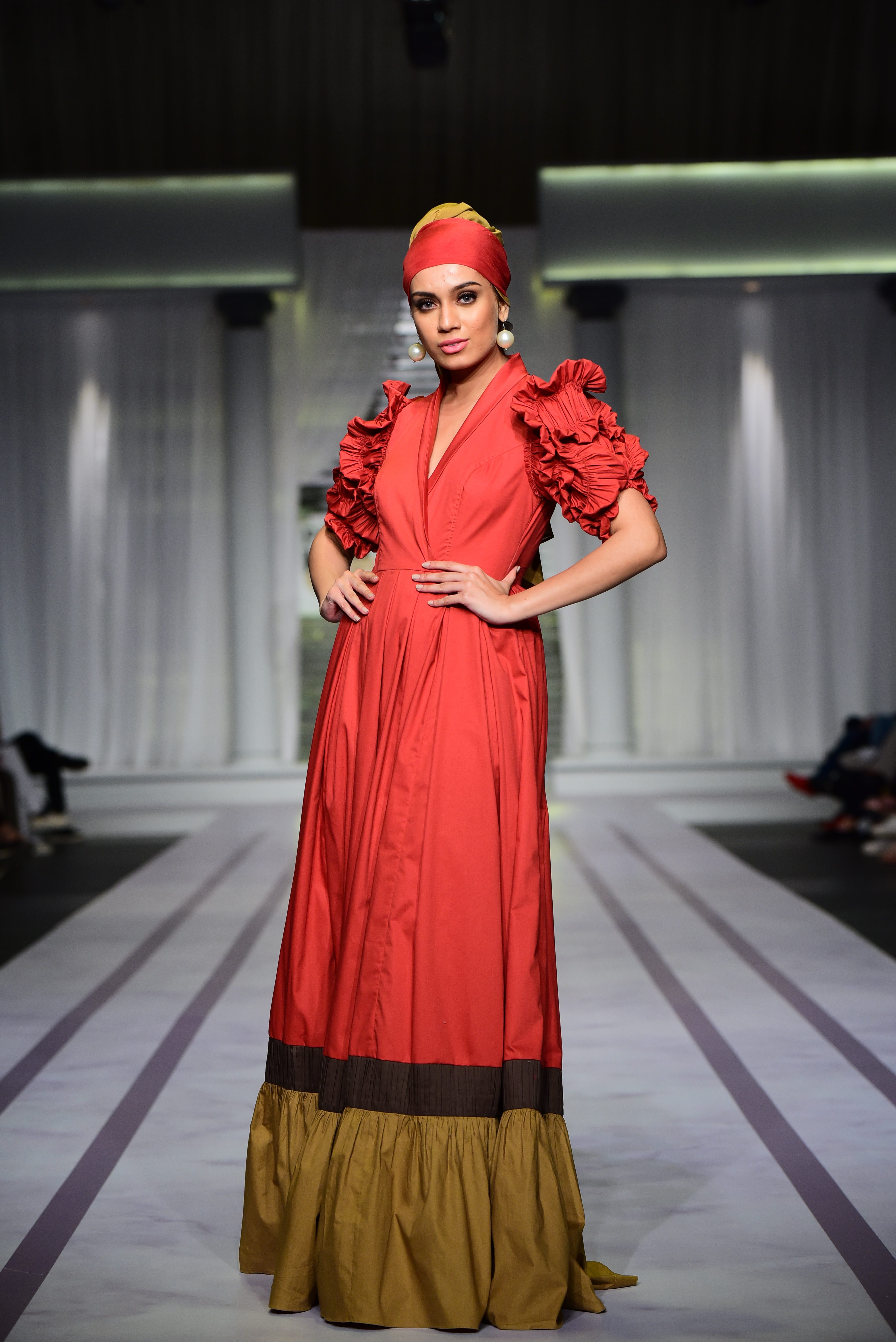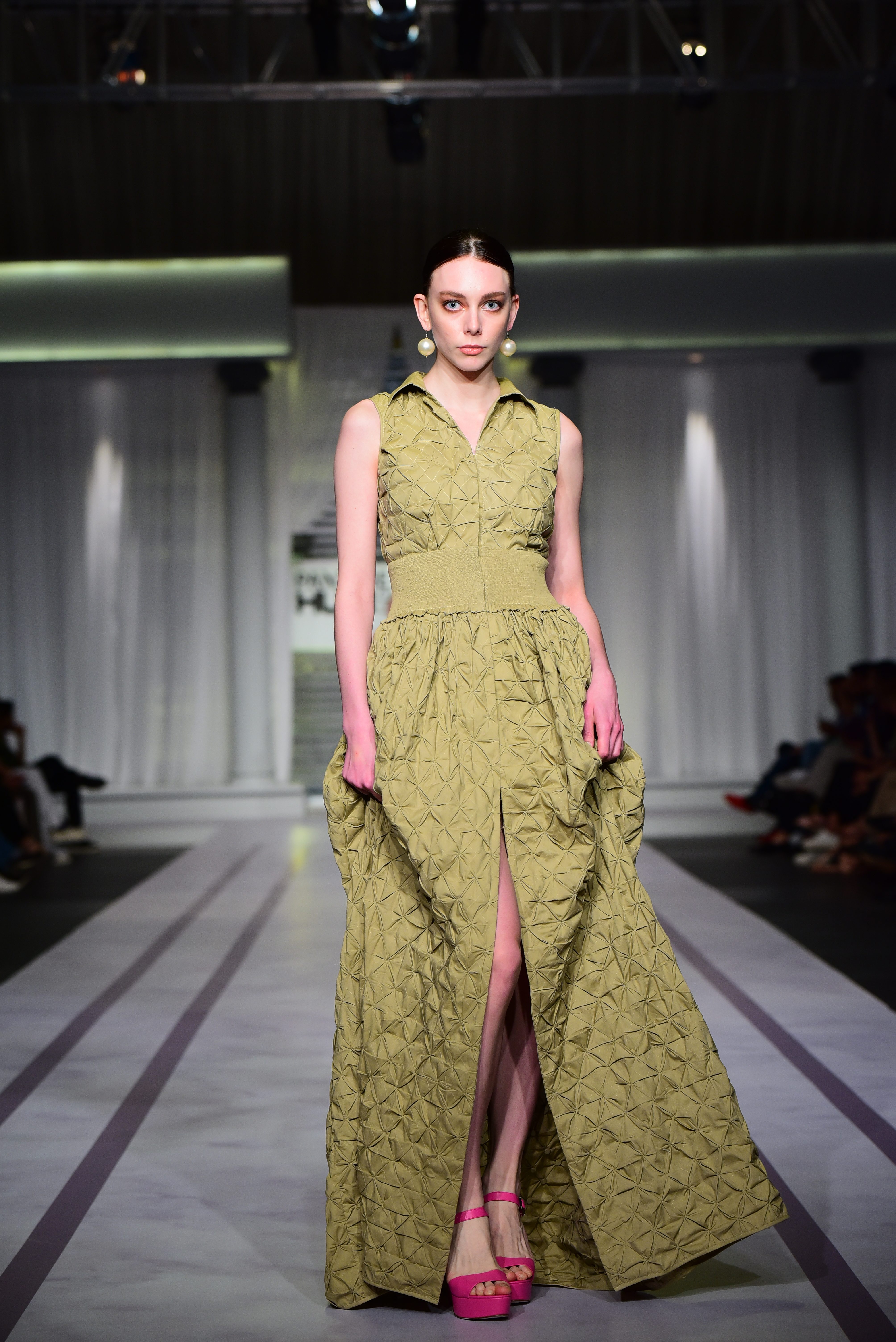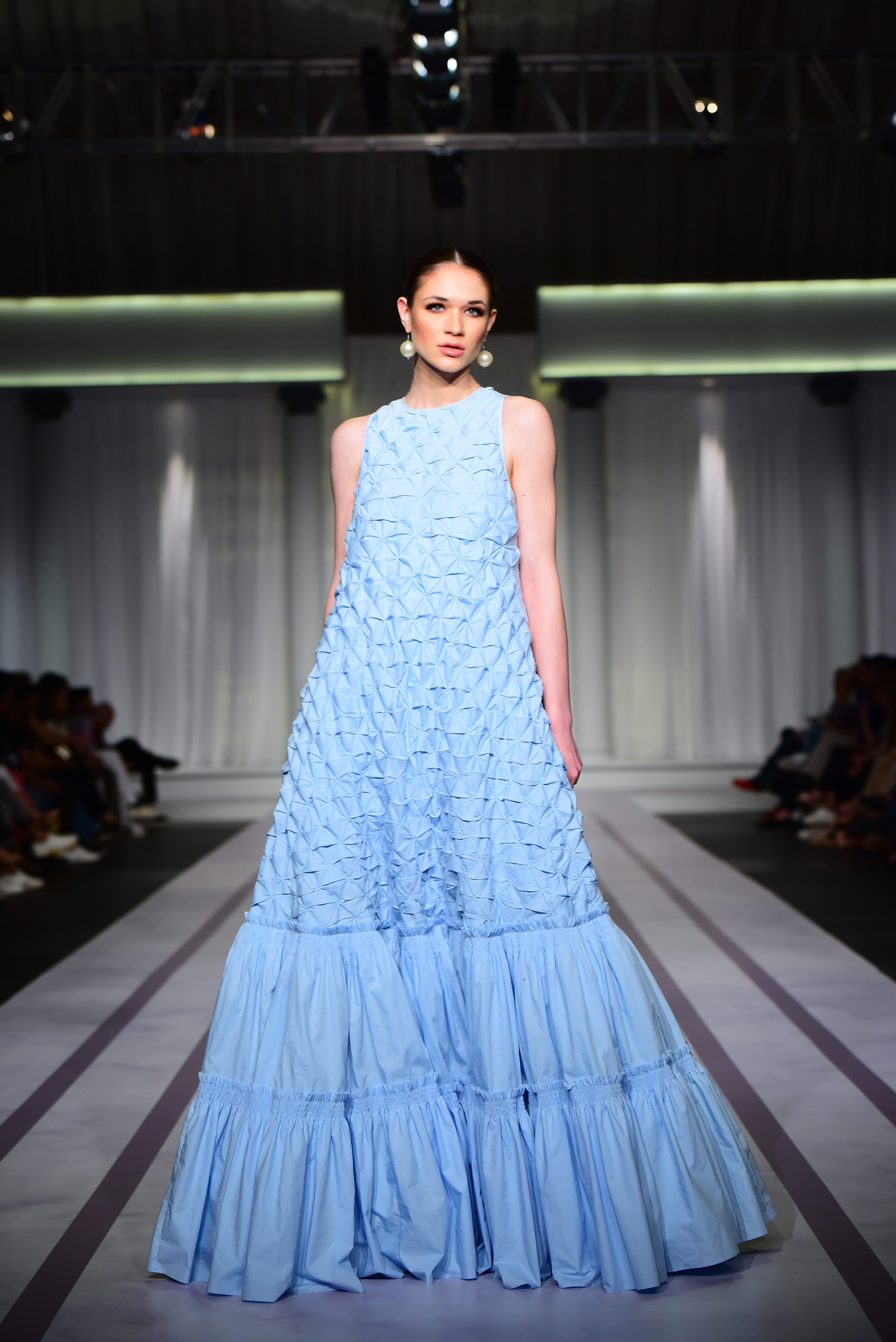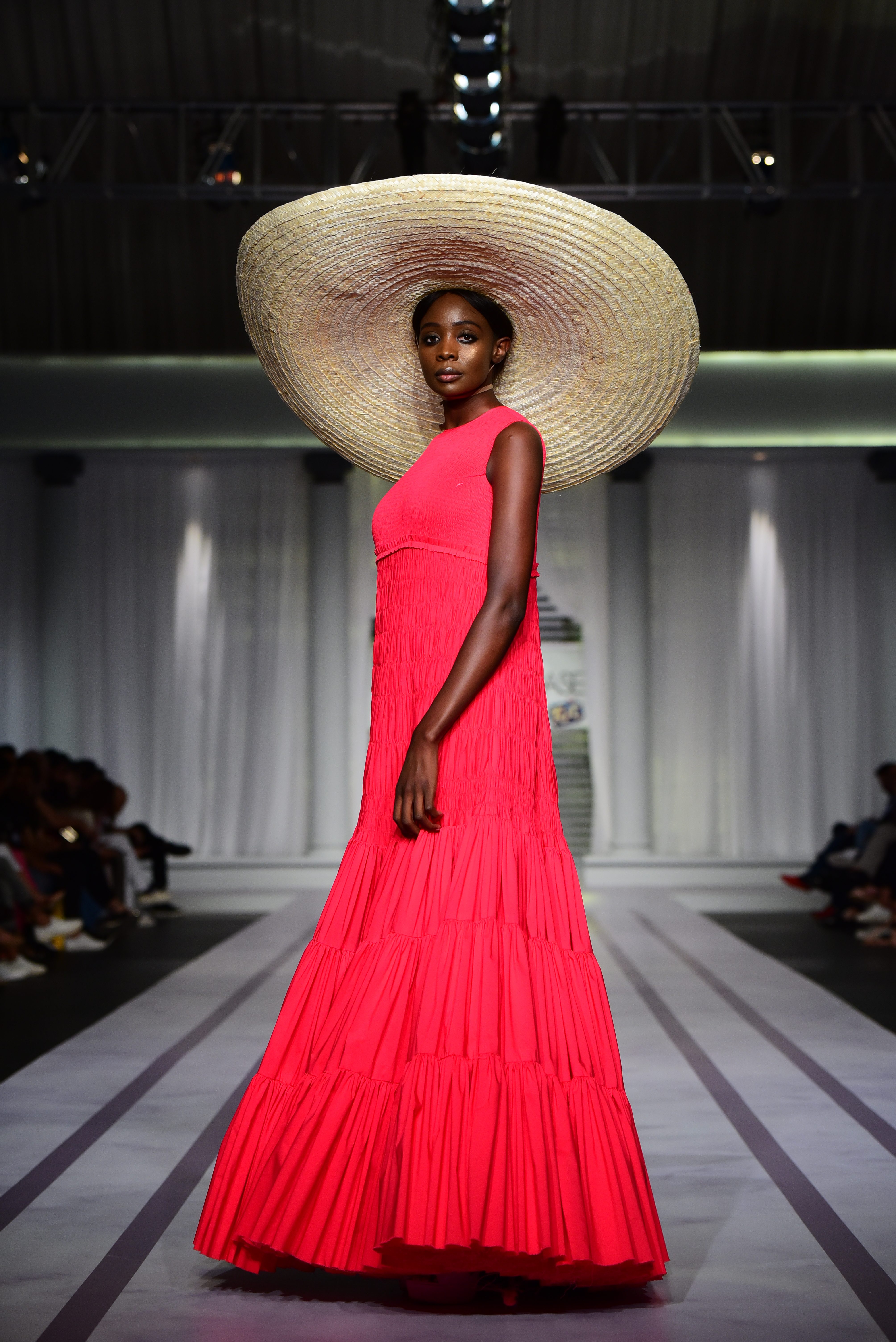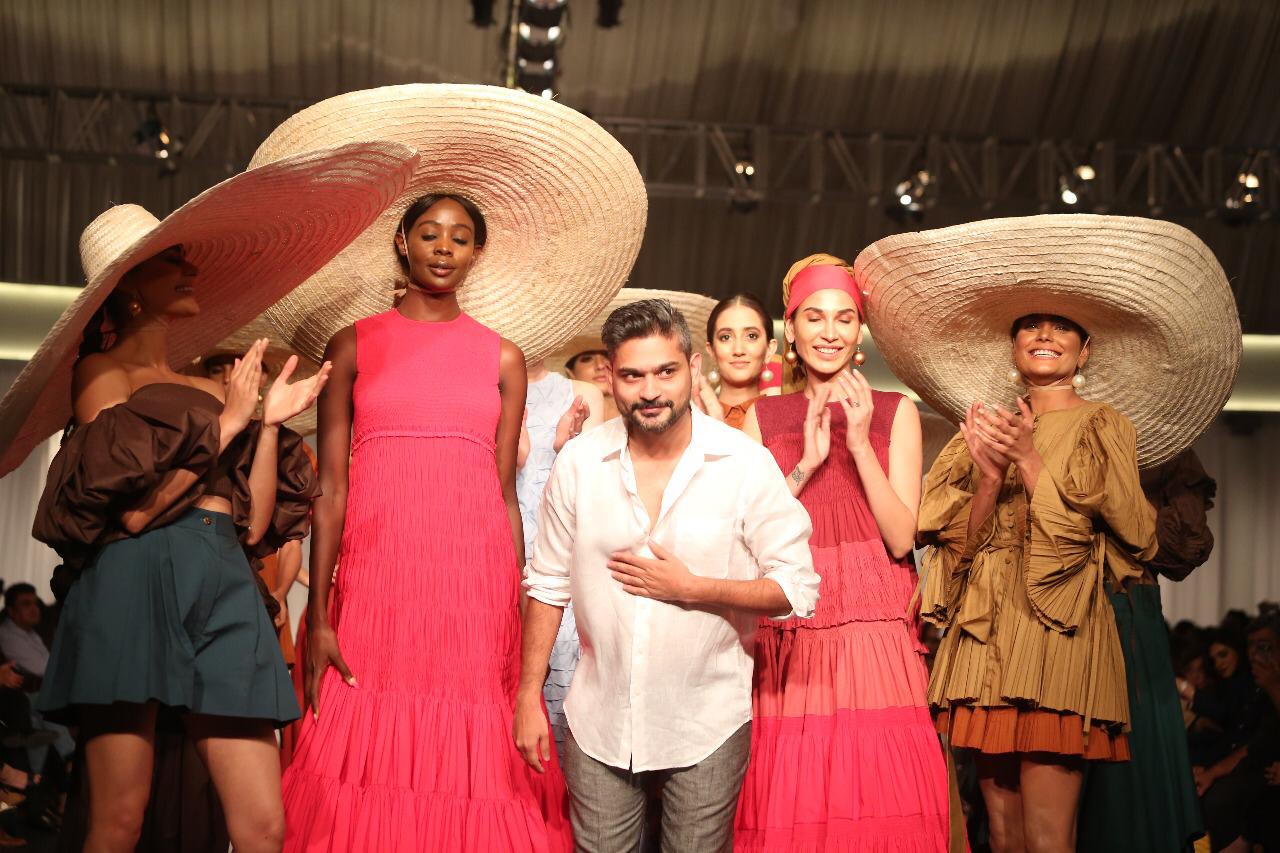 Continuing to mesmerize with his signature colour white,  – but surprisingly little of it (except for the opening oversize sun hat) – couturier Zaheer Abbas broadened his canvas with his Conceptuellè' collection prudently using choice contrasting hues including cocoa with teal; powder blue and camel; a bold sunset cerise and amber and positing them onto a plethora of wildly imaginative silhouettes including a frilly crossover kaftan dress; off-the-shoulder ruched Juliet-sleeved blouse; uber-mini-skirts; multi-layered asymmetric pleated dress;  flouncy sundresses and a fluid pleated cerise dress with a can-can effect. Using cotton, Abbas emphasized on colour accents, precise cuts, innovative construction and bold and dramatic yet simple contrasts. Each artisanal piece was enhanced with fine couture construction and detailing employing hand- pleated textures and signature 3D draping; eschewing any embellishment or print and instead creating a fine meld of the romantic and contemporary. The collection had a strong resort feel to it.
TRENDS: 
1. ASYMMETRICAL MULTI-LAYERING
2. MUTED COLOUR CONTRASTS
3. RUFFLED SLEEVES
4. OBI BELTS
9 LINES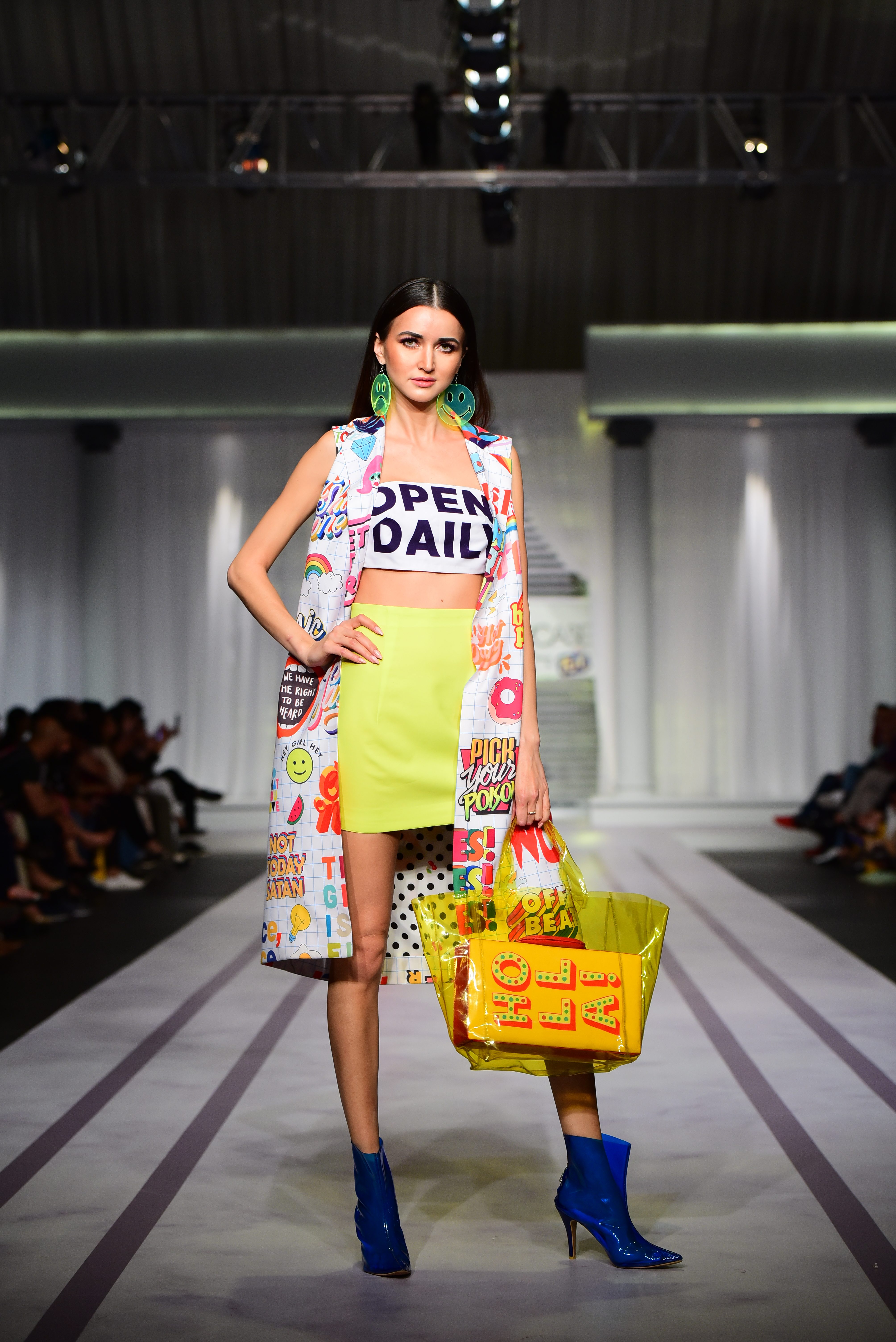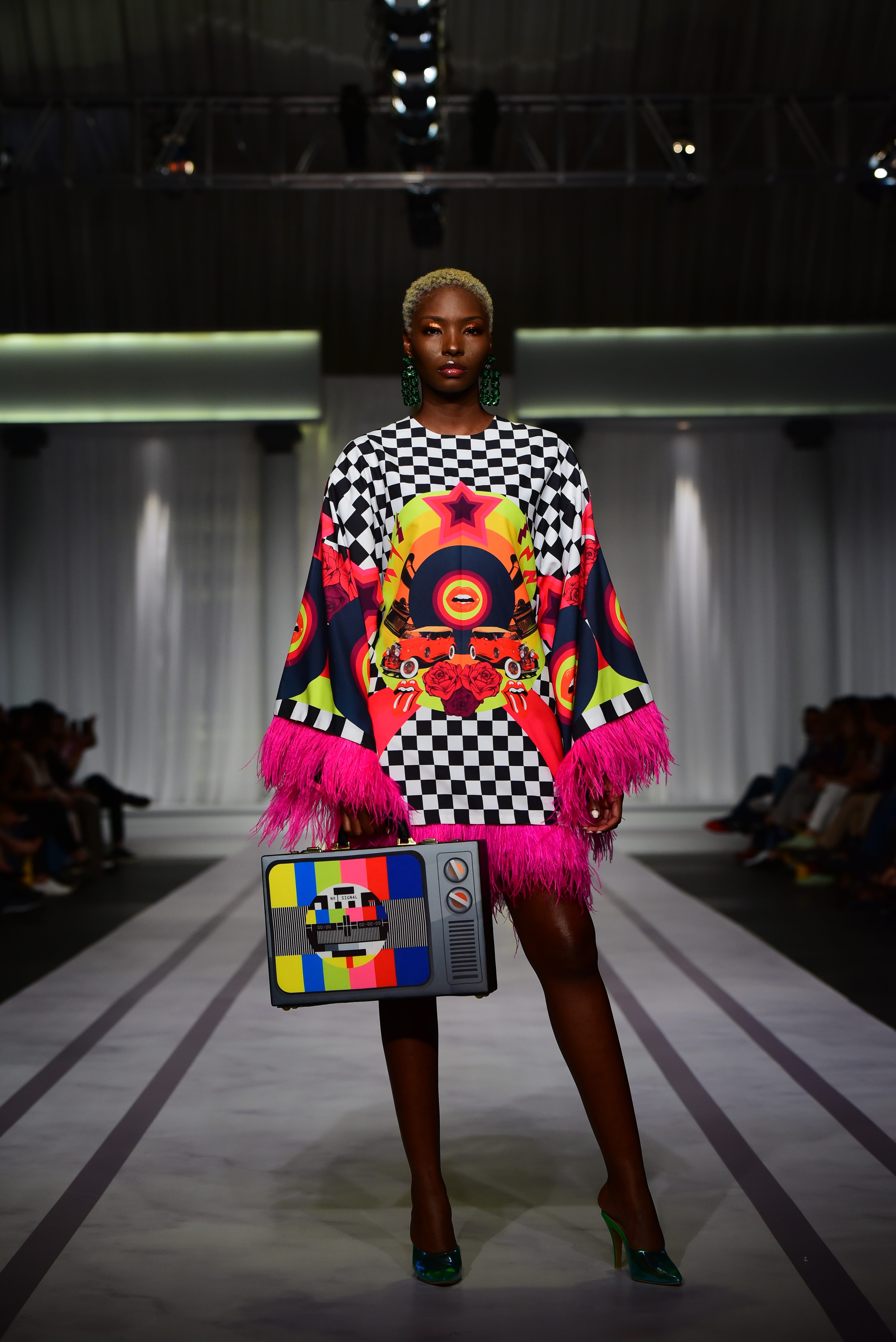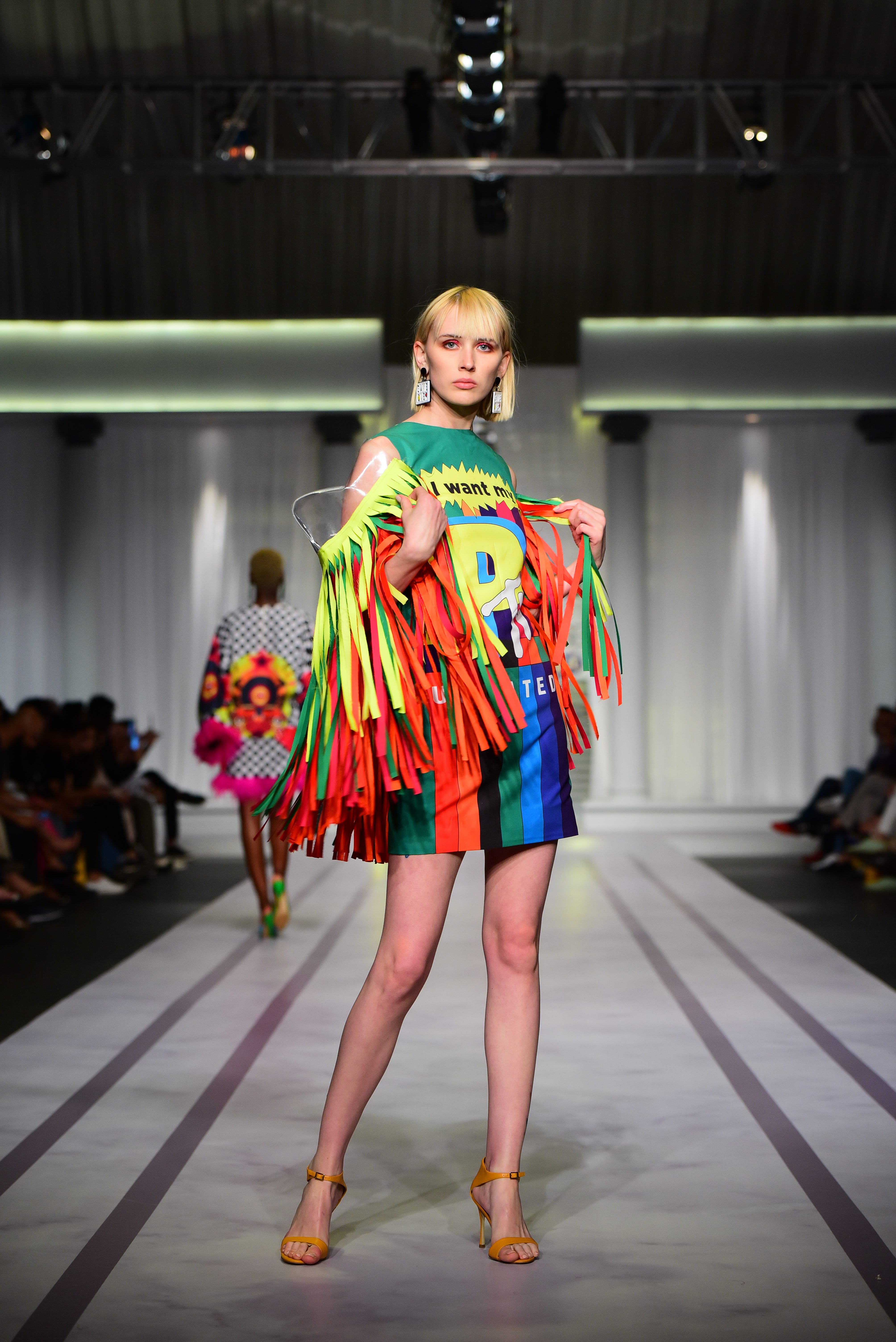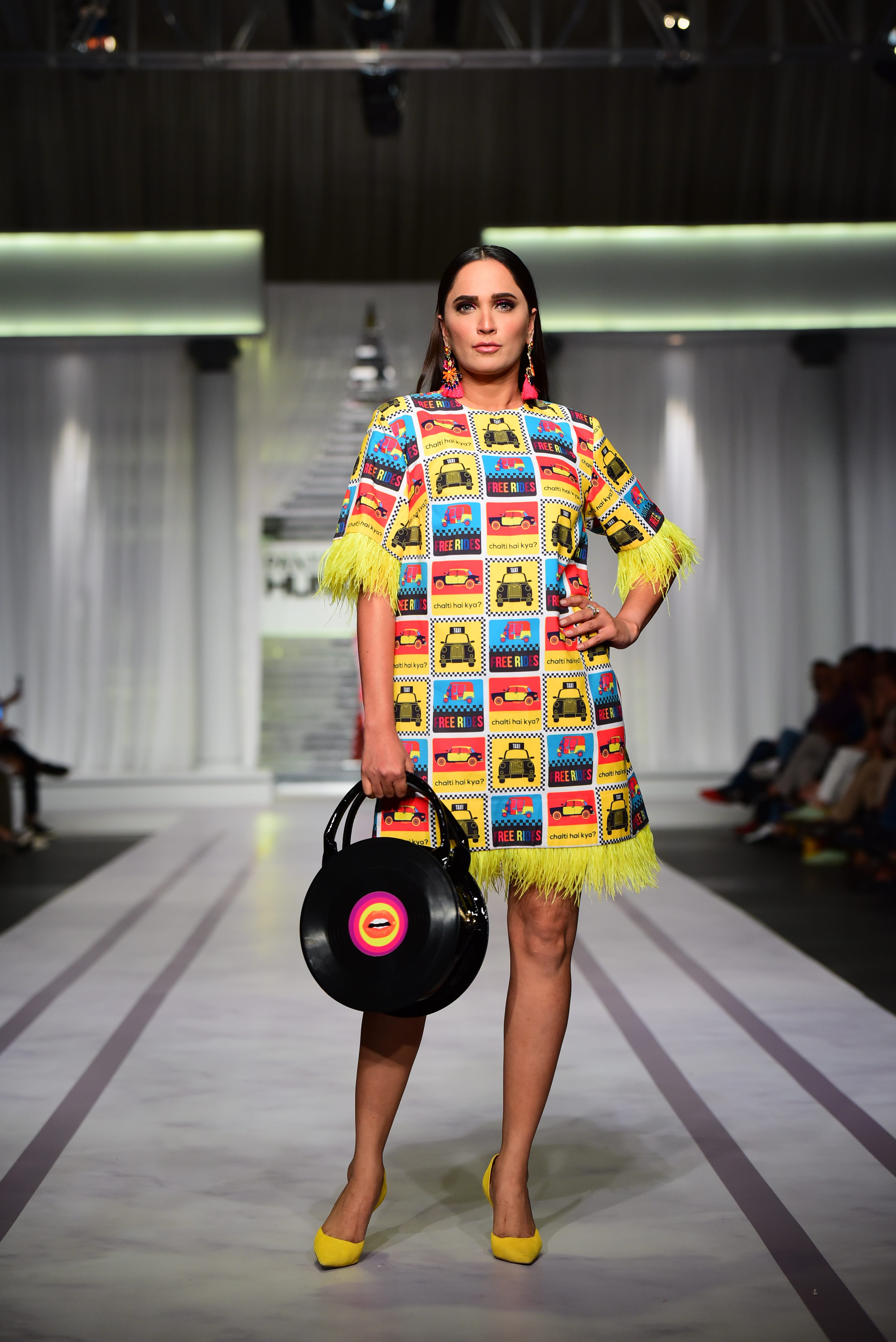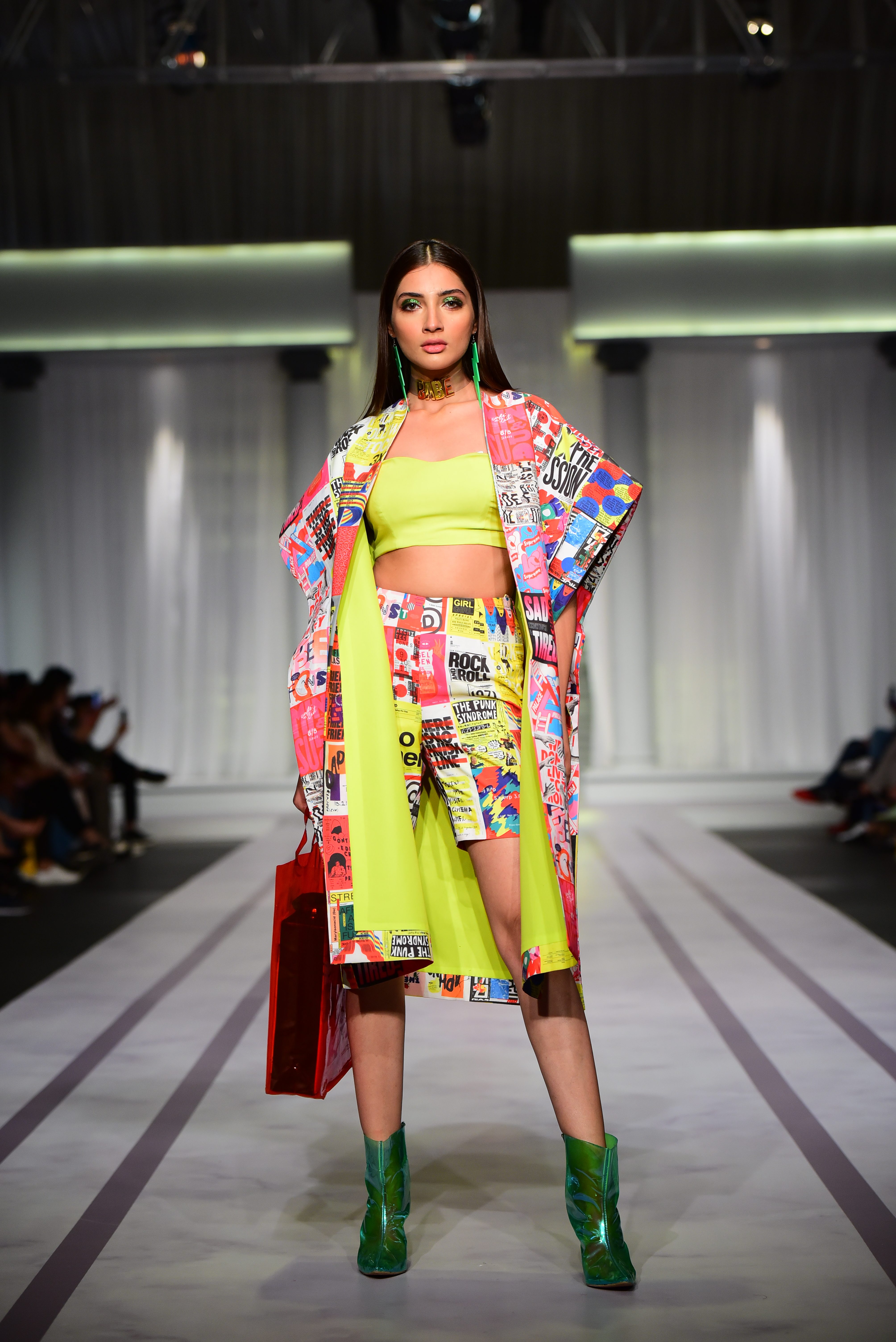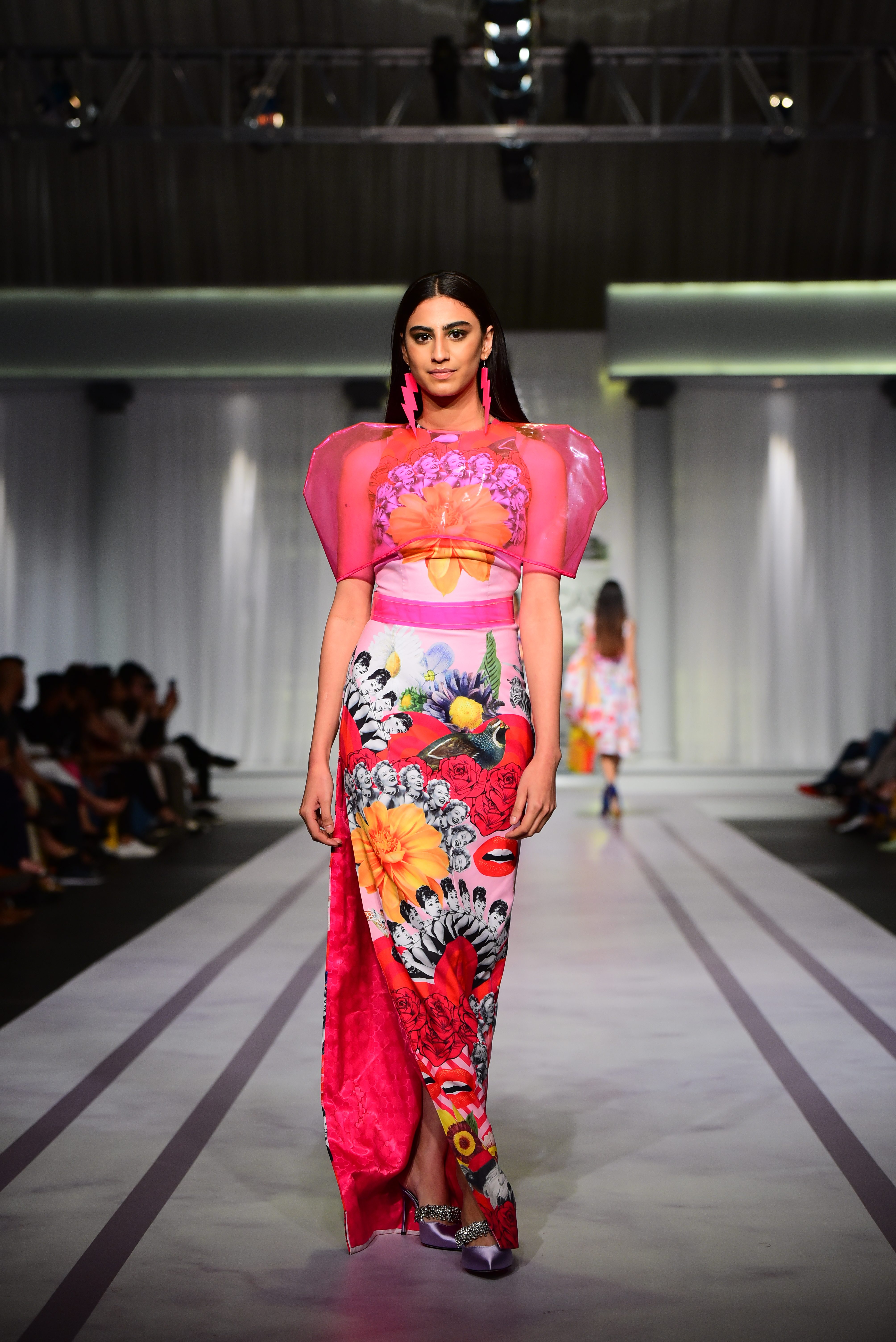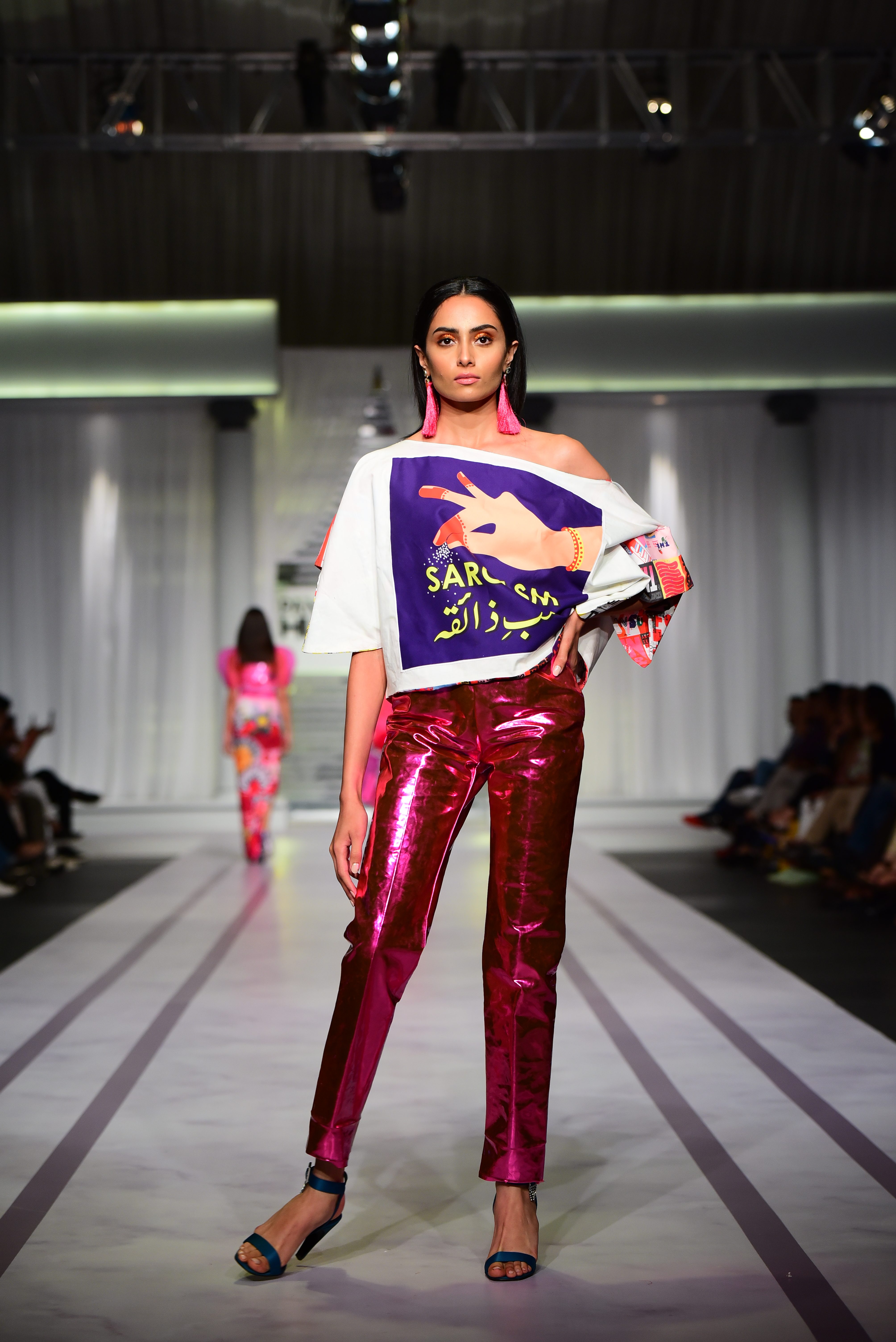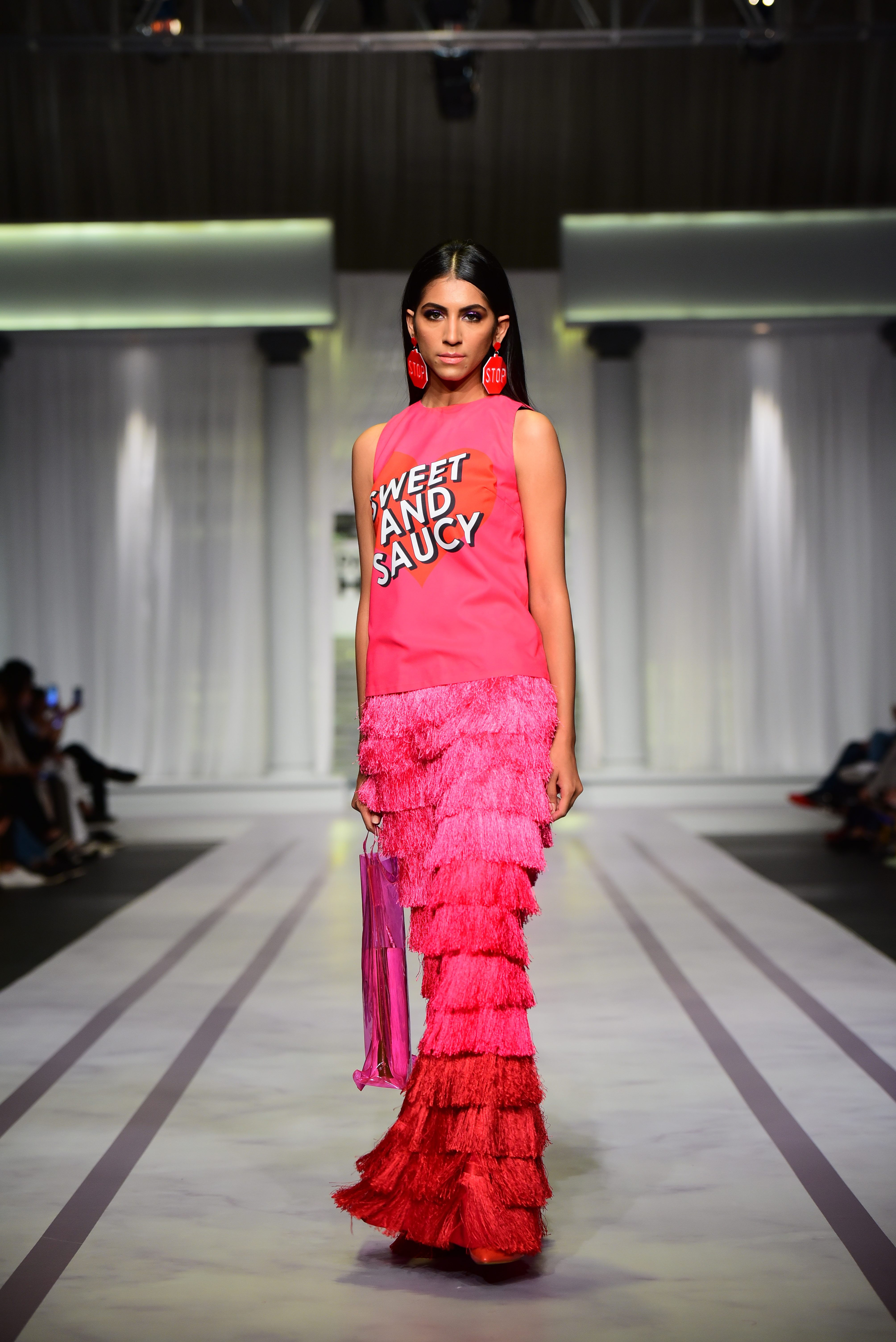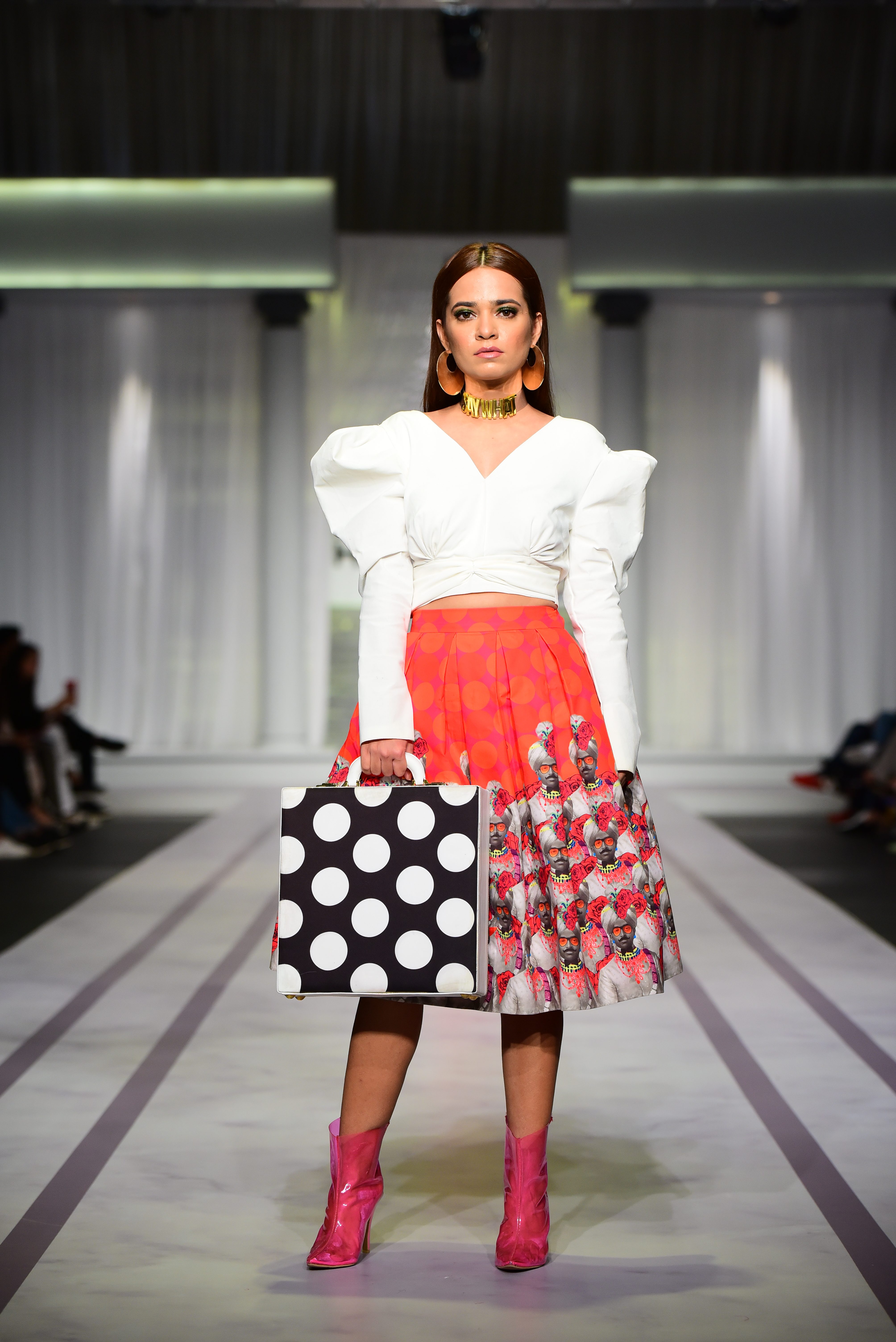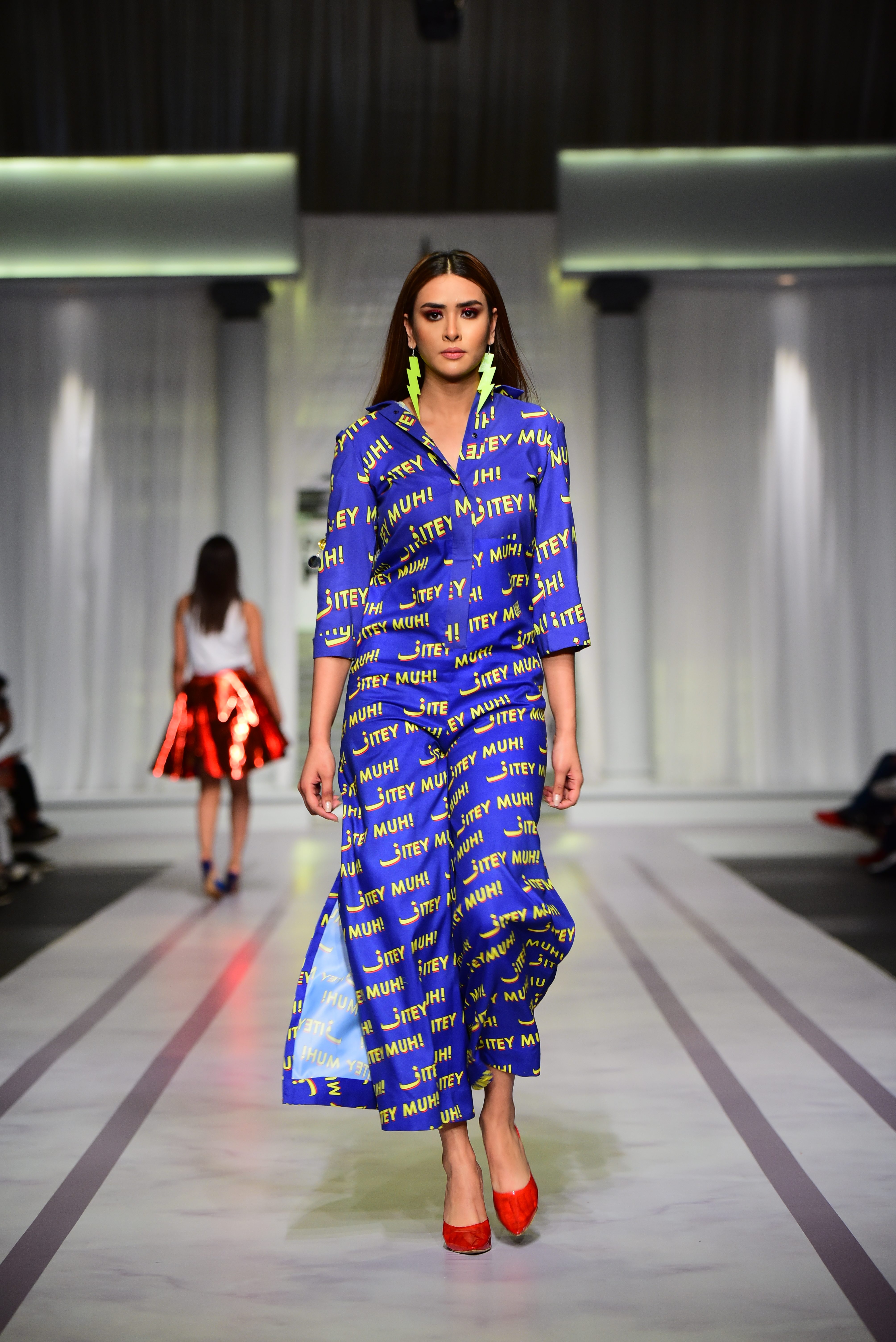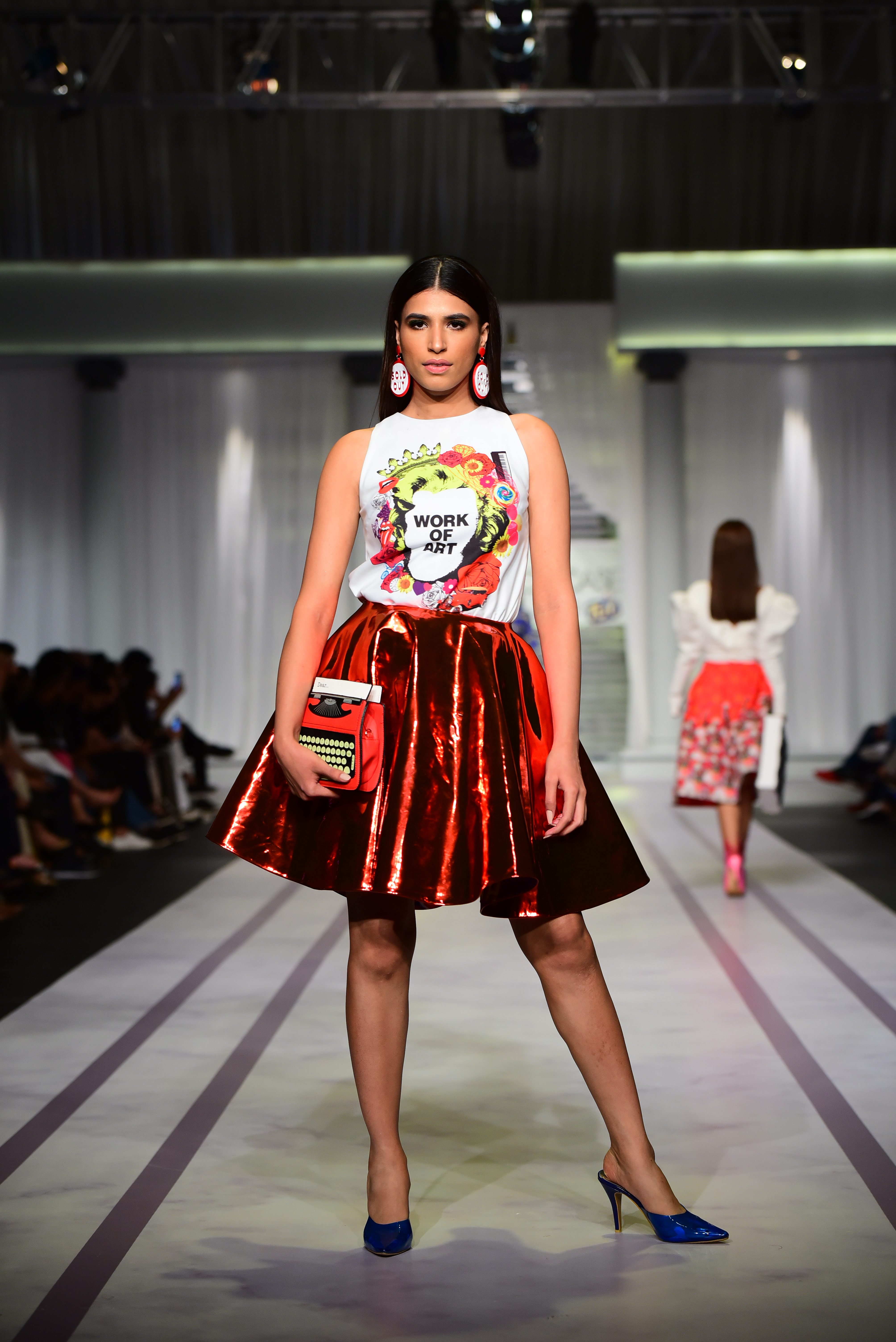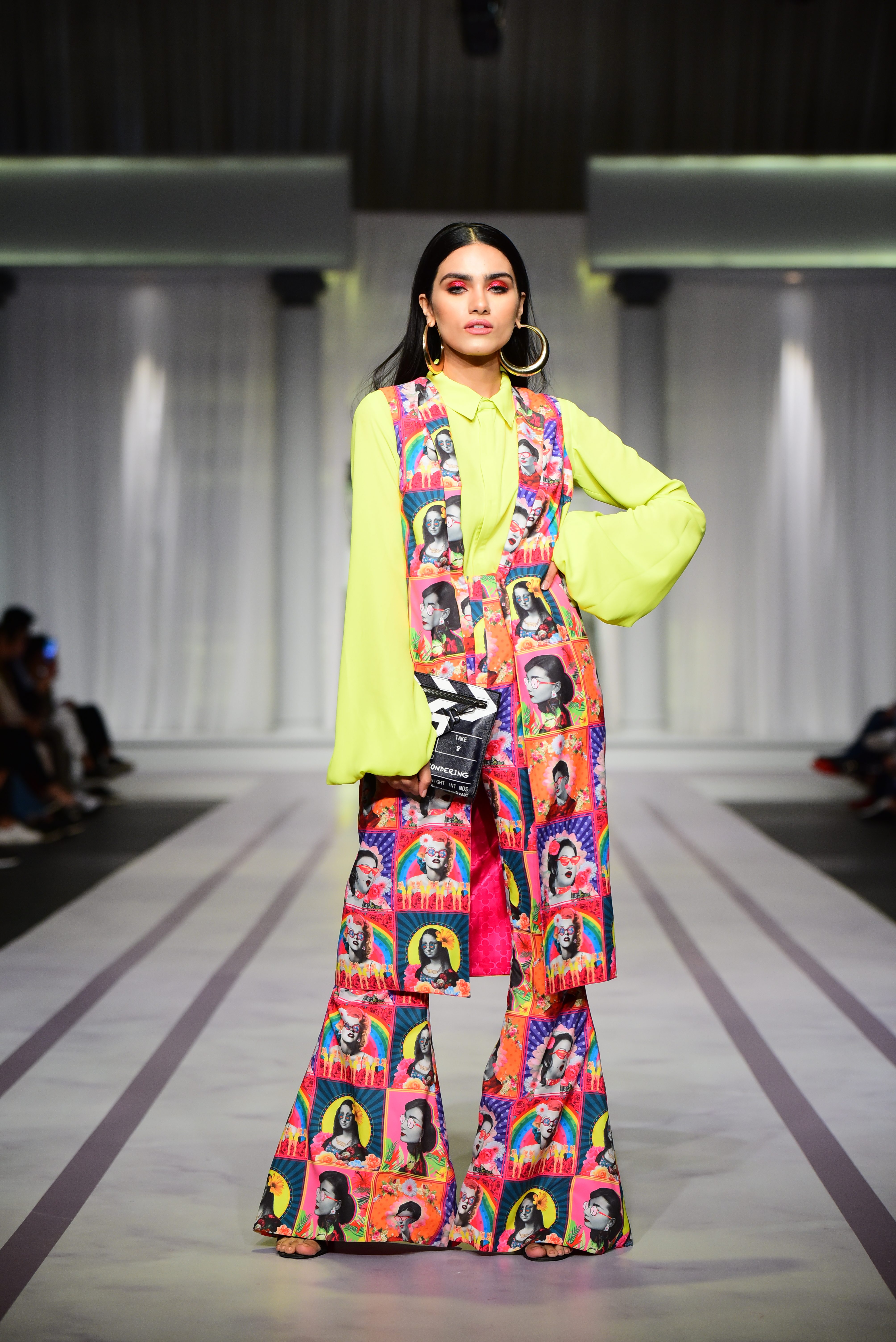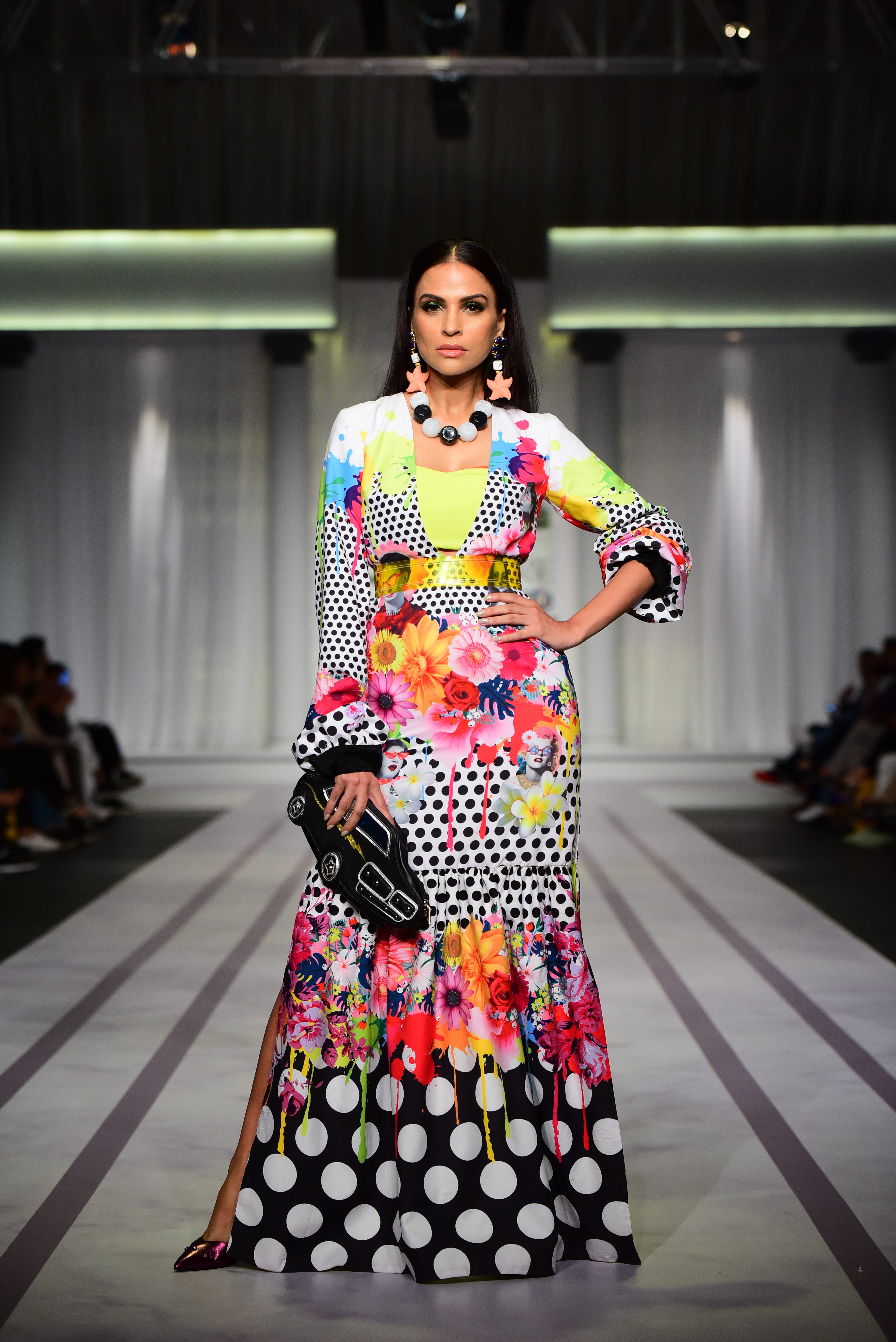 Upcoming new designer label  9 Lines buoyed by supernova designers , Hassan Iqbal Rizvi and Saad Shahid one of Showcase's 'Rising Stars' in tune with its unique, quirky, offbeat and innovative signature aesthetic skillfully dovetailed Art with Fashion with the cleverly titled collection 'Pop Kitschry!' styled by Ehtesham Ansari
Inspired by Pop Art and transposing it onto playful, bold and contemporary silhouettes including kaftan-sleeved chequered print fringe dresses, neon fringed jackets with plastic shoulders ; one shoulder jumpsuits; multi-layered fringe pants and slit sheath dresses with rolled up sleeves  the collection was infused with a dose of high octane in the form of bold, kaleidoscopic and Technicolour neon Pop icon prints with catchy logos like 'Sarcasm'  and 'Blogger Hoon,'  These were offset with otherworldly accessories including thigh-high  plastic boots, TV screen briefcases, typewriter-shaped clutches and funky plastic neon ankle boots. Pop Kitschry was irreverent, non-conformist and kitschy inspired by youth nostalgia and teenage rebellion.
TV actress Nausheen Shah dressed in trailing one-shoulder couture creation with clear thigh high boots was the label's showstopper.
 TRENDS:
1. POP ART PRINTS
2. NEON FRINGE
3. CLEAR ANKLE BOOTS
4. QUIRKY ACCESSORIES
 EMRAAN RAJPUT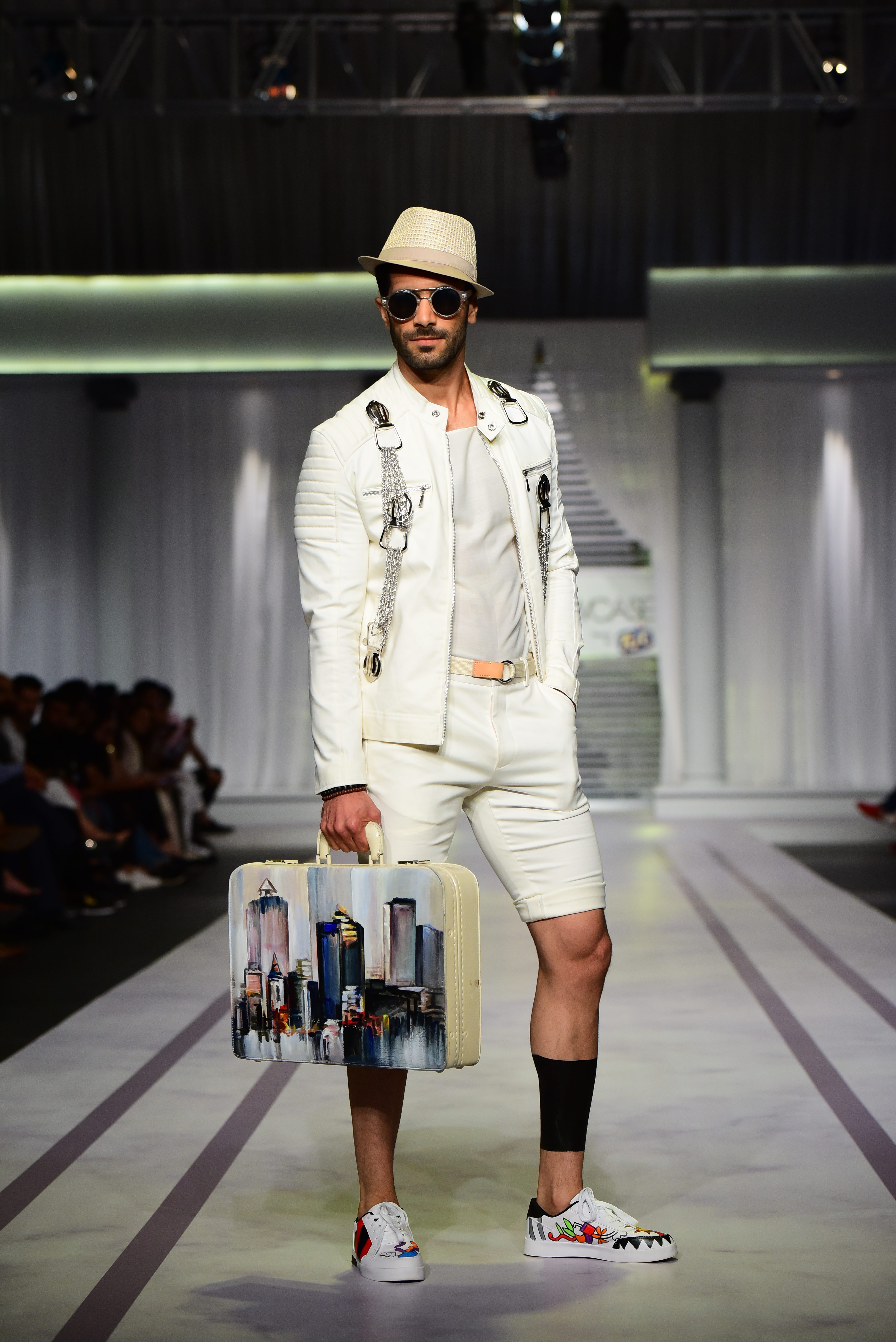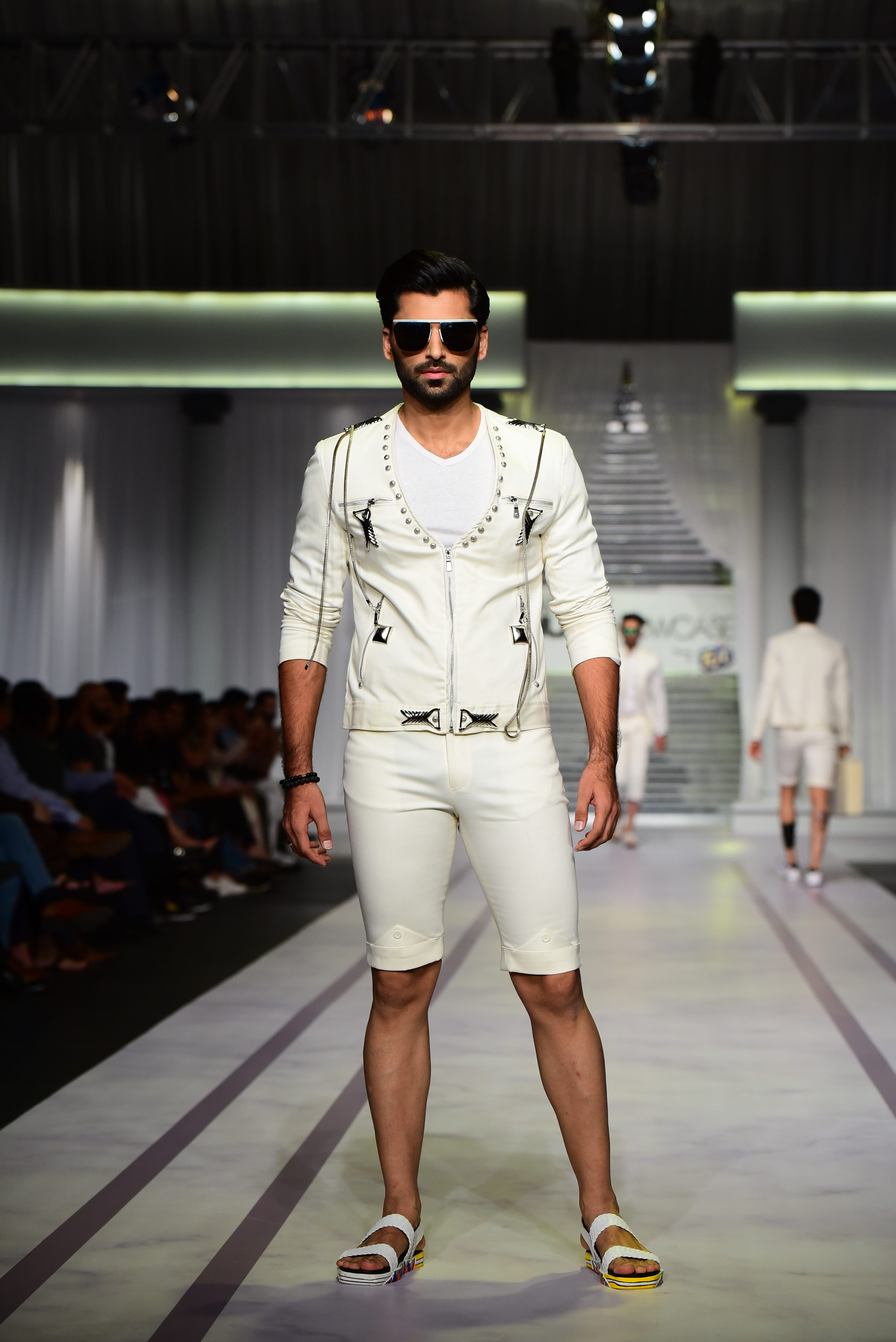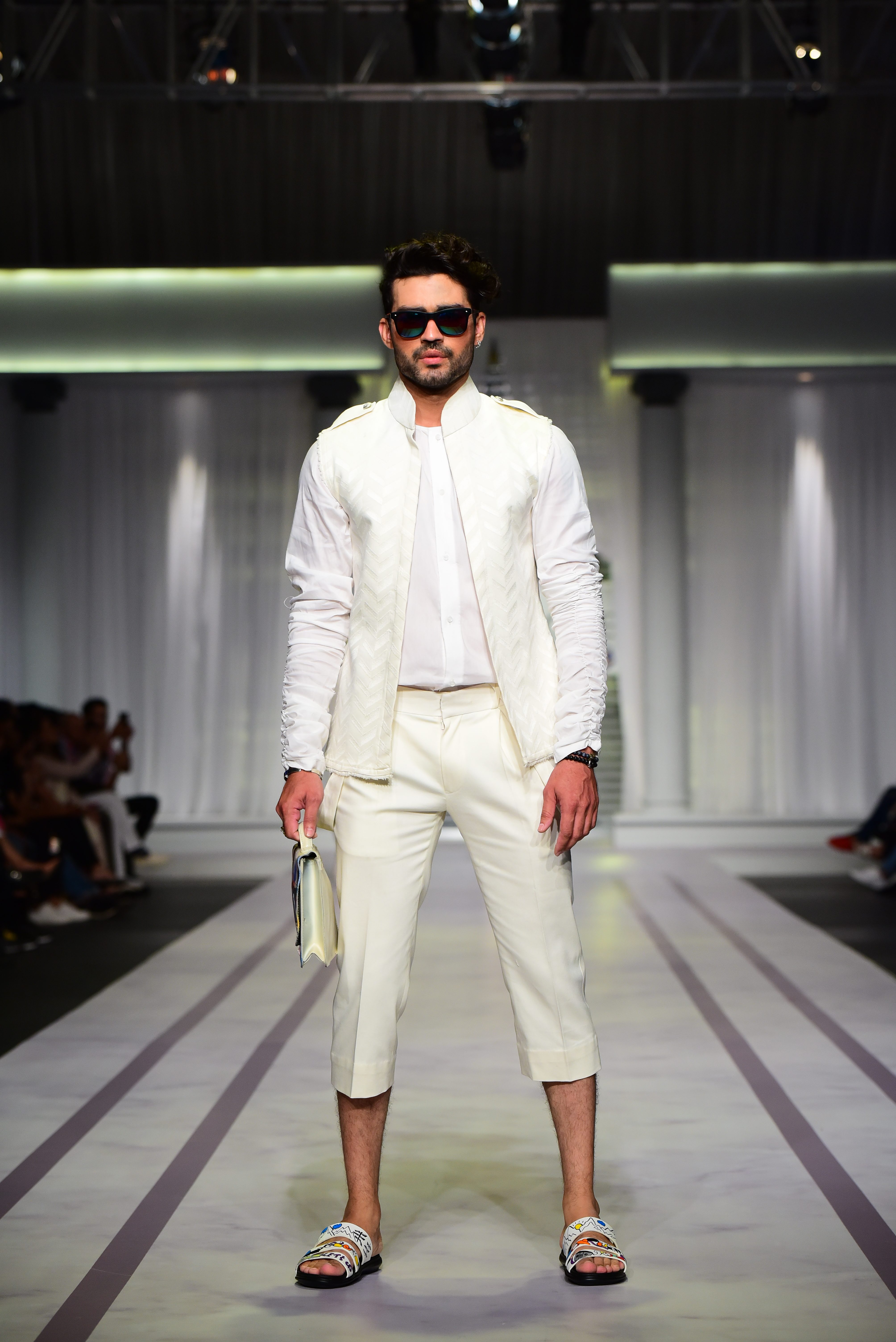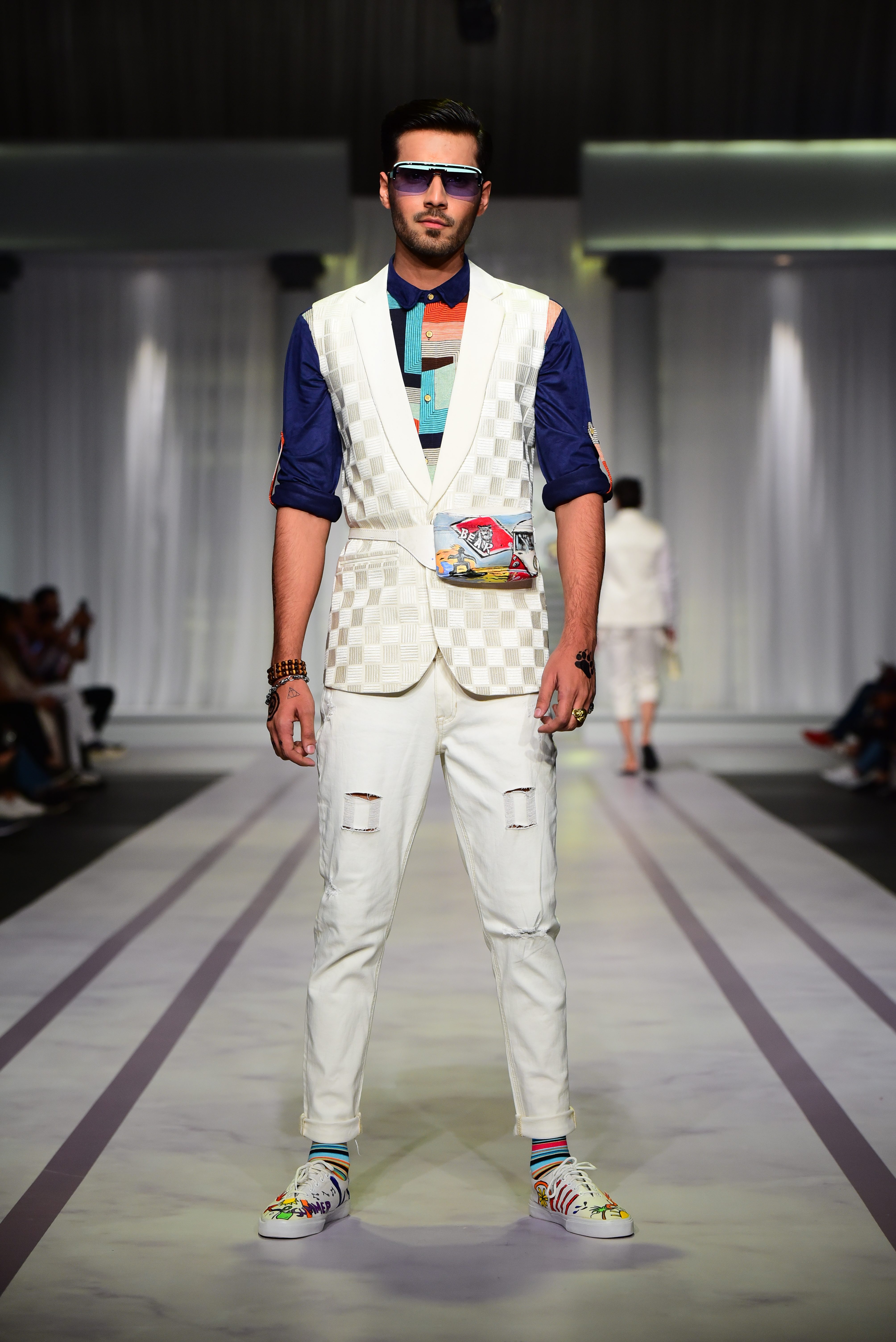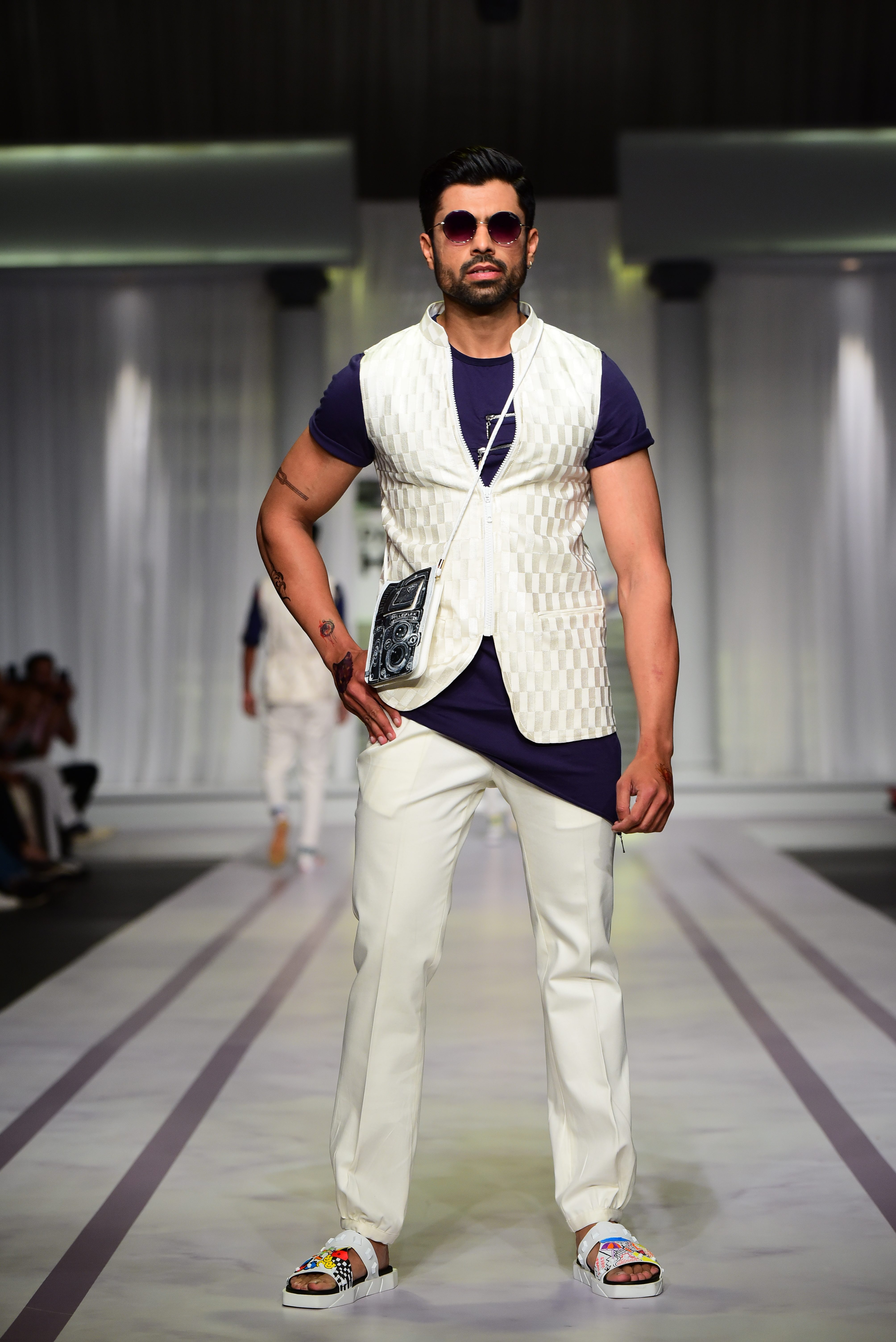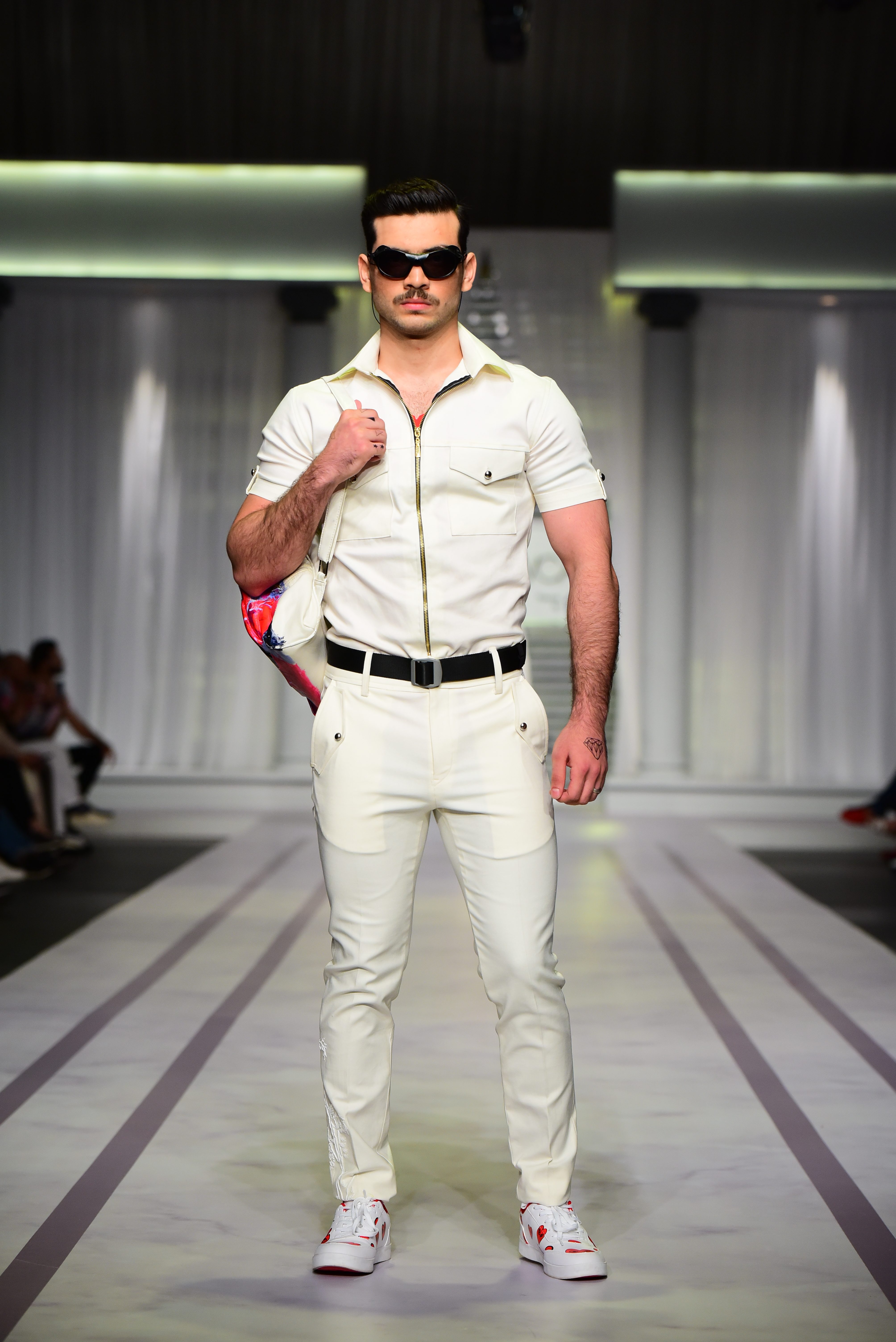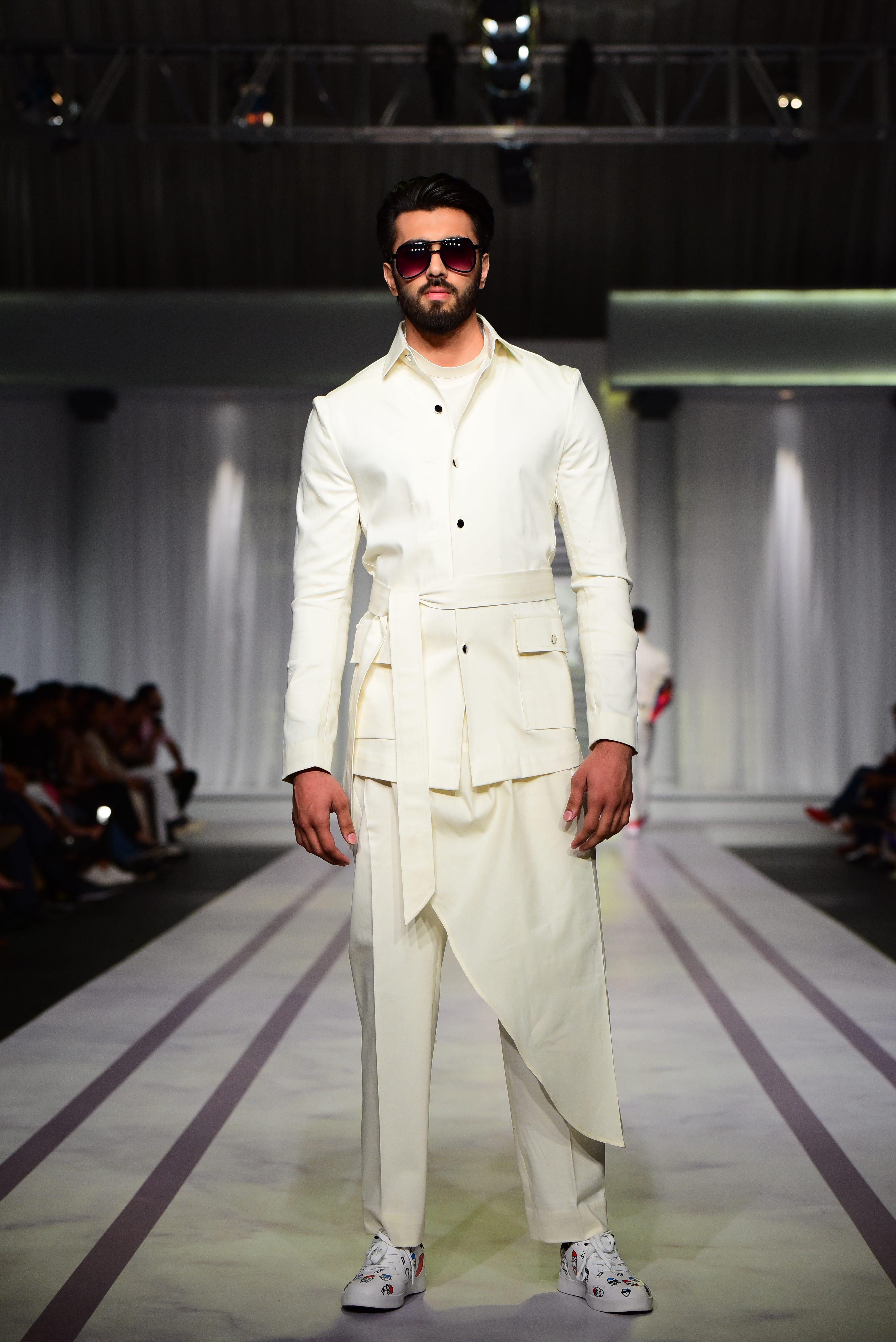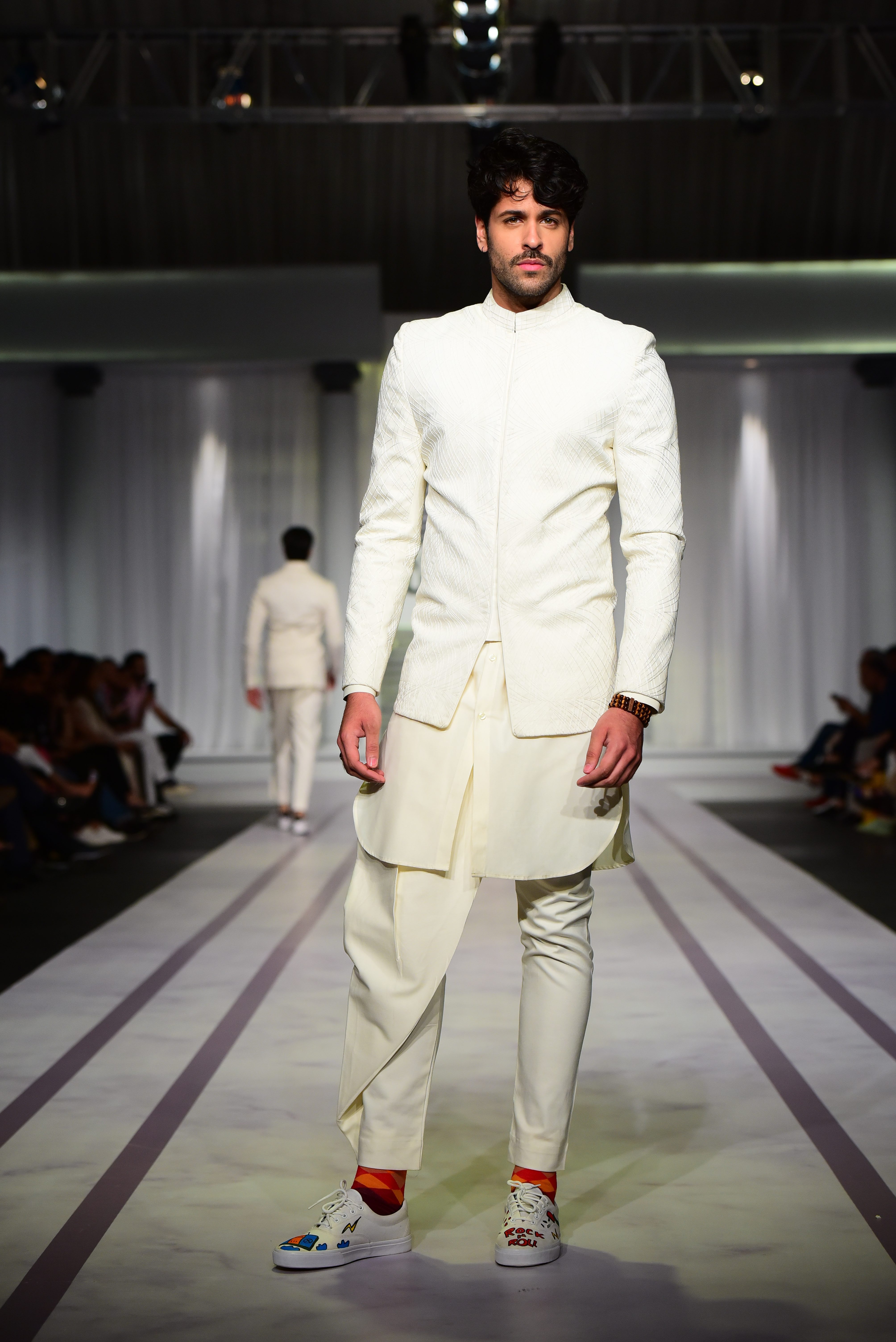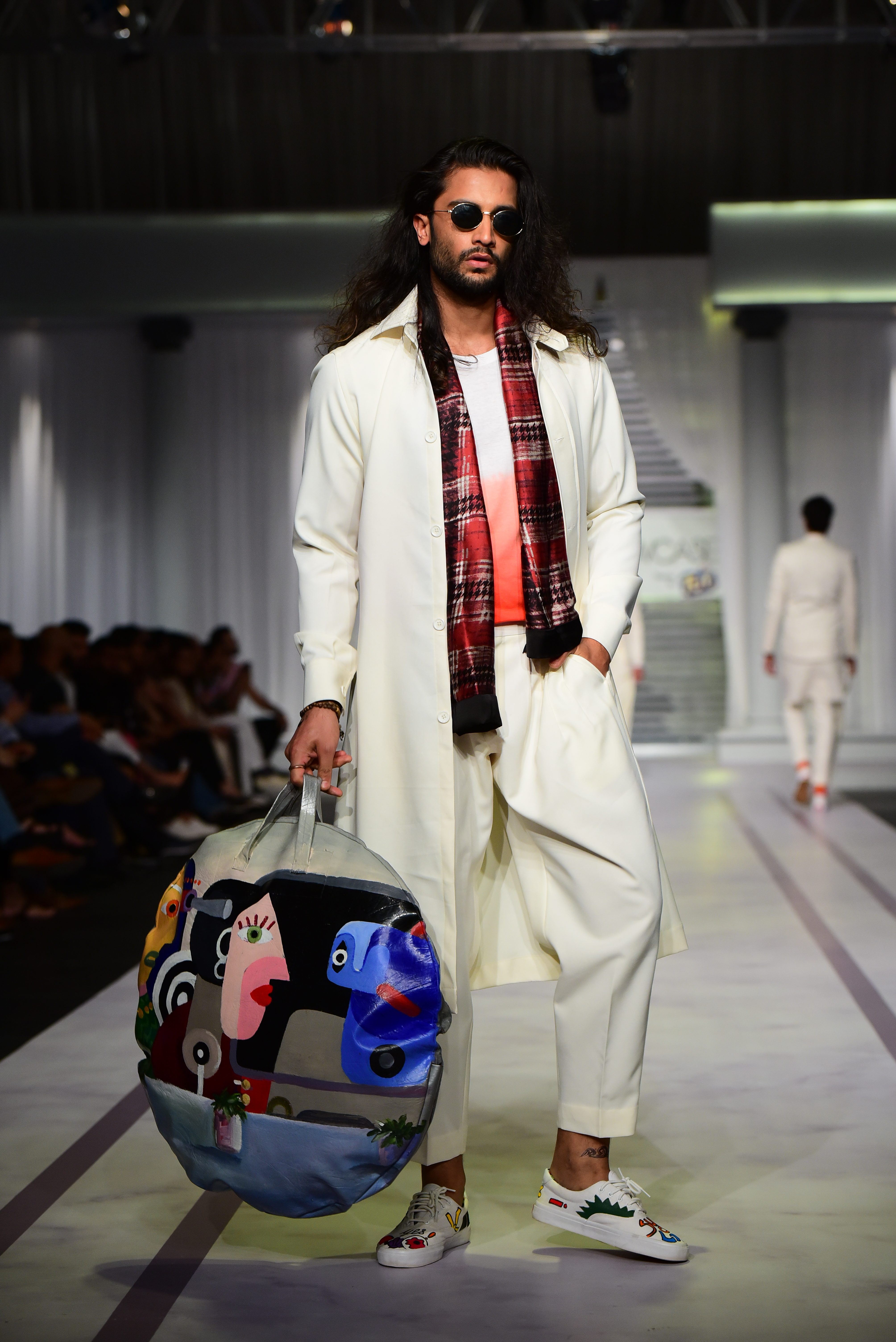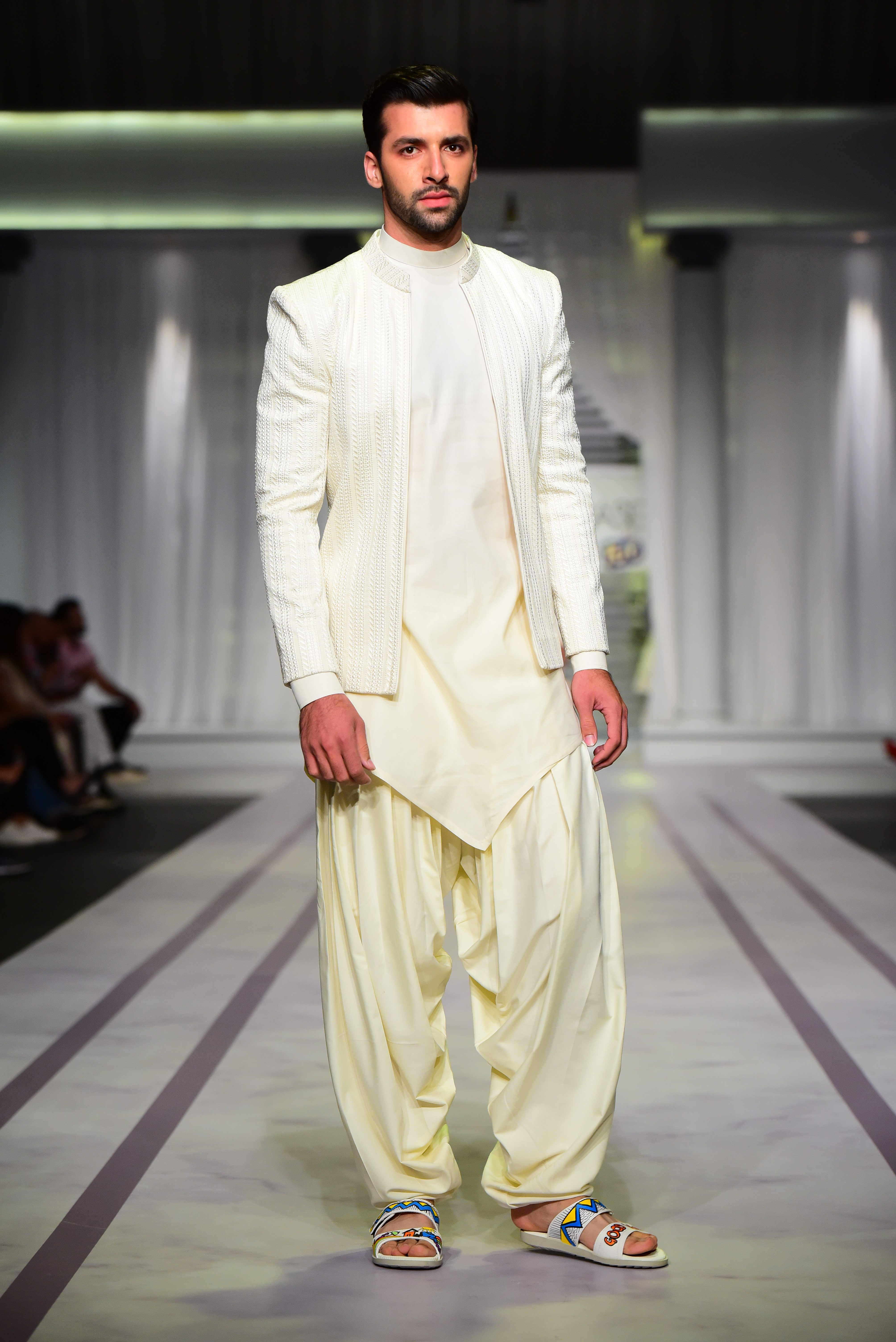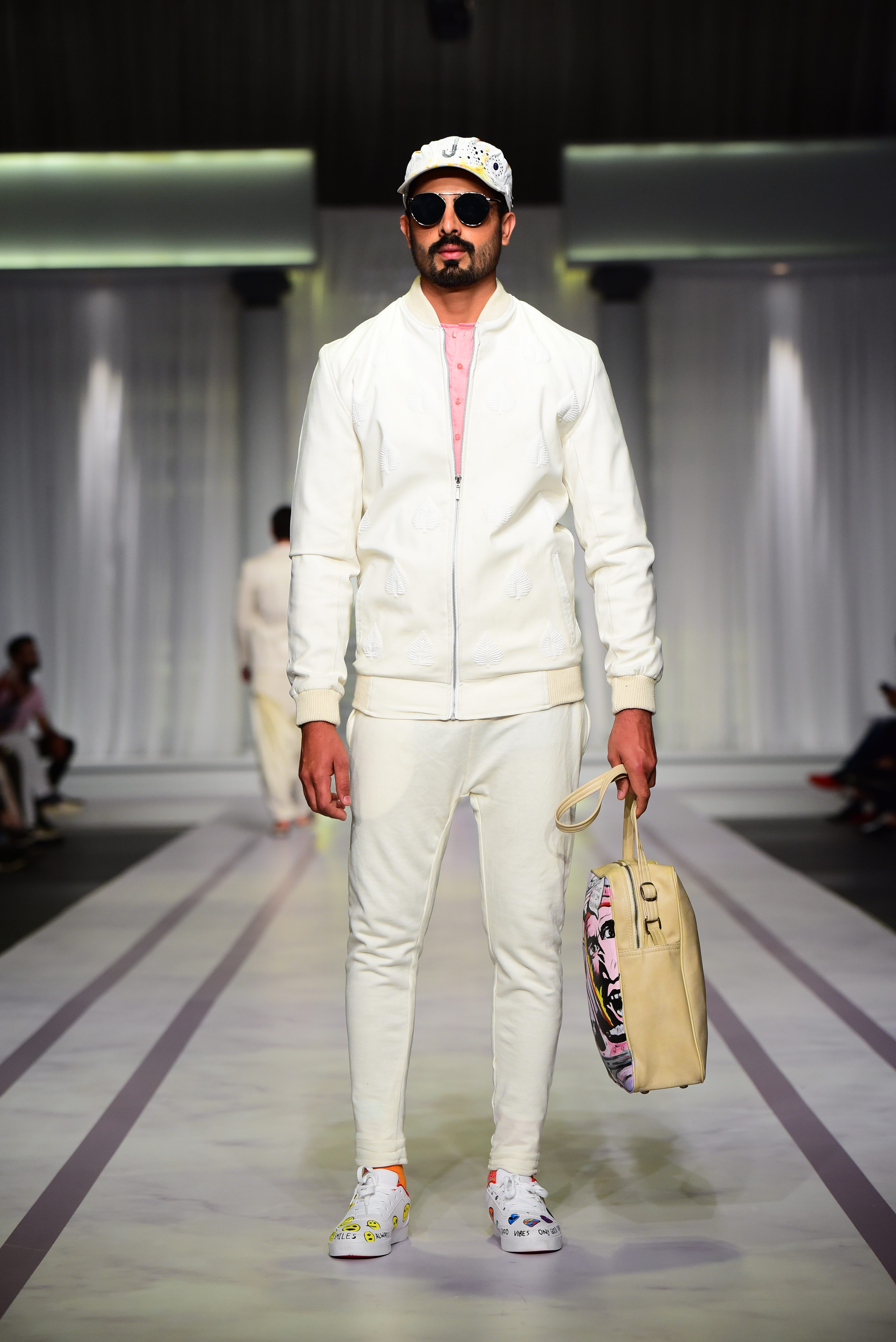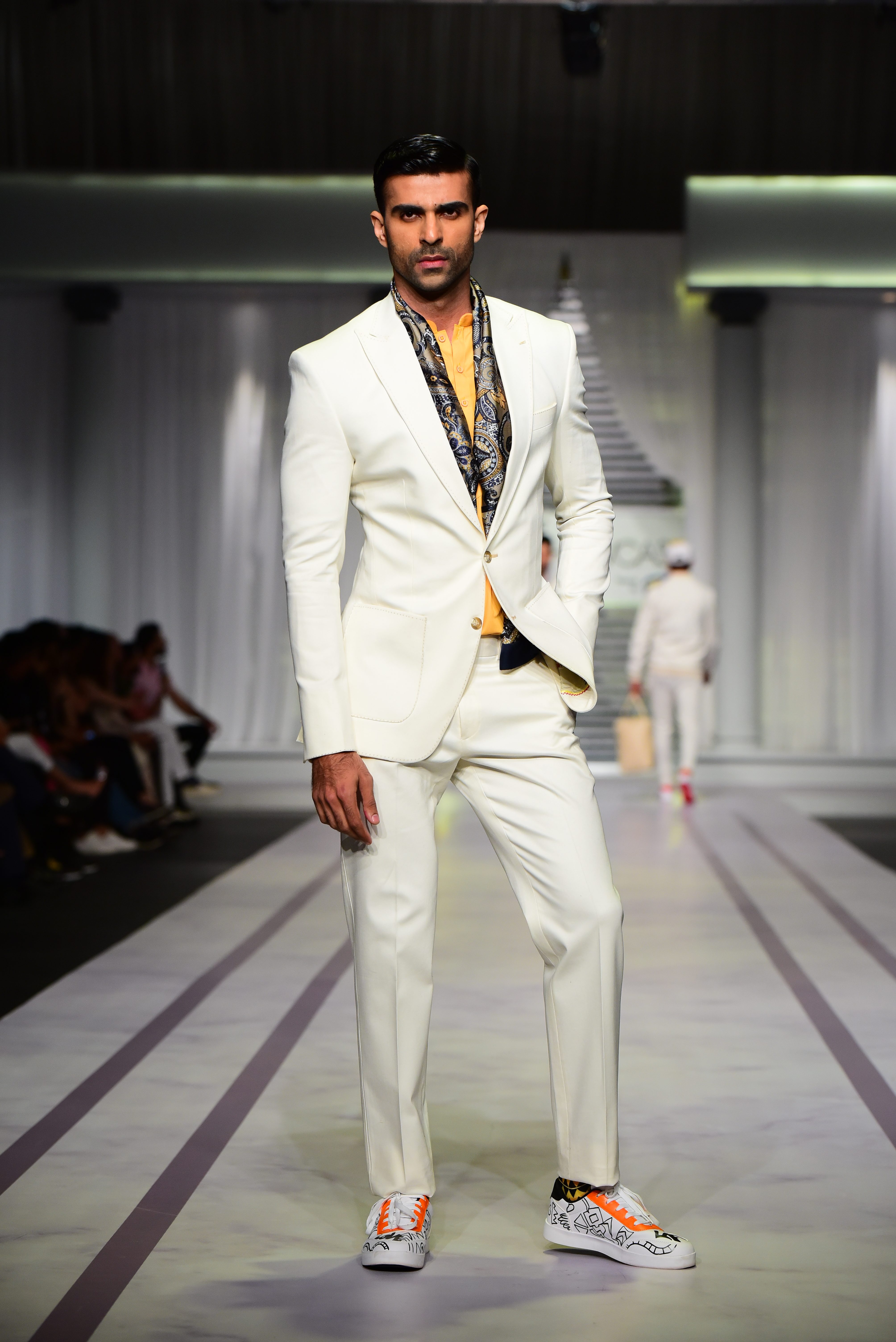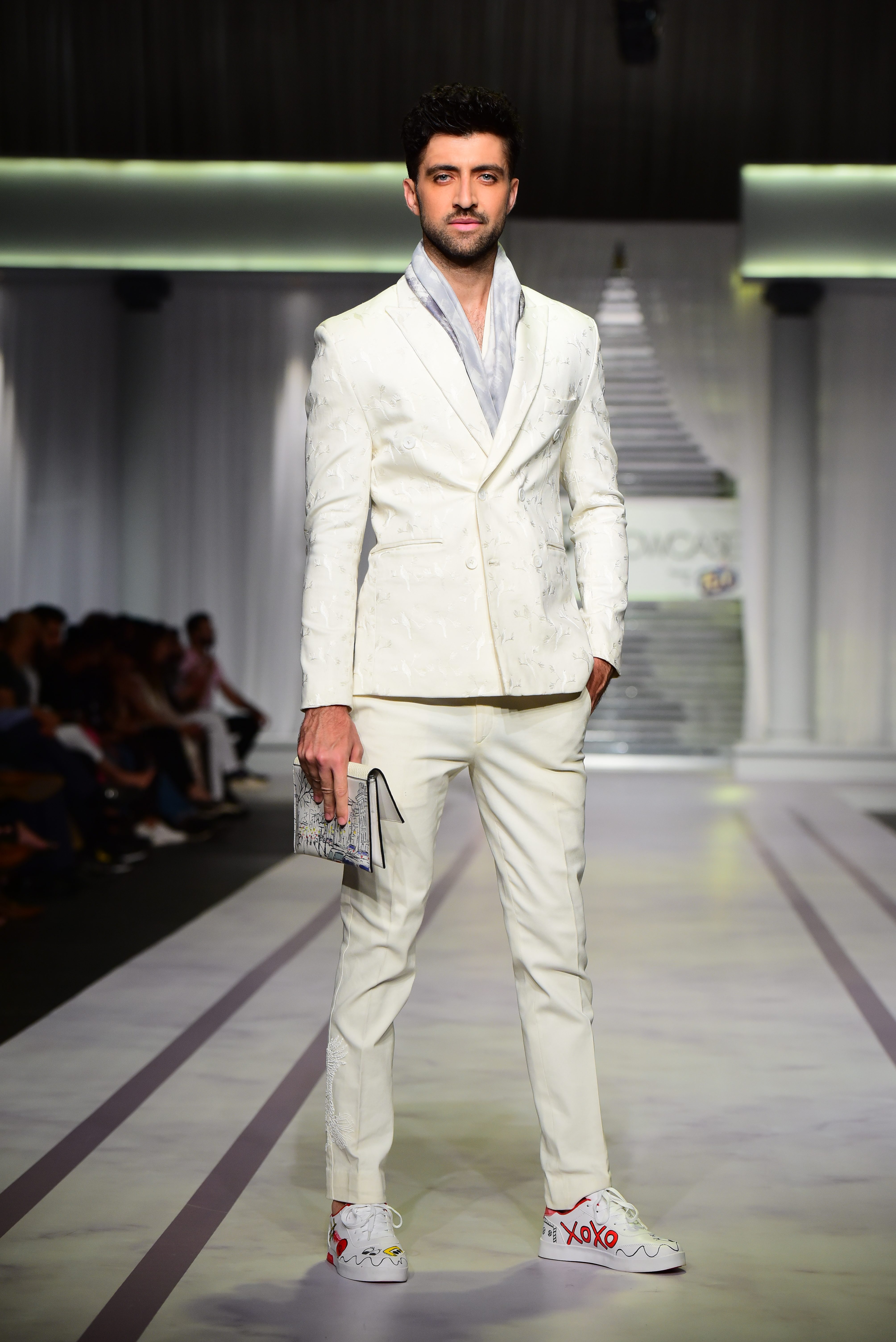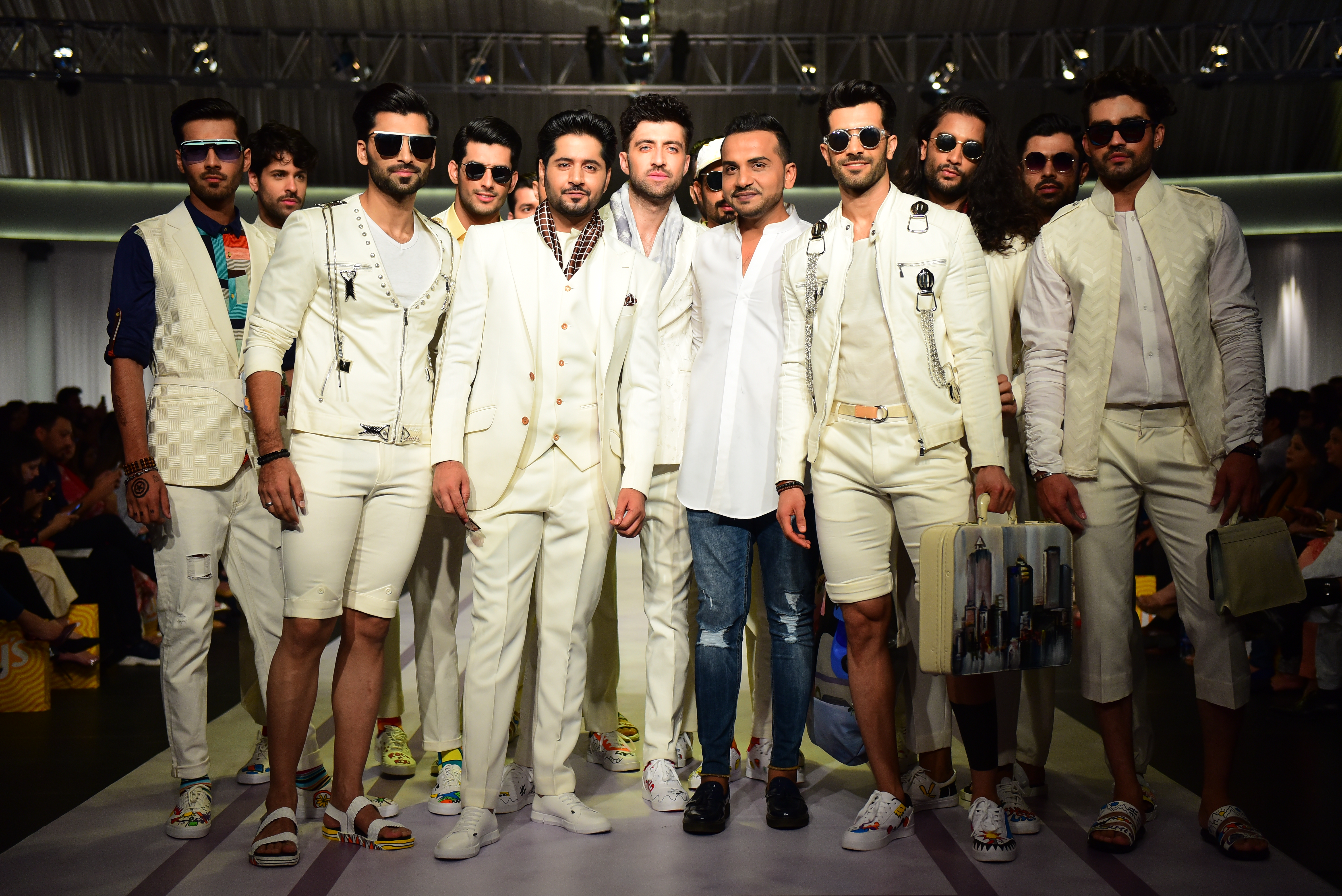 Predominantly renowned for is impeccably tailored menswear, Emraan Rajput's formal menswear capsule 'The Marquis' evoked a regal timelessness juxtaposed with a contemporary urban vibe, dovetailing pastels such as cream, ecru and while with dark hues. Melded with  luxurious fabrics and constructed with fine tailoring, silhouettes included white pleated jackets embellished with studs and zippers and worn with shorts; ruched jackets; zippered embroidered shirts; asymmetrical three-point kurtas, bomber jackets; trench coats and sleek jackets worn with straight pants and scarves.
Sensation of-the-moment, actor Imran Ashraf dressed in a formal dark jacket, waistcoat and straight trouser ensemble was Raput's showstopper.
TRENDS:
1. ASYMMETRICAL HIGH/LOW KURTAS
2. RUCHED AND PLEATED JACKETS
3. TRENCH COATS
4. ZIPPERS, STUDS AND BADGES.
https://www.instagram.com/p/BwZysB1FvCr/
ZONIA ANWAAR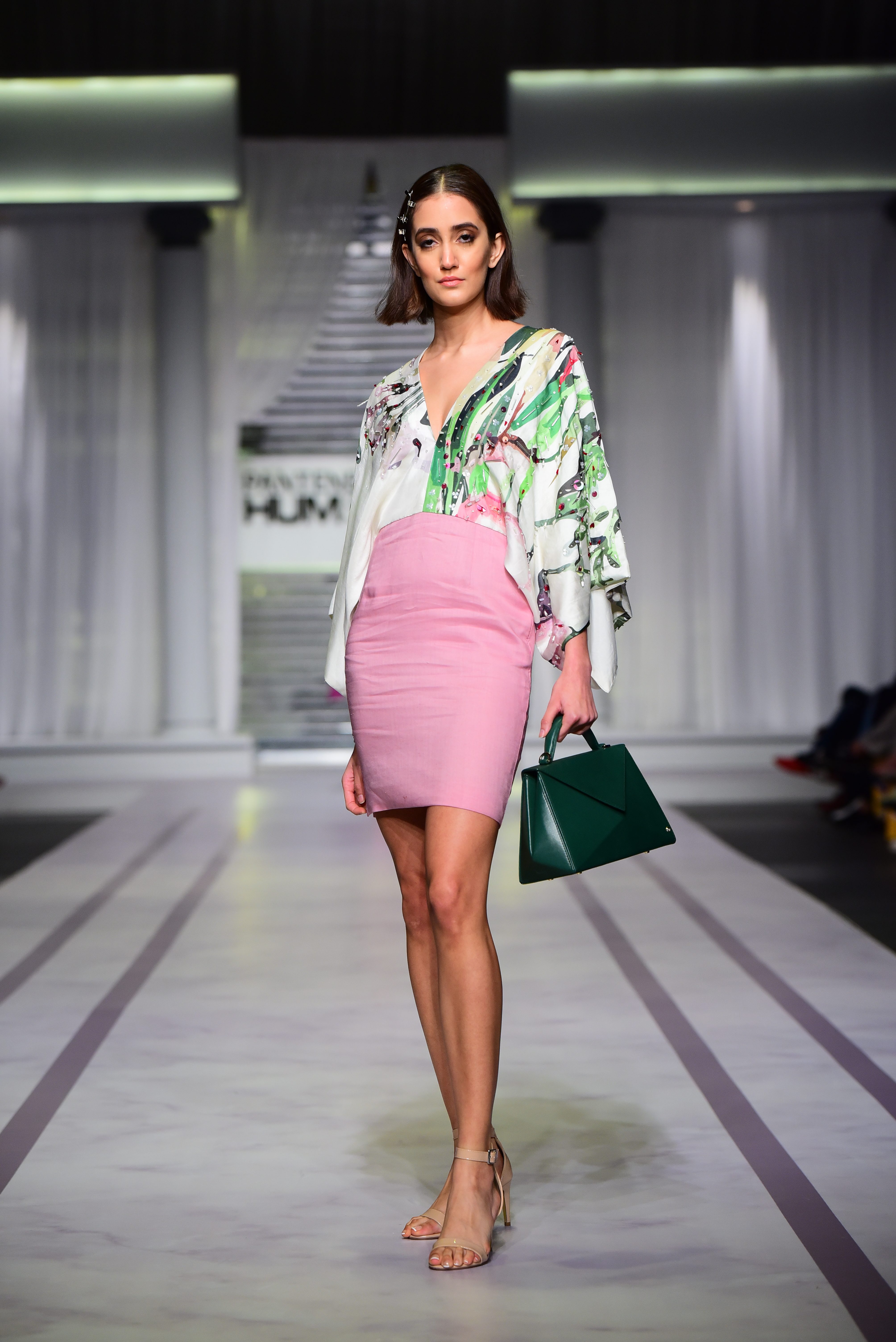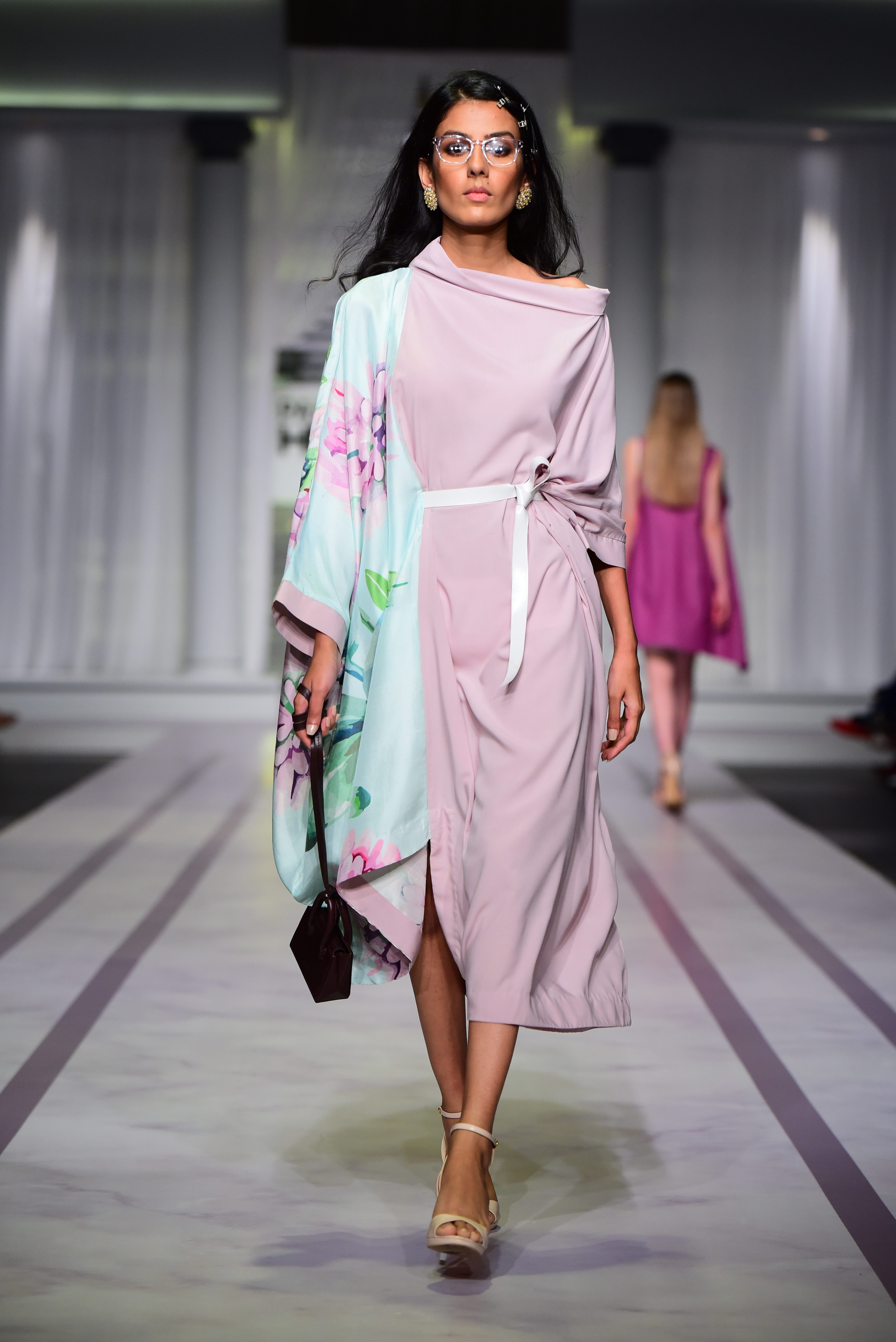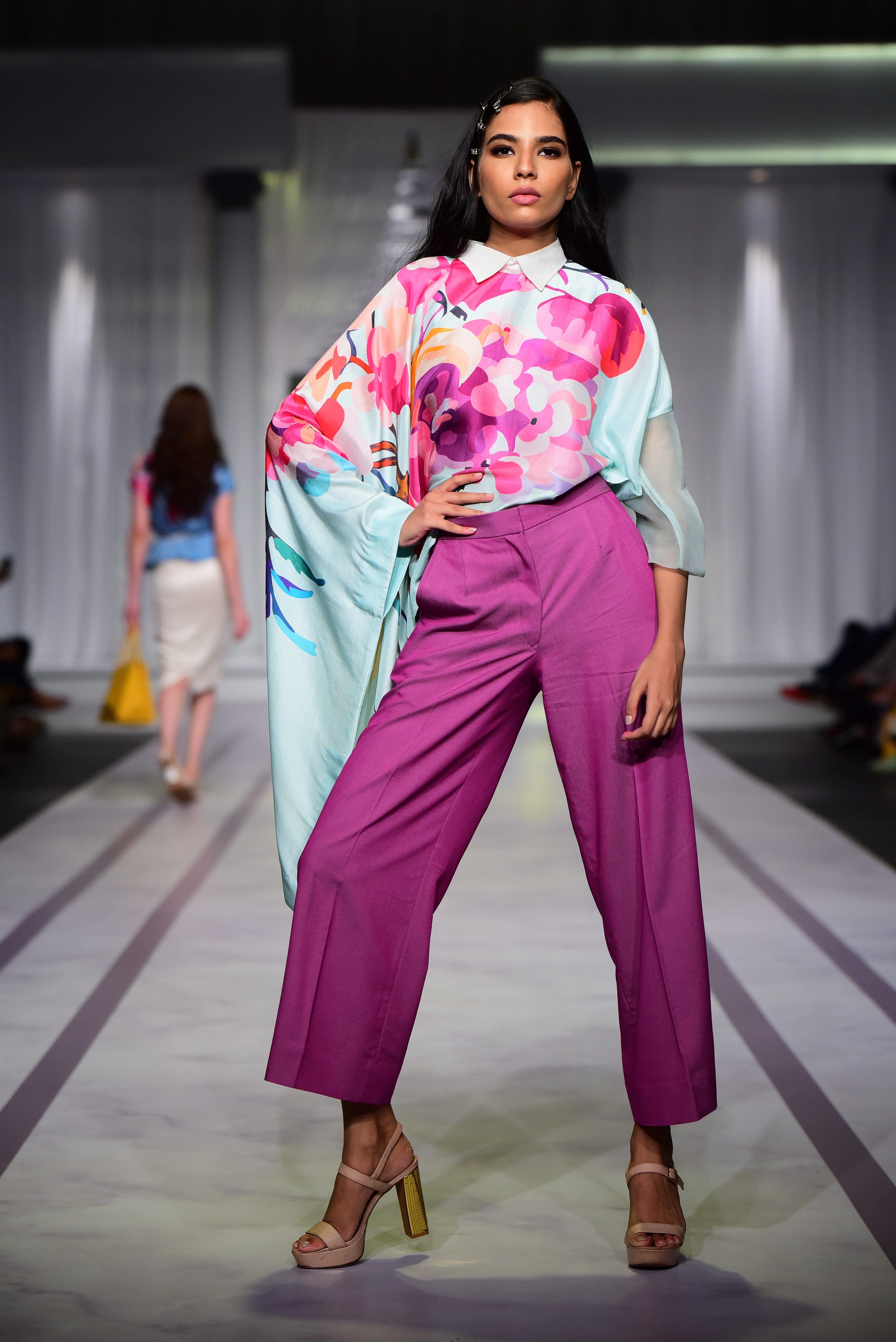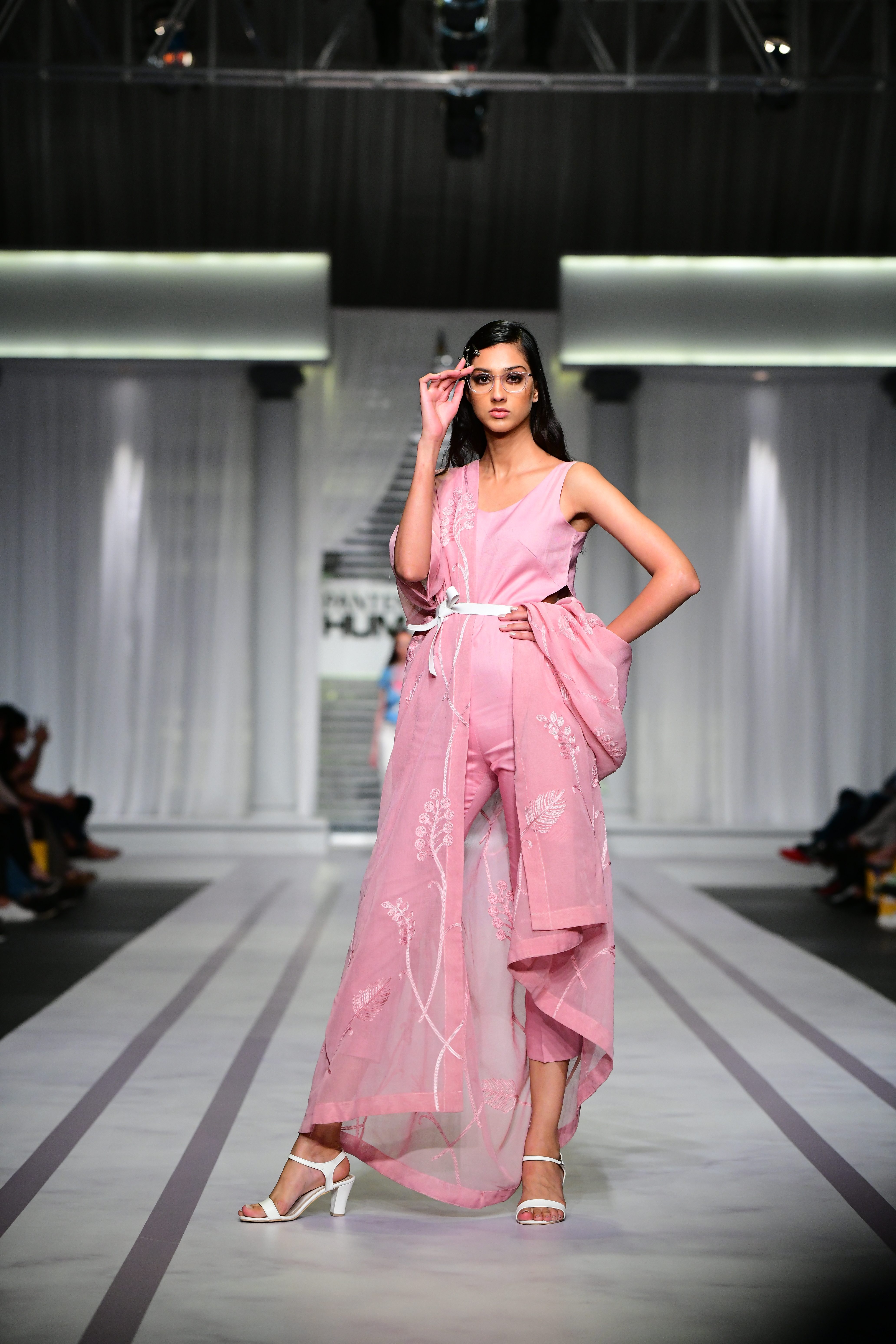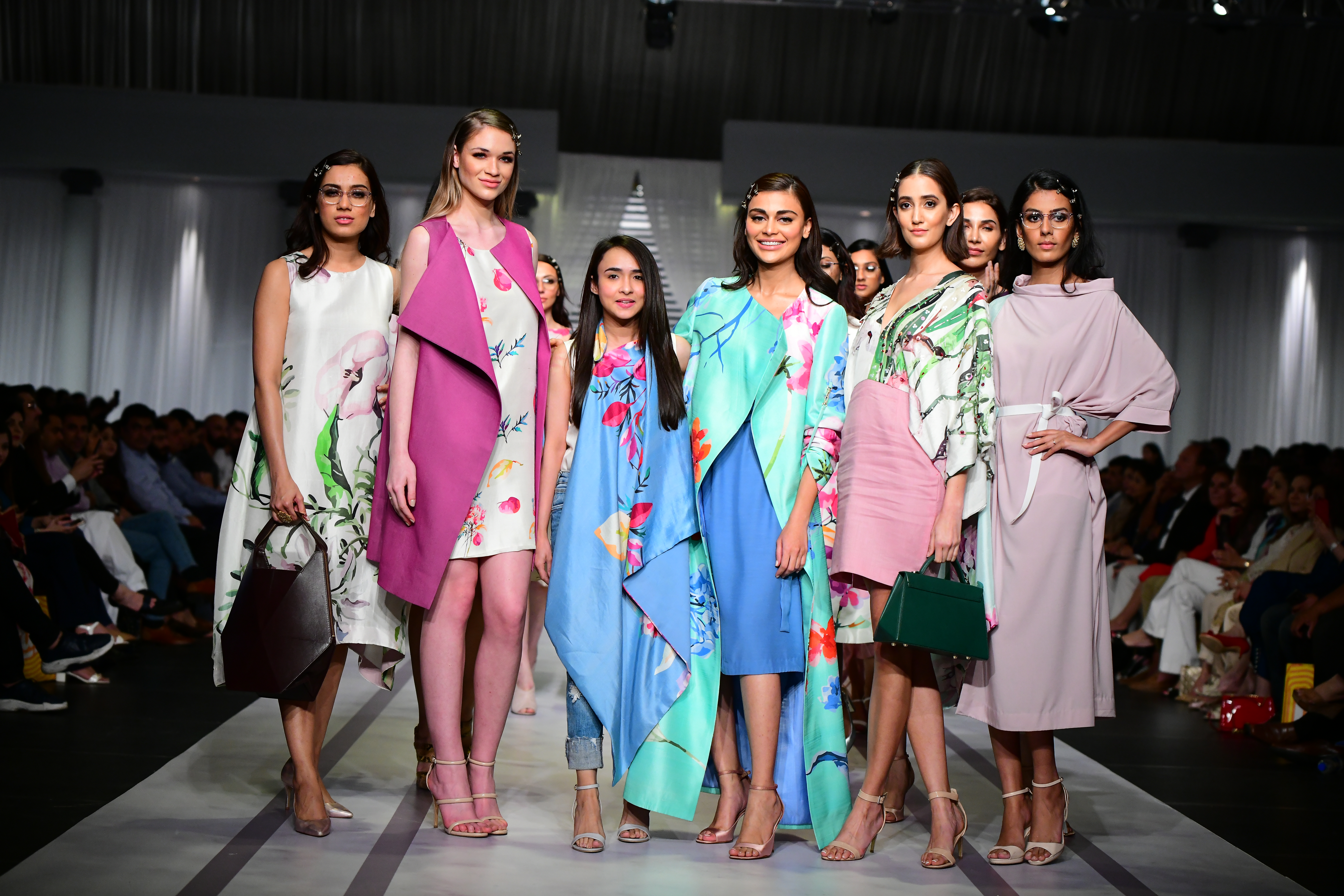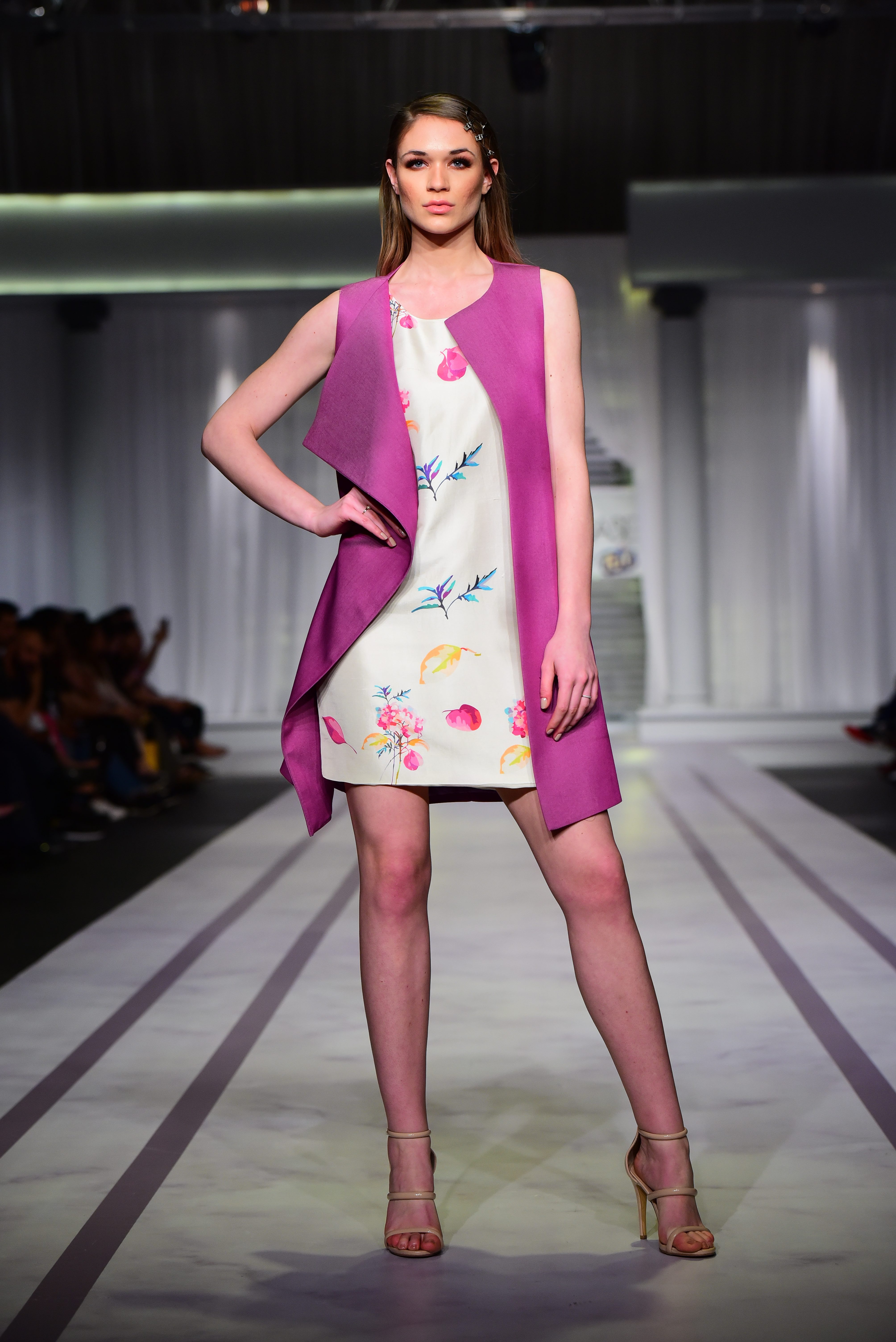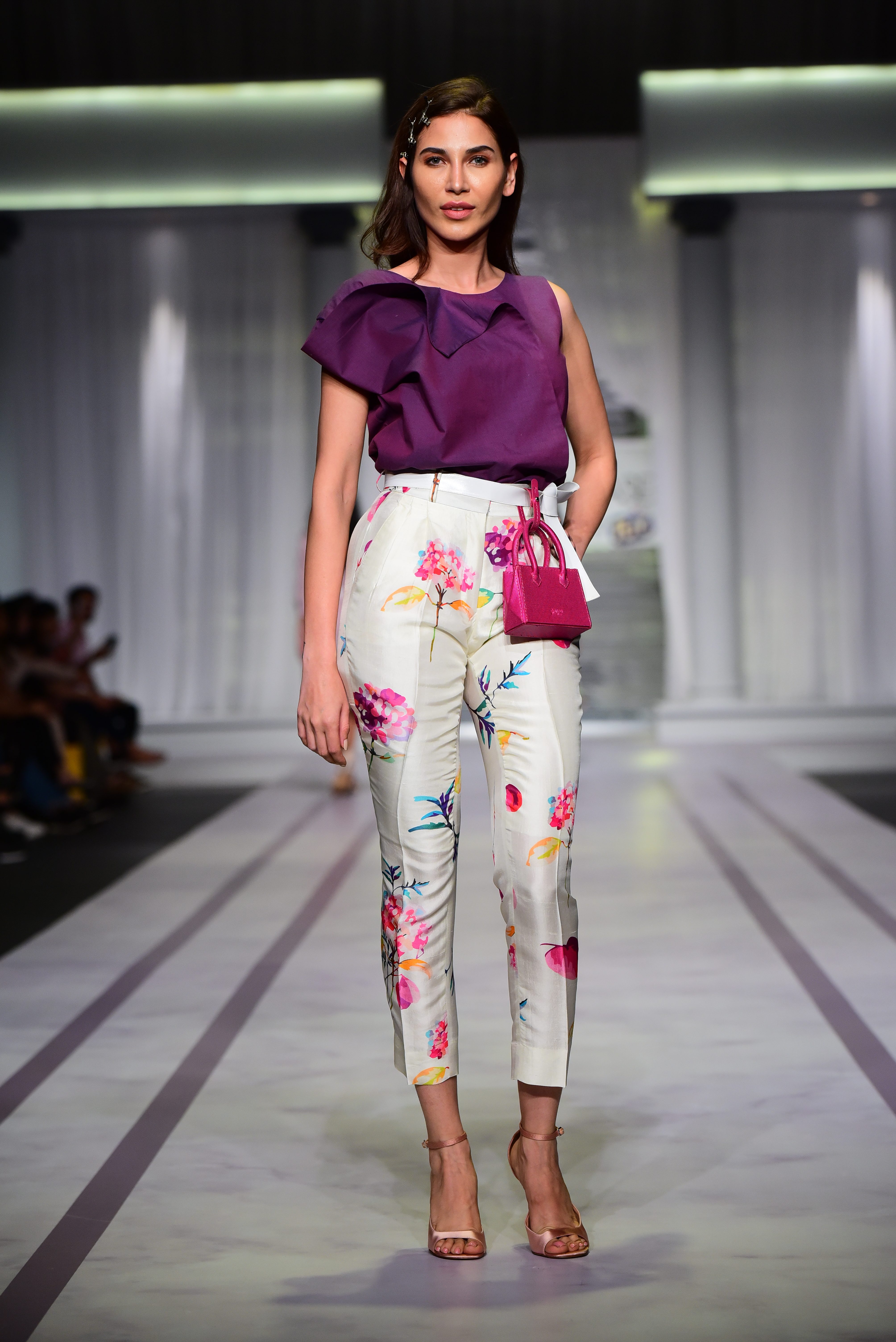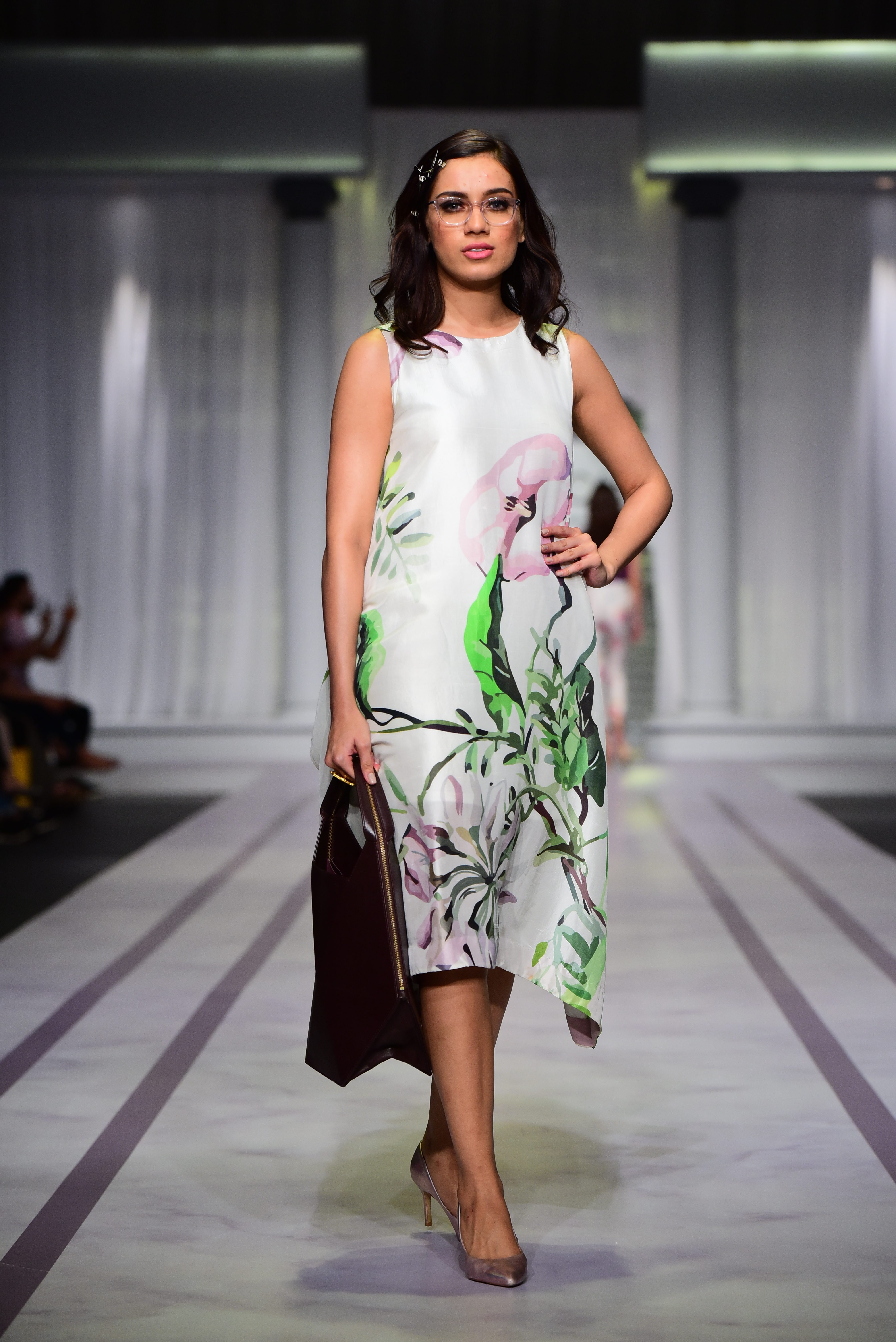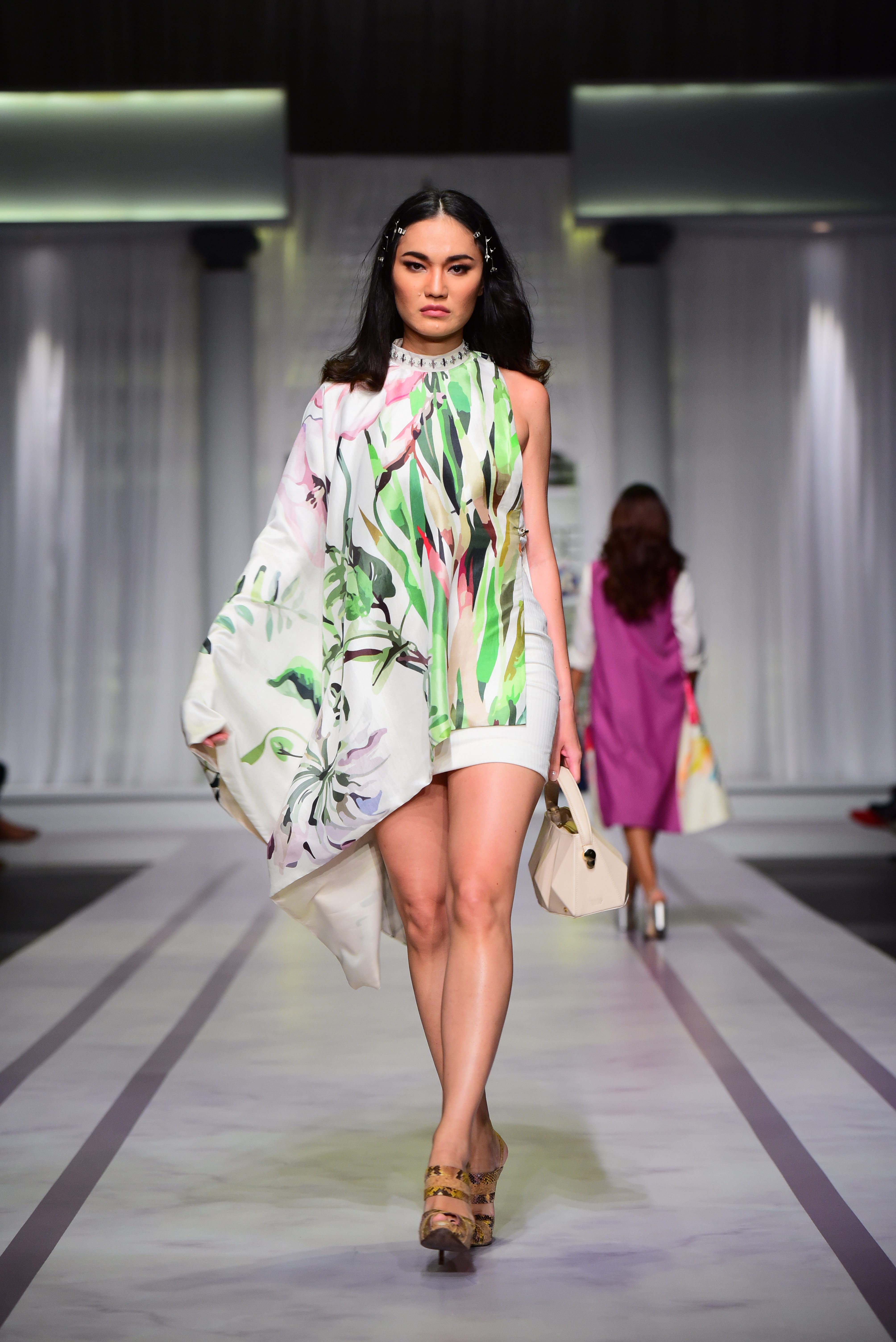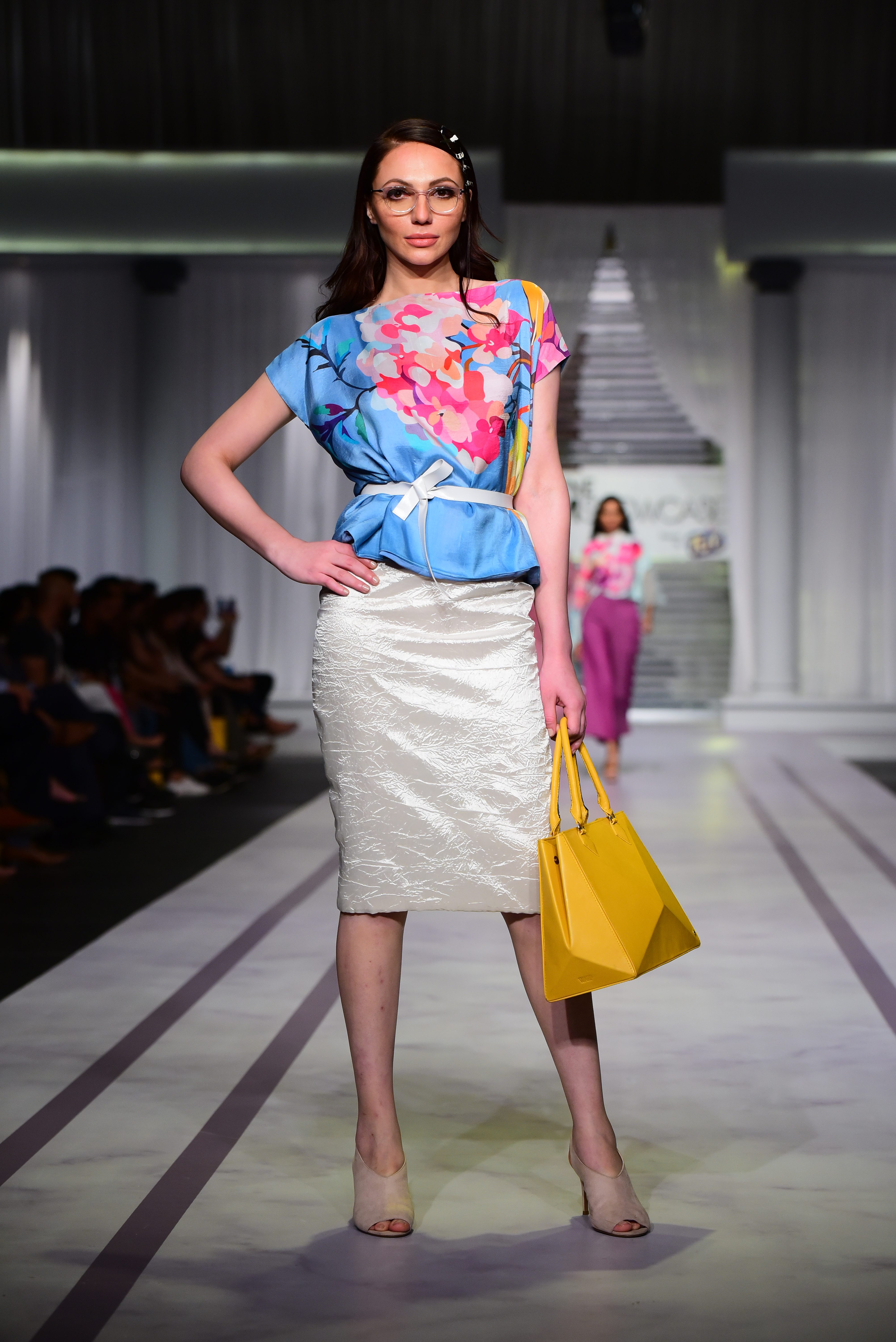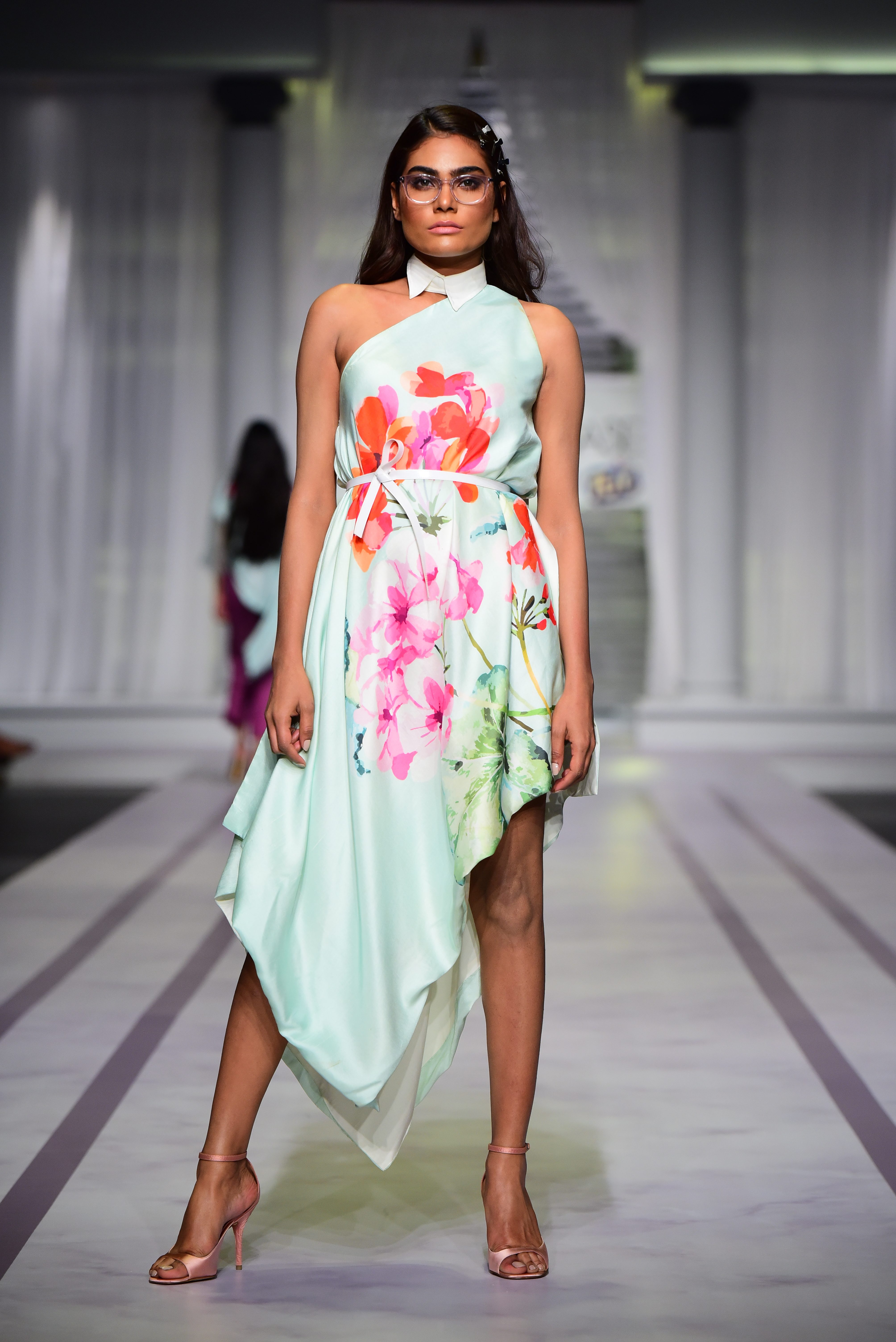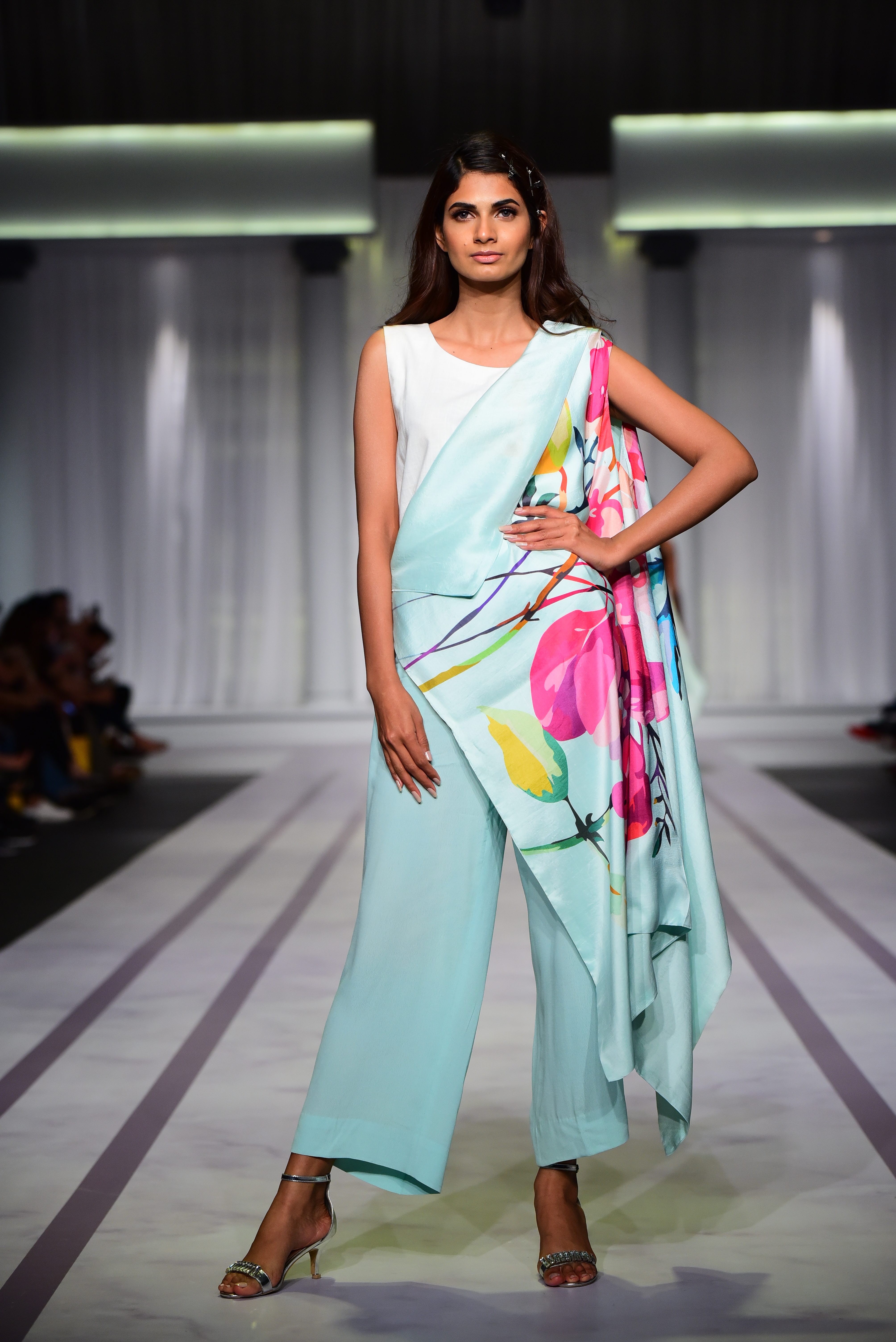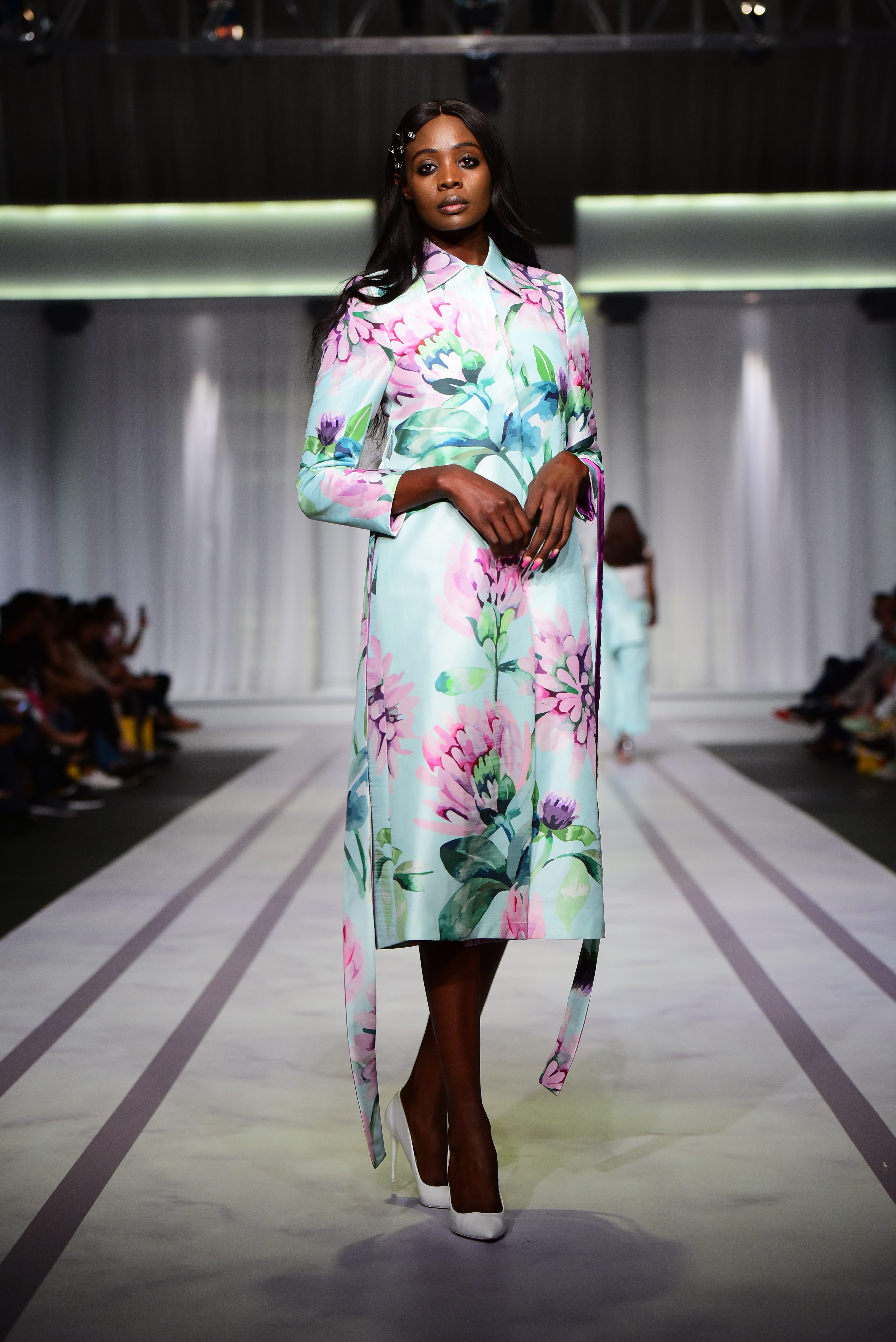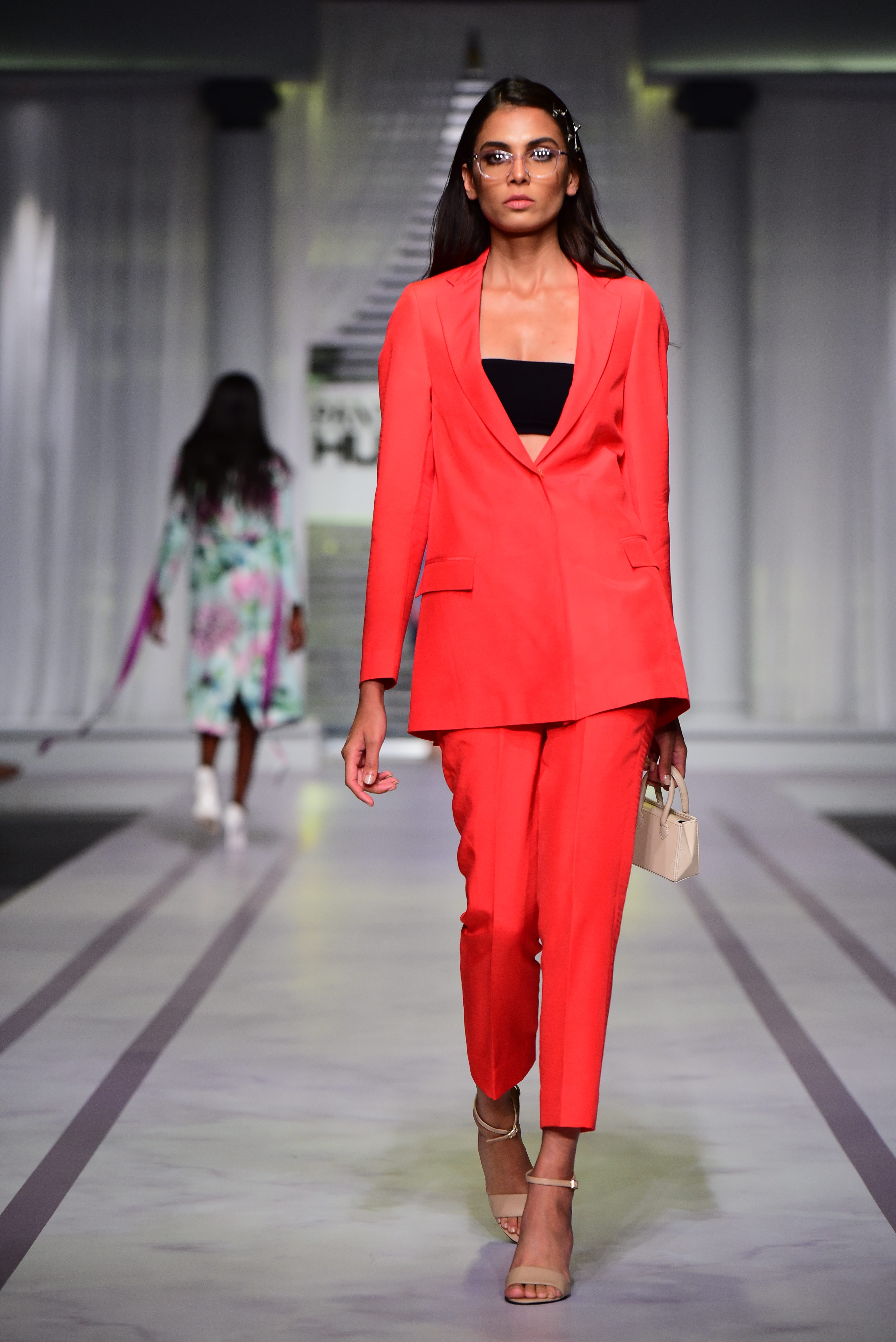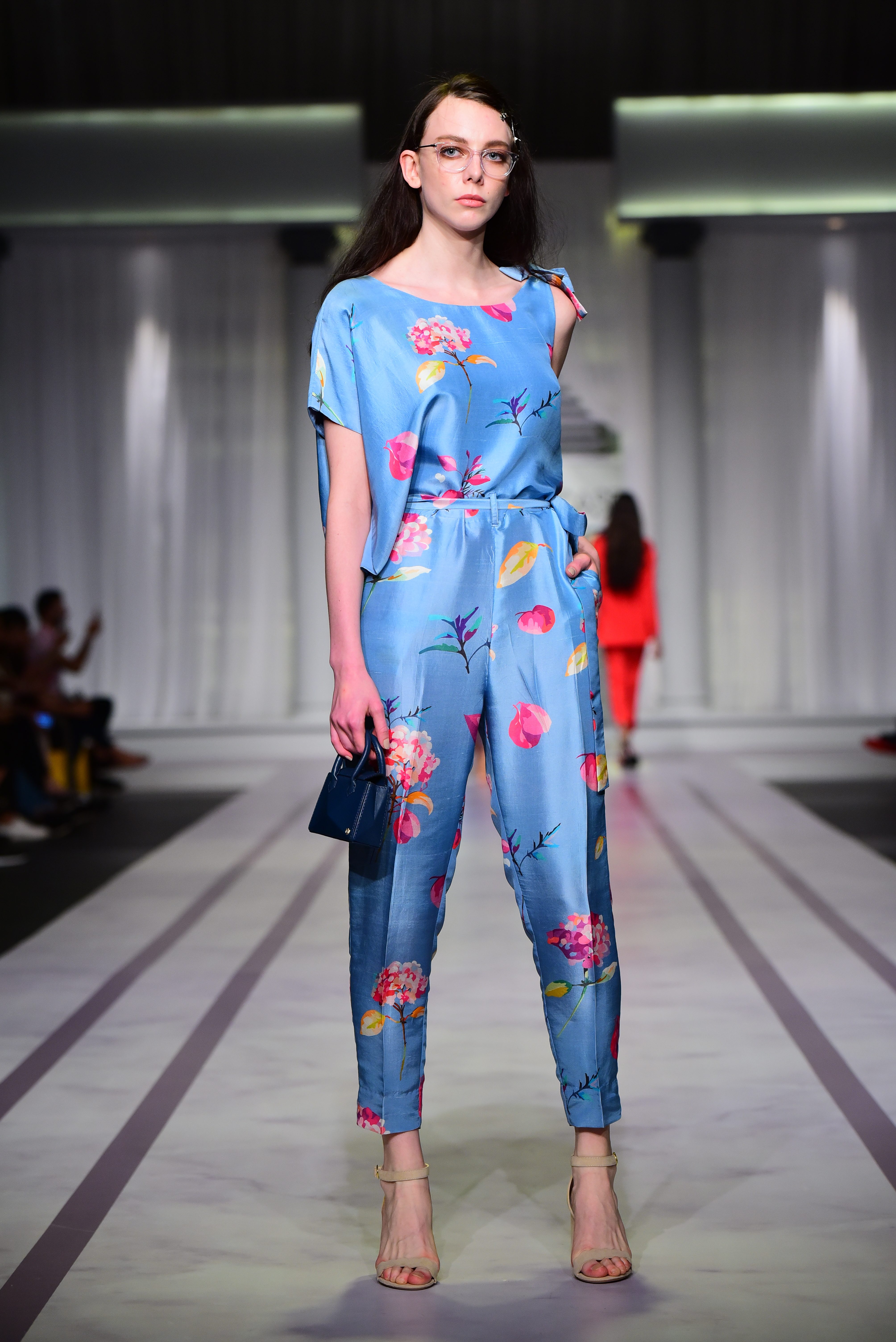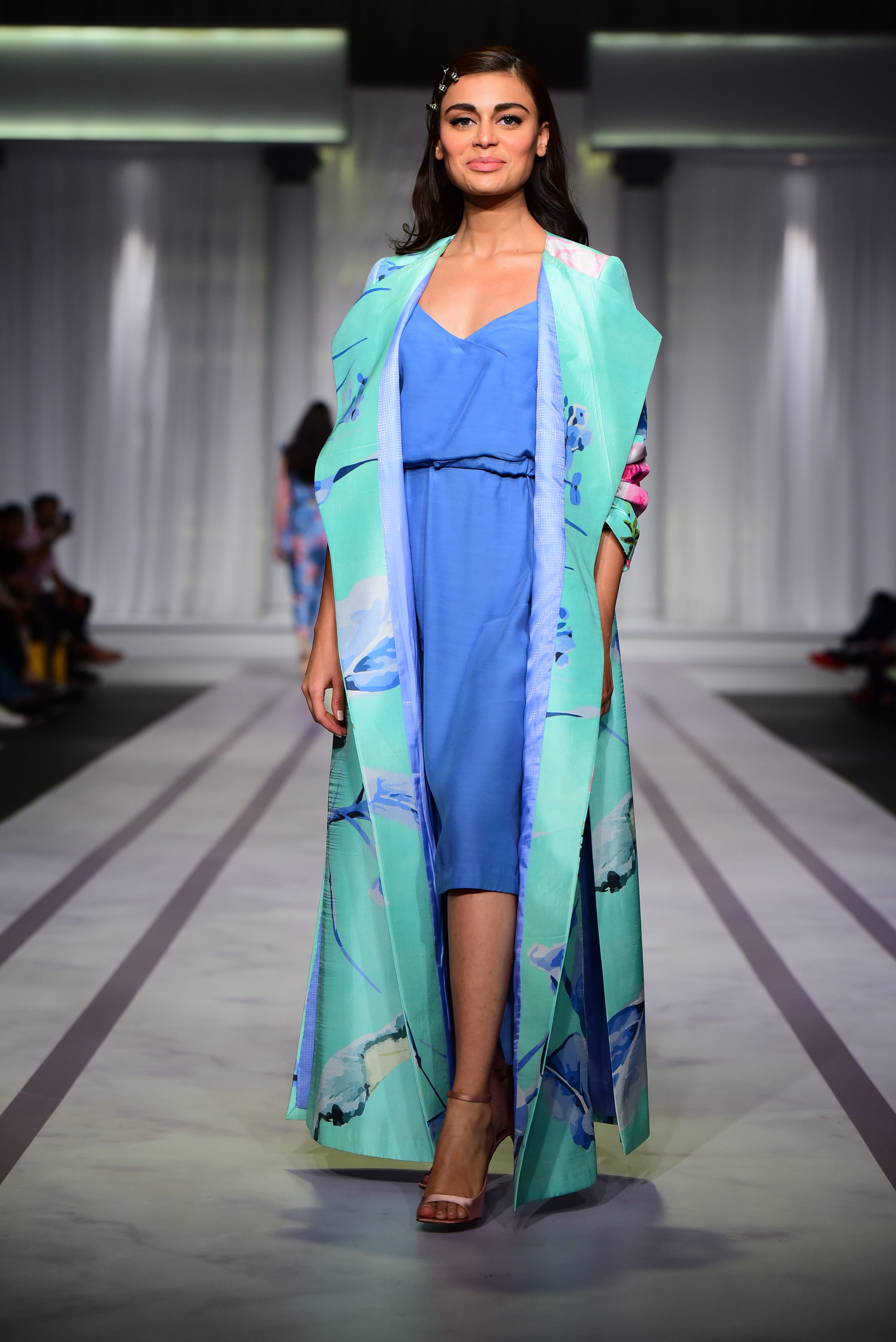 Zonia Anwaar's Spring/Summer 2019 collection 'Reverdie' celebrated the advent of spring in all its blooming brilliance and worked on the contrast and intricate dovetailing between textural fabric and the finesse of silhouettes.
Brilliant botanical digital prints in colour-bursts of meander and mint blues and vibrant greens were delicately melded with subtle yet opulent blush and rose pinks and transposed onto clean lines and delicate, feminine and breezy silhouettes including summer jackets, shirt-collared asymmetrical dresses; asymmetrical  front-open opera coats; one-shouldered mini-dresses; belted coat dresses;  off-the-shoulder belted and cowl-neck dresses ; palazzo pants; jumpsuits; print tunics and contrasting separates such as overlays.
The collection was fresh, energizing, feminine and romantic with clean lines, a subtle colour spectrum; well-cut silhouettes and had a cosmopolitan aura to it.
TRENDS: 
1. BOTANICAL DIGITAL PRINTS
2. SPRING PASTELS
3. LAYERING
4. ASYMMETRIC TRAILING &
5. KIMONO SLEEVES
6. BELTED DRESSES
IMAGE FABRICS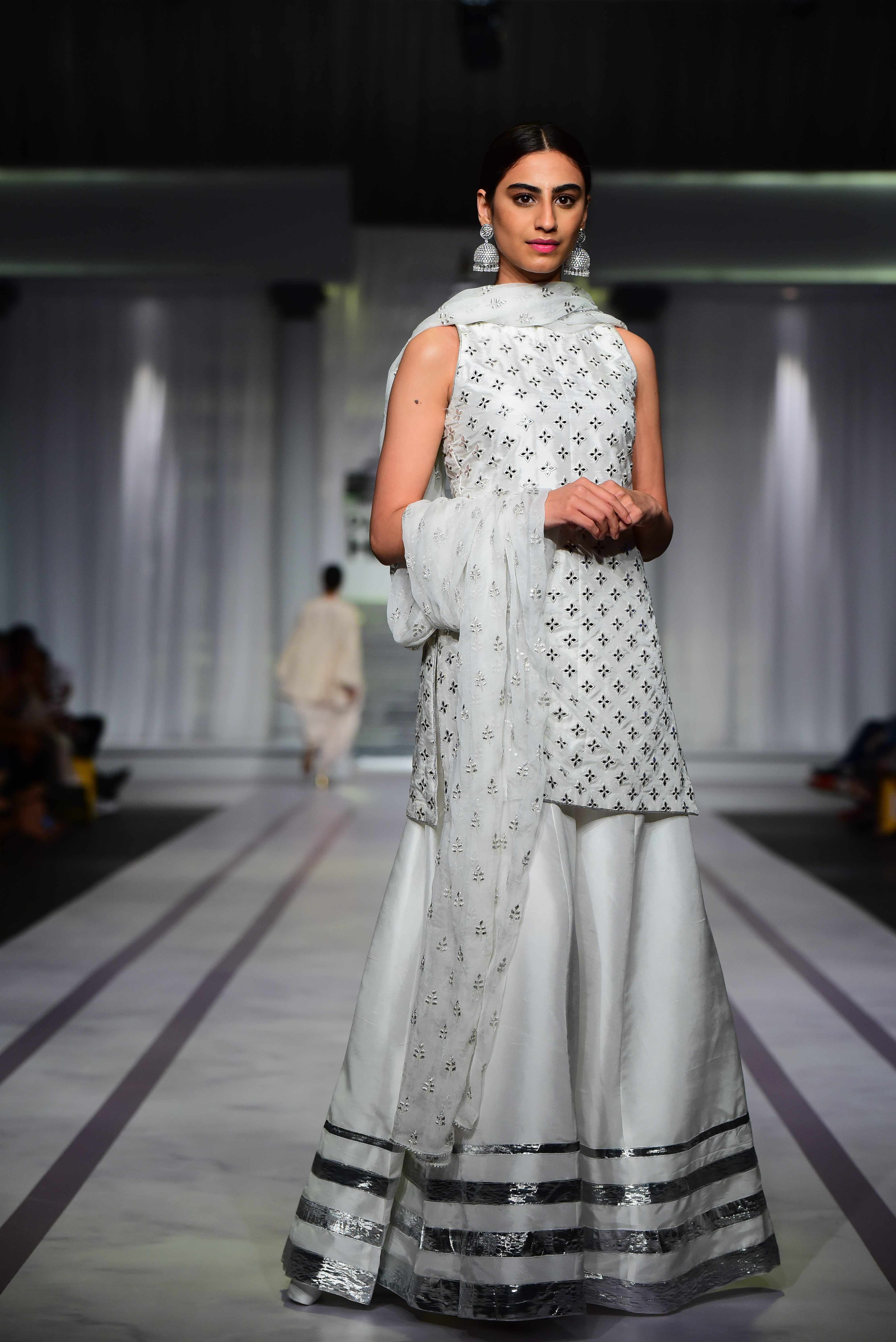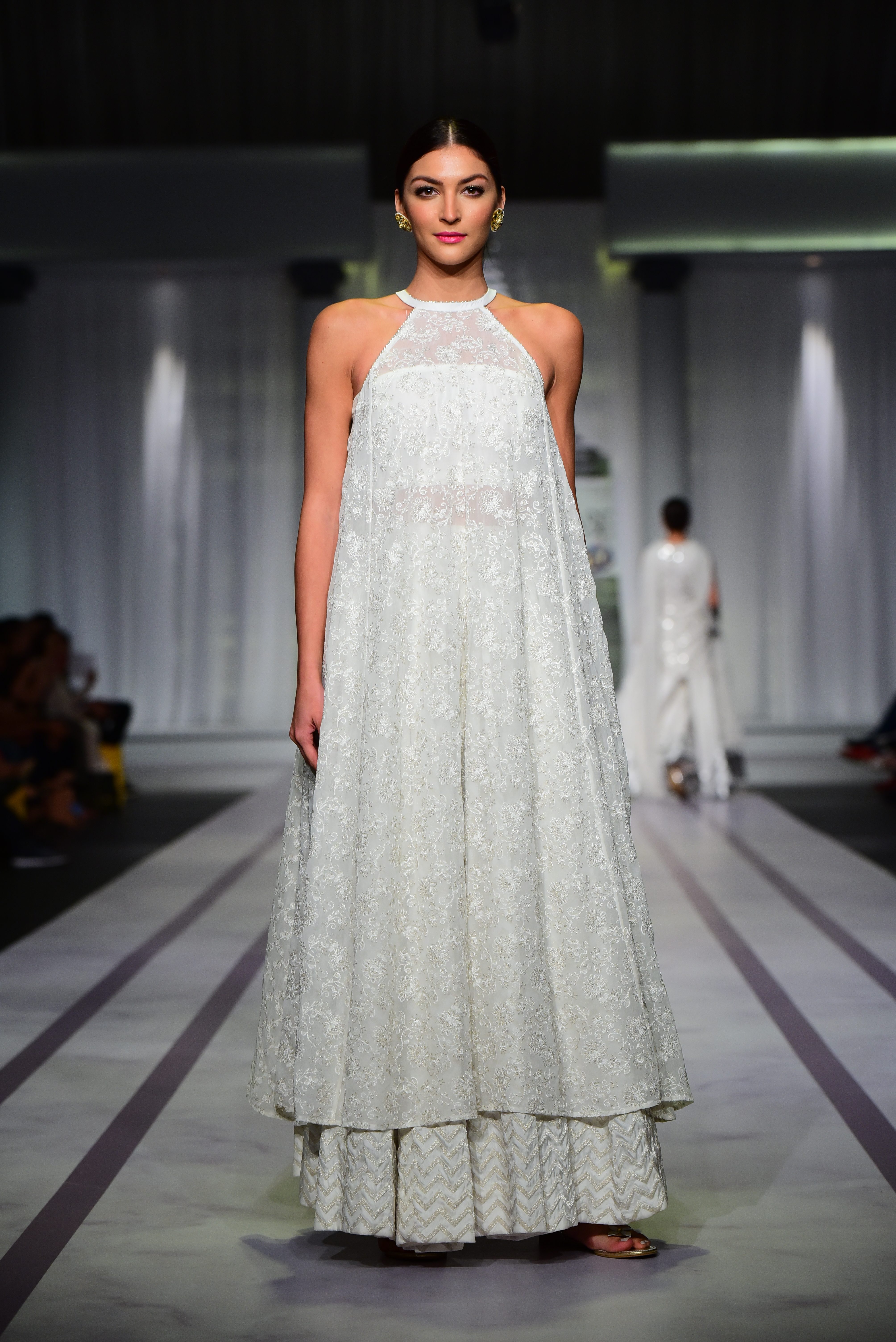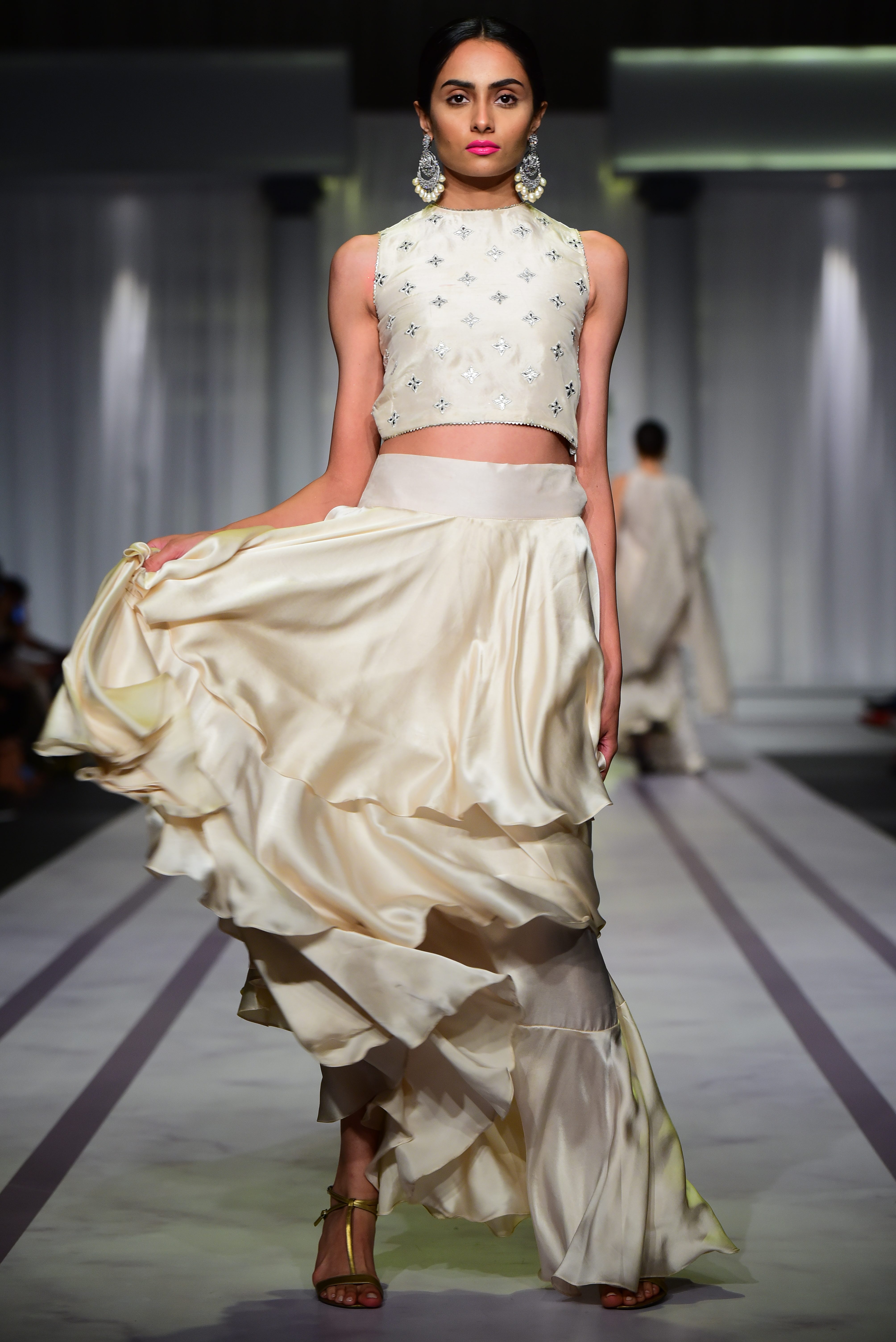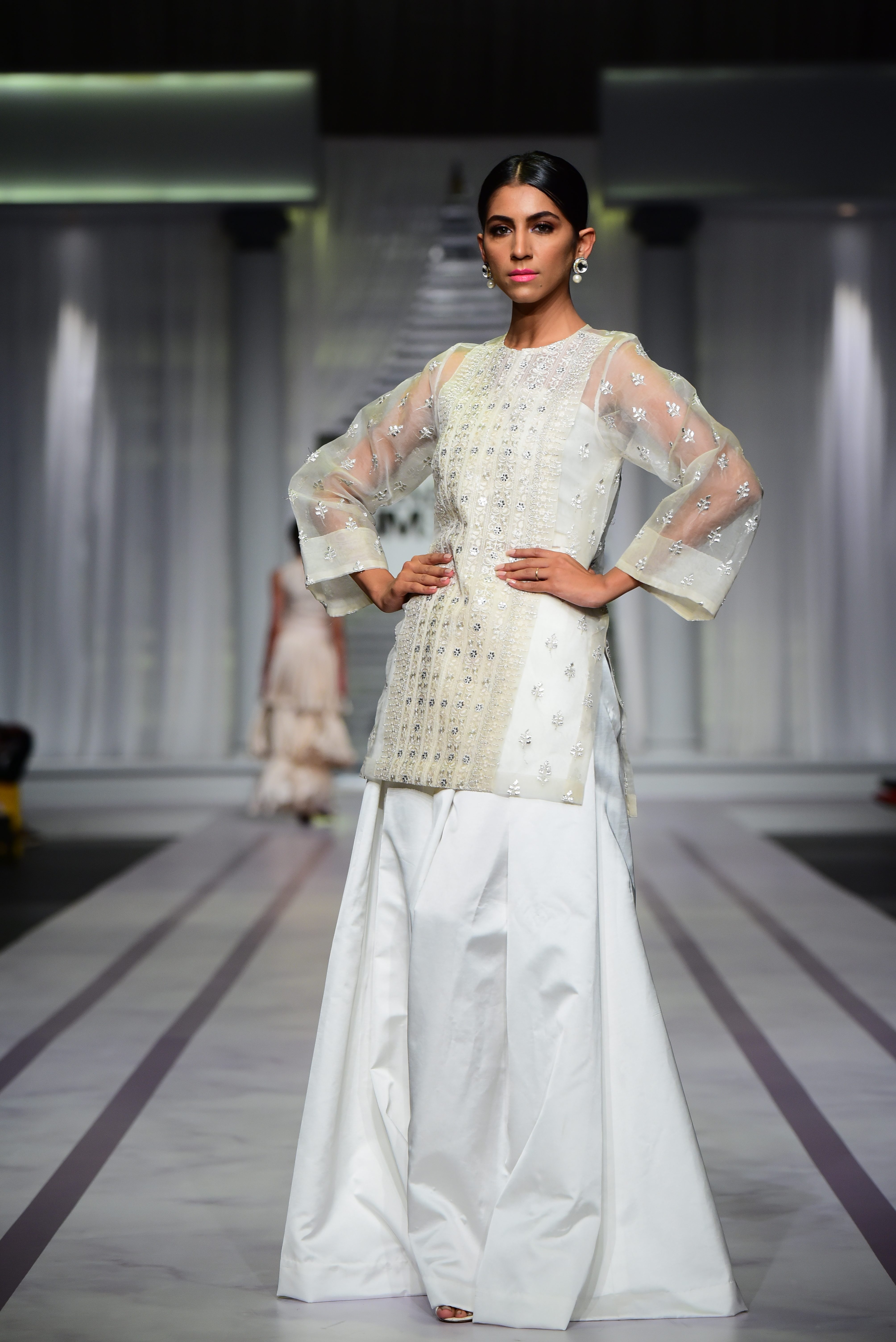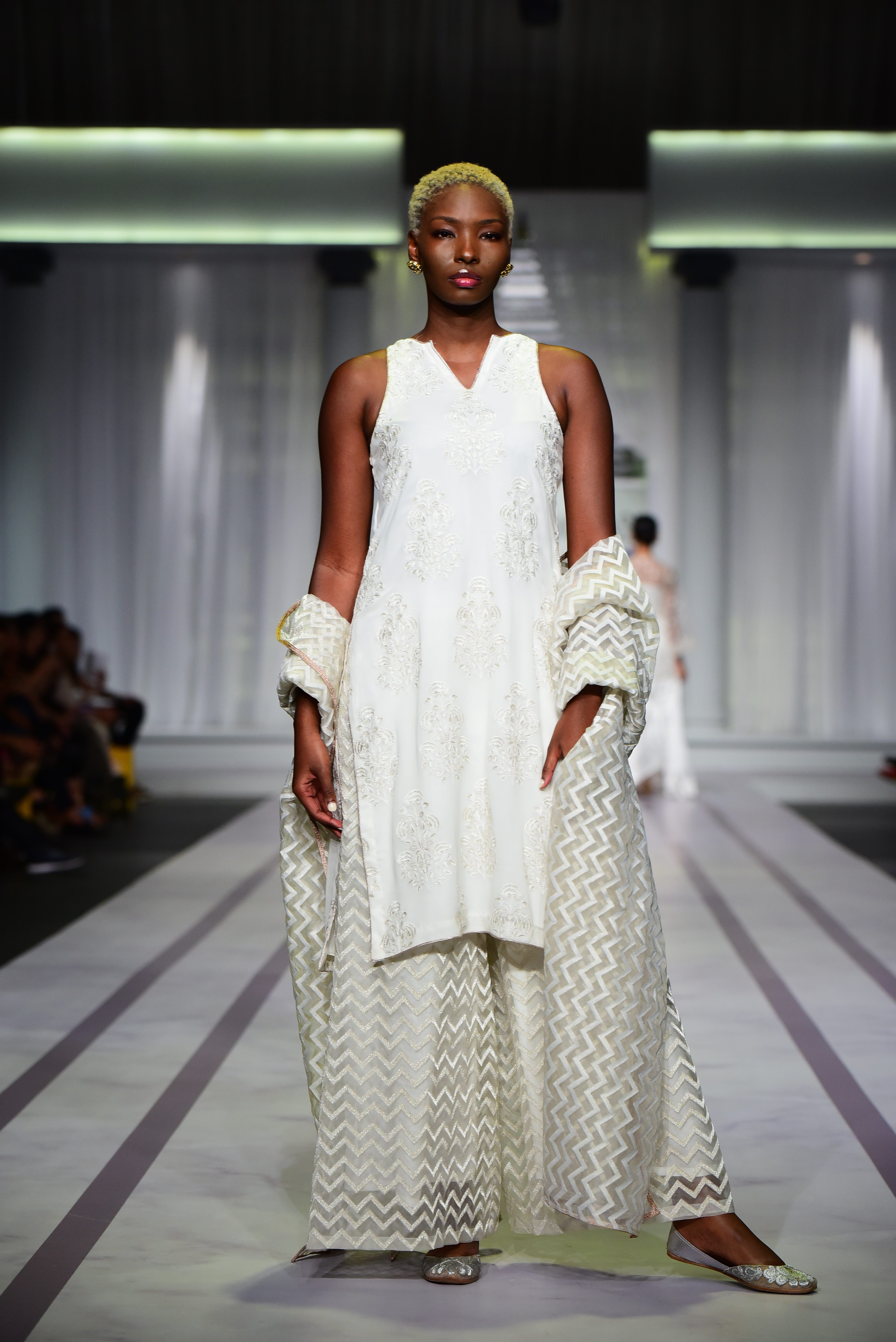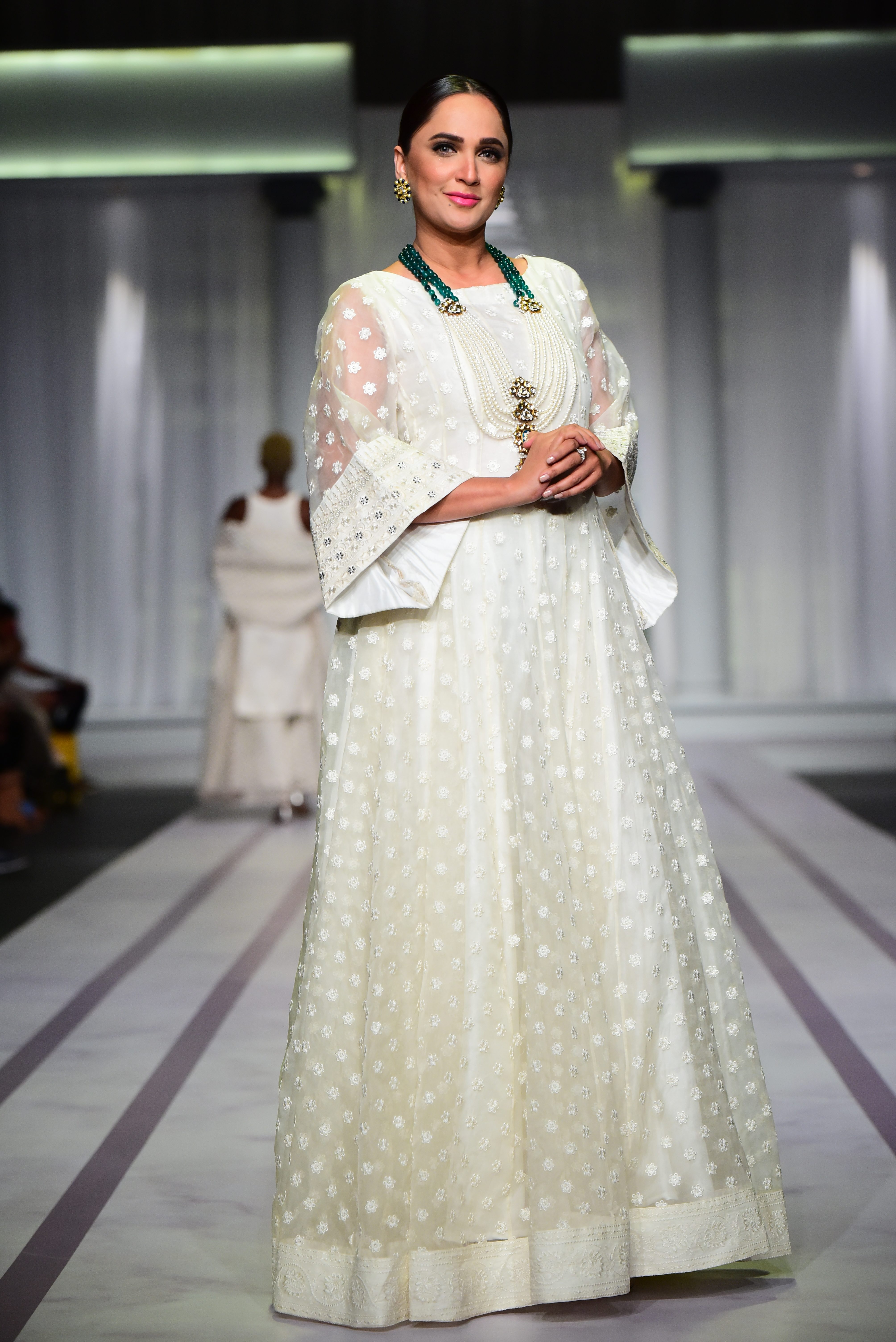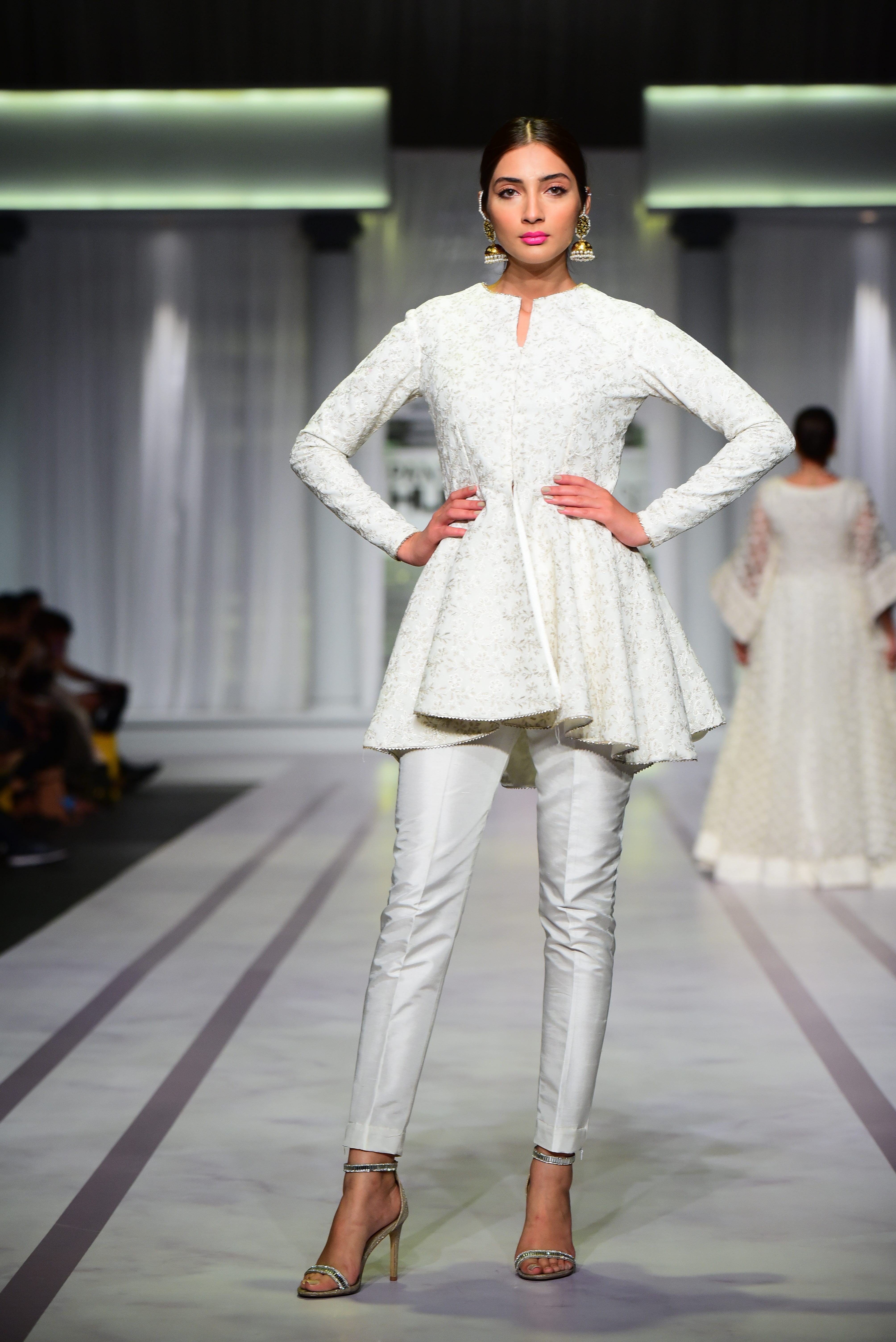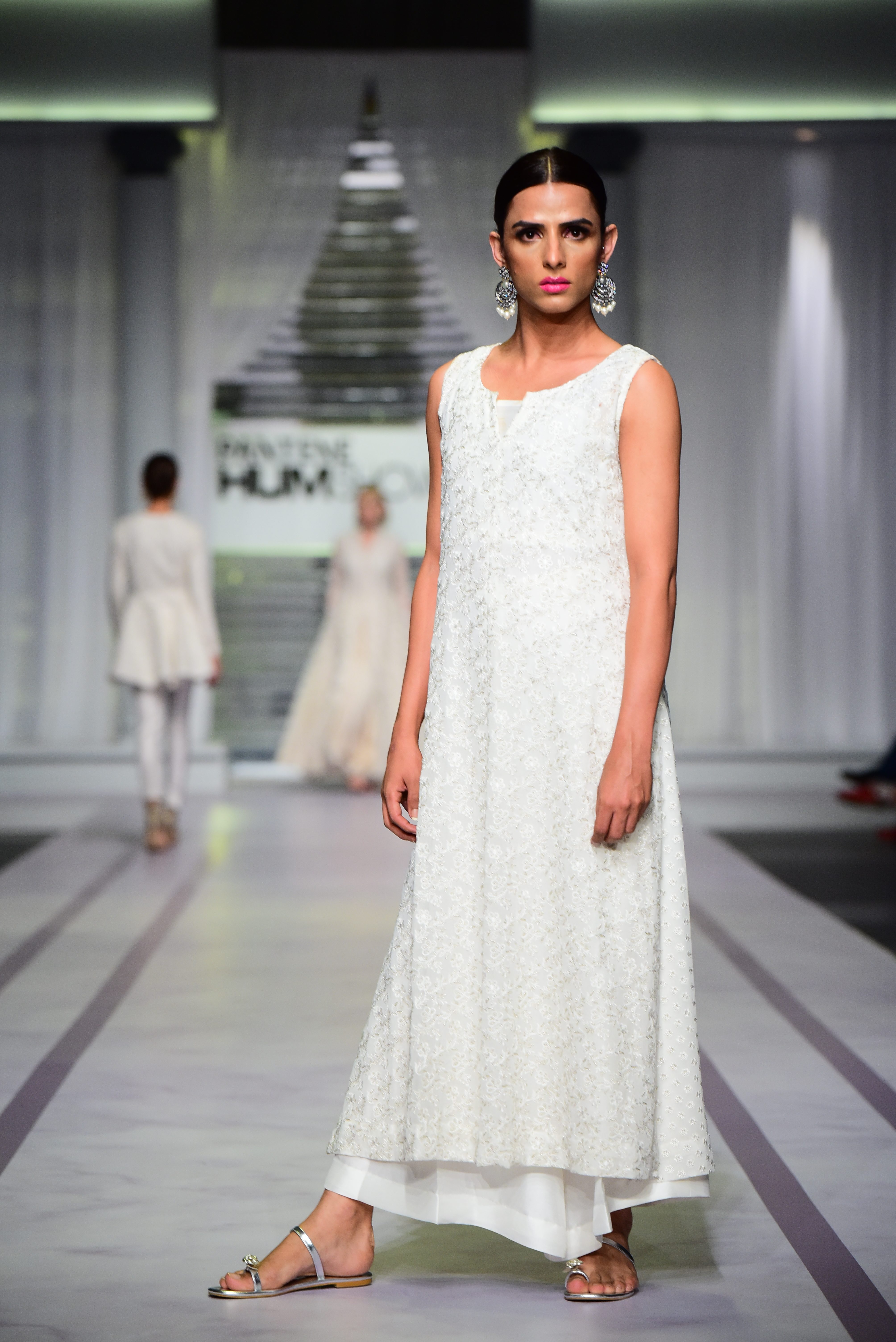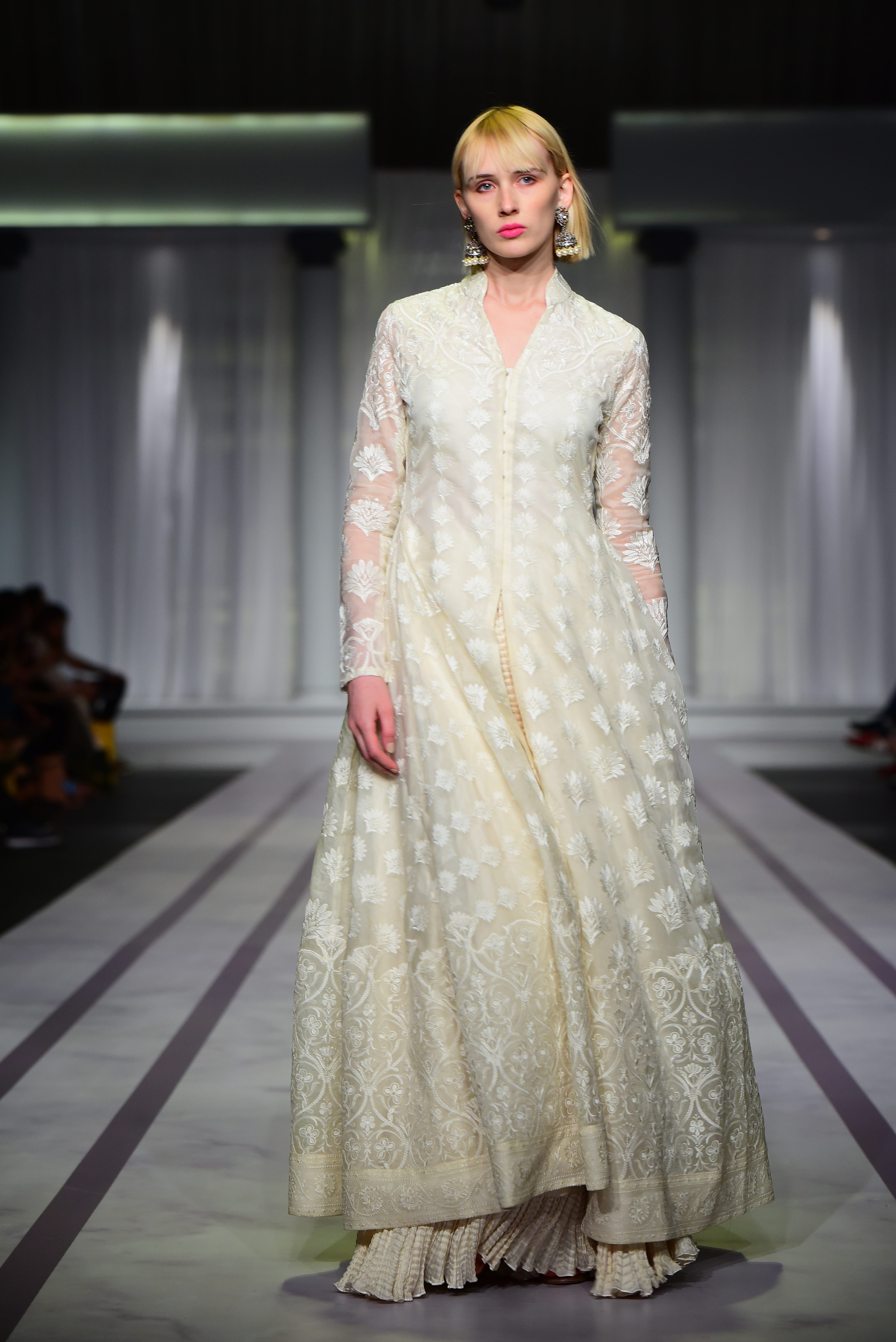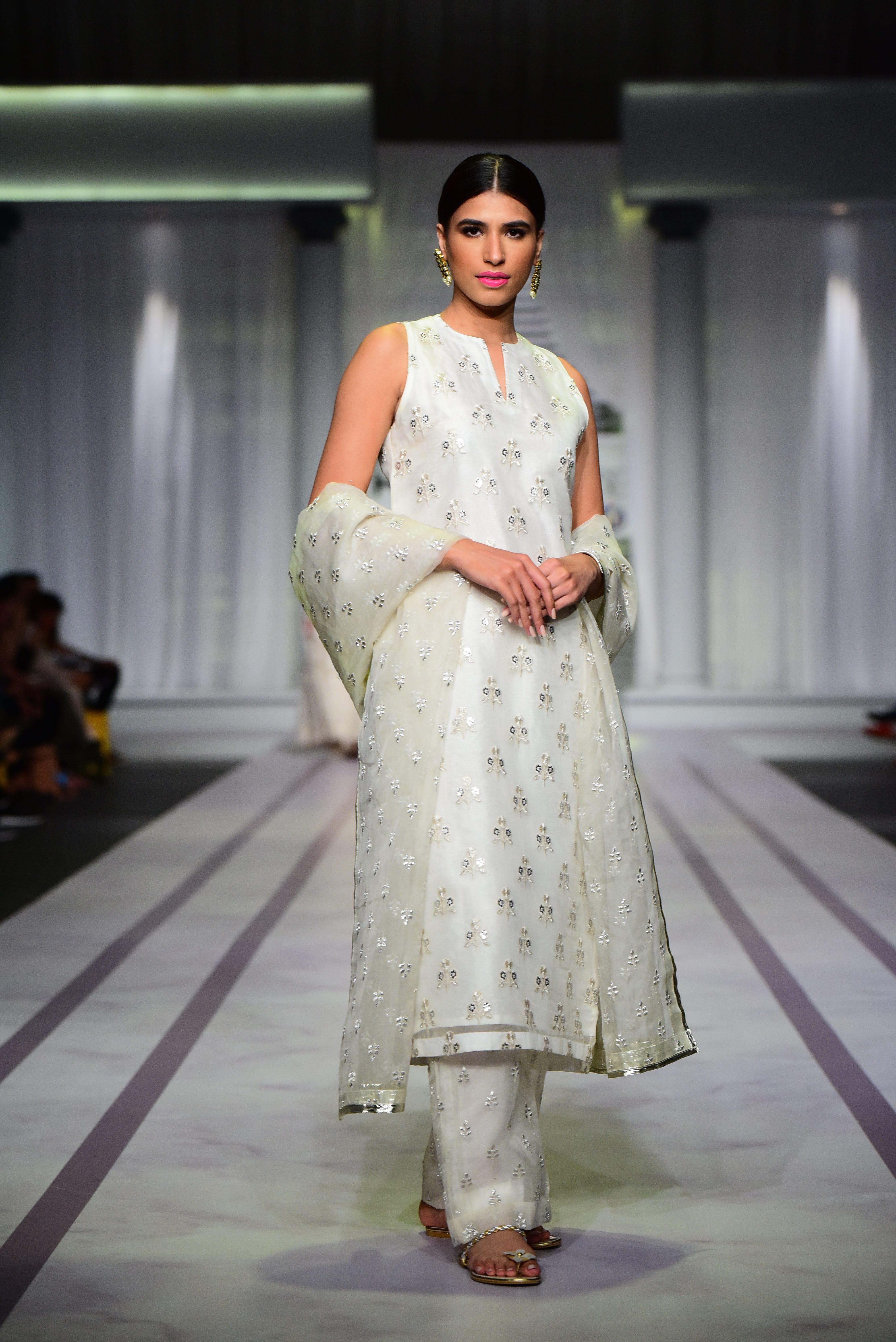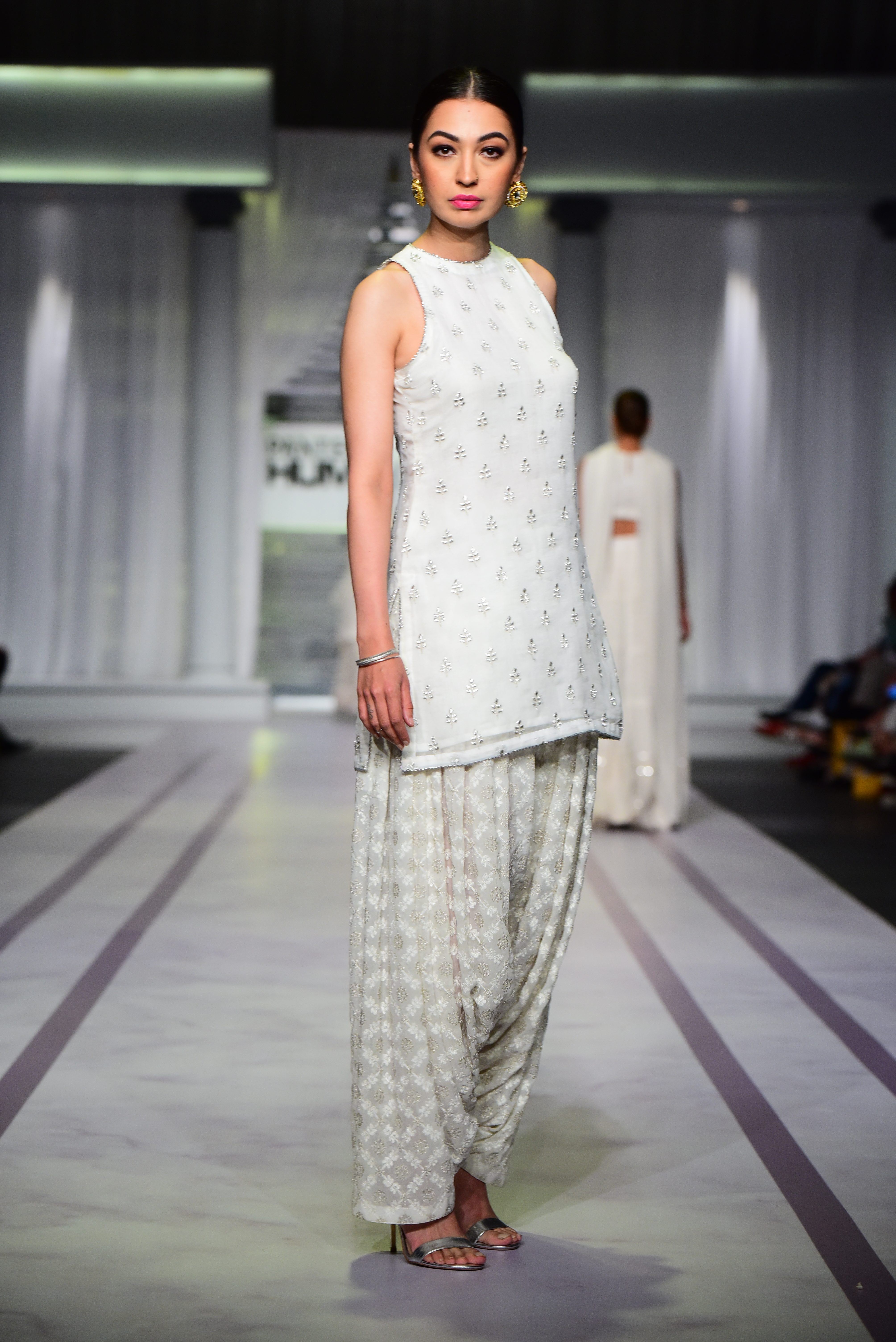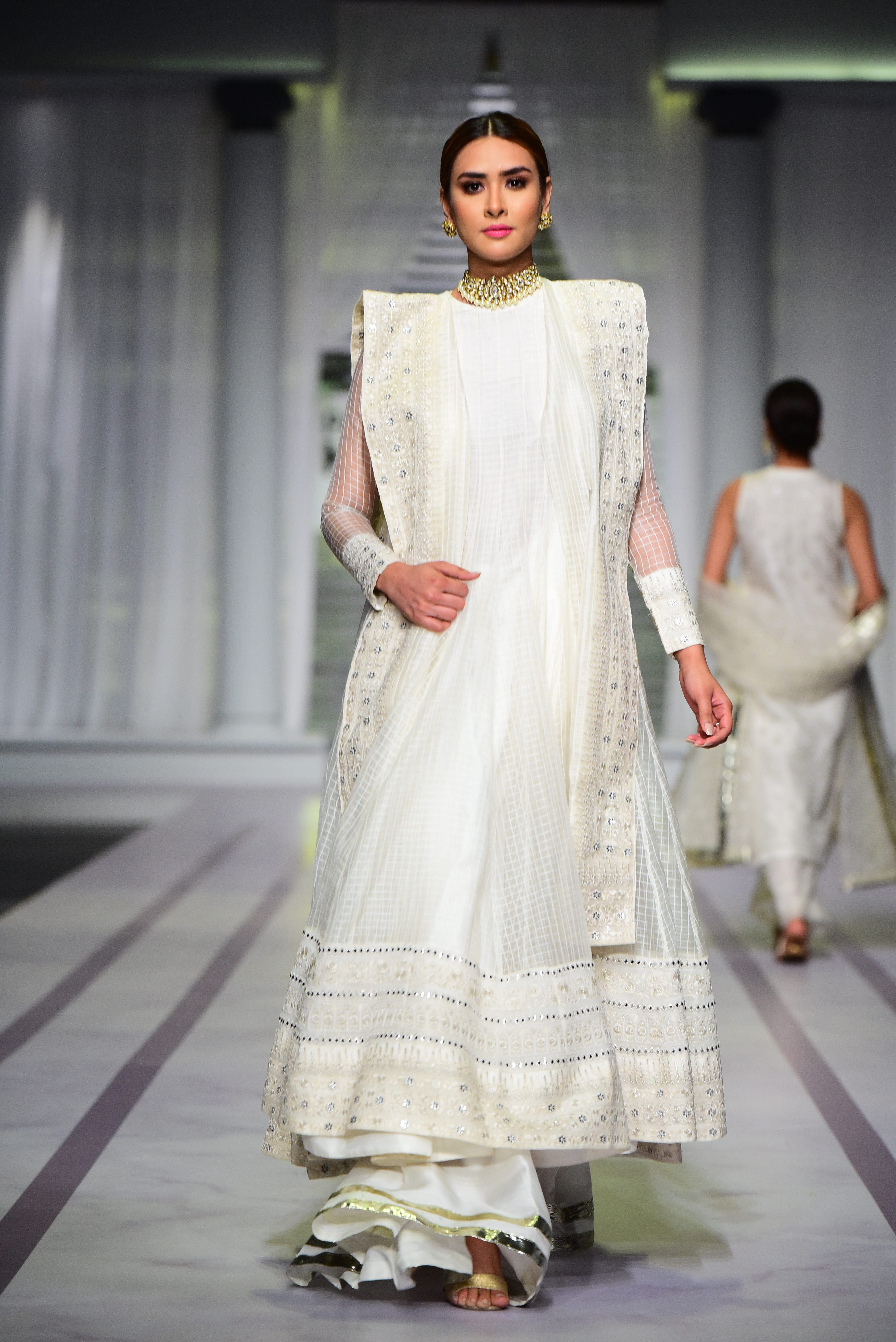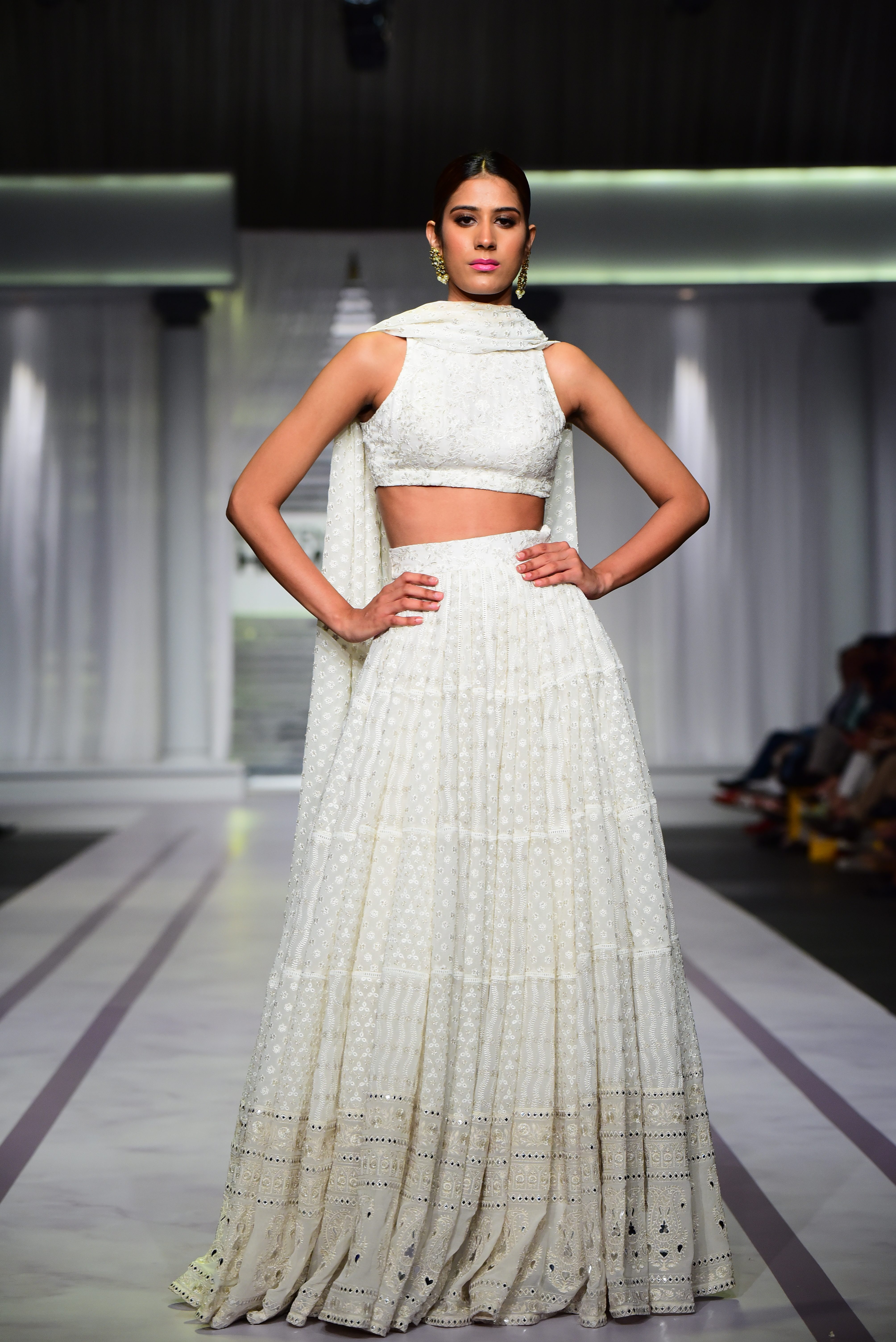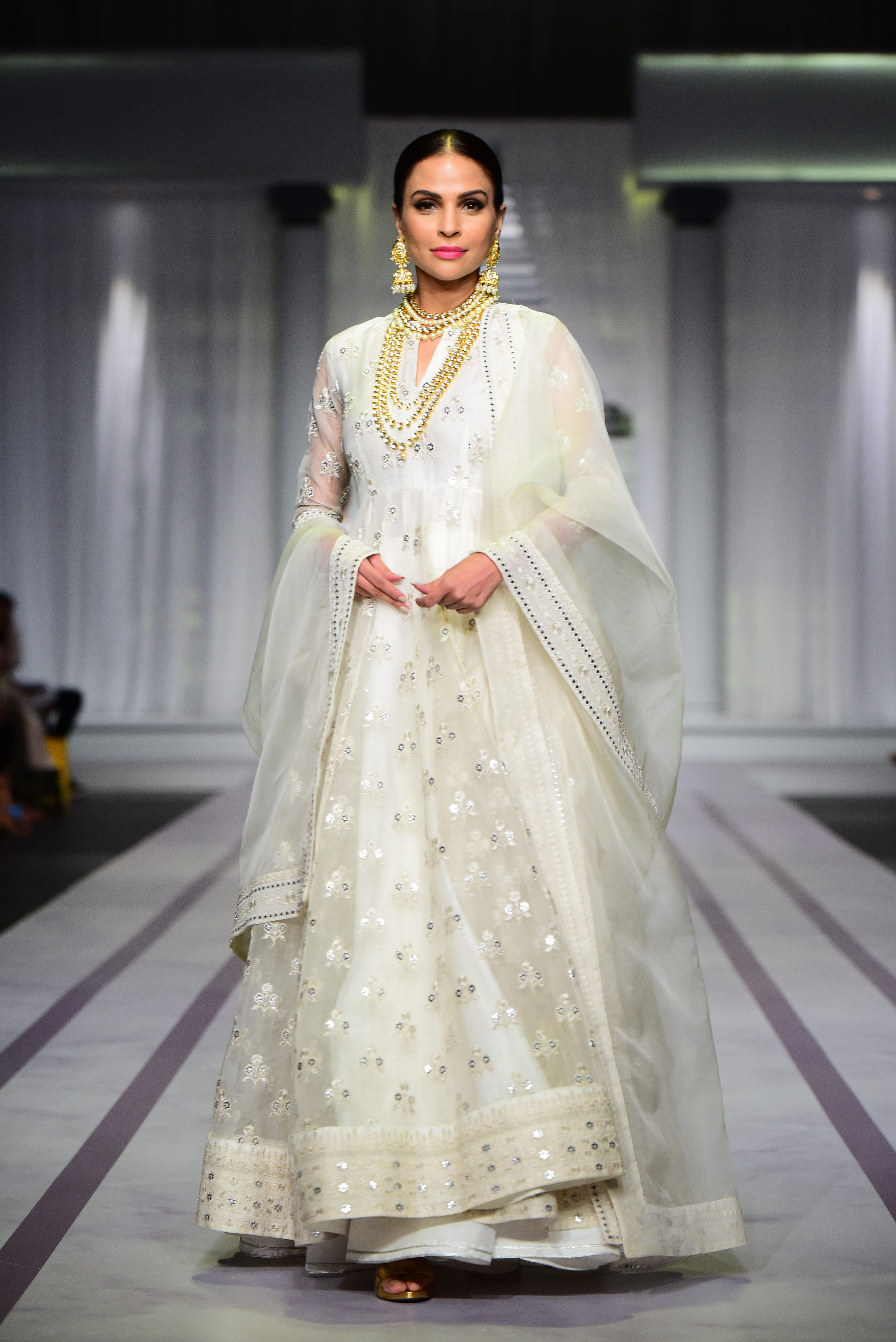 Beginning as creators of luxurious textiles, the 25-year-old 'Image Fabrics' which has evolved and transformed itself into a popular high street brand  celebrated the revival of the traditional and rich technique of gota  embroidery and posited it into a contemporary fashion milieu with its 'The Return' collection.
The collection featured a clever interplay of luxurious fabrics in cream, ecru, white and beige; offset with traditional yet extremely dainty and delicate gota work juxtaposed with signature chikanakari embroidery and transposed onto contemporary traditional silhouettes including chevron-printed short shirts worn with gharara pants; kaftan-sleeved sheer kurtas worn with flowy palazzos;  peplum jackets worn with slim pants; flowing Achkan gowns; Anarkali tunics; ghagra cholis and harem pants worn with short sleeveless kurtis, showcasing a diverse traditional yet contemporized  preview of the brand's upcoming high street Luxury Prêt line; perfect for formal occasions such as Eid and weddings.
TRENDS:
1. DELICATE GOTA DETAILING
2. INTRICATE CHIKANKARI
3. VOLUMINOUS ACHKAN AND ANARKALI  TUNICS
DEEPAK AND FAHAD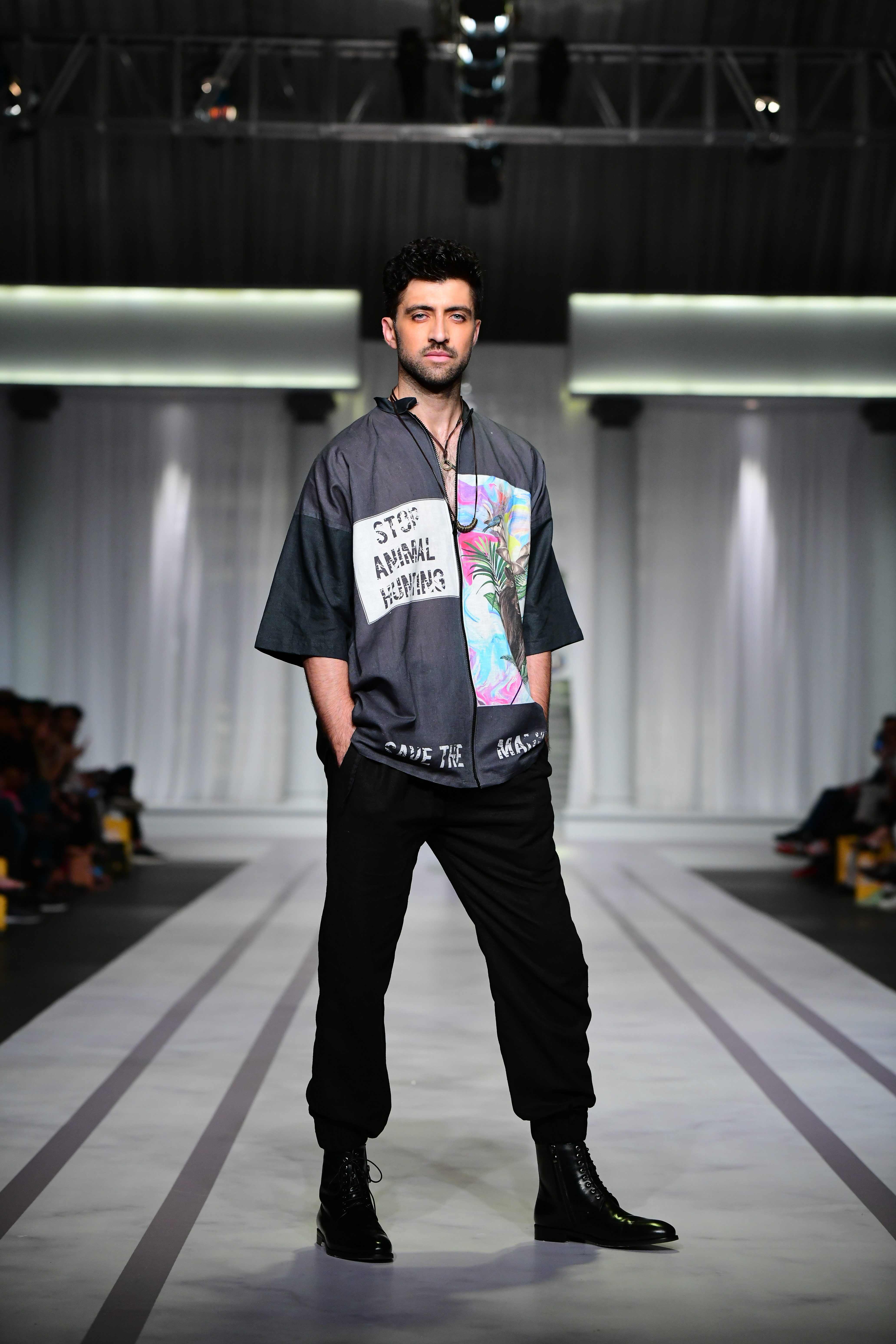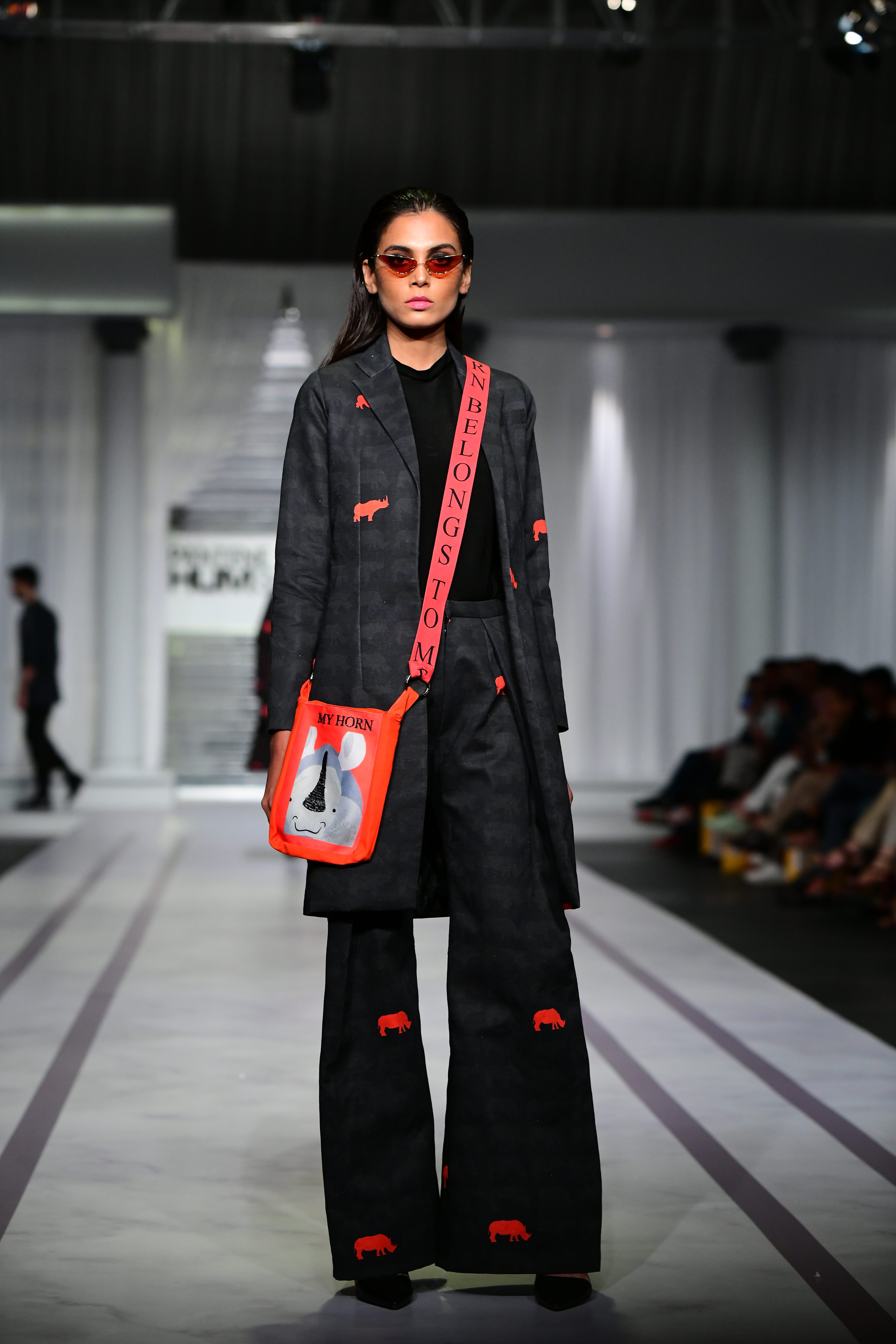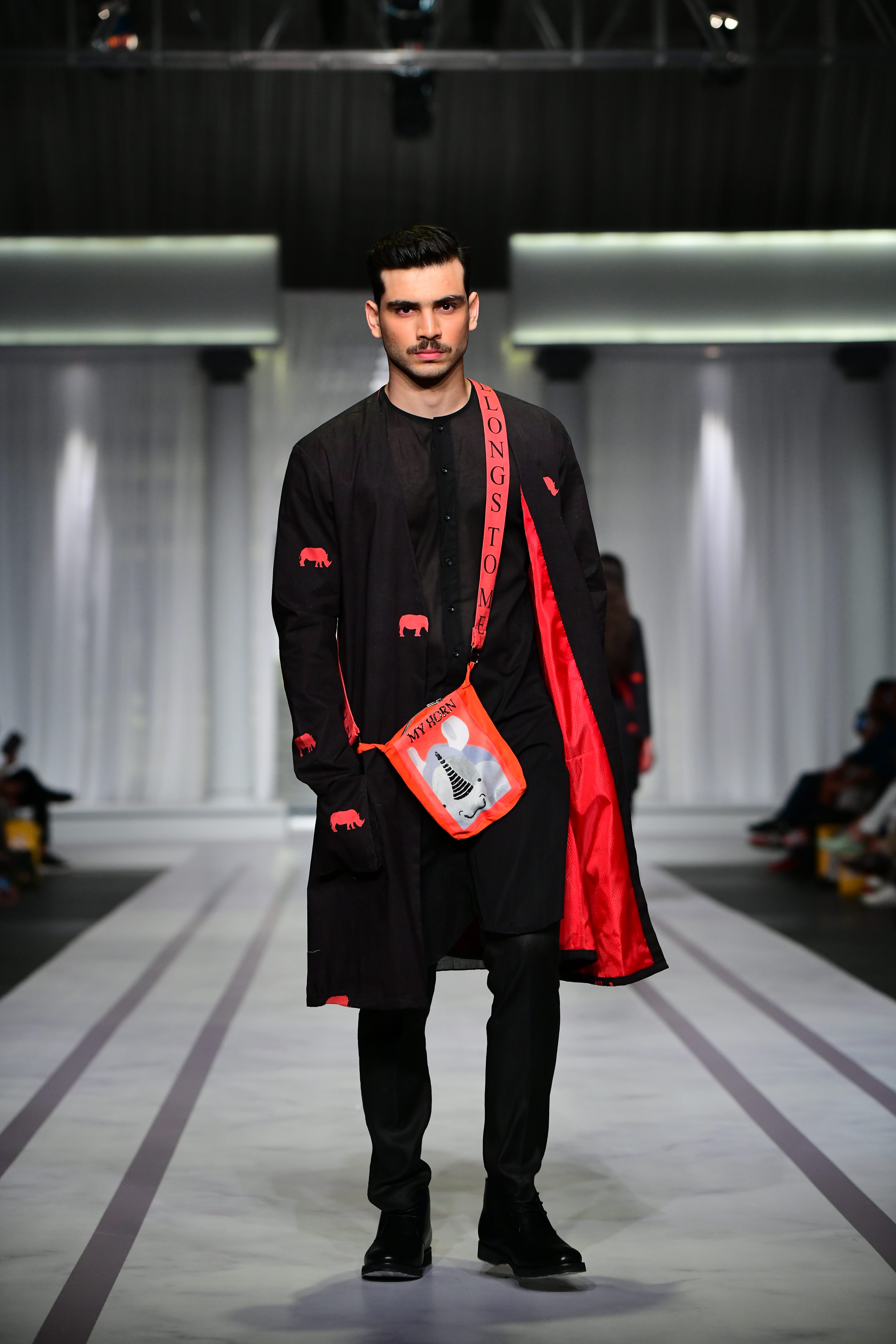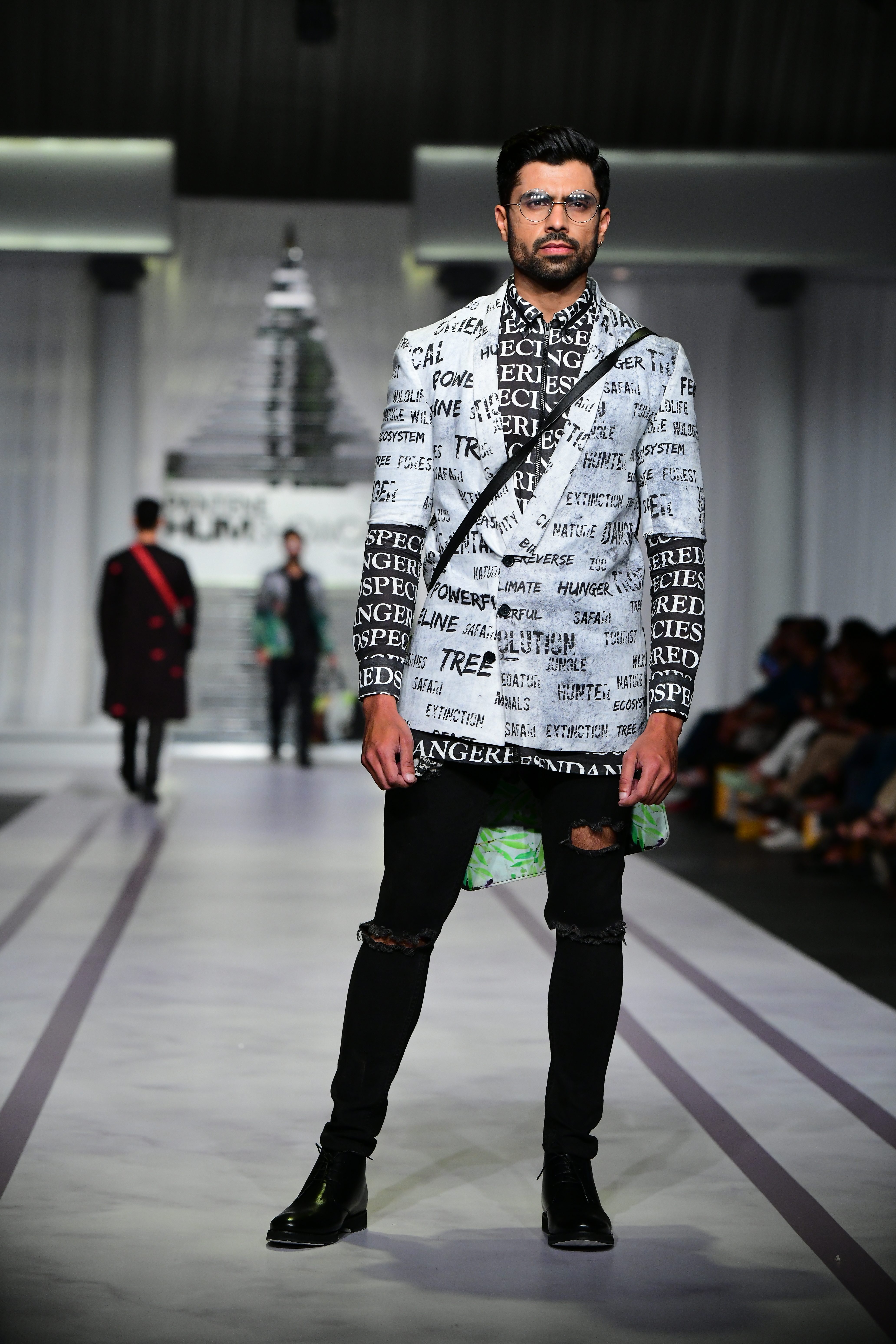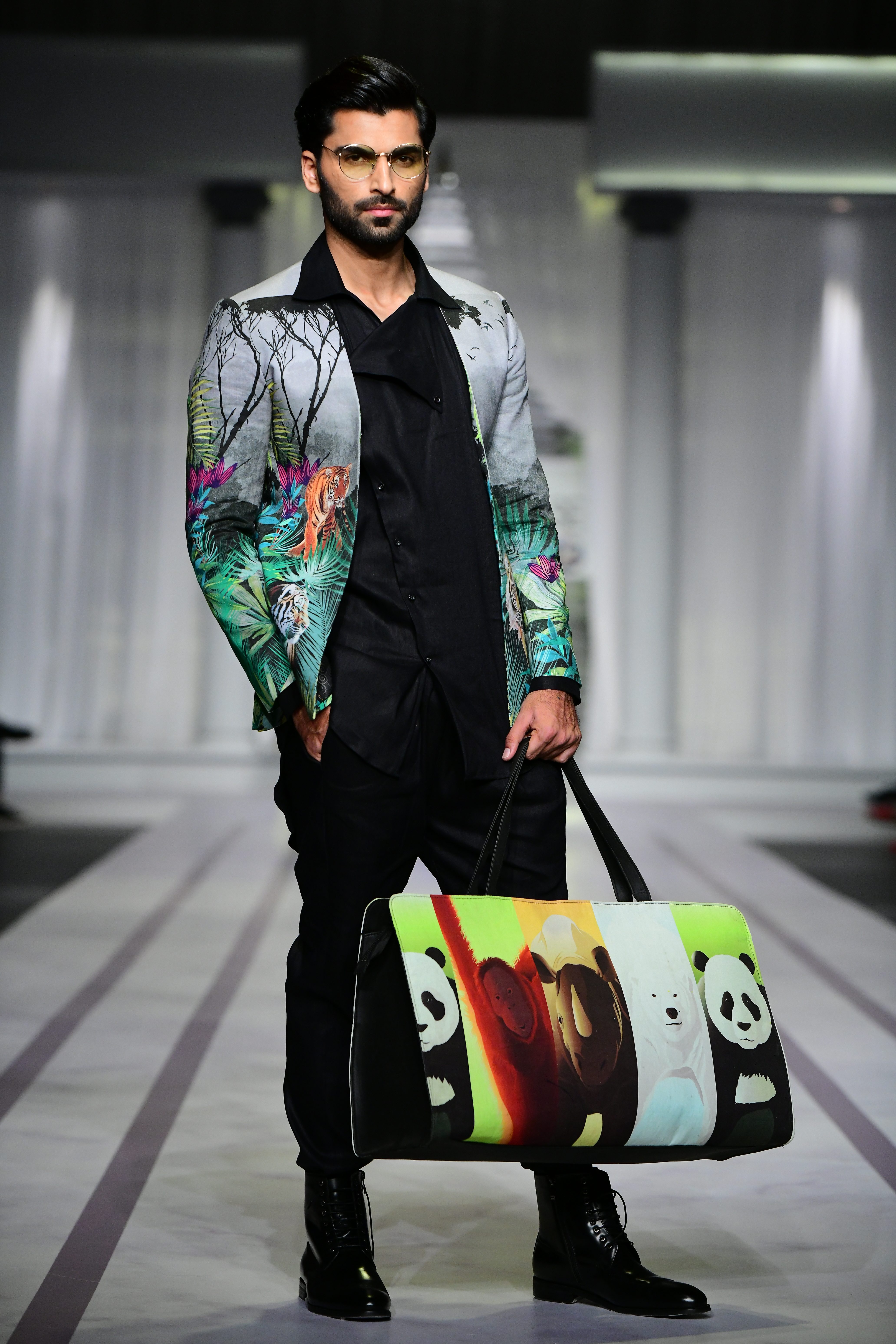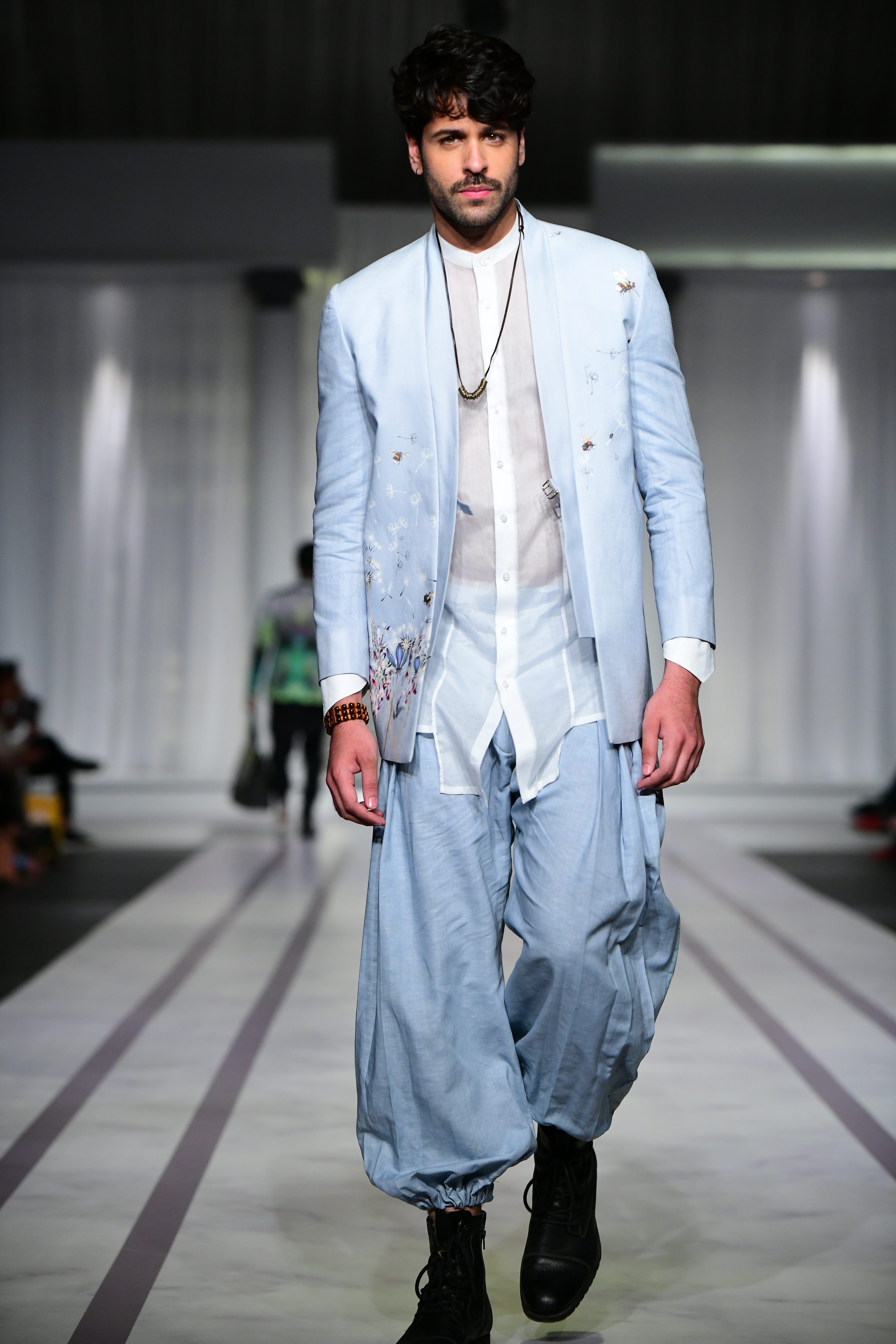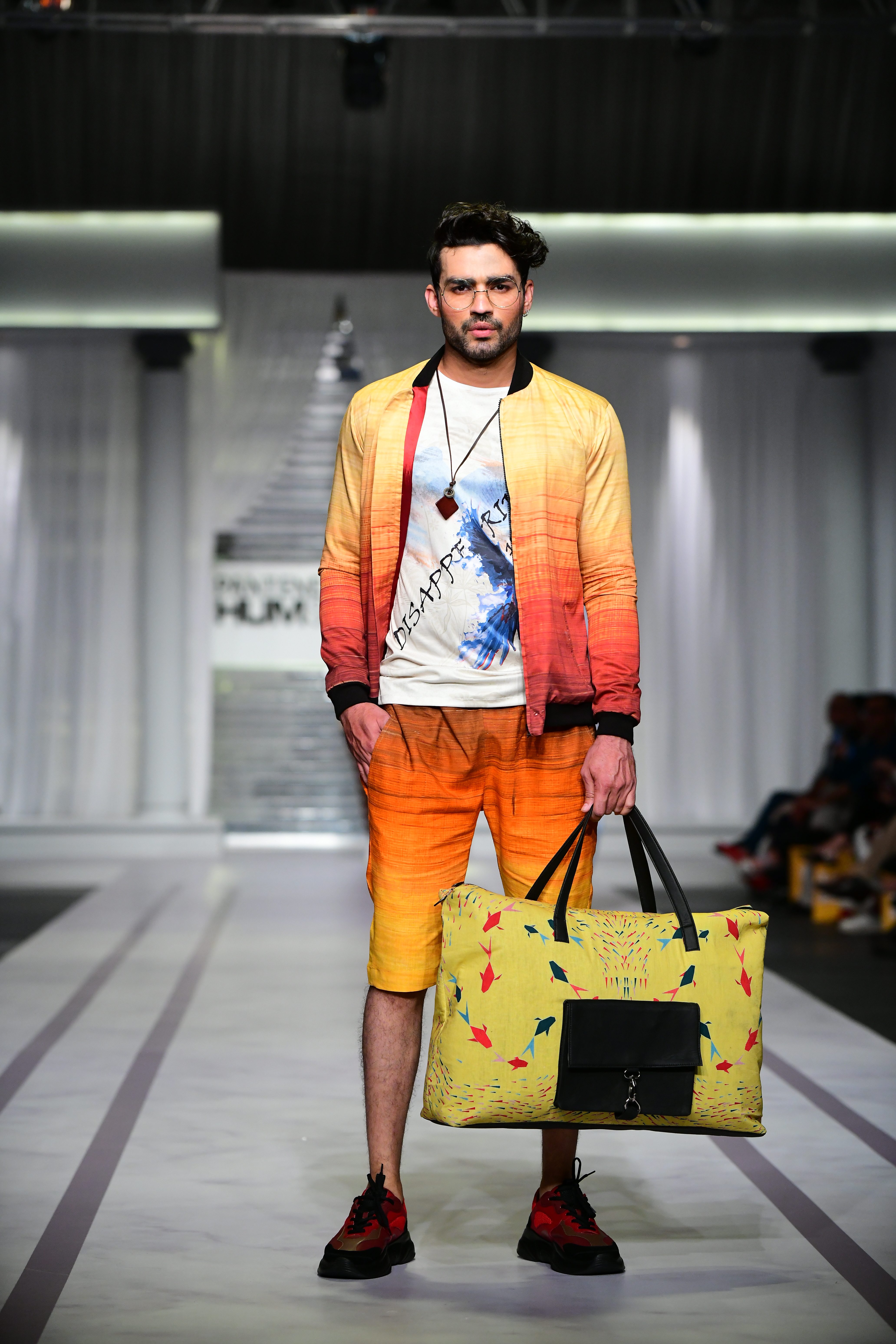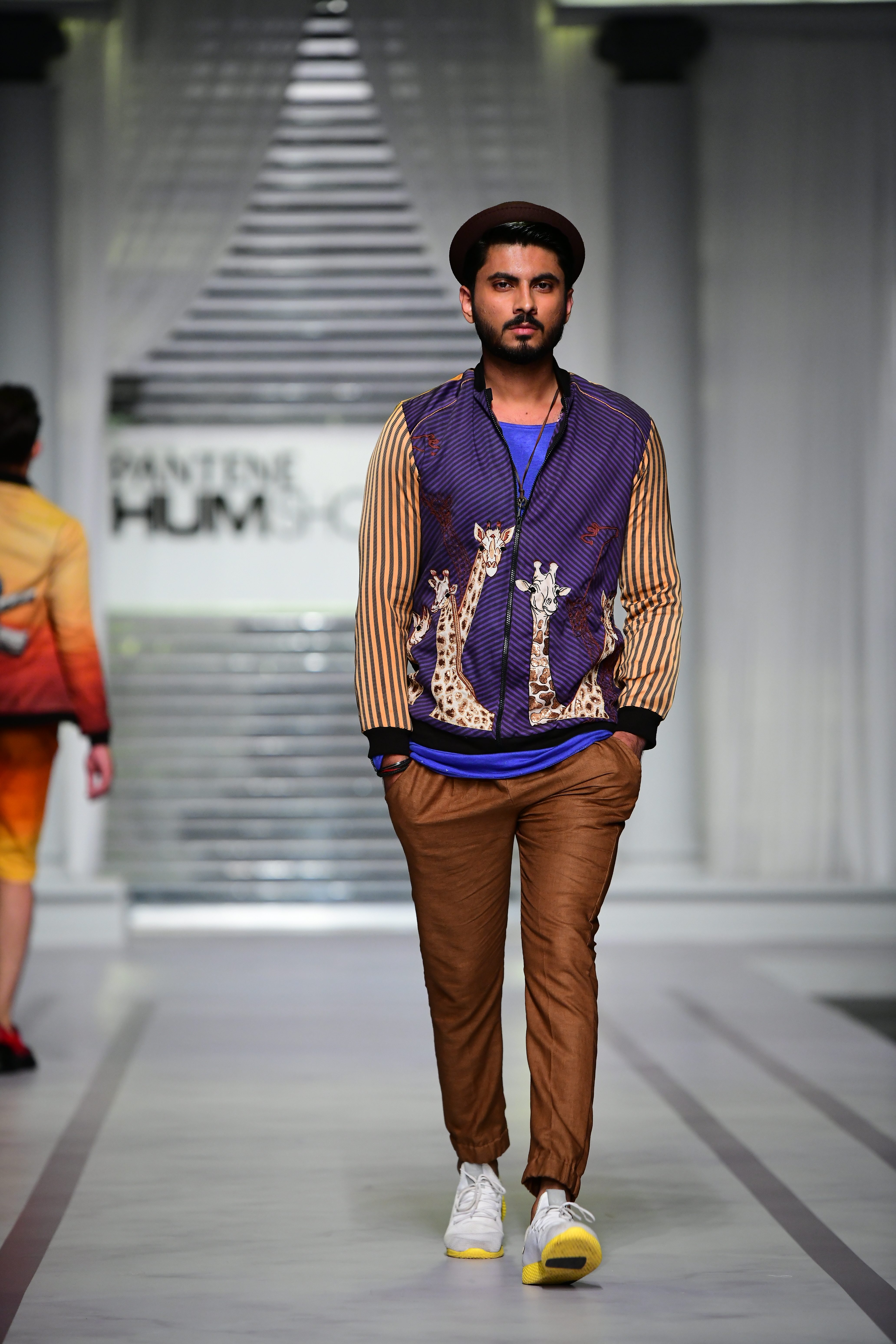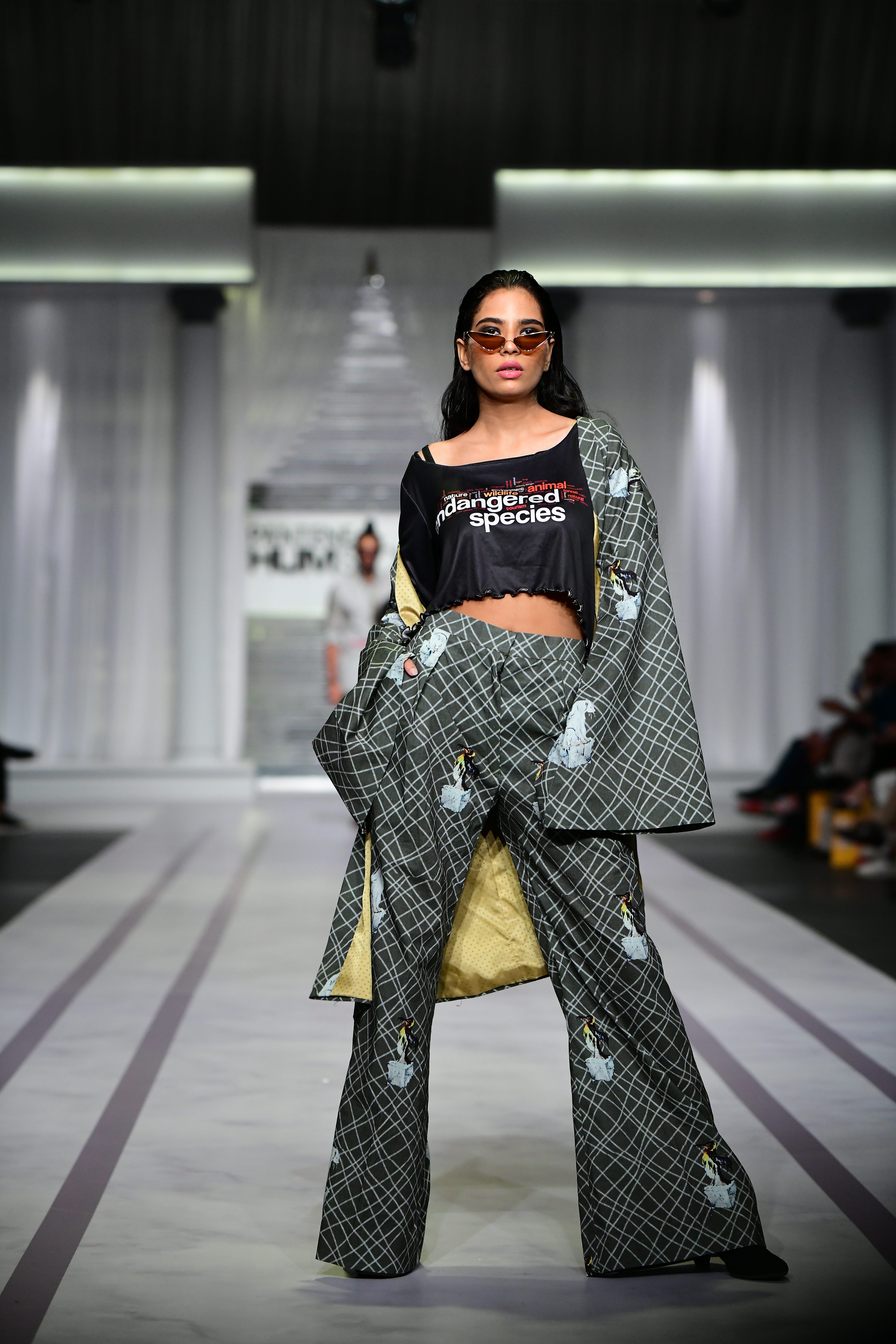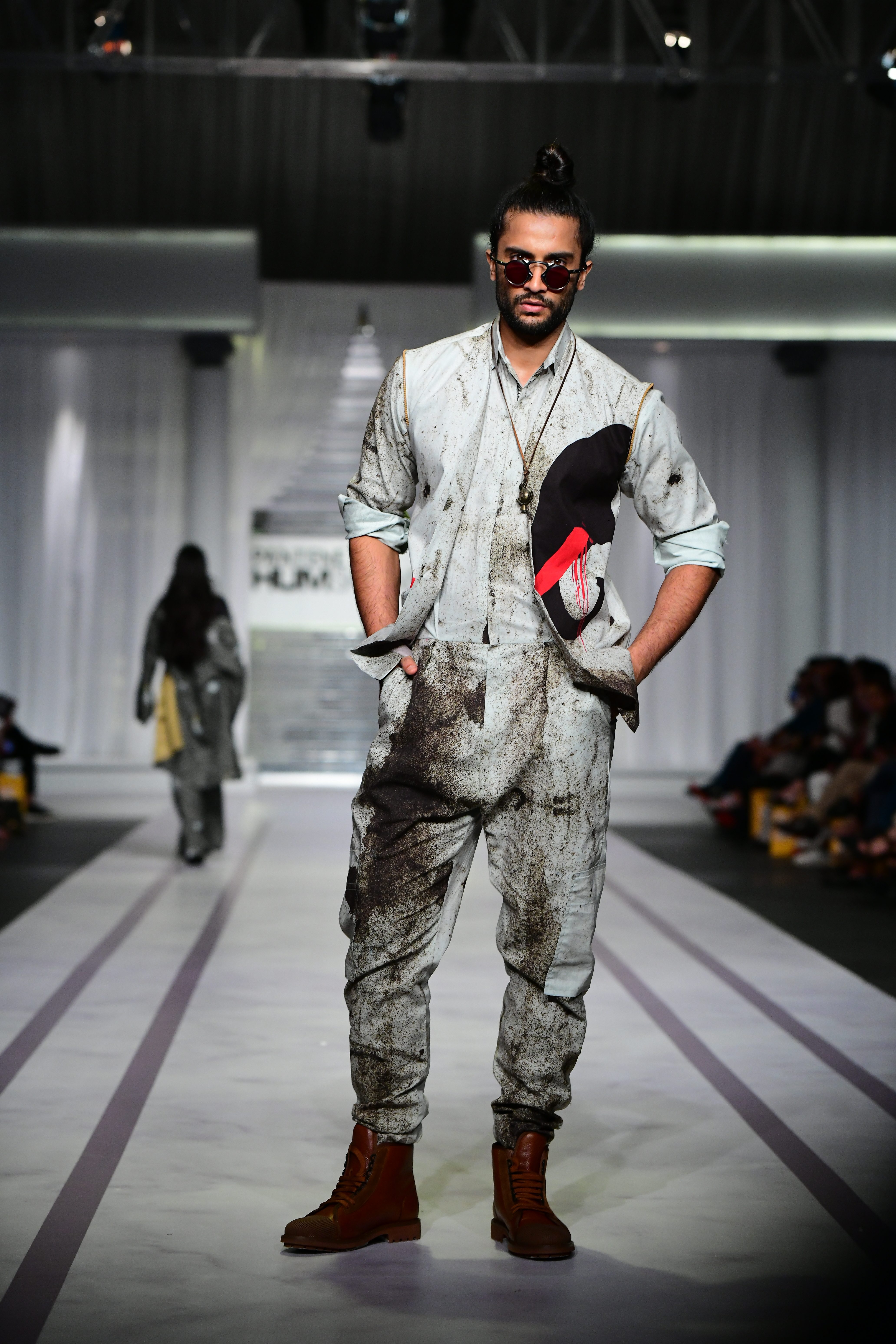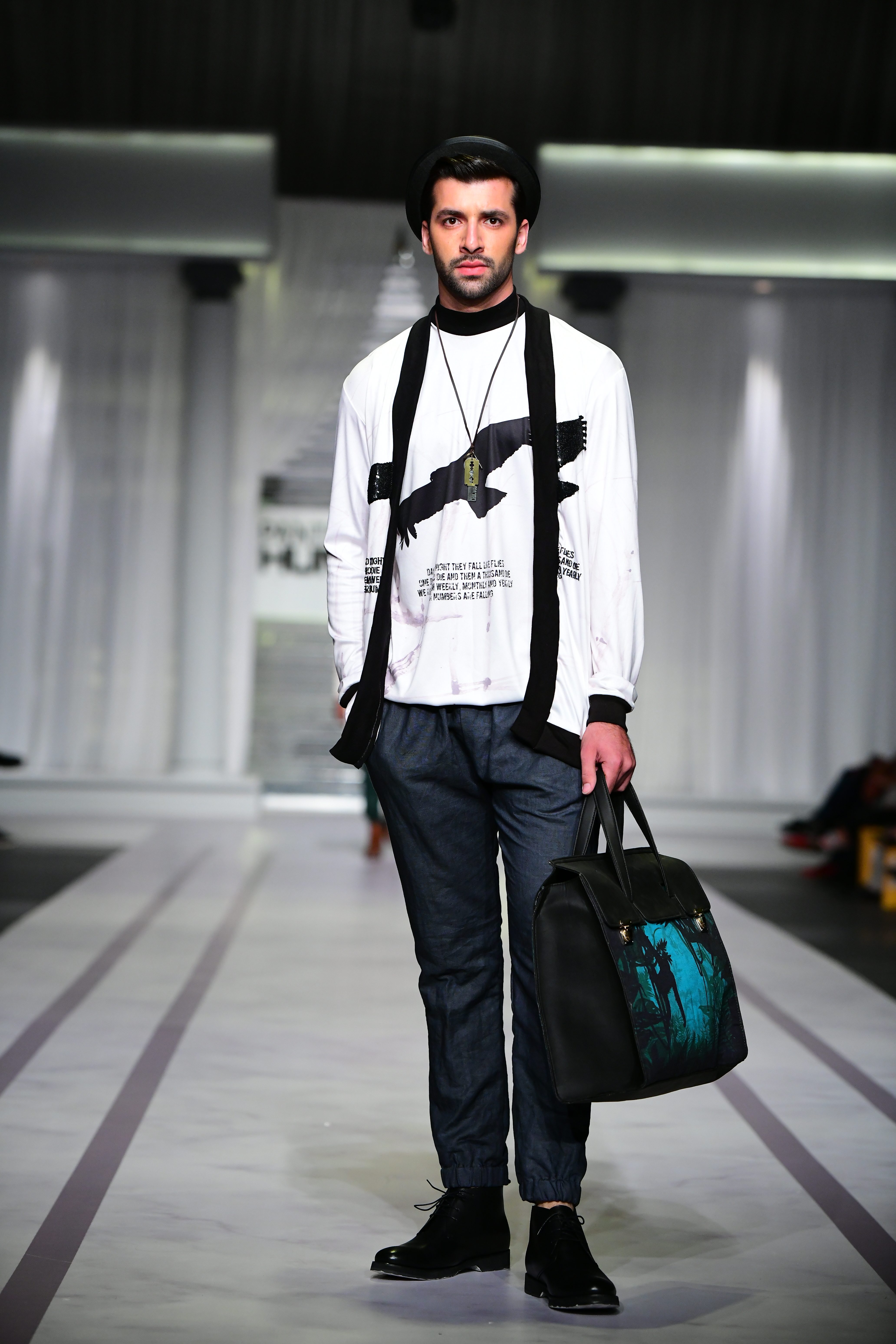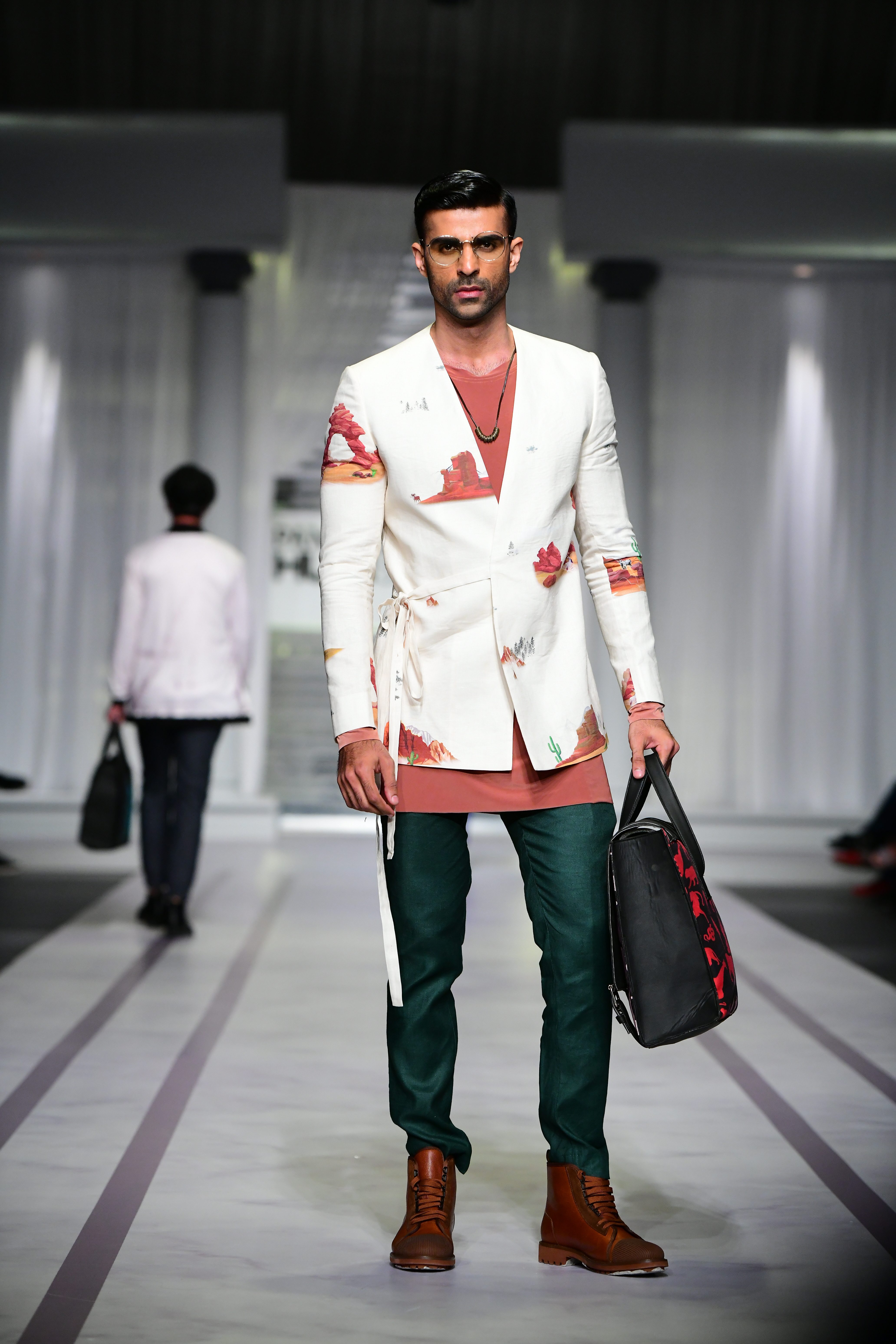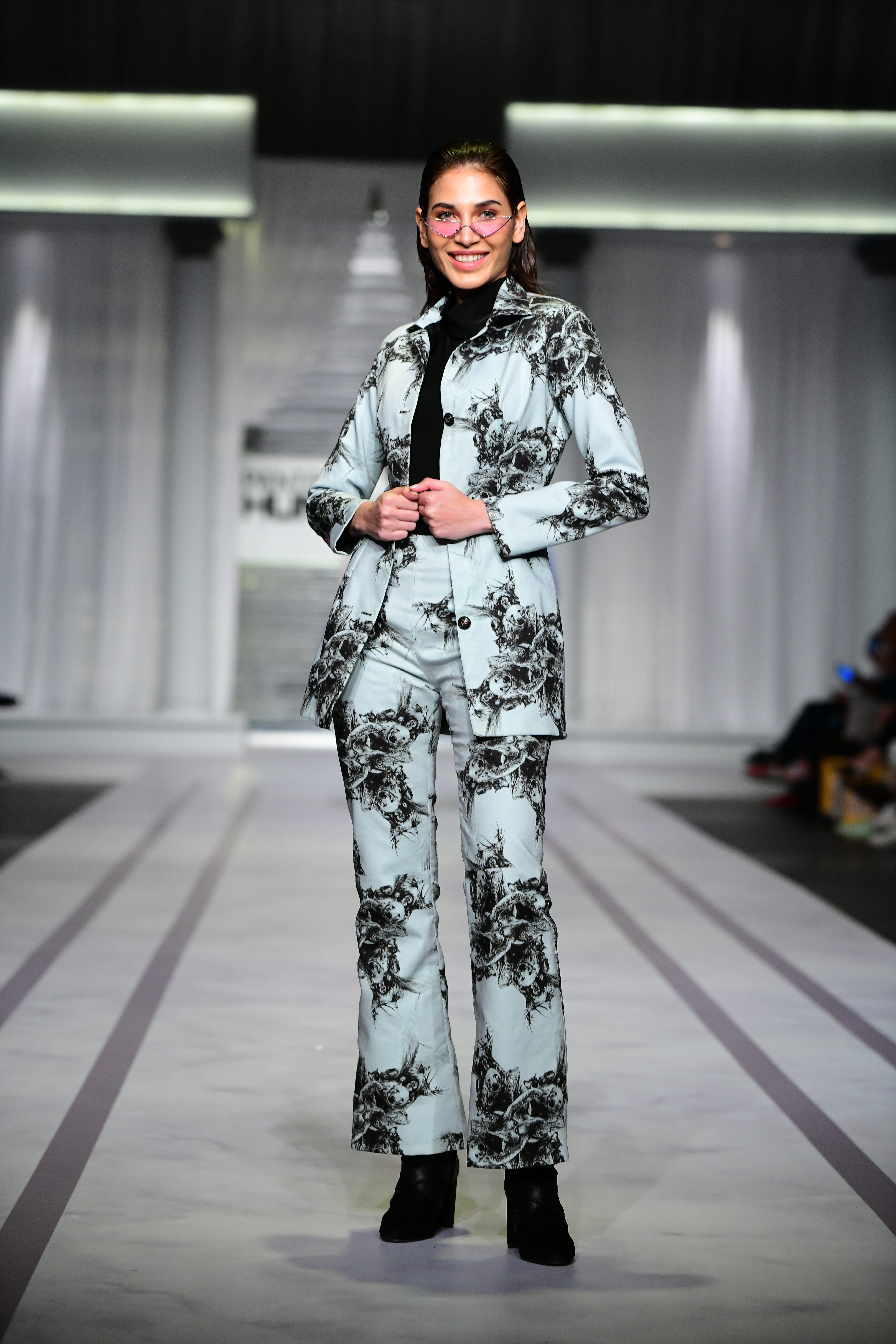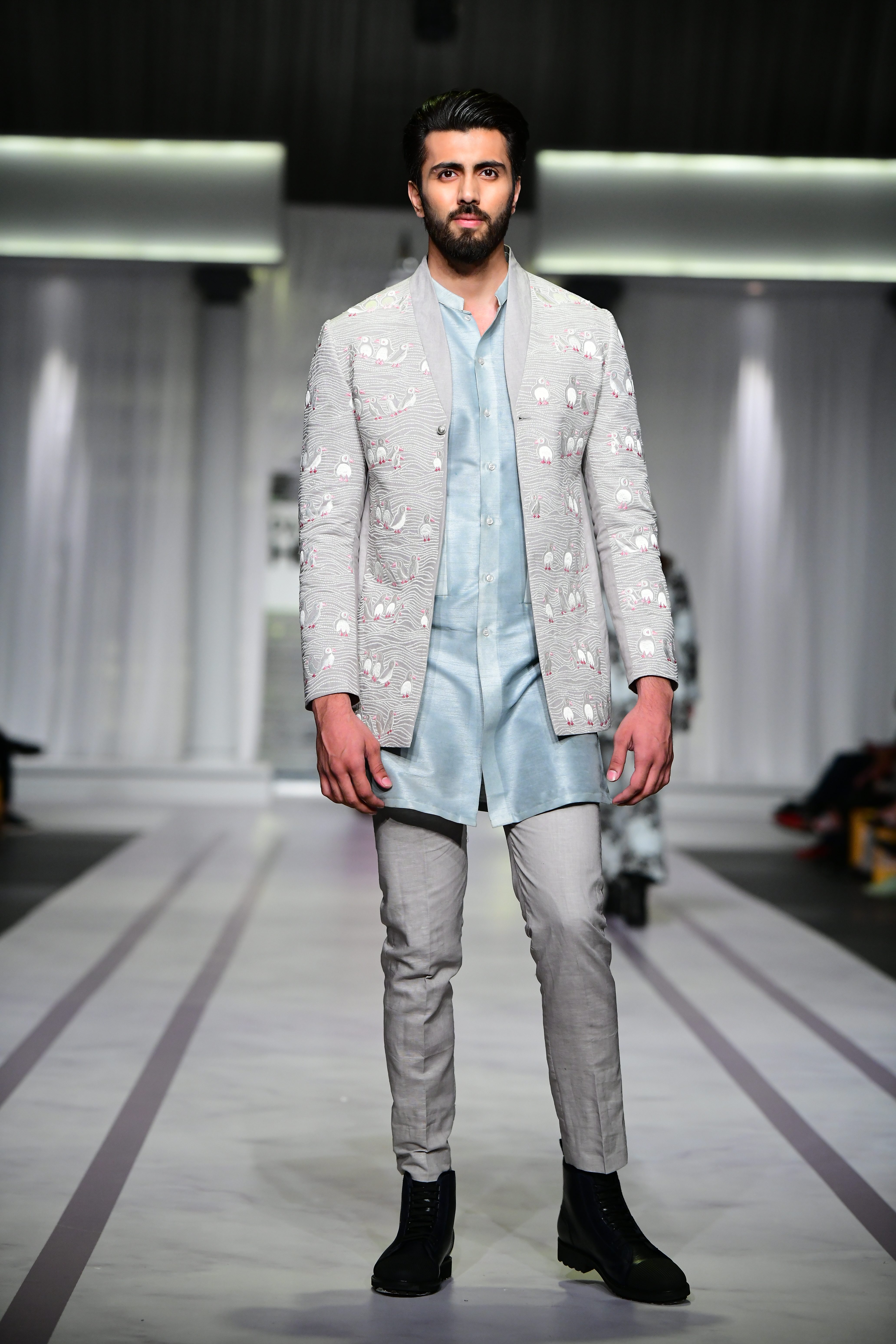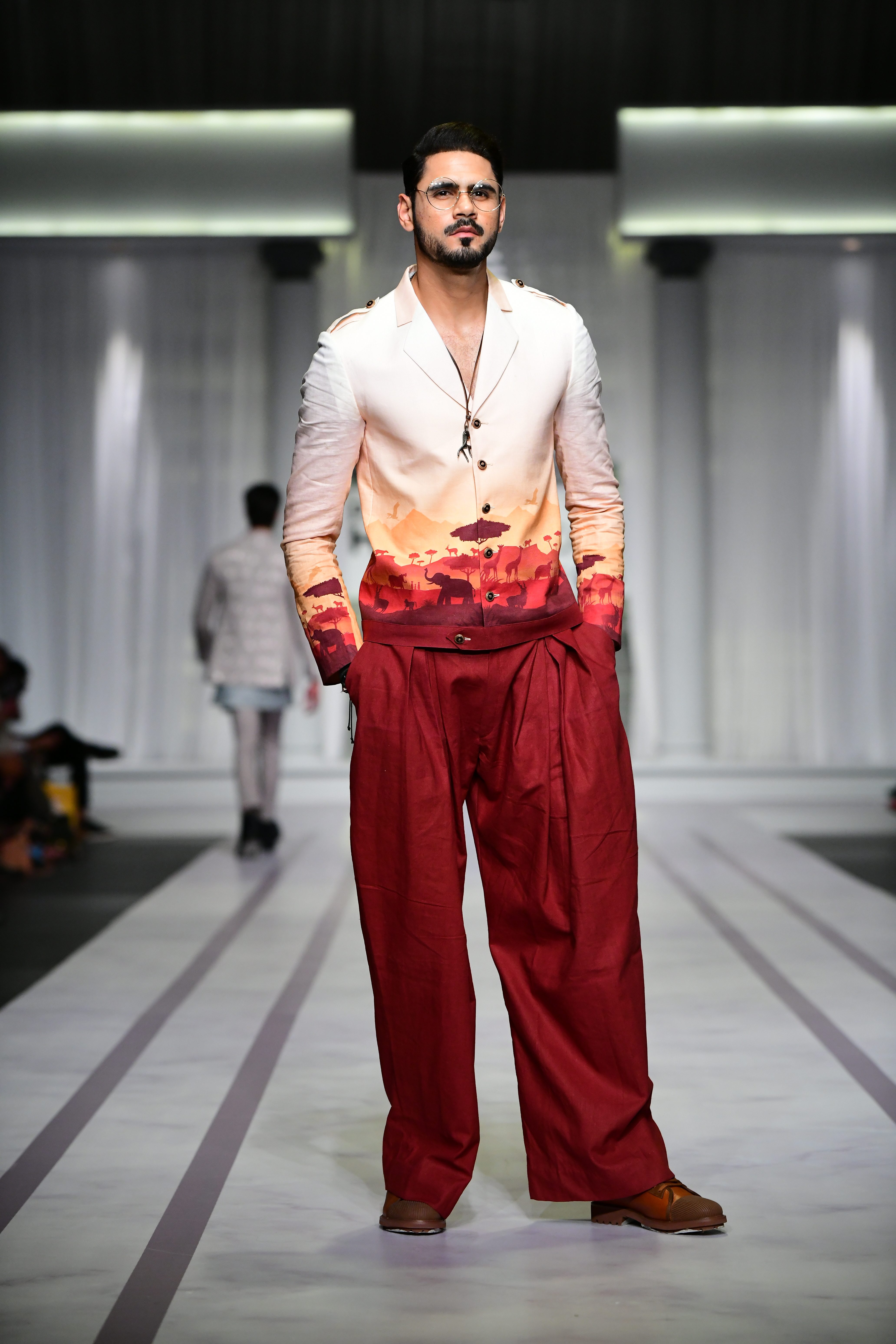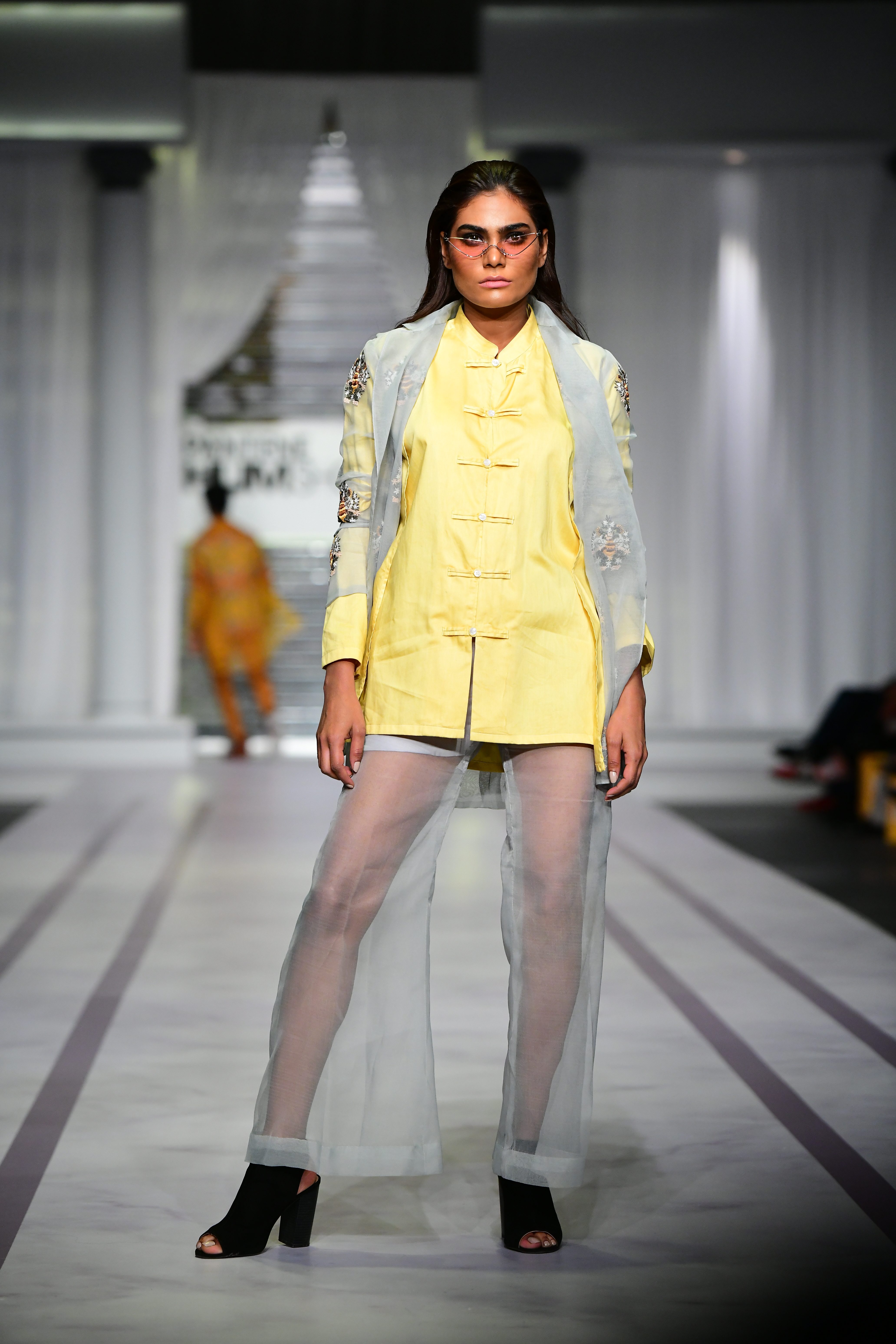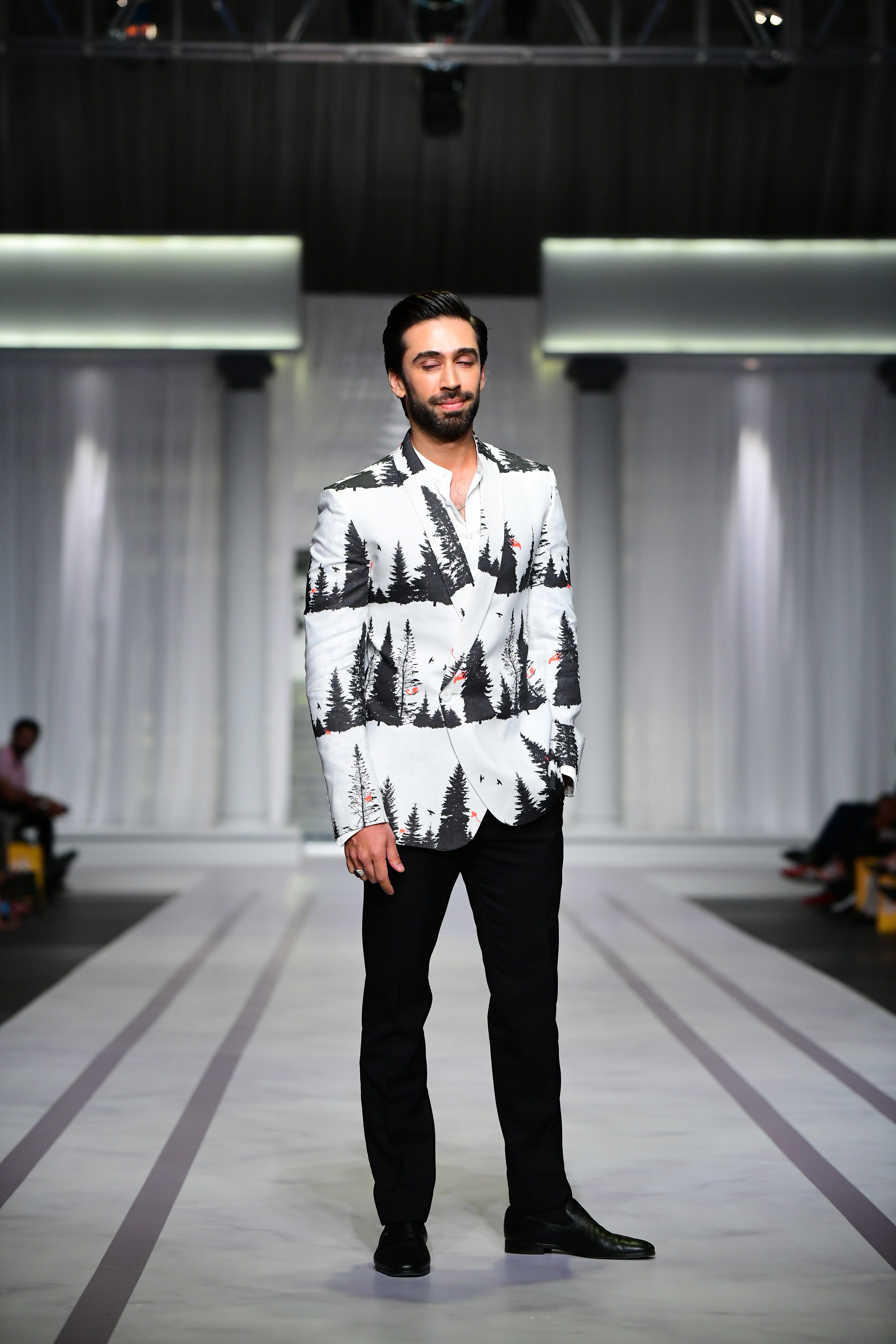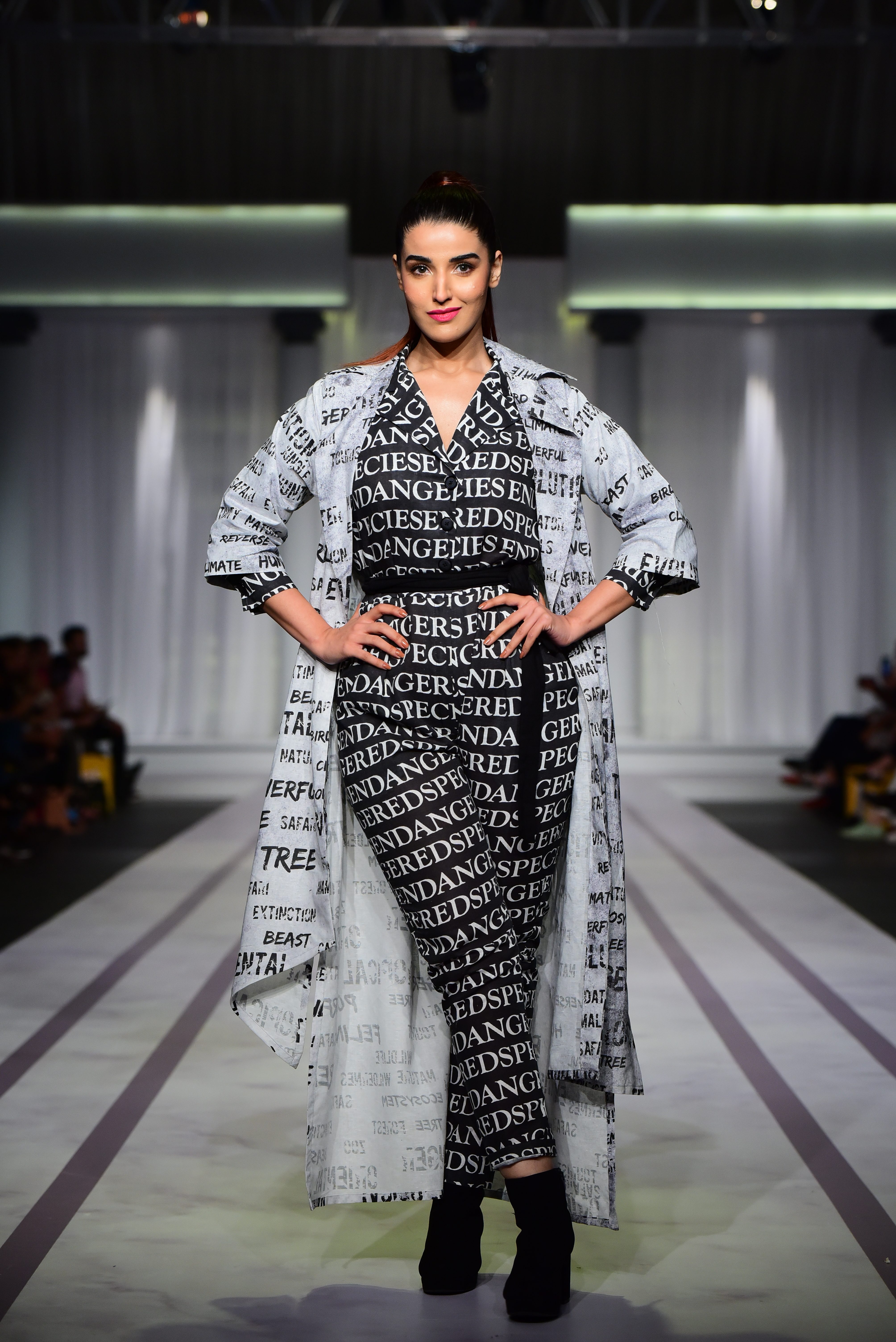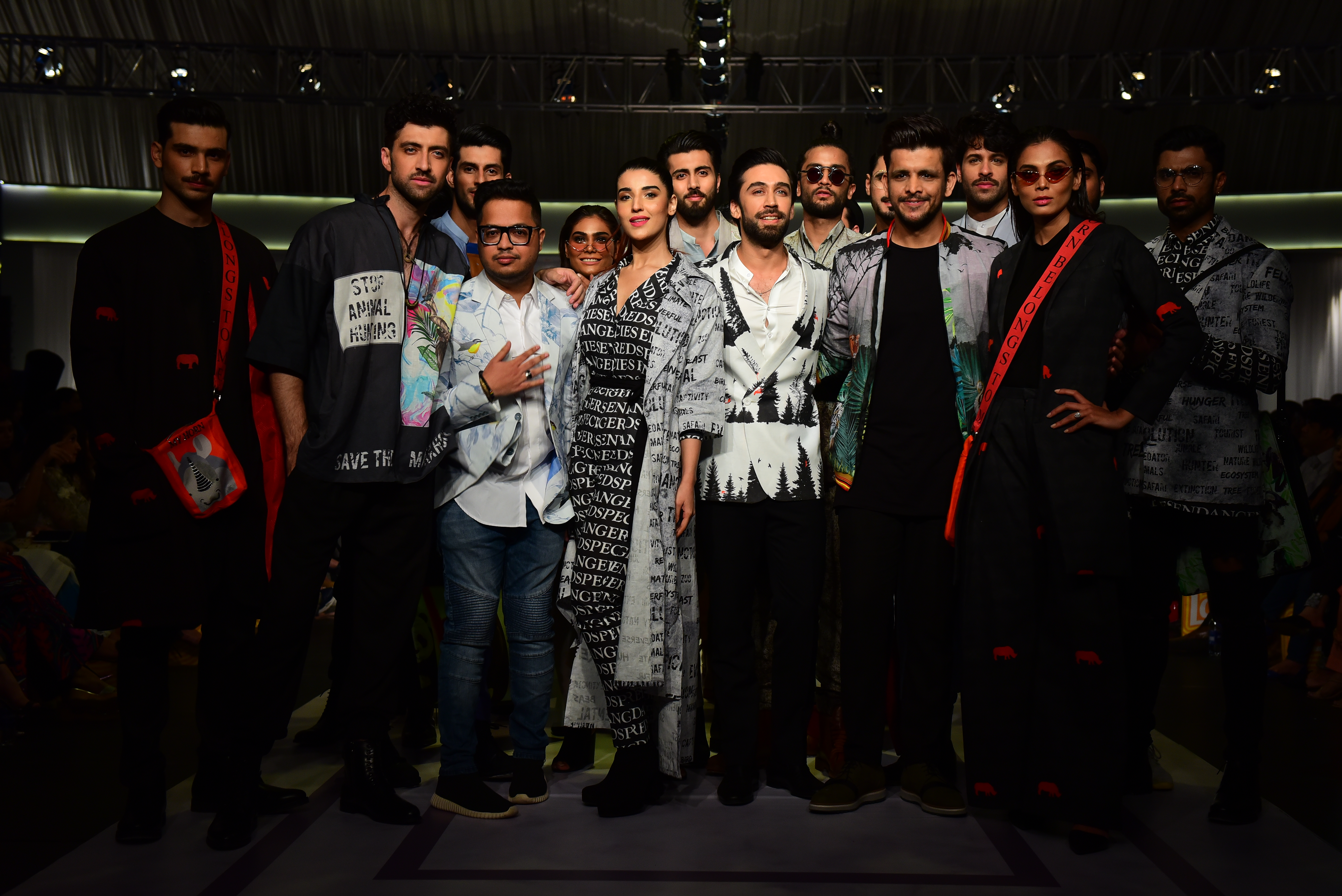 With their S/S '19 collection 'Markhor' uber-creative design duo Deepak & Fahad strove to highlight and bring attention to the epidemic of endangered species.  The homage to the "magnificent winged and horned creatures" were immortalized in a mesmerizing melding of intricate embroidery and vibrant prints with Eco-friendly logos ('Endangered Species) in mint blue and sunset hues as well as bold black and red and transposed onto sleek silhouettes including zippered short kaftan sleeved shirts; Jodhpur pants; bomber jackets; hipster slim jackets and pants; belted and ombré jackets; long shirts worn with short jackets   and innovative wide pants worn with a short belted jacket.
Actors Ali Rahman in a black and white eco-friendly suit and Hareem Farooq in a black and white logoed jumpsuit and trench-coat were the showstoppers for the designer duo.  The collection ostensibly emphasized the need to protect, conserve and respect the planet's voiceless animals and birds and did so in a vibrant if somewhat manic way.
TRENDS:
1. SUNSET OMBRÉ JACKETS
2. LONG SHIRTS WORN WITH SHORT JACKETS
3. EMBROIDERED BOMBER JACKETS
 SUBLIME BY SARA SHAHID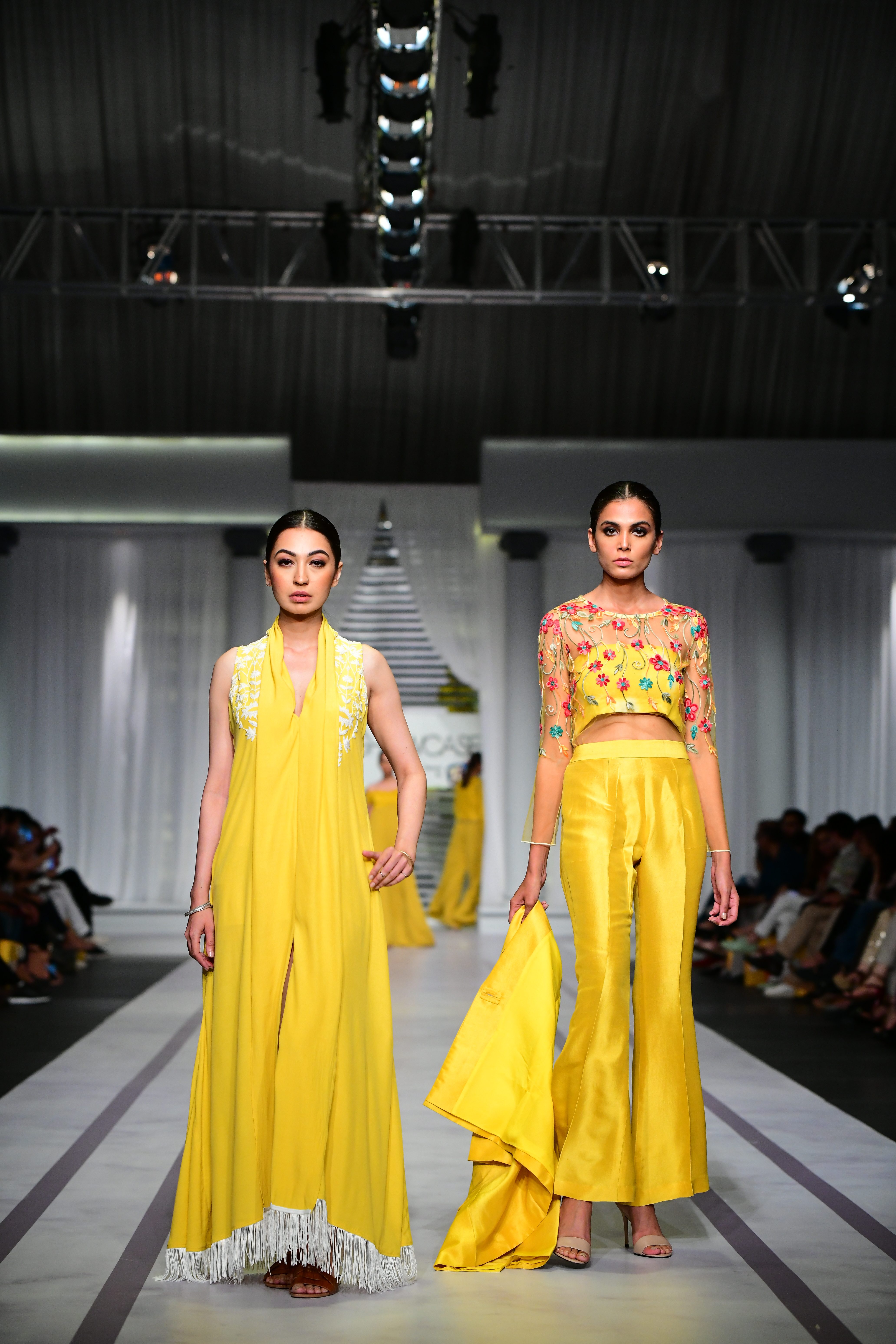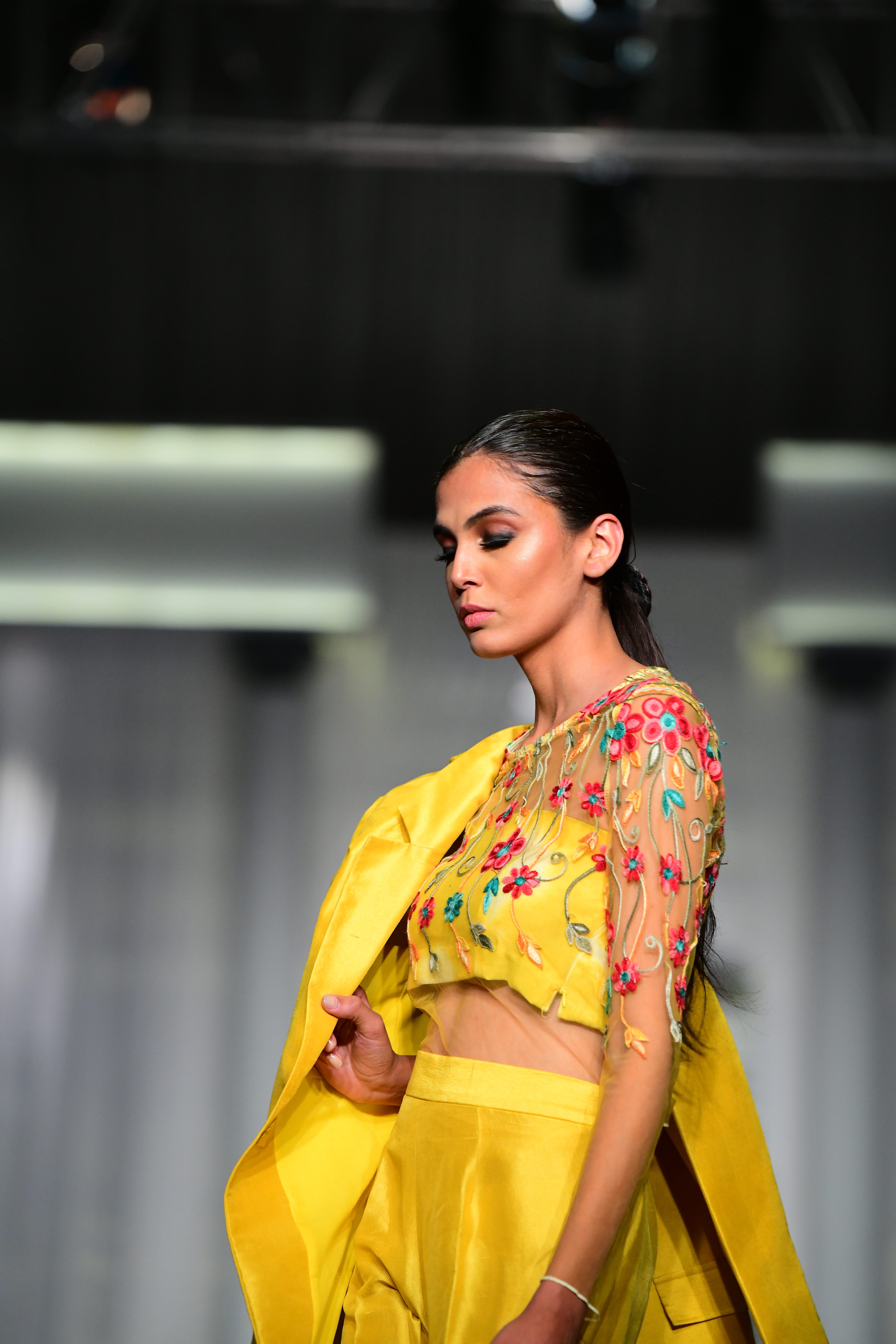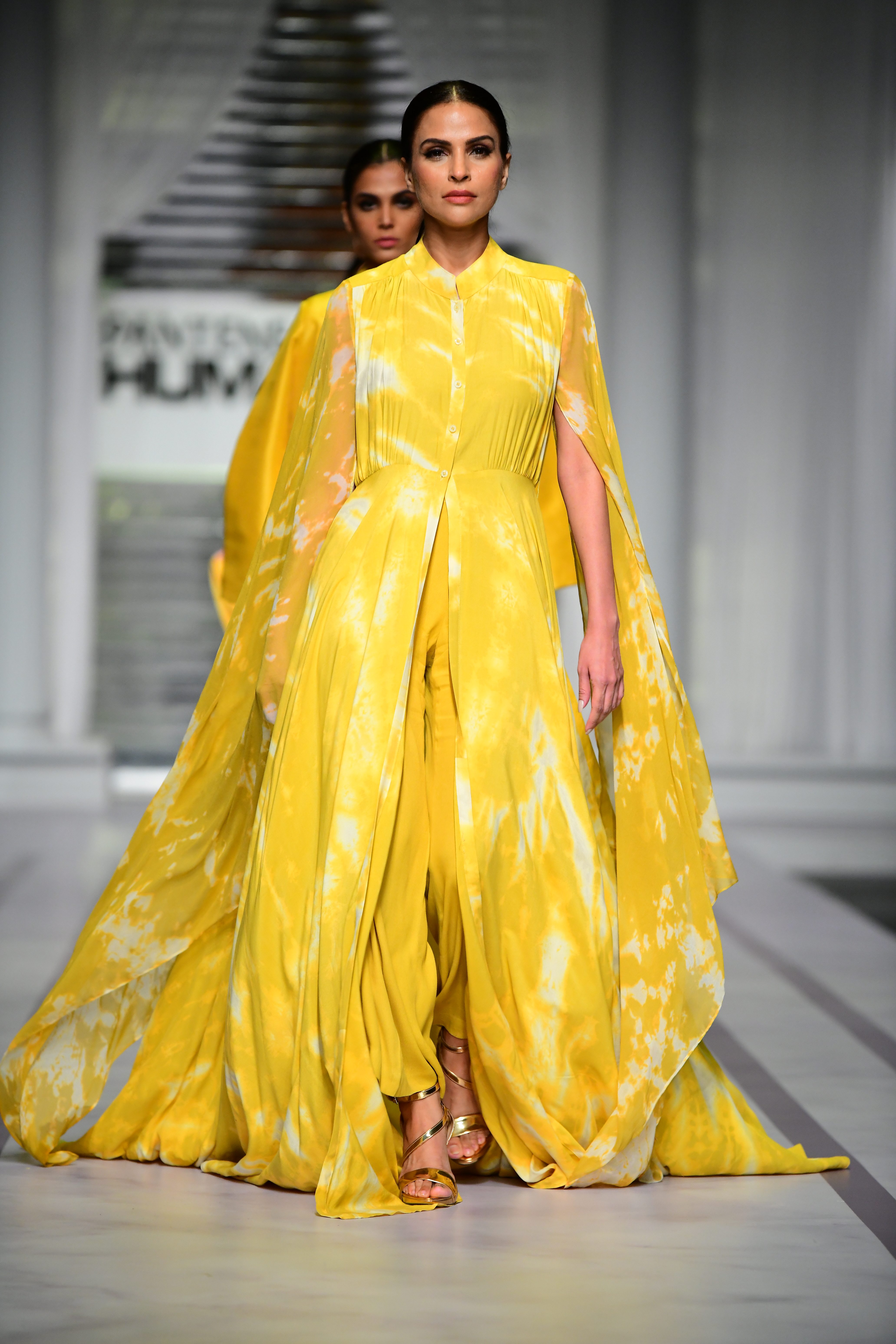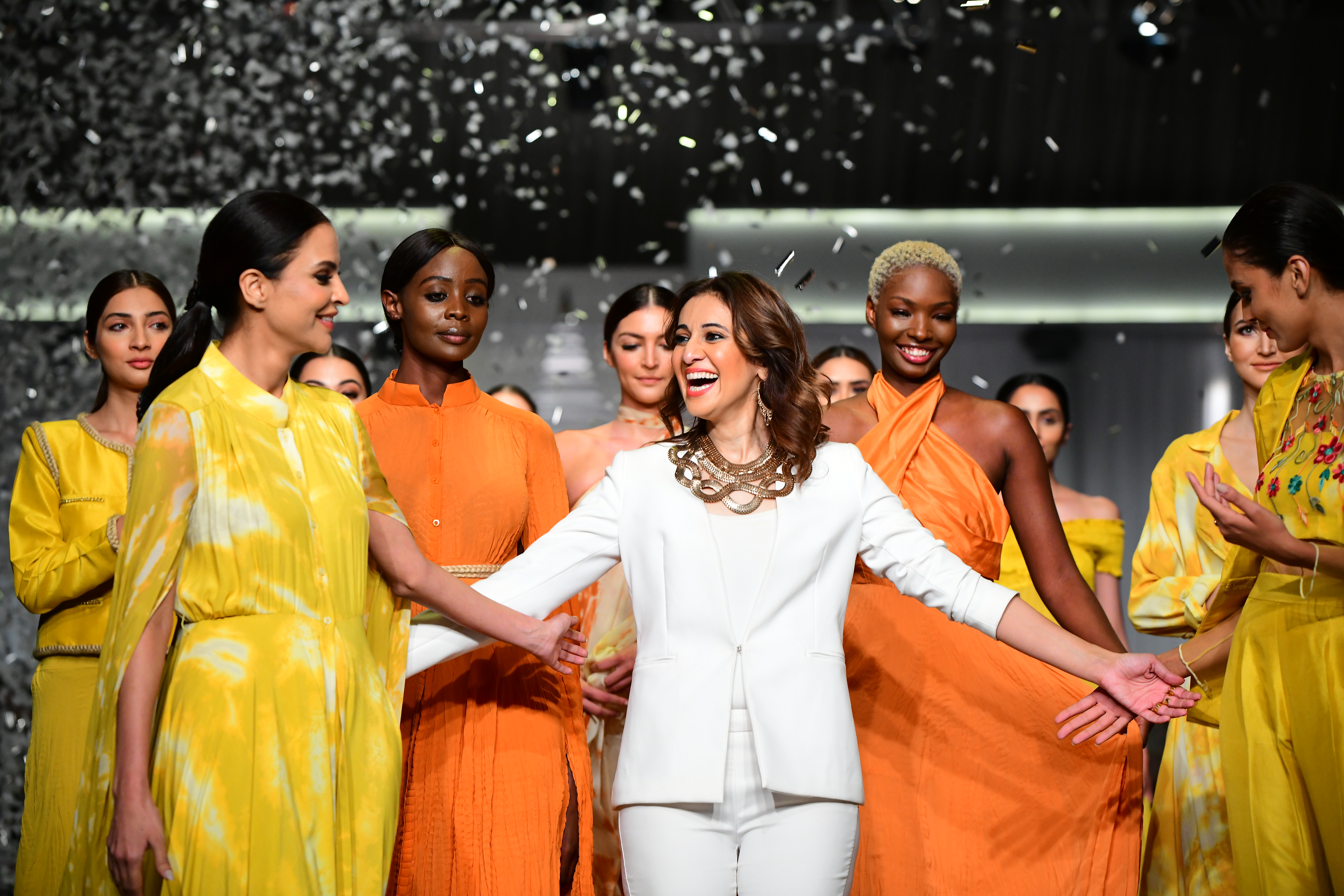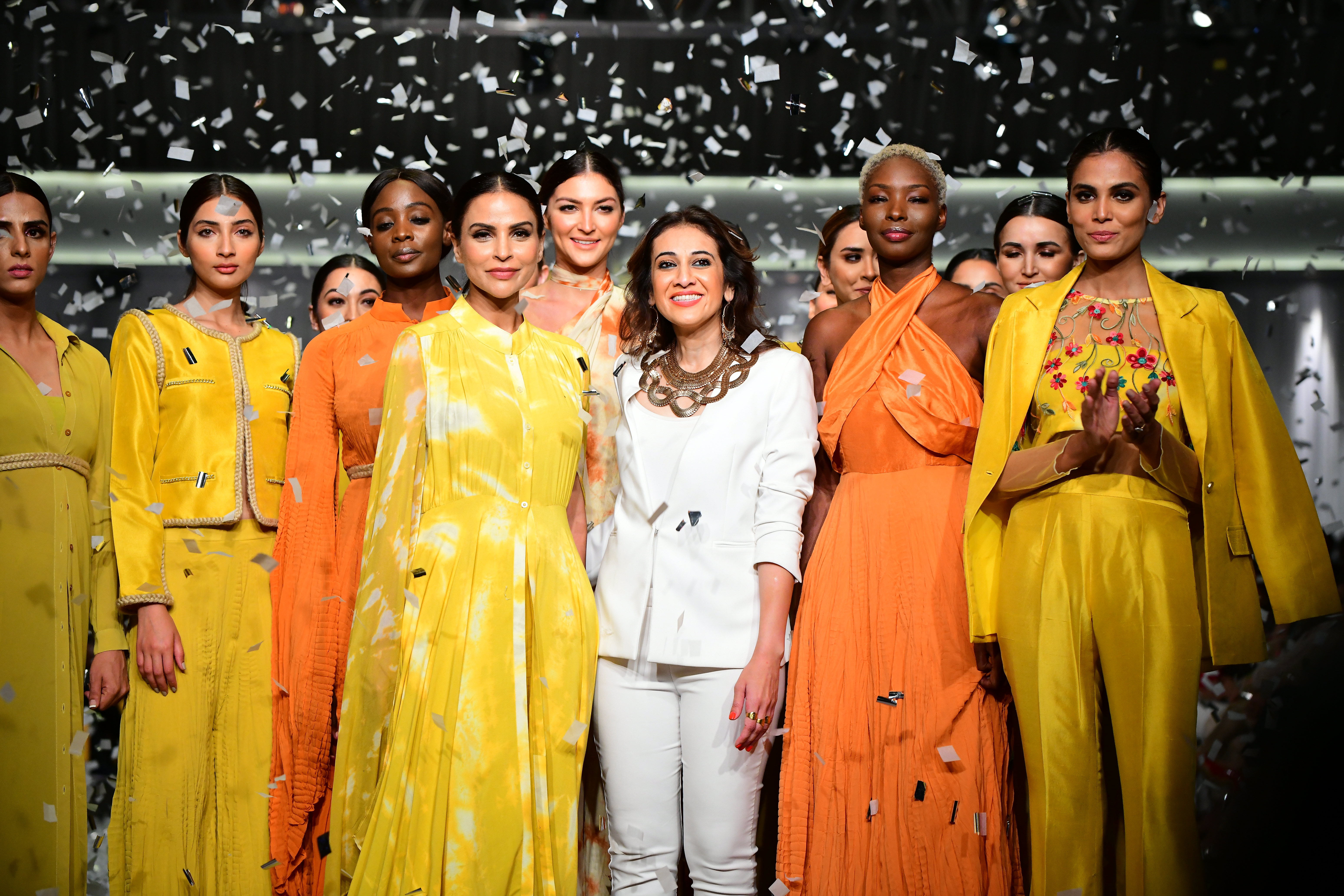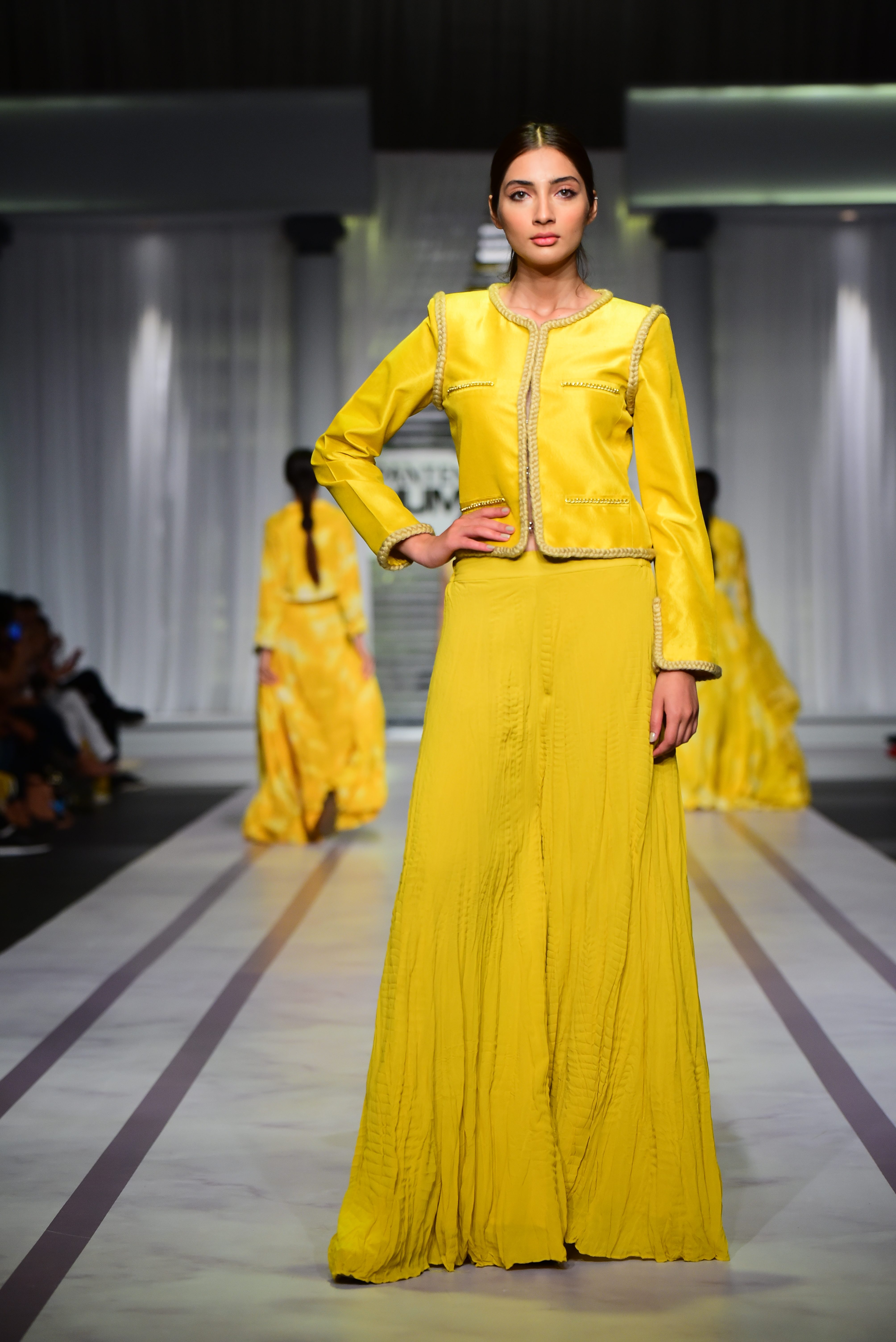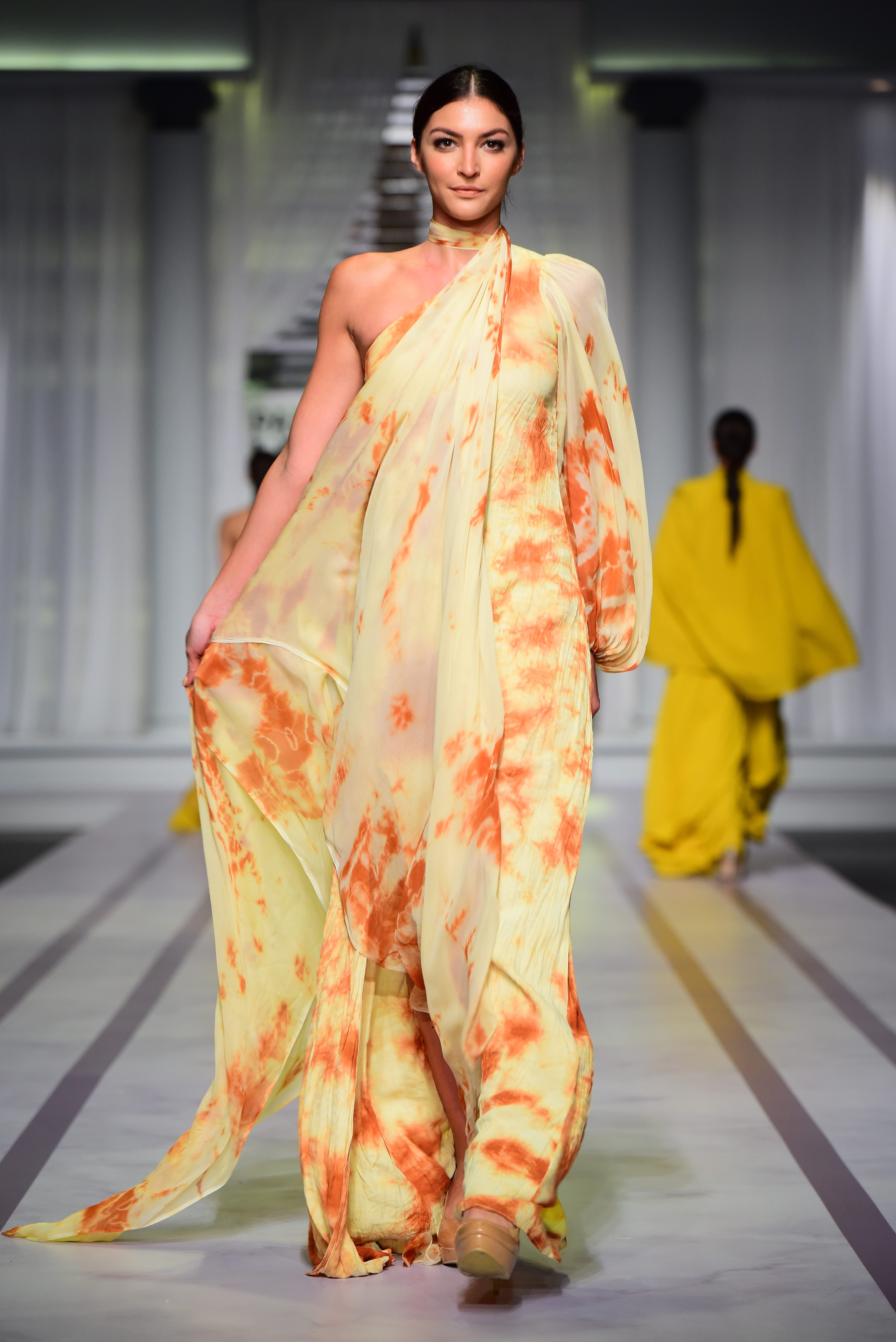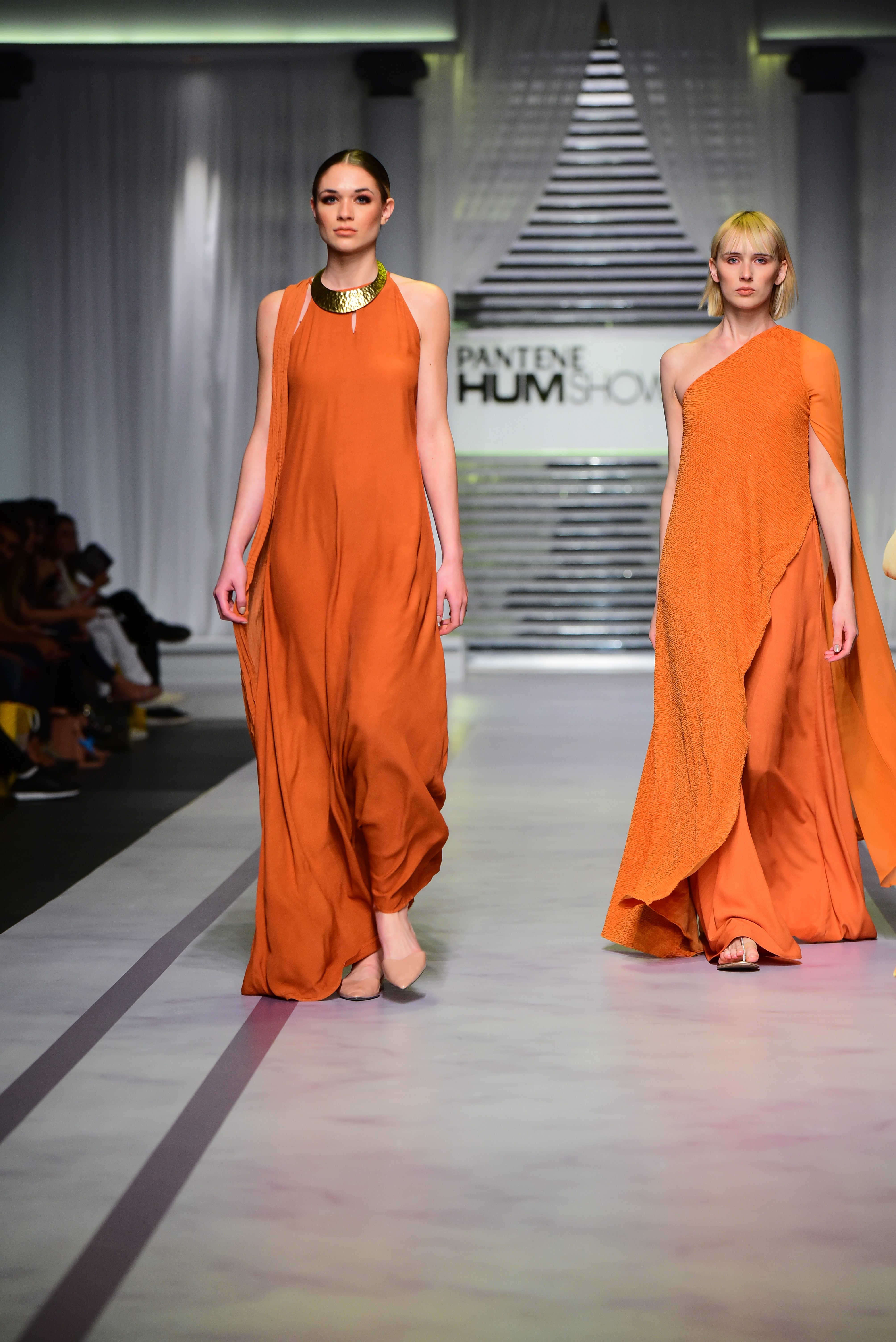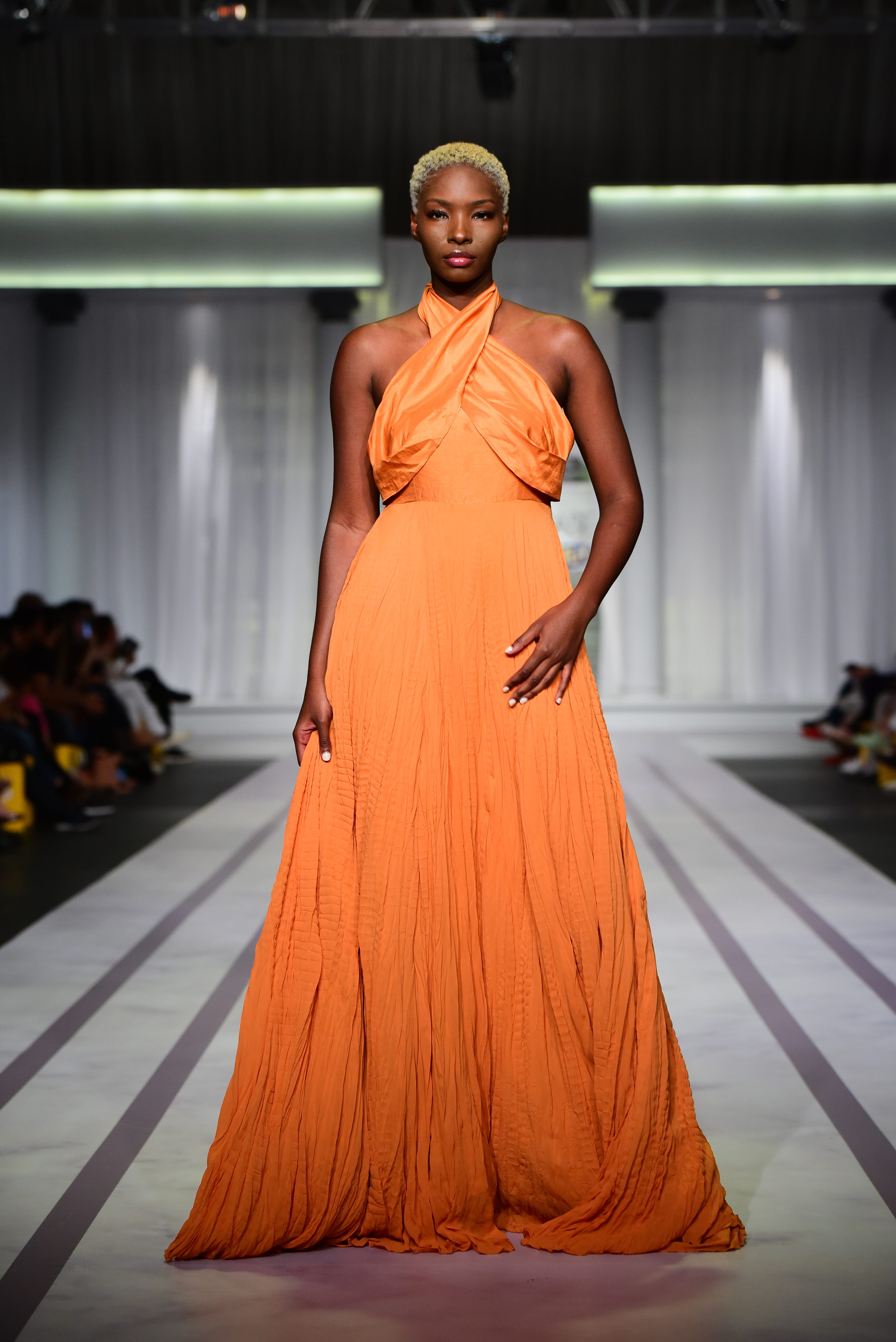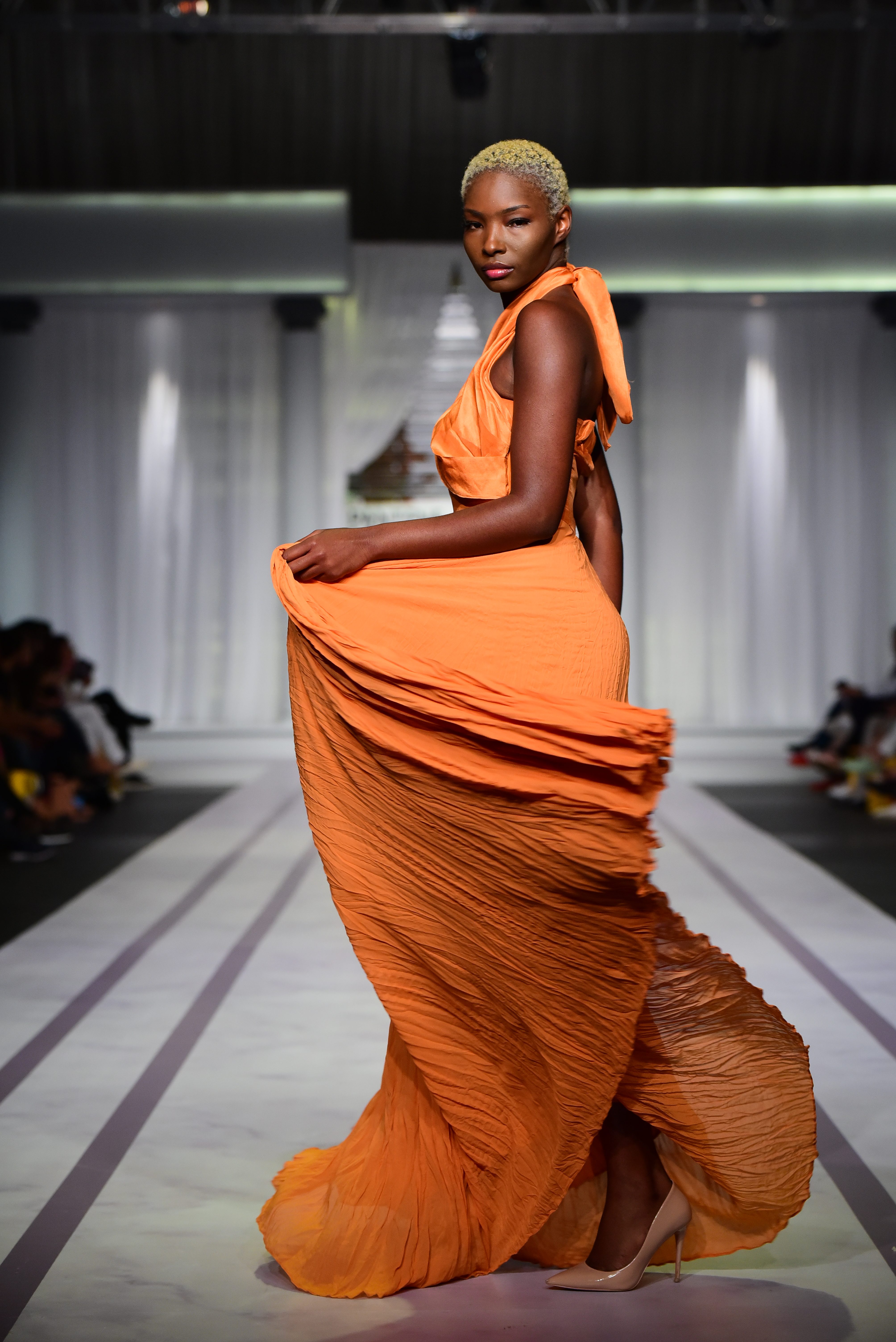 The glorious setting of the Sun imbued with its breathtaking hues was the joyful inspiration behind Sublime by Sara's 'The Sublime Sunset SS 2019' collection.
With a strong emphasis on drape and texture the fluid silhouettes included front-open ombré fringe tunics;  fluid halter-tied sheath gowns; high-waisted pants worn with sheer floral-embroidered slim jackets; ruched and crinkled off-the-shoulder long dresses; asymmetrically cut kurtis and asymmetrical layered sheath dresses as well as sleeveless jumpsuits and coatdresses; all highlighted by Sublime's signature sunset hues of sunflower yellow, light mustard, burnt sienna and amber.
TRENDS: 
1. HIGH-WAISTED PANTS
2. CRINKLE-TEXTURED FABRIC
3. ASYMMETRICAL LAYERING
4. SUNSET OMBRÉ GRADATION
5. FRINGE