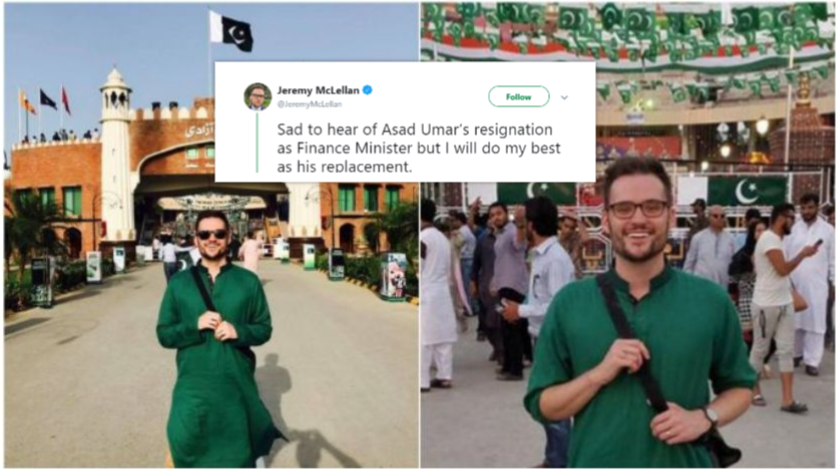 The cabinet reshuffle has had everyone shook, only 8 months into governance and there's already a cabinet reshuffle. The internet has had mixed views on this reshuffle, some were upset, some were happy and some really didn't care.
As part of a cabinet reshuffle PM desired that I take the energy minister portfolio instead of finance. However, I have obtained his consent to not take any cabinet position. I strongly believe @ImranKhanPTI is the best hope for Pakistan and inshallah will make a naya pakistan

— Asad Umar (@Asad_Umar) April 18, 2019
Jeremy McLellan who is the ambassador of biryani and pindi boys ever since his visit to Pakistan, is always there to save the day! After Asad Umar resigned, Jeremy is all ready to take up the ministry.
Sad to hear of Asad Umar's resignation as Finance Minister but I will do my best as his replacement.

— Jeremy McLellan (@JeremyMcLellan) April 18, 2019
And not just Asad Umar's but also Fawad Choudhry's ministry!
Wow: Fawad Chaudhry out as Information Minister as well. Can I really do both? Big challenge but I accept.

— Jeremy McLellan (@JeremyMcLellan) April 18, 2019
And people were amused!
Sorry! NEPOTISM IS NOT ALLOWED IN NAYA PAKISTAN. 😎

— Crystalshine🇵🇰 (@CrystleShines) April 18, 2019
Ministries are comedy now, you're welcome.

— Nazir Hussain (@nazir309) April 18, 2019
You may be able to handle economy better but you can never be as comedic about it as #AsadUmar 🤣🤣🤣

— Sarwat Ali (@sonisarwat) April 18, 2019
I support Jeremy for ministry of finance 😂

— زوالقرنين 🇵🇰 (@ZulqarNainSays) April 18, 2019
Thankyou so much, we were so worried 🙁 like REALLY worried

— lavender (@mazihs) April 18, 2019
So now IK is bringing his son into politics. Right Jeremy😂

— salma (@N40Salma) April 18, 2019
Sorry Sir u late as a comedian we added madam firdous aashiq awan and now we need only serious canidates😂

— Nawaz abbasi (@Nawazab11022638) April 18, 2019