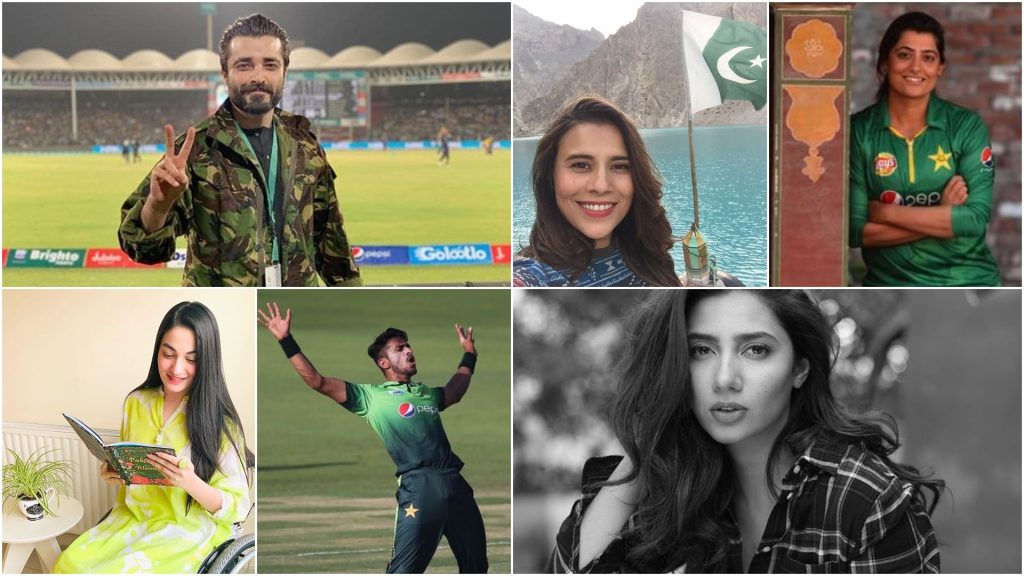 The government set a National Youth Council to represent and work for the youth. This is the first time that Pakistan will have a Youth Council.
33 ارکان پر مشتمل نیشنل یوتھ کونسل میں کھیل،تعلیم، مذہب ،معیشت اور آرٹس اینڈ کلچرل سے وابسطہ نمایاں نوجوانوں کو شامل کیا گیا ہے۔کونسل وفاقی اور صوبائی حکومتوں کے ساتھ مل کر کام کرے گی۔کونسل ارکان نوجوانوں سے متعلق پالیسی گائیڈ لائین اور فریم ورک کی تیاری میں حصہ لیں گے۔ pic.twitter.com/xqEs6a9zOW

— Usman Dar (@UdarOfficial) June 30, 2019
The council consists of 33 members belonging to different professions, it also includes celebrities Mahira Khan, Muniba Mazari, Zoe Viccaji, Hamza Ali Abbasi and cricketer Hasan Ali. After the list was made public, these celebrities took to twitter to express their excitement and gratitude.
Mahira Khan seemed really enthusiastic about it:
Honored to be a part of the first ever National Youth Council of Pakistan. Thank you @ImranKhanPTI 🙏🏼 let's do this 👊🏼 https://t.co/BBFWBJfa4Y

— Mahira Khan (@TheMahiraKhan) June 30, 2019
Muniba Mazari shared how she was honored and humbled to be a member of the council:
Honoured and Humbled! 🇵🇰🙏🏻 https://t.co/1A6qtDW75r

— Muniba Mazari (@muniba_mazari) June 30, 2019
Cricketer Hasan Ali uploaded a little video thanking the PM Imran Khan and promising to deliver his best:
thank you PM @ImranKhanPTI for selecting me in national youth council and putting me with so many big names. I promise to give my best to my country always in sha Allah 🙏🏼 🇵🇰 #KamyabJawan @UdarOfficial pic.twitter.com/cOOJaWwMym

— Hassan Ali 🇵🇰 (@RealHa55an) July 2, 2019
Cricketer Sana Mir also shared how she was excited to work for the betterment of the country:
Alhamdolillah ! Humbled and honoured to be chosen to serve my country in this new role under the leadership of PM @ImranKhanPTI. Looking forward to expanding opportunities for our youth to excel and prosper while taking their country 🇵🇰 forward in sha Allah. https://t.co/bKSqsOt4a2

— Sana Mir ثناء میر (@mir_sana05) July 1, 2019
Footballer Karishma Ali was also grateful for the opportunity:
I am so grateful for yet another wonderful opportunity of being part of the National youth Council.
I hope to use this platform in the best way possible to work for the betterment of the youth of Chitral and KPK. pic.twitter.com/ZnueBowggL

— karishma Ali (@karishmaAli22) June 30, 2019
People were living for the National Youth Council and its members:
Couldn't ask to have a better role model involved. Legend! https://t.co/YQIoErqmt5

— Andy Richards (@andyricho_14) July 1, 2019
People had high expectations:
Congratulations! Let's see if this forum can contribute towards development of youth. A lot need to be done.

— Muhammad Hanif Gul (@Voice4Peace1) June 30, 2019
People were ecstatic to see their favorites in the list:
Hope young generation will get motivation from the members and the council itself

— Shahjhan Malik (@shahjhan_malikk) June 30, 2019
We're hoping for the same!
I know you will make us proud Hassan !

— Haroon Arif (@HaroonA78700809) July 2, 2019
People were loving the idea:
Fantastic.Lets find our next leader through it—through merit https://t.co/nVv4onaGwE room for spoilt rich kids,family members,paying guests.😂😡😱🇵🇰👌🏾❤️.

— Alia (@Meenakumari999) June 30, 2019
Many believed Shehzad Roy should also have been a part of the council:
Great! But i blv @ShehzadRoy's name should also be there as he has done a lot in educational sector and is still working hard to bring positive change to our society. He is an inspiration for the youth. A philanthropist we admire! @ImranKhanPTI

— Fans Of Shehzad Roy (@FnzOfShehzadRoy) June 30, 2019
Shahzad Roy should have also been included. He brings in the perspective of Art, Education and Social Work.

— Common Man (@comman_man1) June 30, 2019
People also sent their love and prayers to the council:
Its really good one movement, mr Ik always think about country and his people 😍Allah will gave your more strenghth Ameen @ImranKhanPTI

— ALI BUTT 🇵🇰🌹 (@ali_butt146) June 30, 2019
What do you think about the National Youth Council? Let us know in the comments below!