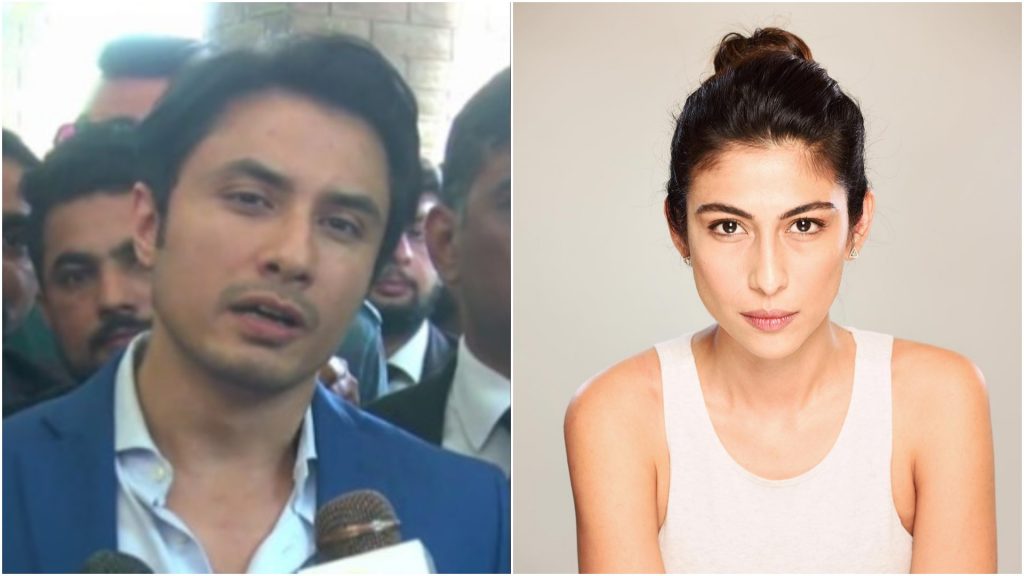 Singer, songwriter, model, actor, producer, screenwriter and painter Ali Zafar said he was targeted through an organised plan for personal gains. Speaking to the media outside a sessions court in Lahore said, "I am truthful and those who are honest appear without being called."
"There was a social media campaign against me and I have taken this up with the Federal Investigation Agency (FIA)," the singer said. He further added, "Meesha's lawyer has been following and retweeting fake accounts. Those who accused me leveled the allegations for personal gains and then went to Canada. The truth is that I was targeted through an organised plan for personal gains."
The singer posed the full link to his talk with media in a tweet which gathered quite the attention.
My statement and media talk outside session court in Lahore https://t.co/7E21xX7ViH #FaceTheCourtMeeshaShafi pic.twitter.com/5YqfV1ILH6

— Ali Zafar (@AliZafarsays) April 27, 2019
The singer added that he filed a contempt case against Shafi a year ago. "Meesha's case was dismissed as was her appeal, my case is that of compensation, it has been a year and our witnesses have appeared eight times. The case should be decided fast so my truth and their lie can be revealed."
He then went on to say, "I can't believe that anyone can come forward and accuse someone who's innocent and decent, has worked hard for over two decades – solely on social media. Those who accused me levelled the allegations for personal gains and then went to Canada. The truth is that I was targeted for personal gains. I don't know whether by doing this she wanted to become another Malala and get fame abroad."
Ali Zafar then took another dig at Meesha Shafi by posting this tweet on Twitter:
#Malala is a true warrior who stands for truth and justice having made great sacrifices. Meesha cannot become her by lying and running away from justice hiding behind fake profiles on social media. #FaceTheCourtMeeshaShafi

— Ali Zafar (@AliZafarsays) April 27, 2019
And while Meesha Shafi hasn't directly replied or commented on the situation, she did quote a tweet in response to say that she was born in the lap of fame and didn't need it:
Bro! Just saying this as a matter fact…

I was born in the lap of fame. It's nothing new or fascinating to me. That is the very reason I don't think twice when risking it. I strive for my craft and my passion while keeping my values intact.

Have a good day. https://t.co/2QC4qVqzQJ

— MEESHA SHAFI (@itsmeeshashafi) April 25, 2019
Ali Zafar then, attached a copy of Meesha's case dismissal document saying that he's going to expose the most heinous social media campaign against him:
Here's the copy of Meesha's case dismissal exonerating me in the eyes of the law. Now I will prove in the eyes of people, with evidence, how she lied! I will also expose the most heinous social media campaign against me that you may ever seen. #FaceTheCourtMeeshaShafi https://t.co/3gEqFpQJhh

— Ali Zafar (@AliZafarsays) April 28, 2019
Ali Zafar's wife Ayesha Fazli too took it to twitter to express how the accusation affected her and her family:
What me, my husband @AliZafarsays and my family have gone through at the hands of such criminal cruelty can never be explained in words. The cyber bullying & betrayal by friend(s) has been a big eye opener. Even if Ali lets it go, I will see through it. #FaceTheCourtMeeshaShafi https://t.co/GQ9DtKnwI3

— Ayesha (@AyeshaFazli) April 28, 2019
The whole situation has had the internet terribly divided, some think that Ali Zafar is innocent until proven guilty and some think that Meesha has misused the #MeToo movement.
As the media talks were aired, fans and supporters of Meesha Shafi quickly came forward to address the situation:
Meesha Shafi is facing a defamation case from Ali Zafar, which means she legally CANNOT respond to his recent claims on her immigrating to Canada and wanting to be the next Malala, while he can say whatever he wants about her to the media. Who's playing the dirty game here?

— Manal Faheem Khan (@ManalFaheemKhan) April 27, 2019
Ali Zafar's presser regarding dismissal of @itsmeeshashafi 's complaint is highly misleading. The so-called dismissal was entirely on technical grounds and the matter is still pending before the LHC. There has been no adjudication on the merits of the case whatsoever.

— Shehryar Riaz Sheikh (@ShehryarRS) April 27, 2019
I'm so baffled with Ali Zafar's rhetoric. He thinks that Meesha Shafi's allegations were made to get fame and that she wants to become another Malala by doing this because she supposedly wants to gain international recognition? This man has no shame throwing women under the bus.

— Azra Siddique (@AzraSiddique) April 27, 2019
Meesha isnt the only one who spoke up about being harassed by Ali. Many other women have spoken up too. Are they all lying? Is his word really so much more believable than the testimony of so many women? Did the other women get "famous"? Do you even know their names?

— ایمان زینب (@ImaanZHazir) April 27, 2019
While Meesha has a gag order against her under defamation suit, she can't talk on mainstream media & social media about the case While other party to the case uses mainstream media and online spaces to spread misleading narrative around the case and viciously calls her liar.

— Nighat Dad (@nighatdad) April 27, 2019
I love how people are self-righteously saying 'the judicial system' should be trusted in the Meesha/Ali situation but we ALL(including said people) clearly know and see in every other situation that our judicial system more often than not fails victims.

— Khizra (@KhizM) April 27, 2019
I don't trust women who don't believe Meesha Shafi or are siding with Ali Zafar.
These women are nothing but spokeswomen for abusive men, tools to hide male sins so they can flourish in society. And the worst is that they are too dumb to even know it, hence double untrustworthy.

— she isnt alone (@Zaitoonmalik) April 27, 2019
And Ali Zafar's supporters too came forward to support him.
For one year he kept quiet and let justice prevail. If anyone has anything to say GO TO COURT! Enough of this social media kangaroo court!!! https://t.co/Em7FgKcVWg

— Juggun Kazim (@JuggunKazim) April 27, 2019
ALI ZAFAR ALMOST PROVEN INNOCENT IS A PROOF HOW SOME WOMEN CAN STOOP LOW AND GAIN ATTENTION BY USING HARASSMENT AS AN EXCUSE

— maham hassan khan. (@WaggishRiposte) April 27, 2019
#FaceTheCourtMeeshaShafi
It's too easy to sit in your room & tweet on social media.
Go & face the court & I m laughing on that minds who are still thinking that Meesha is a victim.
You just can't delay the case now by using lame tactics. SHAMEFUL MEESHA! #IStandWithAliZafar pic.twitter.com/FQz9PO5dAv

— اسد وسیم (@asad__chaudhary) April 27, 2019
Ali Zafar, Oh poor boy they will pick word "Malala" from your talk now, try to drag & defame you like blood thirsty evils. You should avoid media talk. This is game of survival, its not about who is guilty or innocent, In Sick societies, only those wins who survives.#MeeshaShafi

— Ghazali (@MrGhzali) April 27, 2019
Now a days its a trend for some women to blame a man over "Sexual Harassment" reasons:
1. For a "Publicity Stunt"
2. Try to ruin the life of a man on some personal issues because she knows that people will believe "Women".#FaceTheCourtMeeshaShafi https://t.co/zcxyqBuzG4

— Dr Atif Aslam (@DrAtifAslam2) April 27, 2019
Ali Zafar indeed proved to be a mature and sensible person, he waited for the court to rule out in his favour first and then came up with his official statement, indeed a superstar he is..!!

— Hassan Madni (@hassanmadni) April 27, 2019
The fact is Meesha Shafi took advantage of the #MeToo movement and paid some bloggers to push her agenda. She has damaged the women cause more than anyone else did in this country. Shame on her & on all those who were/are part of her vicious campaign. #FaceTheCourtMeeshaShafi

— Maira Tariq (@mairatariq) April 27, 2019
#AliZafar #MeeshaShafi #LSA2019 it seems like a paid negative campaign against ali and #LuxStyleAwards few women seems to be on someone's payroll like #manalfaheem from #DawnNews and that woman #mahwashajaz from masala and #humnazubair from #DawnNews again

— tanya_lodhik (@TLodhik) April 25, 2019