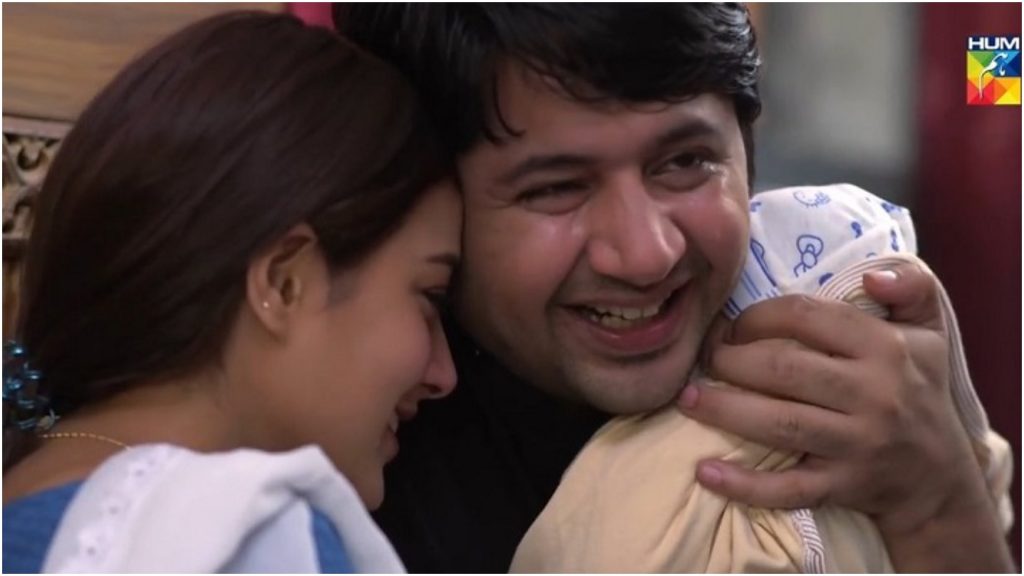 Ranjha Ranjha Kerdi, one of the finest dramas in the country came to an end and it has left the audience feeling all sorts of way. Imran Ashraf who has won millions of heart with his character 'Bhola' shared the final good bye and thanked the audience for the love and support they gave him.
Bhollay ki taraf say khuda hafiz
Ap sab ki izat afzaii ka dil say shukriyaaa

— Imran Ashraf (@IamImranAshraf) June 1, 2019
As soon as the last episode was aired, the audience was really emotional! The hashtag #RanjhaRanjhaKerdi was trending on number 1 at twitter as fans were (and are) all high praise for the drama.
An exceptional series! What a fine end to #RanjhaRanjhaKardi
Kudos to the whole cast and crew specially @IamImranAshraf and @IqraAzizz they were simply amazing❤️never ever getting over with bhola. Imran bhai aapki adaakaari ka to fan ho gaya main❤️

— Wasim Aslam (@HoathBaloach) June 2, 2019
I swear!
This bit especially gives me tears of happiness. Thank you Faiza for not forgetting Noori's education or the fact that people like Bhola too can lead a normal life if they're educated to do so.
The OST is the soul. Goosebumps every time. Basically it's the best #RanjhaRanjhakardi pic.twitter.com/K7ASYuEPg5

— Crime Master Gogi (@tvphangurl1) June 2, 2019
Agreed, a serial that'll be remembered for decades!
Amazing end beautifully scripted, outstanding performance, brilliantly portrayed.This serial & characters will be remembered https://t.co/tP9JrnhSnq interesting & beautifully penned story, this drama and its characters deserve an applause even Oscar. #RanjhaRanjhaKardi

— Aqi Ejaz (@daringaqi) June 2, 2019
Fans were delighted that they serial got the happy ending it deserved:
This last scene😭❤

I'm so glad i hooked up to this show although in this whole journey i had this fear that what if in the end i have to go through Bhola's death..

But i'm happy we got the Happy ending 😭❤#RanjhaRanjhaKardi pic.twitter.com/jKPeoZKo4a

— Sanskari Sonu 😇😎 (@saharsonu3) June 2, 2019
We agree, no one will ever be able to create the magic that Imran Ashraf did with Bhola:
I will never stop saying this, no one can play Bhola and Noori better than Imran Ashraf and Iqra Aziz ♥️
and even the supporting cast and such beautiful story. Hats off to the makers for coming up with such different content and issues. LOVED IT. #RanjhaRanjhaKardi pic.twitter.com/DtLNLXJDmf

— aliya. (@_sweetenerr_) June 2, 2019
Yaaaas!
THIS MEANS SO MUCH TO ME! Noori learning, teaching Bhola. That's the image I had in my head. #RanjhaRanjhaKardi pic.twitter.com/2vov4IjYIc

— Crime Master Gogi (@tvphangurl1) June 1, 2019
Me neither:
I don't remember the last time i was this satisfied with a drama's ending where everything fell perfectly in its place. From acting to writing everything at its best . I'm in AWE. @IqraAzizz and #ImranAshraf are such fine actors wallah! #RanjhaRanjhaKardi

— a**** (@grimorgray) June 1, 2019
Yes, everything was just perfect!
I'm so glad the last 10 minutes were just for Bhola and Noori. Nobody else. They wrapped up the drama beautifully and then left it on the most beautiful note there can be. Nothing was rushed. #RanjhaRanjhaKardi

— Crime Master Gogi (@tvphangurl1) June 2, 2019
Even we think there's no one like Bhola:
That's Noori for you, who thinks there's no one like Bhola ❤️ @IqraAzizz this is undoubtedly your best performance #RanjhaRanjhaKardi pic.twitter.com/nZpzeezQmV

— potatoe potato (@firangiii) June 2, 2019
Can we please give an Oscar to. Imran Ashraf already?
A fantastic drama come to an end.The soul of this drama is @IamImranAshraf. His portrayal of mentally challenged person is Oscar worthy..and @IqraAzizz Ap to hai e kamal 😘… We'll miss u bhole n Noorie 😍😍 Mazy nhi aye ge ab😔#RanjhaRanjhaKardi pic.twitter.com/uKvu7ILARc

— عطیہ….🇵🇰 (@AtTea_Shiq) June 1, 2019
HEEEEERA!
"Yeh ladki HEERA hai… HEERA!!"🥰🥰 What an amazing character..! From wanting to earn respect to risking it for her husband, Noori is truly a gem! @IqraAzizz no one could've played it better than you.. take a bow🙌 #RanjhaRanjhaKardi pic.twitter.com/WhZ9A25vTR

— N (@namitha995) June 1, 2019
Hey, who can hate Iqra Aziz?
hate on her as much as you can for the offscreen drama but don't deny that Iqra Aziz is one of the finest actors on television we have had. Her script choices have been brilliant so far and after today's episode I can say she deserves all the hype and awards. #RanjhaRanjhaKardi

— a**** (@grimorgray) June 1, 2019
A performance so powerful, we're moved!
What an ending! Such a beautiful performance by @IqraAzizz and Imran Ashraf! #RanjhaRanjhaKardi

— . (@berryaneursym) June 1, 2019
The bar has been set really high!
@IamImranAshraf bhai ne jo adaakaari k johar #RanjhaRanjhaKardi main dikha diye hain na, mujhe nahi lagta k esi adaakaari kabhi koi or kr sakay ga. May Allah Almighty protect u from all evil eyes bhai
PC: @uetseinsteins pic.twitter.com/OTxu7xCI3u

— Wasim Aslam (@HoathBaloach) June 2, 2019
Yes, thank you!
This is my most favorite scene from last episode.Brought tears in my eyes. @IamImranAshraf you were looking so dapper in this black dress.Thankyou for giving us this master piece. @IqraAzizz Thankyou for playing Noor bano so brilliantly.Thankyou @Humtvnetwork#ranjharanjhakardi https://t.co/RJp2ZynOTV

— Amber Javed Malik (@AmberJavedMalik) June 2, 2019
They all deserve the love they've been getting:
@IqraAzizz @IamImranAshraf and the whole team behind. I wish I could thank you enough. I hope I never forget this drama as long as I am alive. The pain of watching the drama because of the sudden plots and still watching it. Thank you. 🖤#RanjhaRanjhaKardi

— Hifz' ur Rehman (@Hifz_ur_Rehman) June 2, 2019
The drama was sheer perfection!
MY HEART IS SOBBING but this time with happy tears ♥️
What a beautiful climax it was. They proved that love sees no flaws no imperfections, its just beyond that. #RanjhaRanjhaKardi @IamImranAshraf @IqraAzizz pic.twitter.com/DbngLvMJ7G

— aliya. (@_sweetenerr_) June 2, 2019
The drama is here to stay!
The transformation of bhola when he's recovering especially when he visits to the hospital is mind boggling.
His brilliance on screen is such that he almost shadowed noori's masterpiece.
This #RanjhaRanjhaKardi serial will be appreciated for long.
Pure class https://t.co/ZwqgkP8vWZ

— Mr. Prime Minister✌ (@Pique37) June 2, 2019
Couldn't have said it better:
#RanjhaRanjhaKardi An amazing drama Loved the ending. It was just perfect. The actors did a marvelous job. After such a long time a @Humtvnetwork drama has touched many ppls hearts & dealt with a common issue in our society in a beautiful way.Headsoff to the director& producers:)

— A.Rauf (@AyeshaRauf12) June 2, 2019
The entire drama has our heart!
And here comes a heart winning end to this amazing drama starred with incredible actor #Bhola 💞💞
No doubt both of them gave their career best performance…
These scenes from #LastEpisode have my heart… 😍😍😍#RanjhaRanjhaKardi
Gonna miss this show badly… pic.twitter.com/YjATnRxvu3

— Areej Abbasi (@AreejAbbasi98) June 2, 2019
Yessss, the real winner!
Wow wow wow nooriz conversation with her mother in law essence of this Darama #RanjhaRanjhaKardi

— Mudassir (@MudassiirNazeer) June 2, 2019
I'm sure it will, a big one!
Its was not just a serial about "Haye Mazay" it was a lesson for so many parents so many couples and so many sons And daughters , i hope it will create an impact in our society. @IamImranAshraf @IqraAzizz 👍🌟 Congratulations for marvellous performance. #RanjhaRanjhaKardi

— Adnan Rajput (@BeczItsRajput) June 2, 2019
Literally, no one like Bhola!
One word for #RanjhaRanjhaKardi EPIC ♥️ what a beautiful experience it was right from start to the climax I loved each and every aspect of it. This chivalrous NOORI and That innocence of BHOLA.

— aliya. (@_sweetenerr_) June 2, 2019
With that being said, we're utterly sad that we won't get to see any more of Bhola and Noori. The drama gave us everything, from iconic memes to awareness about mental health and marital rape: issues that are not widely talked about. We hope to see more dramas like Ranjha Ranjha Kerdi.
What did you think about the last episode? Let us know in the comments below