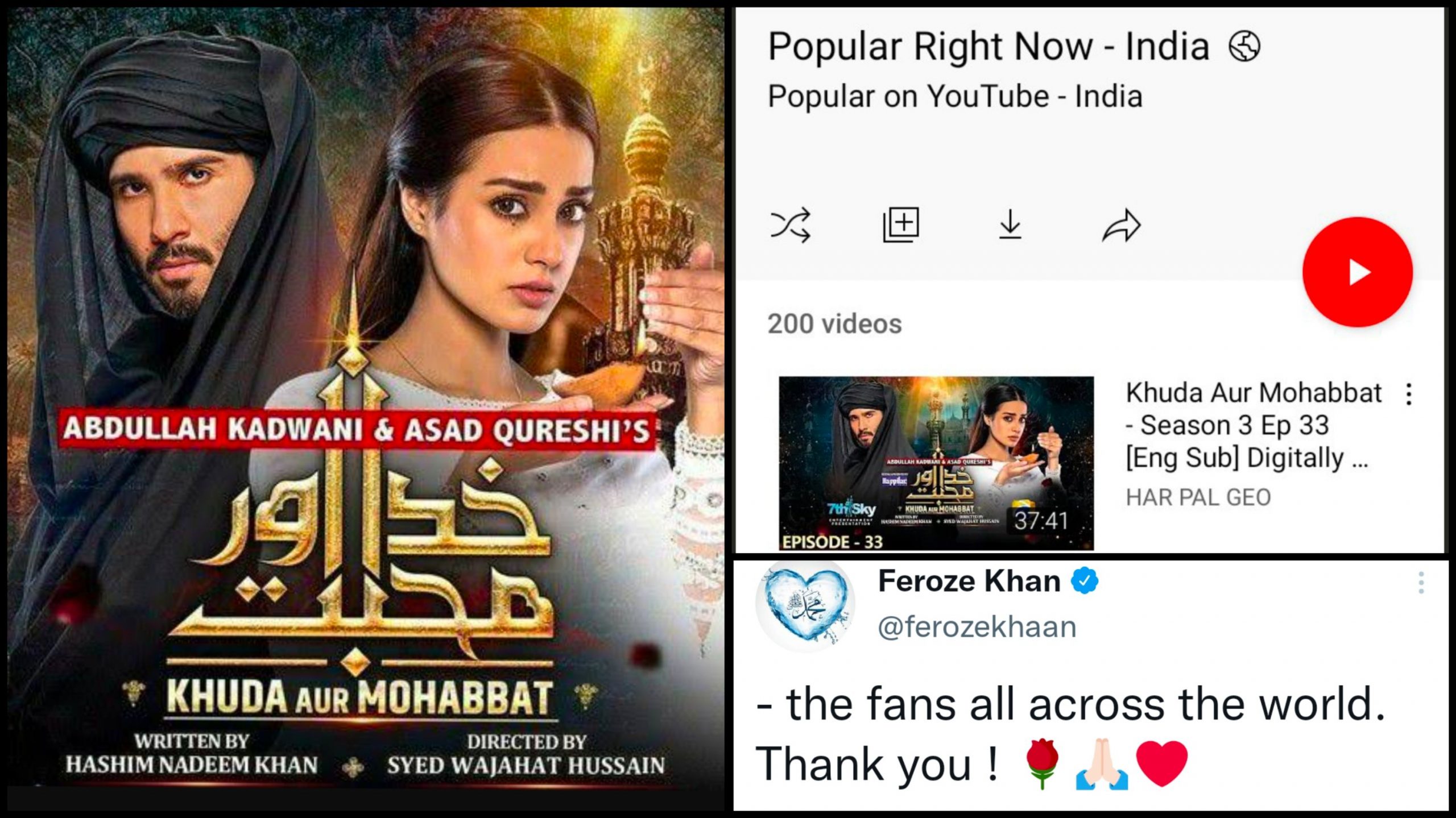 Making and breaking its own record, one after the other, 7th Sky Entertainment's Khuda Aur Mohabbat 3 has reached yet another milestone globally as it trends at number 1 on Youtube in India, surpassing the quality of their local content!
– the fans all across the world. Thank you ! 🌹🙏🏻❤️ https://t.co/XJ7G7d9aGh

— Feroze Khan (@ferozekhaan) September 18, 2021
The franchise owes most of its success to the larger than life production that Abdullah Kadwani and Asad Qureshi are known for.
The soulful OST and the brilliant cast has made the drama a global phenomenon that has not only gathered fans in India, but also globally especially in Northern America, Europe, Bangladesh and Turkey.
The mesmerising leads, Feroze Khan and Iqra Aziz have proven time and time again that no one could have played the role better than them. Gathering a plethora of praises with every passing episode, the two are clearly one of the most adored couples at the moment.
And here's how the internet's celebrating and rooting for the new milestone!
You and Iqra have made this wonderful. I really wait for this. My heartiest congratulations to you and entire team. I am from India

— Anubhav Joshi (@AnubhavJoshi20) September 20, 2021
Even days after it was released, the episode is still one of the top trending dramas in India:
Kamaal hai , this episode is still trending on no 2 in India even after 2days of release ✨🤩#KhudaAurMohabbat3 pic.twitter.com/1oy6tey9jF

— Տ♡ҒᏦ…..✿ (@istanfk) September 19, 2021
Kudos!
Look at the consistency! It's still trending on 1 in Ind and on 15 in Pak. 🙌❤️
MashaAllah!!#KhudaAurMohabbat3 #FerozeKhan #IqraAziz pic.twitter.com/KX0gFomsbG

— 𝐟𝐞𝐫𝐨𝐳𝐞𝐦𝐩𝐢𝐫𝐞 (@ferozempire_) September 18, 2021
Fans were congratulating the team:
Aaj to miracle ho gaya Episode 33 is Trending on No 1 in India 🔥
Masha Allah, Masha Allah
Congratulations 👏👏👏 everyone!@ferozekhaan @iiqraziz @1wajahathussain @HarPalGeoTv #FerozeKhan #IqraAziz#KhudaAurMohabbat3 pic.twitter.com/2lc6uraz3a

— Տ♡ҒᏦ…..✿ (@istanfk) September 18, 2021
♥
Yes it's a superb drama ever i seen from Pakistan, I watched alot dramas but I love this drama.more love from India to @ferozekhaan and whole team of #kam3 wish you it will reach on billions soon.
Congrats @ferozekhaan for #Kam3OSThit100M
Inshallah 1 billion soon… https://t.co/zp9w9MLBWc

— Nikhat (@Shaikhnikhat21) June 25, 2021
Fans were left speechless!
He literally zoned out💔
But feroze!! 🙌never fails to leave me speechless 🙇🏻‍♂️ @ferozekhaan#FerozeKhan #KhudaAurMohabbat3 pic.twitter.com/u5Li0LvRYY

— Muhammad Uzair Arshad (@Muhamma73861354) September 19, 2021
Are you keeping up with KAM3? Let us know in the comments below!