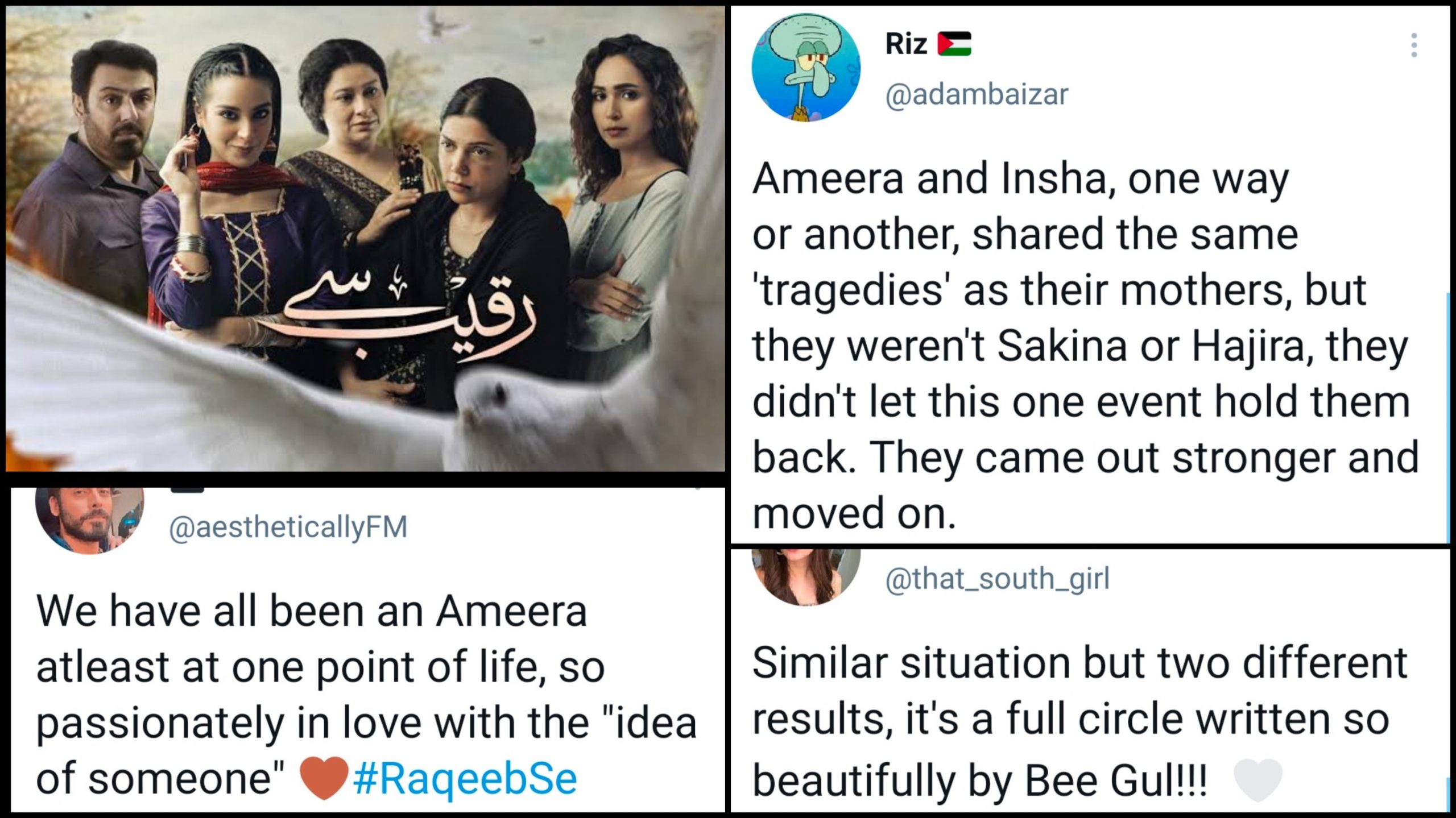 Things come to a full circle in Raqeeb Se as it aired its last episode last night and it was nothing less than a roller coaster of emotions for the audience. With Insha and Ameera sharing the same fate as their mothers, the two decide to break the chains and move forward in their life rather than obsessing over their tragedies.
Needless to say, the bittersweet ending left a void in our heart and a tear in our eyes, here's what fans have to say about it!
#RaqeebSe has been such an emotionally enriching experience. The interplay of complex emotions portrayed by female protagonists was the best thing & it was such a delight to see a mainstream actor lending support to all female protagonists. Kudos to team. You will be missed 💔

— FZ (@ZulfiqarFahd) May 26, 2021
Agreed!
I have never seen such emotionally invested drama ever…
And that "faqat tumhara baap" by maqsood sahab has my heart ❣️.
How poetic and at the same time real was the ending …. i must say its a underrated drama#Raqeebse pic.twitter.com/rlFS2raPhO

— Dr. Arzoo Aslam 🇵🇰 (@ArzooAslam6) May 26, 2021
All hail to Bee Gul and Kashif Nazir:
Maqsood sahab ka sakina ko khat likhne se le kar insha ko khat likhna sakina ki maqsood sahab se mohabbat Se le kar ameera ki kashif se mohabbat this drama has actually formed a full circle of life..so amazing #Raqeebse

— sara bilal (@S13Bilal) May 26, 2021
People were in love with the journey of the 4 women:
Raqeeb se…💖💖
What an incredible journey of these 4 women.

Poetic story telling, character development and wonderful direction, making this a masterpiece worth watching and remembering.
Huge thanks to all the team👏

#RaqeebSe pic.twitter.com/DTLvb08UzJ

— SARAH LEE🦋 (@SarahAli_6) May 26, 2021
People were left speechless!
#RaqeebSe Im lost for words💔 What a shocker! The whole drama was beautiful,the 4 women came full circle, the daughters mirrored their mother's lives but have the courage and strength to change their outcomes! Kudos to Bee Gul and Kashif Nisar and all the actors just brilliant.

— Dramafan (@KhyberSKY) May 27, 2021
Jo baat hai!
#RaqeebSe is the most befitting title for a drama that shows how women stereotyped as Adversaries aka Raqeeb's of can actually uplift each other up. it was never about maqsood it was about realization of the strength in womanhood

— Ayesha (@ayishaikon) May 27, 2021
People were lauding Bee Gul for her genius writing!
Still reeling over the fact that how good a script Raqeeb Se was!
Subtle, impactful, and breaking age old taboos!

Bee Gul is a master story teller!
All actors were phenomenal. #RaqeebSe

— Bela (@Bela64788191) May 27, 2021
How beautifully Bee Gul wrote the ending for all the characters, they all had to be where they are right now! The growth which was shown of every character….such a brilliant ending! I will miss my fav drama! 🙌😭💗#RaqeebSe

— 𝕚𝕟𝕒.𝕞𝕚𝕟𝕒.𝕕𝕚𝕜𝕒 🌸 (@that_south_girl) May 26, 2021
How beautiful were these two scenes? 😭
Bee Gul you hold a special place in my heart! 💗#RaqeebSe pic.twitter.com/gDQJKHQ7wZ

— 𝕚𝕟𝕒.𝕞𝕚𝕟𝕒.𝕕𝕚𝕜𝕒 🌸 (@that_south_girl) May 26, 2021
People loved how great of an actor Hadiqa Kiyani turned out to be:
What a brilliant script,writing & acting. #RaqeebSe Safely lands in the territory of CLASSICS! Hadiqa kiyani take a bow for such flawless acting! In the age of commercialization of dramas, raqeeeb se depicts how simplicity with class direction and script can win hearts of masses

— Syeda Shazia Hamid (@sshaziah) May 27, 2021
The drama even had fans from across the border:

People couldn't help but feel like they were watching a classic from the 90s: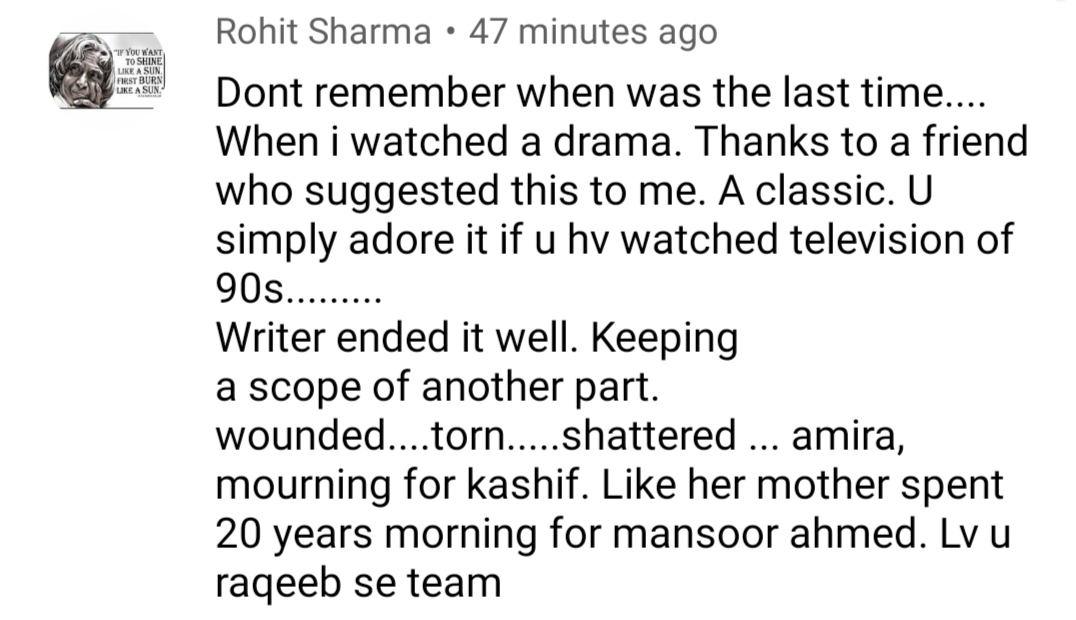 🥺
"Main kehna nai, poochna chahta huun, kya tum krougi mjhsey shaadi." Kashif's character broke so many stereotypes; asking for consent instead of acting all macho. The best man of Raqeeb se. Loved that he stood up for the right till the end. Heartwrenching though 😭💔 #RaqeebSe pic.twitter.com/SazWeWT482

— Tamkinat Amir (@TamkinatA) May 26, 2021
🙋‍♀️🙋‍♀️🙋‍♀️
I can already feel the separation anxiety hitting me hard! I want someone to make a #RaqeebSe vm on 'Abhi Na Jao Chhod Ke' cuz I absolutely such at it🥲

Anyone?

— ⚡️Angel.⚡️ (@Pavitkaur5) May 26, 2021
Facts!
you don't get it when I say that #RaqeebSe is easily one of the best Pakistani TV has made.

It is so brilliant and I can't explain why I love it sm. This is once in a lifetime kinda show and I just can't 😭❤

— Zo / #StandWithKashmir (@zo_StydiasJeep) May 26, 2021
People were also lauding Iqra Aziz who breathed life into Ameera:
This last episode of #Raqeebse was basically Ameera's development she was the highlight of the entire episode . From being shy towards kashif falling for her to being shattered into bits when she lost him .🥺🥺🥺
It WAS ALL IQRA TODAY and she really outdid herself 👏🏼👏🏼👏🏼

— HIBA (@hibzter) May 26, 2021
Kashif's murder left everyone heartbroken!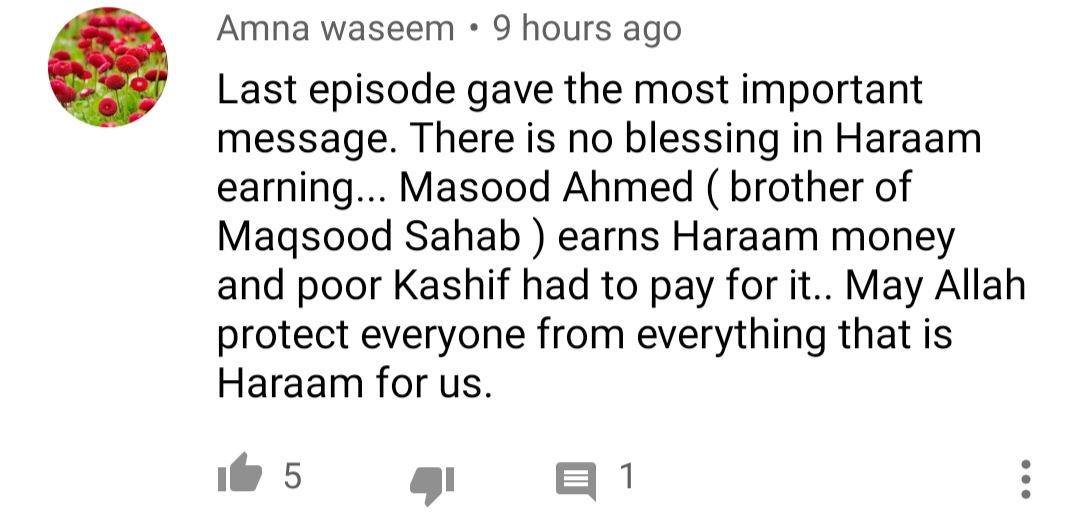 The woman that Ameera grew up to be ❤
"maar khaane ki bhi galti hai"

ameera talking so much sense these days. when she said that I know my mother has so much power that she could've broken rafeeq ali's hand right there. their growth and development over past few episodes is so beautiful to watch. #RaqeebSe

— r. (@PhoolSeKhushboo) May 26, 2021
YES PLEASE!
"Talaq haq hota hai,
Har ladki ka"

LOUDER!
Rarely we see such scripts written esp in South Asian countries where marriage as an institution is considered as the be-all and end-all of everything.
Takes immense courage to write it.

How many barriers the show broke! #RaqeebSe

— Bela (@Bela64788191) May 27, 2021
People were loving the realness of the plot: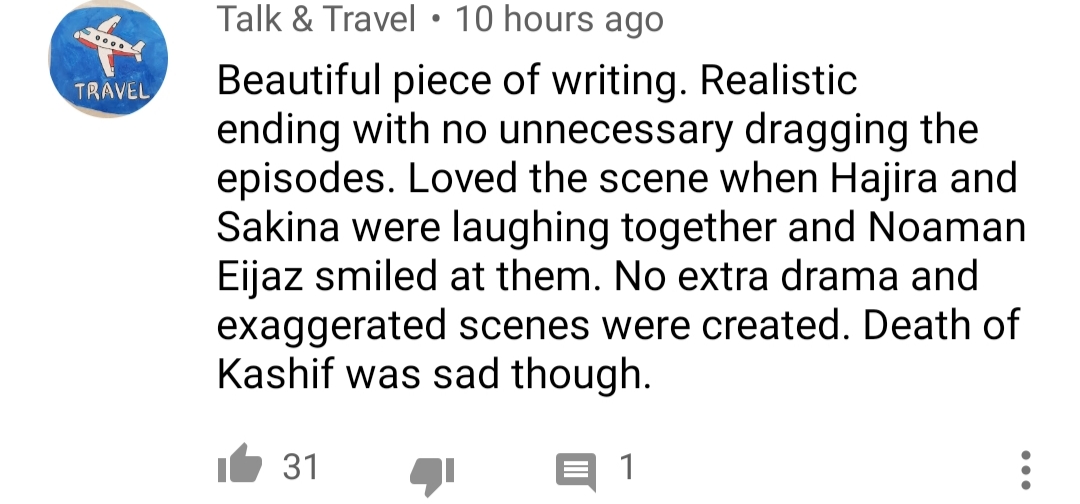 People wanted to see more dramas like Raqeeb Se:

People were calling it 'poetry in motion,' and we agree!
Why's this piece of art so underrated!? A story all about journey of women knowing their worth & realizing their powers w so shrewd performances, portraying these vulnerable yet so empowered women. This is all in all a Netflix material.
~A poetry in motion! ✨❤️#RaqeebSe pic.twitter.com/gIcgSatX20

— AFIFA Not FIFA 🇵🇸 (@lostinmuggles) May 23, 2021
❤
Ameera lost Kashif but she will regain herself, complete her education & not guilt trip herself for the rest of her life unlike Sakina
Insha is divorced but instead of blaming herself she will be walking on the path of her dreams unlike Hajra!
So alike yet so different#RaqeebSe

— Haya✨ // 𝗙𝗟𝗬 (@sunshine_hayaa) May 26, 2021
10/10 can relate!
Just finished watching #RaqeebSe It ended and left a void in my heart. Something was so poetically painful about this show. The subtleness, poise of characters, details and layers to them.Music and the setting, all embedded in the secrets that are slowly unfolding. So heartening.

— Fizza Fatima (@FizzaFa00920334) May 26, 2021
😭😭😭
they deserved so much better😭😭😭
my heart is aching 😭😭😭 #RaqeebSe pic.twitter.com/rUEv3n3nWc

— moonliteditsx (@moonliteditsx) May 26, 2021
Bee Gul legit made me an Ameera-Kashif shipper in only one freaking episode and how gut wrenchingly ended it. I was crying. I still am.

— Chris(tea☕) (@Munuuu8) May 26, 2021
True!
THE BOTH ARE THE CUTEST, PLEASE!!! 😭💖
Find me another middle aged pair who has the chemistry that these both share and then we will talk!!! 👌🤍#RaqeebSe pic.twitter.com/YvurYvv7GF

— 𝕚𝕟𝕒.𝕞𝕚𝕟𝕒.𝕕𝕚𝕜𝕒 🌸 (@that_south_girl) May 26, 2021
Absolutely!
insha and kashif – exactly the platonic bond between cousins i needed from paki dramas #RaqeebSe

— r. (@PhoolSeKhushboo) May 26, 2021
Us too 😭
This scene. The background music. Kashif's voiceover and iqra's acting. I'M CRYING 😭😭😭😭💔#RaqeebSe pic.twitter.com/ZM7ui7zjKs

— esh. (@shininggstaar) May 26, 2021
People were in love with Faryal's portrayal of Insha:
Faryal Mehmood deserves great scripts post Raqeeb Se too! She's brilliant

— . (@splendeurr) May 20, 2021
People were calling it a masterpiece!
i can't wrap my head around the fact that it has finally come to an end. masterpieces like this are made once in a lifetime&they stay with you for quite a long time; it leaves deep imprints on you, makes you feel different emotions&takes a piece of your heart with it.♥️#RaqeebSe pic.twitter.com/guysLFMnvz

— 🌸 (@Izanxious) May 26, 2021
Us too!
first ameera-sakina and now hajra-insha…these mother-daughter duos had such a beautiful growth. I love all four raqeeb se women so much….I'll miss them 😭 #RaqeebSe

— r. (@PhoolSeKhushboo) May 26, 2021
Exactly!
We have all been an Ameera atleast at one point of life, so passionately in love with the "idea of someone" 🤎#RaqeebSe pic.twitter.com/QgGzURDQ6u

— 🌌 (@aestheticallyFM) May 20, 2021
Living for their growth!
The subtlety in #Raqeebse is just…

How both the daughters had the same fate as their moms (one losing her love forever, the other one a divorcee) yet breaking the cycle of abuse

— In transit (@SunairaFM) May 26, 2021
Ameera and Insha, one way or another, shared the same 'tragedies' as their mothers, but they weren't Sakina or Hajira, they didn't let this one event hold them back. They came out stronger and moved on.

I cant praise this masterpiece enough👏🏼👏🏼#RaqeebSe

— Riz 🇵🇸 (@adambaizar) May 26, 2021
And the audience:
the scene and the cameraman 😭😭#RaqeebSe pic.twitter.com/Ao6RfKnNT2

— moonliteditsx (@moonliteditsx) May 26, 2021
What did you think of the drama? Let us know in the comments below!