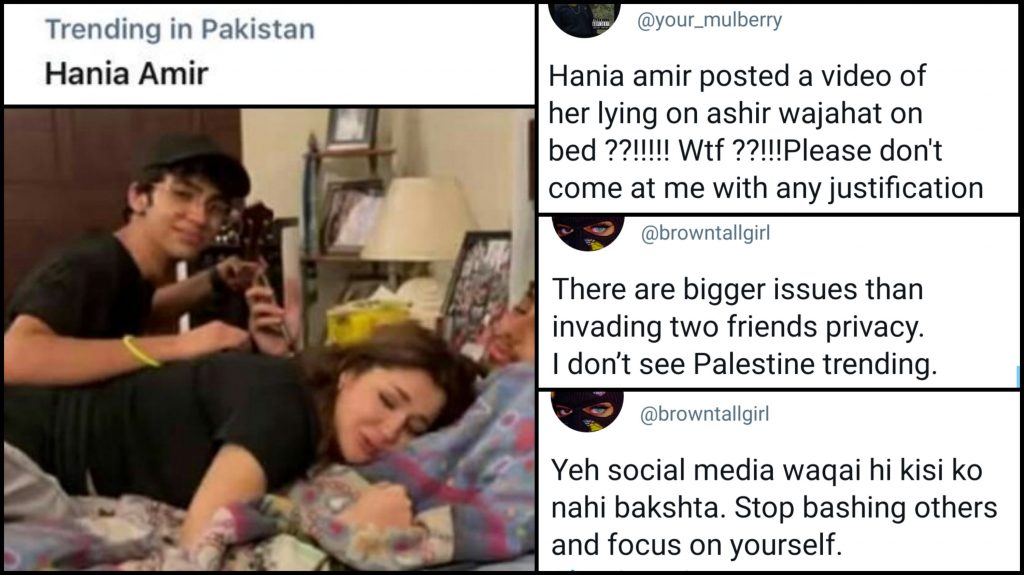 A now-deleted video posted by Hania Aamir had trolls in fits and they had nothing better to do than spew hate over it!
In a video where Hania Aamir was seen playfully lying over Aashir Wajahat with Nayel Wajahat by her side trying to cheer up Aashir, the harmless video faced a lot of flak and people had the most disgusting things to say!
Is it only me who finds Hania Aamir's physical closeness weird with these Wajahat's kids… 😖😖

— Ennanana (@Enna_Ejaz) June 4, 2021
People found the encounter to be cringeworthy:
Hania amir posted a video of her lying on ashir wajahat on bed ??!!!!! Wtf ??!!!Please don't come at me with any justification for this cringe🤮🤮#HaniaAamir

— عطاء المصطفیٰ (@your_mulberry) June 4, 2021
People were throwing shade at her:
Bhai Baap director ho tu kya nhi ho skta!!!!! #HaniaAamir new #ViralVideo pic.twitter.com/MRBIWobztw

— Hannan Dar (@HannanDar5) June 4, 2021
I think they are inspired from
Iconic siblings of lanisters Family
(Game of thrones)#HaniaAamir pic.twitter.com/4SpTZO5G81

— زوہیب حسن (@zebiiii__iii) June 5, 2021
Same old question 🤦‍♀️
Seriously what's this behavior
hania amir.
Is this is Islamic republic of Pakistan?#haniaamir pic.twitter.com/r2tqCpVggA

— Khbab Khan (@khan_khbab) June 5, 2021
Ummmm?
Hania Amir doing the "maa behen" of moral values. Now don't say its a personal life activity✋🏻 They're stars and representing our society and country as well.#haniaamir #FawadKhan pic.twitter.com/1kyMD3GPlA

— RaNa BilaL (@AB21PK) June 5, 2021
What even?
Singles to Aashir Wajahat after watching pic of #haniaamir with him pic.twitter.com/sw4qnSl1t3

— Hamza Kaleem (@HKaleem23) June 5, 2021
With all the unnecessary hate and criticism flowing in, netizens took to Twitter to tell these trolls off!
Late to notice but Pakistanis got their new target… #haniaamir . Seriously like you peeps got nothin better to do? Why can't you just focus on your own life?

— 𝙆𝙖𝙨𝙝 /trailblazer/ (@Earthian07) June 5, 2021
Bolo?
Im wondering y people in our country care more about and tweet more about a girl WITH HER CONSENT hugging a man, rather than when a girl WITHOUT HER CONSENT is sexually or physically abused by a man?

Like isn't that something more important and worthy to tweet about? #haniaamir

— malik arsalan haider (@malikarsalanha1) June 5, 2021
Girl be spillin' truth bombs!
If you can't see someone happily enjoying their life then ask yourself are they really your problem or You are the problem?
Sadly,we all talk about mental health but do we really care?Those who are trolling #haniaAmir are the saddest people on earth.Hania mam you should ignore🤡

— TheWoman | FREE PALESTINE🇵🇸 (@NotSoIfrahaha) June 5, 2021
People were disgusted at the trolls:
What happened with Hania Aamir is so so disgusting, what the fuck is wrong with this country and it's men?

— a. (@ayeshaanaz) June 4, 2021
People were just so done with these trolls:
Pakistan after disscussing #haniaamir isssue…i mean seriously you all are making fun of her… This show how much veli awam we have in our country… Rediculous💥 pic.twitter.com/VPVeIoxOal

— wastingmytime (@Arslan62572201) June 5, 2021
People were disappointed!
Suddenly , I checked my twitter and I see #haniaamir is trending no 1. I checked what happening is here ? I swear I'm very disappointed to see all of these things . Shame on you guys . Dosri ki khushi mai khush hona sheekhiye 🙏 @realhaniahehe we are with you forever .♥️ pic.twitter.com/Jg0QlDfkpW

— Asad Farid (@asadfarid__) June 5, 2021
Jo baat hai!
There are bigger issues than invading two friends privacy. I don't see Palestine trending. Priorities guys priorities.#haniaamir

— browntallgirl (@browntallgirl) June 5, 2021
🤷‍♀️
And wow, Pakis saw #haniaamir 's video with Aashir Wajahat n are trying v.hard to create a shit storm on Twitter but it isn't happening. We hear Ashir calling #Hania "hania baji". Dayyyem.

— Amna Saleem (@AmnaSaleeeeeem) June 5, 2021
Exactly!
Everyone's got so much time on their hands that they keep interfering in other people's lives. Ab hath dhou k saaray Hania k peechay par gayei hain, never liked her for what she did to my boy Asim, but dunya mei aur bhi baray sanjeeda maslay hain. #haniaamir

— Ezaan (@Ezaan) June 5, 2021
Yes, please 🙏
Yeh social media waqai hi kisi ko nahi bakshta. Stop bashing others and focus on yourself.#haniaamir

— browntallgirl (@browntallgirl) June 5, 2021
Okay, there were some genuinely funny memes too!
Mom:Get up for school
6y old me:Mom my stomach!!😭 I can't go😋😋#haniaamir pic.twitter.com/xXgIpnjDT1

— Acha bacha (@a6a_bacha) June 5, 2021
My daily routine in a nutshell #haniaamir pic.twitter.com/6K2Xr0vxMX

— K A I N A T 💙 (@Miss_Universe8) June 5, 2021
Breakfast ready hai#HaniaAmir pic.twitter.com/TEPaUTn1fd

— bilal. 🇵🇰🇵🇸 (@bilal___04) June 4, 2021
And in the end, here's what Hania wants her haters to know 💞
Do you think the hate Hania gets for being herself is justified? Let us know in the comments below!