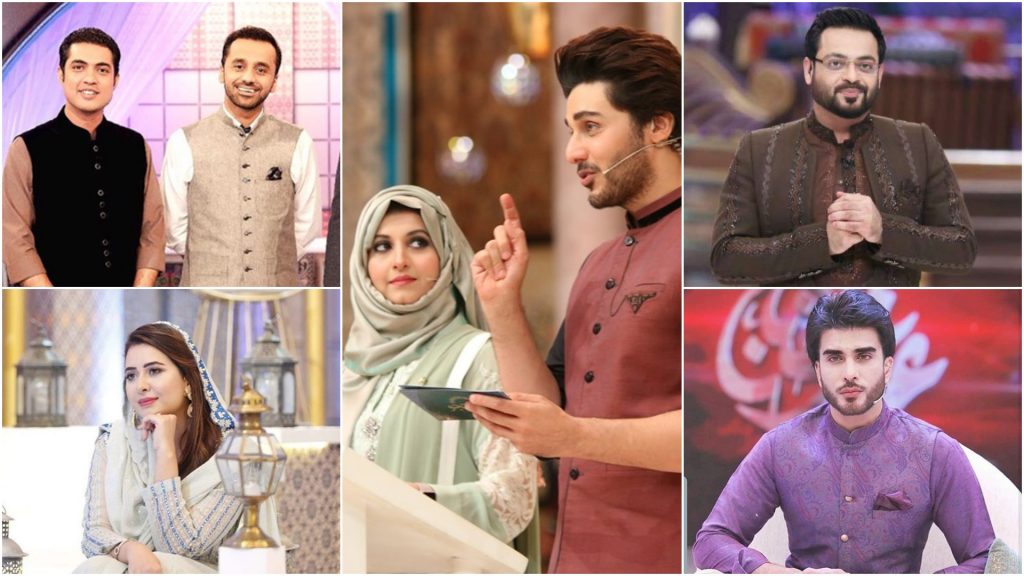 People eagerly wait for Ramzan transmissions every year where they get to see their favourite hosts accompany them during Ramzan. Some of us watch it for fun, some for actual information, some of us watch it in hope of learning something new and some watch it as a reason to spend time with family. No matter what your reason is, here are some of our favourite Ramzan Transmissions being aired right now!
Ramzan Pakistan with Ahsan Khan and Bushra Aamir
PTV and HUM
Ramzan Pakistan features Ahsan Khan with Bushra Aamir (Aamir Liaquat's first wife) and people have been in love with the transmission ever since it first aired! With praises all around for Bushra Aamir and Ahsan Khan, the show is easily one of the most watched shows this year.
Shan-e-Ramzan with Waseem Badami
ARY
We know Shan-e-Ramzan will never be the same without Junaid Jamshed, but Waseem Badami is doing a great job alongside Iqrar-ul-Hasan keeping up with the transmission. The transmission also features our favourite Pehlaaj Hasan!
Hamara Ramzan with Aamir Liaquat
PTV News
When it comes to Ramzan transmissions, there is absolutely no way we would miss mentioning Aamir Liaquat, you can catch him stirring drama on PTV this year. His second wife Tuba also makes appearances on his show.
Ehsaas Ramzan with Rabia Anum
GEO
Rabia Anum has been doing a Ramzan transmission on Geo this year and her fans are loving this side of her.
Ehd-e-Ramzan with Imran Abbas and Javeria Saud
Express
Every year people look forward to the hamds and naaths that Imran Abbas recites. This year Imran Abbas is hosting a Ramzan transmission with Javeria Saud and people are in awe of him!