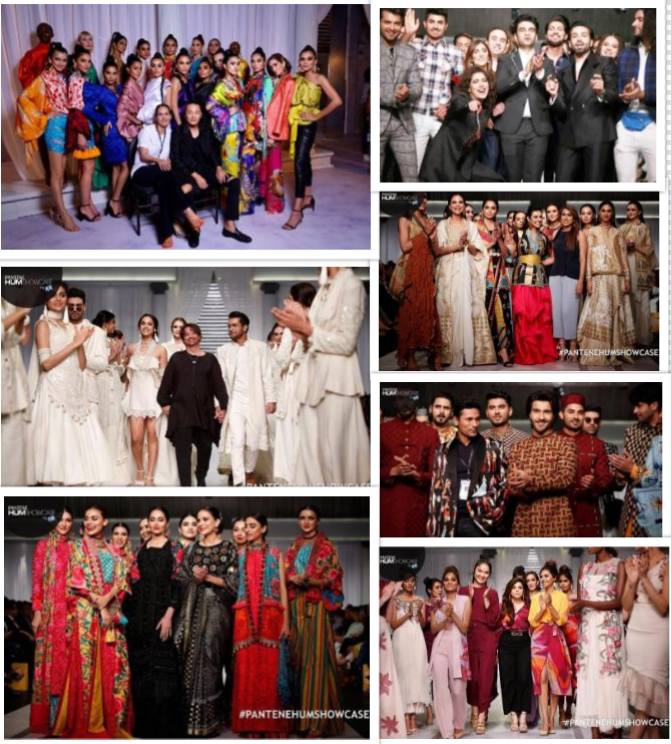 The final and third day of Pantene Hum Showcase S/S 2019 was triumphed by three stalwart design houses and their fabulous collections; mired by two underwhelming and odd menswear capsules; included two labels that paid homage to artisanal traditions and retro-glamour and a showcase that was intoxicated by lilies!
RIZWAN BEYG
Rizwan Beyg's 'Pearl-Essence' collection inspired by the lustre and sheen of pearls – of which it made heavy use of – was evocative of an indubitable timelessness buoyed by superlative craftsmanship and  stunning, delicately intricate detailing, dovetailed with finely-tailored contemporized traditional silhouettes which stayed true to the label's unique and strong signature style.
What was incomparably impressive was that the fine craftsmanship and haute-couture level embroidery – which is the pillar of the Rizwan Beyg label – was created by well-taught, highly talented and skilled rural craftswomen of Bunyaad an enterprise created by the label based on female employment and skill development.
The 30-year old Rizwan Beyg label is renowned for consistently introducing inventive new silhouettes so as to keep itself relevant amid the ever-changing fashion zeitgeist. Our favourites are A-line sheath gown with a heavily embellished bodice; voluminous skirts worn with hanging sleeved capes; cold-shoulder pleated peplum tops worn with flowing long skirts; front-open sleeveless tunics worn with sharara shirts and hybrid saris worn with tasselled blouses.
Singer Asim Azhar in an elegant ivory sherwani and actress Faryal Mahmood in a halter- top replete with signature bows and trailing ballerina skirt offset with rural-inspired pearl arm bangles were the showstoppers for 'Pearl-Essence' which was the stellar collection of the night.'
WARDAH SALEEM
With the 'Jhirki Blockprints' collection which was employed to introduce its new label 'Jhirki'– which means a house sparrow in Sindhi – The House of Wardha Saleem  returned to its roots to revive hand-wood block printing while supporting the artisans through this craft.
Using pure silks, organza and chiffons, the strongly fusion-buoyed collection using heritage embroideries and myriad age-old techniques comprised of stunning bespoke gold hand-block prints on ivory, ecru and earthy tones and pastels – including powder blue and blush pink; and screen prints on strongly ethnic-based colours including sunflower yellow, blood-red and black transposed onto contemporary silhouettes.
Bubbly actress Sara Khan made an entrance as Saleem's celebrity showstopper in a black, light mint; and gold hanging-sleeved obi-belted tunic worn with a light cerise multi-layered skirt.
The essence of fashion is not where it comes from – but how it looks when it arrives. With Jhirki, Wardha Saleem took block-prints a notch above.
MUNIB NAWAZ
With an impetus to ostensibly connect the dots in human interaction and conversation, Munib Nawaz – who is known for his quirky yet well-tailored suits and jackets – with his 'Dash' collection, inspired by 90s grunge and contemporary vibes "for the modern man who dresses for himself" somewhat missed the point.
With a strong use of plaid in various hues including black and cobalt in short menswear and women's wear jackets worn with torn white jeans; Scottish red and green and navy belted tracksuits; grey and red  jackets melded with denim, the collection also included avant garde looks including a  bold green printed organza shirt paired with grey dungarees and an insouciantly-slung black jacket, as well as a grey batwing cape worn with a slim blue plaid suit; and a pastel floral pajama suit worn with a plaid camel bomber jacket. Won't deny some of the separates were interesting, wish it was edited smartly and styled properly.
The director of the upcoming film 'Chhalawa' Wajahat Rauf along with his wife Shazia Wajahat and bopping son Aashir Wajahat as well as the film's star cast:  Mehwish Hayat in a long coat, slogan T shirt and boots; Azfar Rehman in a logo T and black suit and couple Asad Siddiqui and Zara Noor Abbas were Nawaz's ensemble showstoppers.
NATASHA KAMAL
Natasha Kamal's 'Lilium' collection playfully toyed with lilies with abstract prints in a bevy of vibrant hues – deep plum, tangerine, mango, lilac and violet interpretably inspired by the Red Canna lily in artist Georgia O'Keeffe's scandalous 1924 watercolour canvases. These tranquil asymmetrical floral prints were transposed onto soft, fluid and feminine silhouettes  including sheer palazzos; slim sheath dresses; high-waisted pants worn with sleeveless coats, trailing asymmetrical skirts and one-shoulder toga gowns. Different fabrications and techniques were used to embellish the artisanal pieces including 3-D floral appliqué on one-shoulder tops worn with flared pants and flowing dresses.
The collection was cohesive but quite blah, wish they would have included some plain corresponding colour blocks to break up the ongoing tedium of the floral prints.
KHAADI KHAAS
One of the strongest and most poignant collections of Day 3, Khaadi Khaas's 'Gypsy' using vibrantly hued fabric and weaves, deftly melded the richness and flamboyance of Spanish history with the luxuriousness of Islamic culture imbued with a desi touch. Simultaneously inspired by the passion of the flamenco dancer, the dramatic intensity of the matador and the yearning songs of the gypsy, the bold and nuanced textiles and ornate embellishments retold myriad intertwined tales.
Vibrant colours – deep rose, fuchsia, tangerine, parrot green, canary yellow and black and gold were transposed onto traditional yet contemporary and both fluidly organic and structured silhouettes embellished with intricate floral machine embroidery; surface hand-embroidery, tassels and pompoms.  These included Anarkali kurtis   worn with dhoti-wrap pants: peplum, jackets with voluminous jodhpurs; tasseled capes with wide technicolour-striped pants; a can-can skirt worn with a large floral embossed and tasselled wrap; a kimono-sleeved jacked worn with flared pants; long, straight kameezes with straight pants and a black and gold sari worn with an intricately-beaded blouse.
Accessories including silver filigree bags decorated with tilla and platform Peshawari chappals with spike studs added drama and oomph to one of Khaadi Khaas's most memorable, moving and evocative collections.
JAZIB QAMAR
Maverick designer Jazib Qamar's collection 'Kashmakash' (meaning conflicted) lived up to its awry nomenclature. Buoyed by the label's artisanal philosophy in which materials are re-worked in unique ways and its own deconstructionist aesthetic, Qamar hand-wove trims and tapes into basket-weave patterns to create outré, beyond edgy and veering on the ridiculous separates.
Key style elements were ostensibly culled from traditional Indo-Persian menswear and transmogrified into contemporary if not always wearable (at least not in public) pieces. These included the decent red and gold printed sherwani worn by opening showstopper Feroze Khan and other parquet-printed and basket-weave sherwanis.
The infamous grey upside-down hobo kurta; the frilly kurta; the gold gota sherwani and the sheer leopard printed jacket were a few of the chuckle-worthy eyesores of the collection while a red military jacket with broad grey and blue stripes and the graphic beetle-printed powder blue women's suit were a couple of the only redeeming pieces from the almost schizophrenic or "delusional rock star" collection. A forgettable collection if you ask.
SANA SAFINAZ
If you haven't watched the American 80's based TV series 'Dynasty' or are familiar with fierce glamazon Grace Jones, then you're not going "to get" the retro homage of Sana Safinaz's edgy, fashion-forward western couture collection with its myriad of high sheen; bold, colourfully printed and-sculptural statement separates and cocktail pieces. Emphasizing on the surging movement of crushed fabric, the capsule was intended for the fashion brave; an amalgamation of the classic, retro and contemporary that transcends time and liberates the imagination.
'Dynasty' included a medley of structured couture pieces including the opening high-sheen white wrap dress; the blush pink oyster shaped fringed tunic; the noir gargantuan one-sleeved textured dress with tassels; the cobalt blue 80s-shoulder dress and the turquoise top with exaggerated caterpillar sleeves.
The RTW capsule included a colourburst of floral and animal prints draped, ruched, nipped and tucked blouses, dresses, oversize bootleg pants, wrap-around tops and flowing tunics.
Tassels and fringe and jewellery by Ali Javeri added even more drama to the collection. We sat and drooled over each and every outfit. Dynasty is undoubtedly one the best collections from the house of Sana Safinaz and should be on every It girl's lust list.