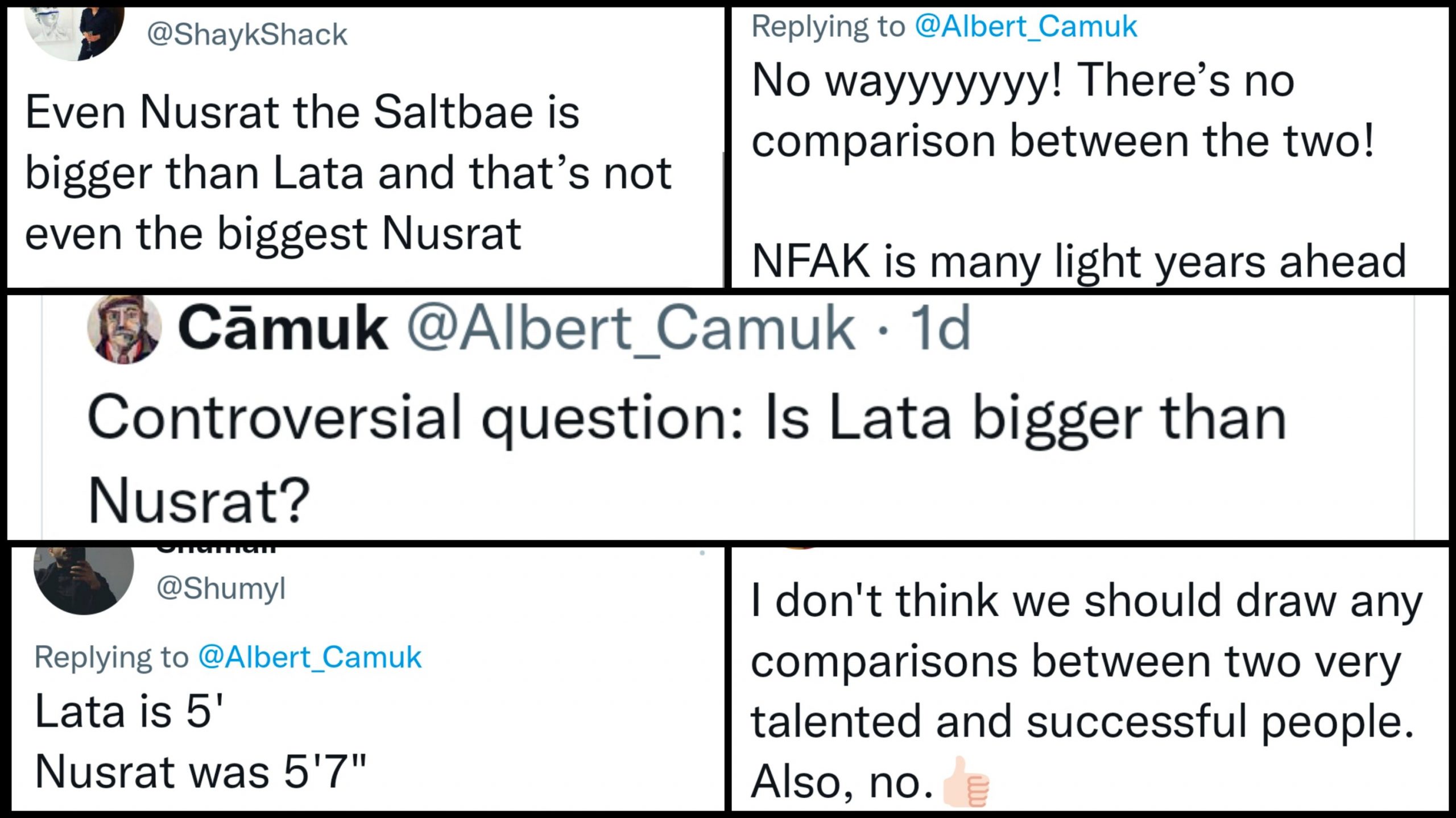 Every day on twitter, someone decides to spark a controversial debate and everyone jumps in to give their 2 cents on the matter. And today, it's Lata Mangeshkar vs Nusrat Fateh Ali Khan on who's the bigger artist…
Controversial question: Is Lata bigger than Nusrat?

— Cāmuk (@Albert_Camuk) September 18, 2021
And people have strong opinions:
I think she is bigger, but mostly local.. Nusrat is better known (and influential) in faraway places. M

— omar ali (@omarali50) September 19, 2021
Some believed in NFAK supremacy:
Considering NFAK allowed other qawwals to grow and was never a part monopolies that inhibited younger talent from getting the same limelight he was definitely BIGGER https://t.co/BDq8rSQO14

— Rafay Mahmood (@Rafay_Mahmood) September 20, 2021
Some found it to be a terrible question:
Terrible Question at first place

— Pavan Jha (@p1j) September 19, 2021
People had their theories:
Lata is 5'
Nusrat was 5'7"

— Shumail (@Shumyl) September 19, 2021
Lata-4 letters..
Nusrat-6 letters.

— ozz (@kanal_ko) September 19, 2021
Nusrat was bigger, literally. https://t.co/bQGSzIouC5

— Faramir (@Scytheraa) September 19, 2021
People felt that the two couldn't be compared:
NFAK style of singing is different. None can come even close to him. Lata Mangeshkar is a different type of singer. Not possible to compare each other

— Haider 2244 حیدر 2244 (@SmartHaider2244) September 19, 2021
The genres are different. Can't be measured that way. Just like american football and soccer for eg.

— Shujaat Mirza (@Shujaat_Mirza) September 19, 2021
Different places of practicing their craft, it's too dynamic in both careers to do this comparison.

— Vinayak (@VinayaKhalnayak) September 18, 2021
There were some who believed Lata was bigger:
if this is a question about fame/reach …….then Lata is way bigger. She reaches places where no one listens or even knows Hindustani Classical music.

— narachamesuke (@narachamesuke) September 19, 2021
Some believed NFAK left us too early to be compared:
I'd say Lata… But we lost NFAK too soon. Had he been around even till the early 2010s, things might have been different…

— . (@arsalanahmedk) September 19, 2021
Some were straight up appalled at the comparison:
I can't believe ppl have audacity to compare a lifetime legend like NFAK with singers like Lata, Rafi etc. Blasphemous question & answers. WOW https://t.co/u3MbqVep9X

— RASHID (@forashid) September 19, 2021
True!
Regardless of what you think the correct answer to this is, bigger almost never means better https://t.co/fS1KJGesb2

— sohni (@sohnianika) September 19, 2021
Oh-kayyyyy!
Lata: 4 letters
Nusrat: 6 letters
Lata: 5 feet 1 inch
Nusrat: 5 feet 7 inches
Lata: 69 Kgs
Nusrat: 136 Kgs
Lata: A hate mongering bigot
Nusrat: Love mongering giant

Hence, in all ways that matter, Nusrat Rox, Lata Shox
Source for measurements: Google https://t.co/lymOsgXjdd

— Ghurbat Olympics™️ (@grumpydesimil) September 19, 2021
😂
Are you kidding? NFAK was at least 150 kgs. https://t.co/P6xjewMnWf

— 🌞 (@sammaritan) September 19, 2021
Yeh cheez!
I don't think we should draw any comparisons between two very talented and successful people. Also, no.👍🏻 https://t.co/QLZURmxi7x

— Utha le re baba (@PathanticBaji) September 19, 2021
Jo baat hai!
No wayyyyyyy! There's no comparison between the two!

NFAK is many light years ahead of any one you can think of!

— BaburZaman (@BaburZaman7) September 18, 2021
We think we have a winner here?
Even Nusrat the Saltbae is bigger than Lata and that's not even the biggest Nusrat https://t.co/tp4LYR5qkJ

— Momin🪁🌳🚉🏙 (@ShaykShack) September 19, 2021
👀
Nusrat Fateh Ali Khan Sahab ka short form (NFAK) bhi Lata Mangeshkar ki puri zindagi se bhari hai. https://t.co/5MCCfbxRlw

— Bombur. (@JunnysIife) September 18, 2021
What do you think? Let us know in the comments below!