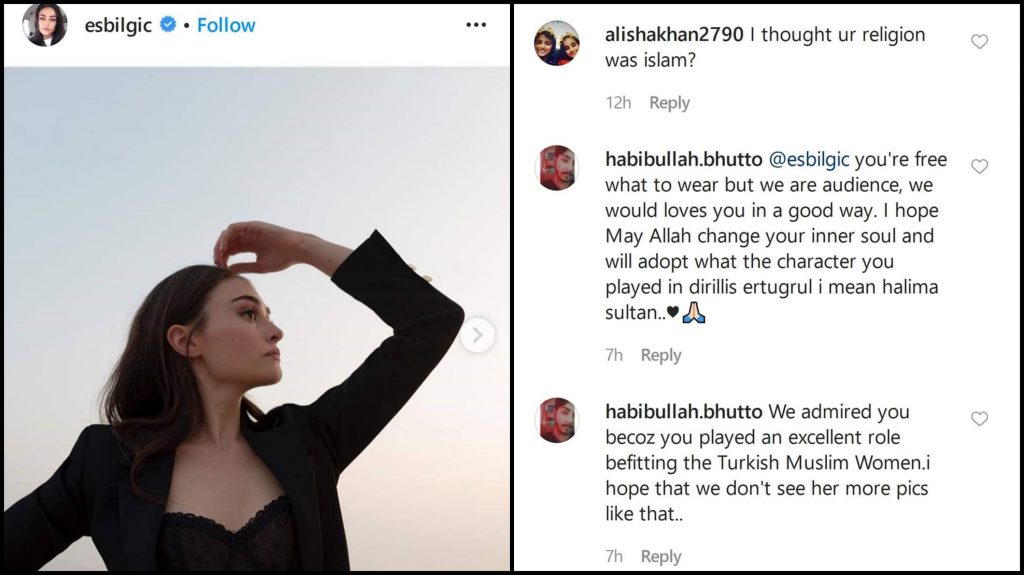 Turkish series on Ertugrul Gazi has taken Pakistanis by storm, from kids to elders and even celebrities, everyone's obsessed with it!And one of the most loved characters, Halima Sultan, played by Esra Bilgiç has sparked massive outrage amongst the moral brigade who have been losing their minds over a seemingly harmless Instagram picture:
And boy are they disappointed!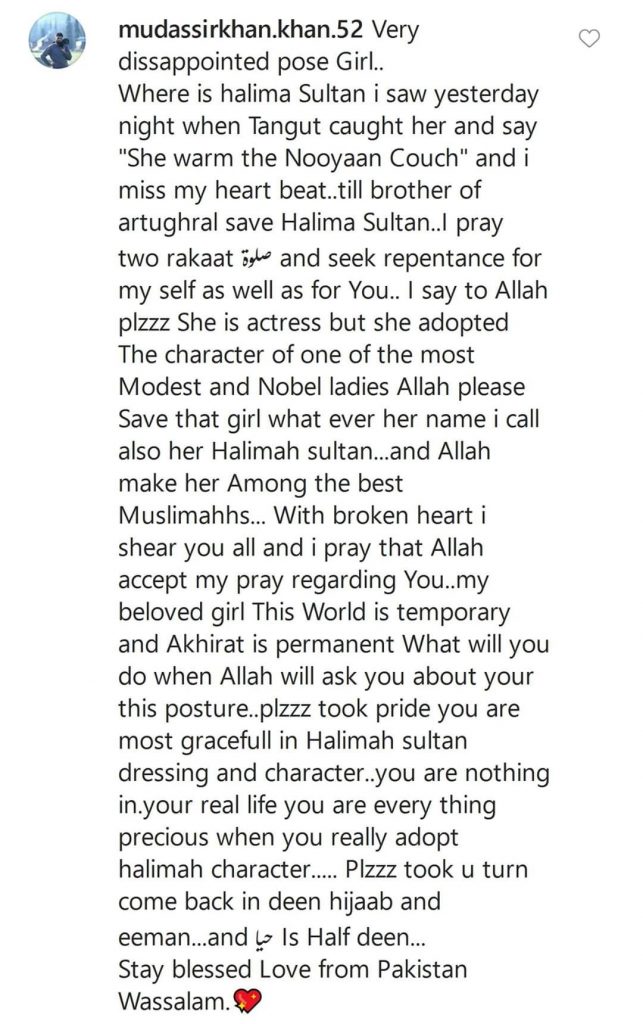 From fans to haters in one milisecond!

People were questioning her religion: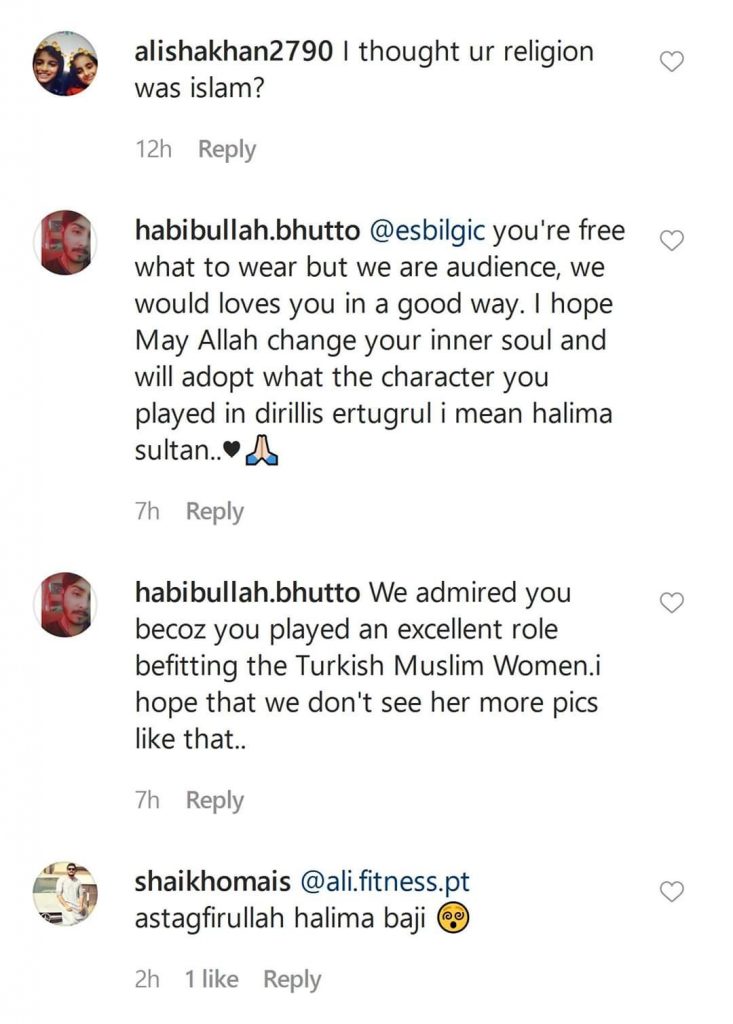 Ummmm?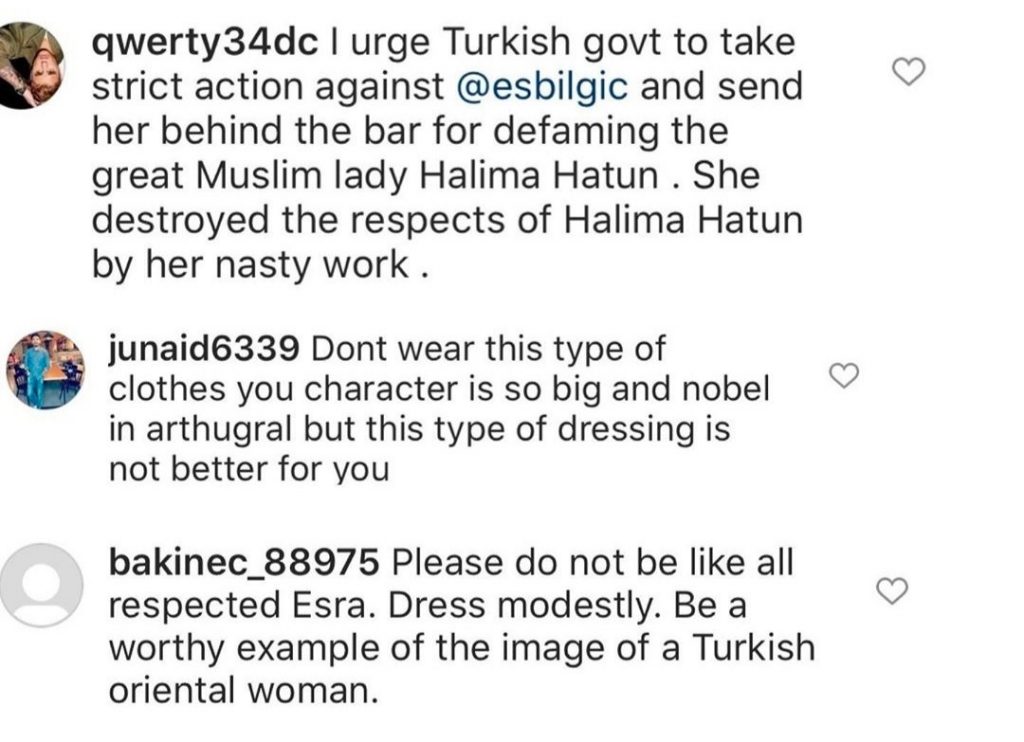 The comments have been circulating all over social media, and people have a lot to say!
Pakistan men having a meltdown at esbilgic (Halima Sultan from Ertugul) posting a picture because Astaghfirullah Halima baji 😂 pic.twitter.com/sFblUu5Bw1

— Astaghfirullah Haleema baji (@Avicenna911) May 10, 2020
Some weren't surprised at the outrage:
The reason Pakistanis are obsessed with Turkish people is because they combine two of their biggest fetishes i.e white people and a rich islamic history and culture. Its normal to see them lose their shit when their ultimate fantasy doesn't conform to their expectations https://t.co/fe51Obru8d

— Haider (@hodornm) May 10, 2020
Chahtay kya ho lougon?
i will never not find it fascinating that men seek out women on their social media hoping to see more of them and then get angry when they do. https://t.co/cENm7a4rRL

— Faizan. (@merabichrayaar) May 10, 2020
🤷‍♀️
Desi men: You bitch you talk about harassment to spread negative image of Pakistan in world.

Also desi men: https://t.co/7eZIX6K4xp

— The Sonja (@NiaLovesSushi) May 11, 2020
Yaaaas!
petition for having pakistan men's internet and cable rights revoked . https://t.co/baDtqap0ph

— it's all in the Longing™️ (@rosiermn) May 10, 2020
Facts!
pakistani men are literally deranged… imagine being this entitled … literally telling a woman in another continent who has NOTHING to do with their culture and values that she's disappointing them 😭 bitch she doesn't give a FUCK dbdndjsn https://t.co/5nNzXel5y1

— 🍸 (@sasukephobe) May 10, 2020
Ooof, the shade!
Y'all we truly don't appreciate Pakistani men. They've forgotten about their own akhirat just to remind every single Muslim woman of hers. 🥺 Mard bari pyaari cheez hai, truly. https://t.co/8B16z2hXwT

— jiji stan (@Rameezay) May 10, 2020
People found the entitlement to be hilarious!
The entitlement is HILARIOUS https://t.co/0WMWnEvZBW

— OhChiefestAndGreatestOfCalamities (@mustyoumustard) May 10, 2020
omg this is hilarious ! https://t.co/1gIe5GN8Bv

— Mubashir (@xmubashir) May 10, 2020
LMAOOOOOOOOOOO which turkish nationalists thought it was a good idea to dub this show in Urdu 😭 https://t.co/QOkbQdKT8X

— janaab 샤 🥰 (@mangonama) May 10, 2020
Reality check:
Apparently p*ki men don't know that actors on their telly screens are playing a role and not Halima Sultan or whatever IRL

Braincells ki shadeed kammi hai hmare amrood hazrat mein https://t.co/Gjm4cDif3D

— Zara 🏳️‍🌈 | Sponsor a Period | Ban FGM (@zarinara_sauce) May 10, 2020
Haha, talk about loving your job!
The religious brigade at work. Even on Sundays lol https://t.co/nwM6IFyW7n

— Sikander Bizenjo (@sikanderbizenjo) May 10, 2020
Some suggested that the state issues an apology on behalf of it's citizens:
State of Pakistan should officially extend an apology to her. https://t.co/52tLzfteEw

— Super Maan (@ZameerMaan) May 10, 2020
True:
May Allah protect her from judgmental Pakistani awam. This needs to be discouraged. https://t.co/YSVAn3FUBT

— undone (@shaat_up) May 10, 2020
Some found it straight up embarrassing:
Embarrassing https://t.co/uYam0ndpjU

— X Æ A-12 (@sooploops) May 10, 2020
What do you think about the way Pakistanis have reacted? Let us know in the comments below!