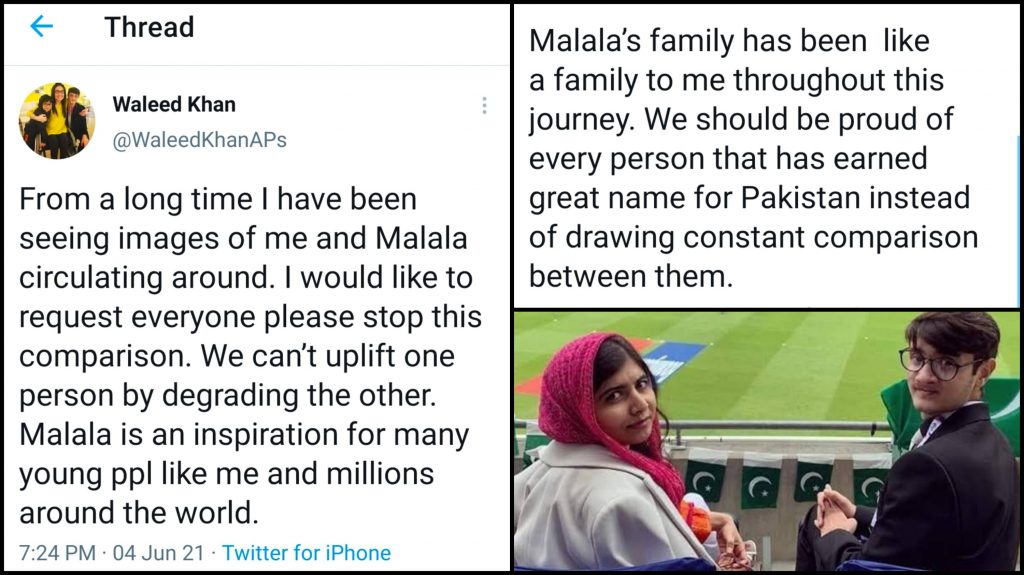 Malala Yousafzai has always been a topic of debate for the Pakistanis. And especially after appearing on the cover of Vogue, the Nobel Prize winner has been getting love and hate simultaneously as the internet stands divided on her stance on marriage, Palestine and Dupatta.
To prove their point, people have been comparing the APS attack survivor Waleed Khan and Malala.
We better know who are our real heroes#MalalaOnMarriage pic.twitter.com/j3sEiiqXjR

— Aamir khalil 🇵🇰 🇹🇷 🇵🇸 (@AAMIRKHALIL_JIP) June 3, 2021
Having had enough of the comparisons, Waleed took to Twitter to request people to stop comparing the two. He also shared that he understands the comparison stems from a place of love that people have for him, but it needs to stop.
From a long time I have been seeing images of me and Malala circulating around. I would like to request everyone please stop this comparison. We can't uplift one person by degrading the other. Malala is an inspiration for many young ppl like me and millions around the world.

— Waleed Khan (@WaleedKhanAPs) June 4, 2021
Malala's family has been like a family to me throughout this journey. We should be proud of every person that has earned great name for Pakistan instead of drawing constant comparison between them.

— Waleed Khan (@WaleedKhanAPs) June 4, 2021
I also want to clarify that I am living in Birmingham for my treatment and getting my education here. I have always been in awe for the love I get .It's humble request to all to plz stop this comparison.

— Waleed Khan (@WaleedKhanAPs) June 4, 2021
His tweets have gathered quite the reaction on Twitter, and here's what people have to say:
This kid showed more maturity than a lot of "mature" lot! https://t.co/W6A6YwDJ3p

— ChaiLatté🍂 (@thenorthaspoken) June 5, 2021
People were in awe of his mature response:
Great to see KIDS behaving saner than majority of full growns. Super proud of you and those alike. Silver linings that keep the faith intact. https://t.co/oW0TZPxHXl

— JUNAID (@jonaid196) June 4, 2021
People shared how the comparison was uncalled for:
Dear kid! I really feel for you. This comparison is truly uncalled for.Your journey is a different one than her; you've chosen your path, she went her's. Pls focus on your health & studies.Our gossipmongers have nothing better to do so they start such lame comparisons n what not https://t.co/RKj9AXjtrS

— Ayesha Saeed (@Ayesha2Saeed) June 4, 2021
Malala's father lauded the young man and assured him that they were a family:
Dear @WaleedKhanAPs ,
You are a promising young man with incredible bravery and moral integrity.
We are one family. Proud of you. https://t.co/W2RHdlV6uv

— Ziauddin Yousafzai (@ZiauddinY) June 4, 2021
True!
What an absolute king❤ https://t.co/qsVaVfdxTx

— Anees Hassan Khan (@AneesHassanKha1) June 4, 2021
Yep!
Sometimes kids are wiser than adults!!! https://t.co/JAo1N7pBaR

— Sadia Ahmed (@SadiaTheSadia) June 4, 2021
People were proud to see his upbringing:
Very well said young man. Your words show your excellent upbringing and values. Unfortunately, many of us here need an excuse for sick writeups. God Speed https://t.co/NB904bw6td

— Gulraiz A. Khan (@GulraizAKhan1) June 4, 2021
People too, were fed up with the comparisons:
A slap on every illiterate Pakistani's face for comparing him with Malala. APS survivor Waleed Khan defending Malala, while 'we' FAILED to defend them both here! Is qoum ko bus "Ertugrul" hi dikhao, yeh ise like hain! https://t.co/McXOBsVuPN

— Saad Kaiser (@TheSaadKaiser) June 5, 2021
People had hope for the upcoming generation:
Sorry we failed you both (and many more). And that we continue to do so.

Really big of you all for standing with your country and its people despite what happened.

No doubt Pakistan will do better with your generation. https://t.co/SDvwf0JUci

— Syed Umair Javed 🚀 (@SyedUmairJaved) June 5, 2021
People were sending prayers to both:
You are a brave man and she is a brave woman. May Allah give both a long, happy and healthy life. Aameen! https://t.co/vg664l5Dbs

— Ruby Gul (@gulas98) June 5, 2021
❤
Both are individuals with strength and courage. 🙌🏼👏🏼 #Malala #WaleedKhan https://t.co/X36duCrlqL

— SophiaQ (@SophiaAQ) June 4, 2021
Yes!
That's how you earn respect! We have a lot to learn from our young rising stars.

Respect 🙋‍♂️ https://t.co/tzanKgCy0E

— Roohan Ahmed (@Roohan2Ahmed) June 5, 2021
People were amazed at the way he handled the situation:
This should put Waleed Vs Malala debate to rest. Amazing to see how mature and accomodating these young minds are compared to the self righteous moral police that's gone ballistic on social media. Well done Waleed 👏👏. You too are as big as inspiration as Malala ♥️ https://t.co/GYfvXky2T3

— Saadi-fy (@theironicirony) June 4, 2021
People were sharing how the two of them are a great source of inspiration to young Pakistanis:
What a champ!!! You both are an inspiration to young Pakistanis!! https://t.co/Tdtx7bqA5X

— litt up!! (@talalmughal) June 5, 2021
👏👏👏
This is how we lift up eachother
More power to both the survivor .
So proud@Malala @WaleedKhanAPs https://t.co/GcojmuM3ic

— Alia Haider (@DrAliahaider) June 4, 2021
And while many were moved by his response, others weren't too convinced:
May ALLAH bless you with more succes and peace.
Although i didn't make any comparison among you, but if a person calls herself an Activist but only highlights every single wrongdoing in my Country. You have to know why it'll make me angry and why I must call her out on her shit..

— The name's Ghazanfar (@Ghazanfierce) June 4, 2021
What do you think about people dragging Waleed and making baseless comparisons? Let us know in the comments below!