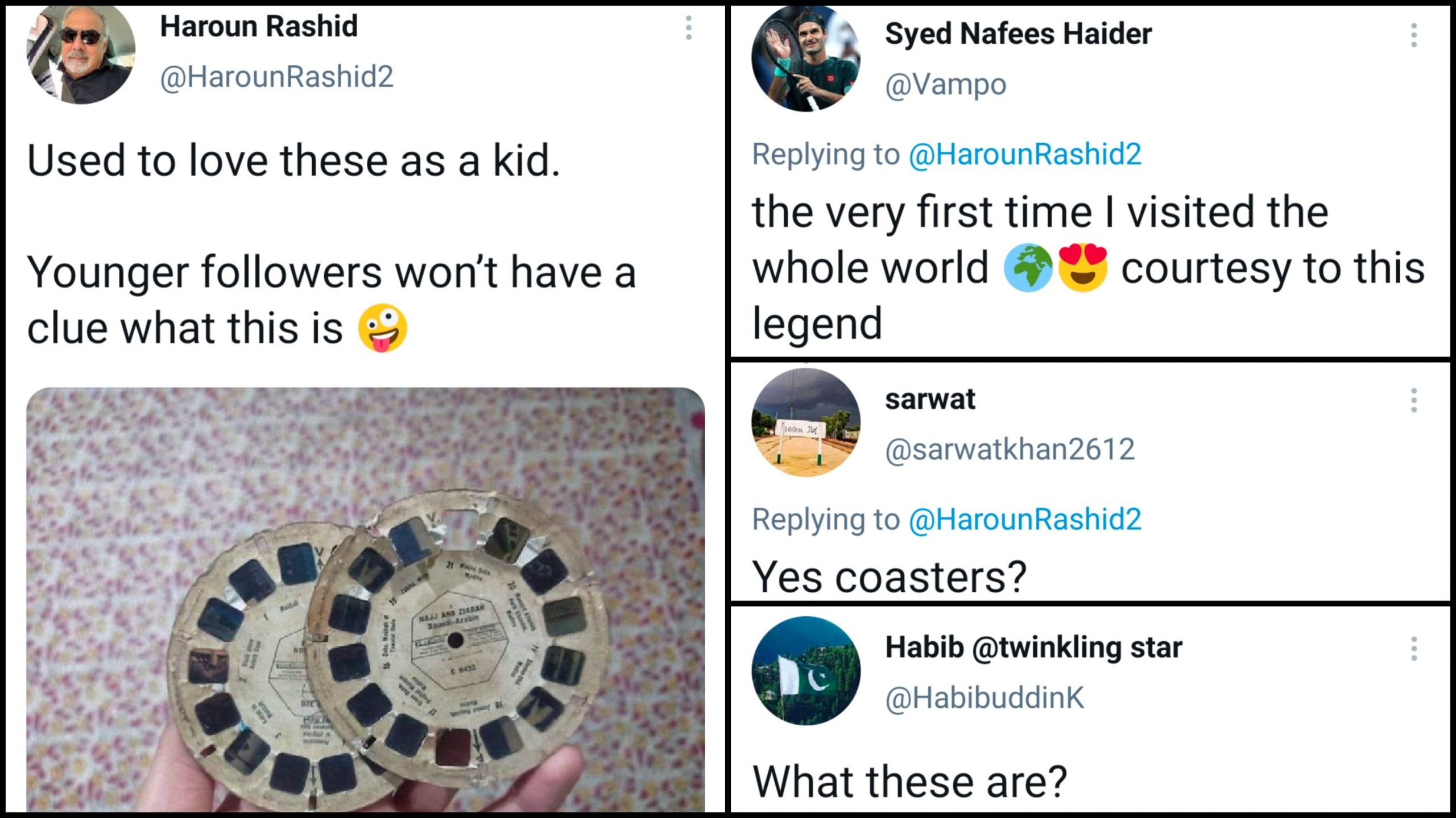 There's something about nostalgia that is just so comforting, and we often find our fellow tweeple talk about all things nostalgic.
Used to love these as a kid.

Younger followers won't have a clue what this is 🤪 pic.twitter.com/7DnY0r9K53

— Haroun Rashid (@HarounRashid2) June 3, 2021
A fellow user on Twitter shared the iconic ViewMaster and how we used to love it back in the days!
They transported you to a different world.

— Aamer Iqbal (@DrAamer) June 3, 2021
Oh, the memories!
This is the complete set pic.twitter.com/nGrWpiN1WR

— Rizwan Yahya (@RizwanYahya) June 3, 2021
Same!
The fact that I know what this is, is making me feel a little old. Didn't need that today. 🙈

— Saad (@FakeSaadAli) June 3, 2021
We know right?
View master! Oh my goodness! How many afternoons were spent watching these in absolute amazement!
The joys and wonder of childhood. I had so many of these!

— Fragrantwhirlwind (@WickedWitch74) June 3, 2021
People were sharing how they still have it!
I still have one! pic.twitter.com/7ChV9rnxmg

— Rameshwar Singh (@RSingh6969a) June 3, 2021
The real MVP!
View Master pic.twitter.com/XLWBNO2BSS

— Haris میاں (@harismian) June 3, 2021
All of us!
the very first time I visited the whole world 🌍😍 courtesy to this legend

— Syed Nafees Haider (@Vampo) June 3, 2021
People fondly remembered their grandfathers getting it for them:
My Nana bought this from saudia Arabia with beautiful Harmain shareef pics.

— ER (@tangerine406) June 3, 2021
OMG brings back so many memories. My grandfather used to bring me these discs. My fav were photos from international locations.

— 𝗦𝗮𝗻𝗶𝗹 (@thedarkrebel) June 3, 2021
My Nana (may Allah increase his ranks)brought this for us while returning from Hajj💞💝 https://t.co/25ZljvNJgg

— Monna Naseer🎭 (@MonnaNotLeeza) June 3, 2021
Ah, mandatory Hajj/Umrah souvenir:
And specially after the Hajj ; Hajis used to bring home

— falcon (@ali58383516) June 3, 2021
Definitely!
Our YouTube of that time. Saw the world through these 3D slides https://t.co/E3EzFVBvlP

— AK (@AYK_70) June 3, 2021
The OG VR/AR technology!
Probably the first Virtual Reality toy ever.#ViewMaster. https://t.co/woY05Fgkby

— Mastoora Hijazi (@MastooraHijazi) June 3, 2021
And while others were enjoying the nostalgia, Gen Z was… Confused!
What's that ?

— Dr. Casey 🇫🇷 (@libcasuist) June 3, 2021
Some thought they were coasters 😂
Yes coasters?

— sarwat (@sarwatkhan2612) June 3, 2021
Some took it for an eye shadow palette 😂
Eye shadow palate???

— Rabia Shehzad Malik (@shehzad_rabia) June 3, 2021
Yar 😂
Led lights

— Mohammad Ali (@MAli0048) June 4, 2021
Ummmm?
I thought this was birth control https://t.co/GBulk9XsoW

— ☭strawberry alarm cock☭ (@myflwrchildren) June 4, 2021
The millennials knew it well:
My parents went to Hajj in 1992 and brought this for us. I have a clue sir 😌We had these with its red camera. That utter sound of click click on change of photos.😛

— Zara Hussain (@HussainnZara) June 3, 2021
Yessss, i am a 90s kid, but i played with the same, where is its camera? 😍

— Erum Shaikh (@IrumShkh) June 3, 2021
My father went for hajj in 92, he also got this. I loved it

— Sara. (@BauhatSara) June 3, 2021
Born in 1995 but got 10s of collection of these 😎

— Imran khan( ͡° ͜ʖ ͡°) (@WrathofKHAN95) June 3, 2021
Do you remember ViewMaster? What reels did you have? Let us know in the comments below!