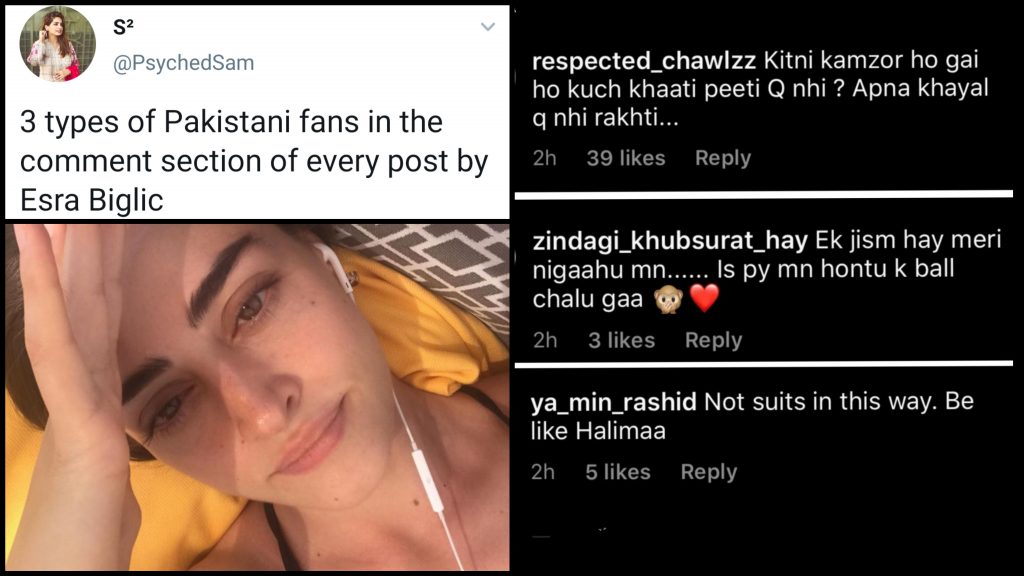 Ever since Ertugrul gained popularity in Pakistan, people have been obsessed with the lead characters and there's just no stopping them!
And a recent Instagram post by Esra Bilgic explains it all:
3 types of Pakistani fans in the comment section of every post by Esra Biglic pic.twitter.com/JXNoSPY02Q

— S² (@PsychedSam) August 21, 2020
A girl on Twitter pointed out 3 types of Pakistani fan comments that you'll find on almost every picture and the netizens are appalled at the aptness!
You forgot the 'Love and respect from Pakistan' brigade though.

— M Kay (@MariyaKS) August 21, 2020
Every damn time!
4th type is the one that goes to check out these comments and then engages in a battle with these types in her comments section. https://t.co/FzD2QIEcZc

— Khushal (@Khushal) August 21, 2020
Right here 😂
Where is "aaa teriyan juwaaan kaddaan" comment? https://t.co/iPSTQGaKUS

— Амир Рашид عامر رشید (@King0fHearts1) August 21, 2020
Lmaoooo 😂
4rth types bhe hy jo chahte hy kaptaan halima se shadi karley. https://t.co/W9i1fs2vRh

— Hassan Zaib🇵🇰 (@hassan_xeb) August 21, 2020
Boy is poetic:
He had me at honton ke bal…

— رے (@RaboRamblings) August 21, 2020
Omg yes!
Good one.
Their names also match with comments they made, for example, chawal making chawal comments, face hidden is asking to be like halima but doing niqab himself, honyan Kay bul ki Zindagi khubsoorT hay. Lololol

— Umr (@Umr_Pak_NJ) August 21, 2020
We like him too!
I like the one concerned about her health

— Arslan (@arsi_87) August 21, 2020
True!
😂😂😂😂 fuckin hilarious and disturbing altogether

— Sh Qamaruddin (@sh_qamaruddin) August 22, 2020
👀
The triumvirate of man. https://t.co/0nyPMnFLlr

— Mao'lana Spits (@antifatwa) August 21, 2020
Batao Esra!
why esra why https://t.co/1NtmdcgJ62 pic.twitter.com/kLigRd9N6f

— Invictus🇵🇰🍁 (@Pahaarii_) August 21, 2020
Haha, absolutely!
the third type is desi aunties https://t.co/10Z8Df3GeA

— kaju (@cashxaf) August 21, 2020
'We will surprise you:'
Istg, pakis never fail to surprise https://t.co/xlO31APX36

— Hunaina Aman (@hunaina_here) August 21, 2020
That's one way to put it:
Call it range https://t.co/p83uoD853T

— Wajih (@Thomas_WayneFPt) August 21, 2020
True 😔
Peak Pakistani culture summed up in one post https://t.co/OMKPSmRtsO

— Sparkle (@anihRx) August 21, 2020
And then you call us 'phuphos'
You can't make up this shit.
Pakis are khaalas https://t.co/H9JgKtSuvp

— Hood Romeo (@jigglyjellyman) August 21, 2020
Baat toh sach hai:
Lol as far as Pakistani men are concerned , even if she or for that matter any women posts a photo of her lone toe nail , they will start shedding their pearls of tharak and idiocy on it https://t.co/Cd4zFLLx2P

— High (@talkingcurves) August 21, 2020
Same:
Samjh nhi aaraha k hansoo inki harkato pe ya rouoon inki soch pe https://t.co/d21KZFwiYn

— Hamza Tahir (@HamzaTahir17) August 21, 2020
Woh toh hai:
Baji har qism ka design mawjood hain, hamaray paas https://t.co/ll8ORKrnvB

— Lalishko ~ (@zardast7) August 21, 2020
What do you think about the Pakistanis moral policing Esra Bilgic on almost all her pictures? Let us know in the comments below!