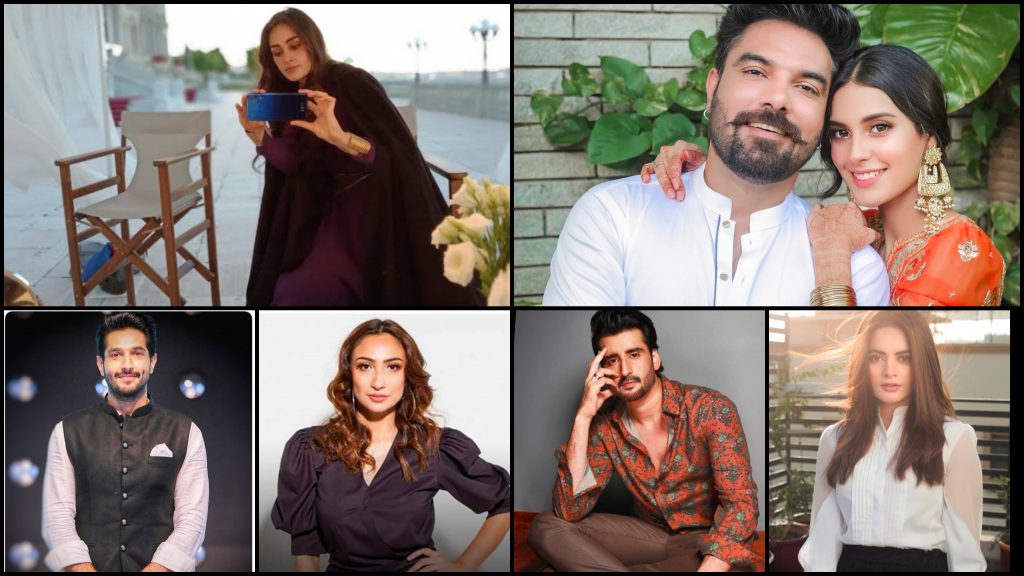 One of the largest smartphone marketing brand in Pakistan broke the news of Esra Bilgic being theit new brand ambassador, and the Ertugrul fandom just couldn't contain it's excitement!
However, the excitement was cut short by differing opinions that people had on signing an international celebrity rather than the local ones. Starting with Yasir Hussain, the man had questions whether a Pakistani brand should have a Pakistani ambassador versus an international ambassador: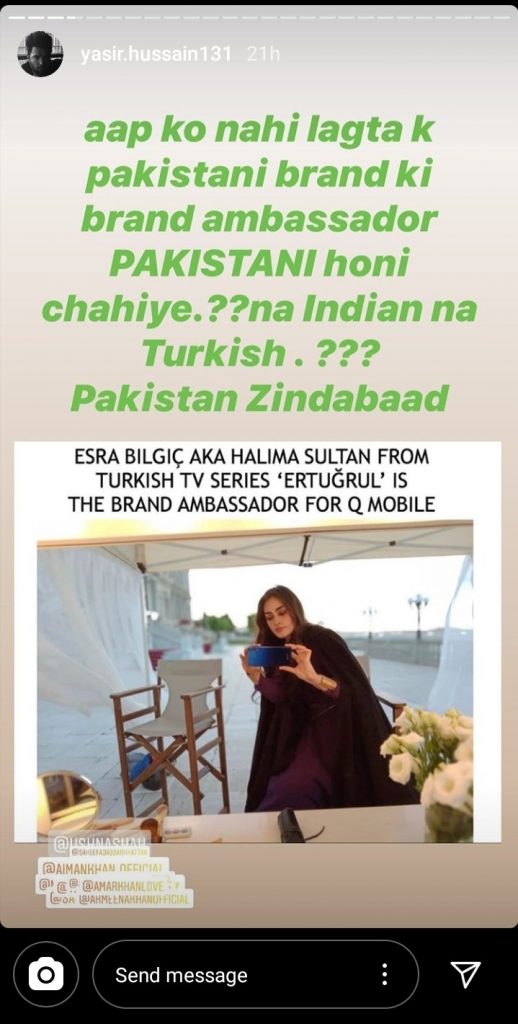 He then continued to ask if none of the leading ladies were capable enough to be the brand ambassador for local brands: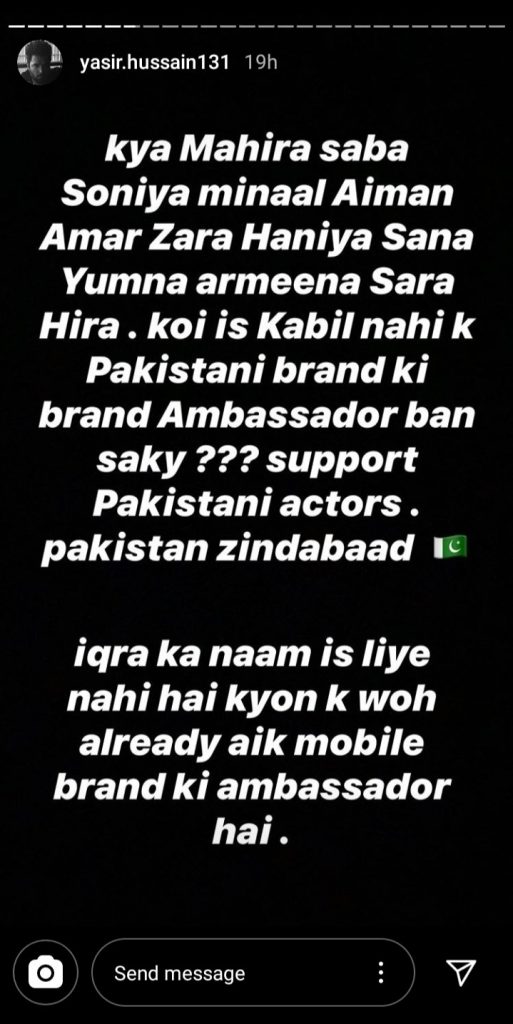 Yasir's opinion soon became the talk of the town and he had Minal Khan's support right away!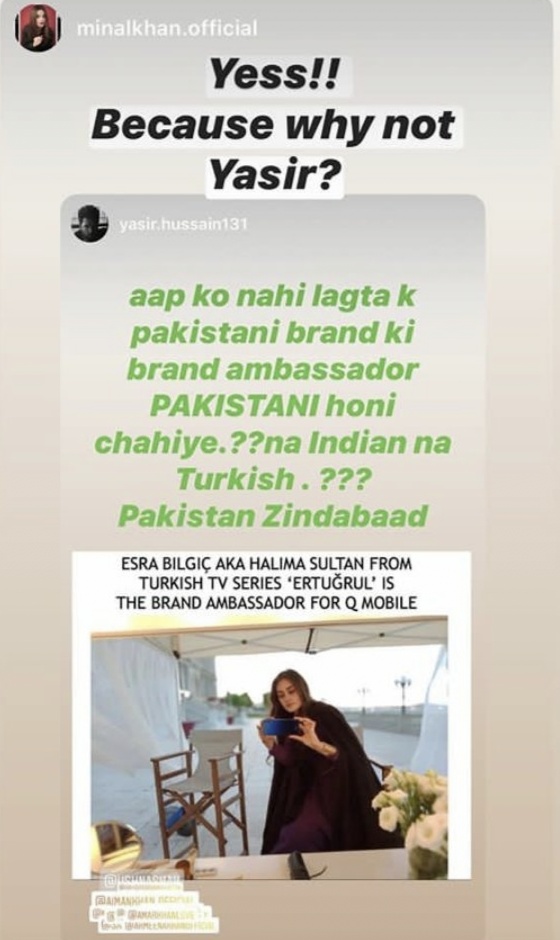 Other celebrities, however, weren't on board with what Yasir had to say. Bilal Ashraf pointed out how art has no boundaries:
We need to welcome all artists from around the globe. Art has no language or boundaries. Don't politicize everything. Love & welcome everyone. PAKISTAN 🇵🇰 Zinda Dil logon ka mulk hai. Aur Pakistani qaum kay dilon mei pyar he pyar hai 😊

— Bilal Ashraf (@IamBilalAshraf) July 14, 2020
Agha Ali too welcomed the stance with open arms: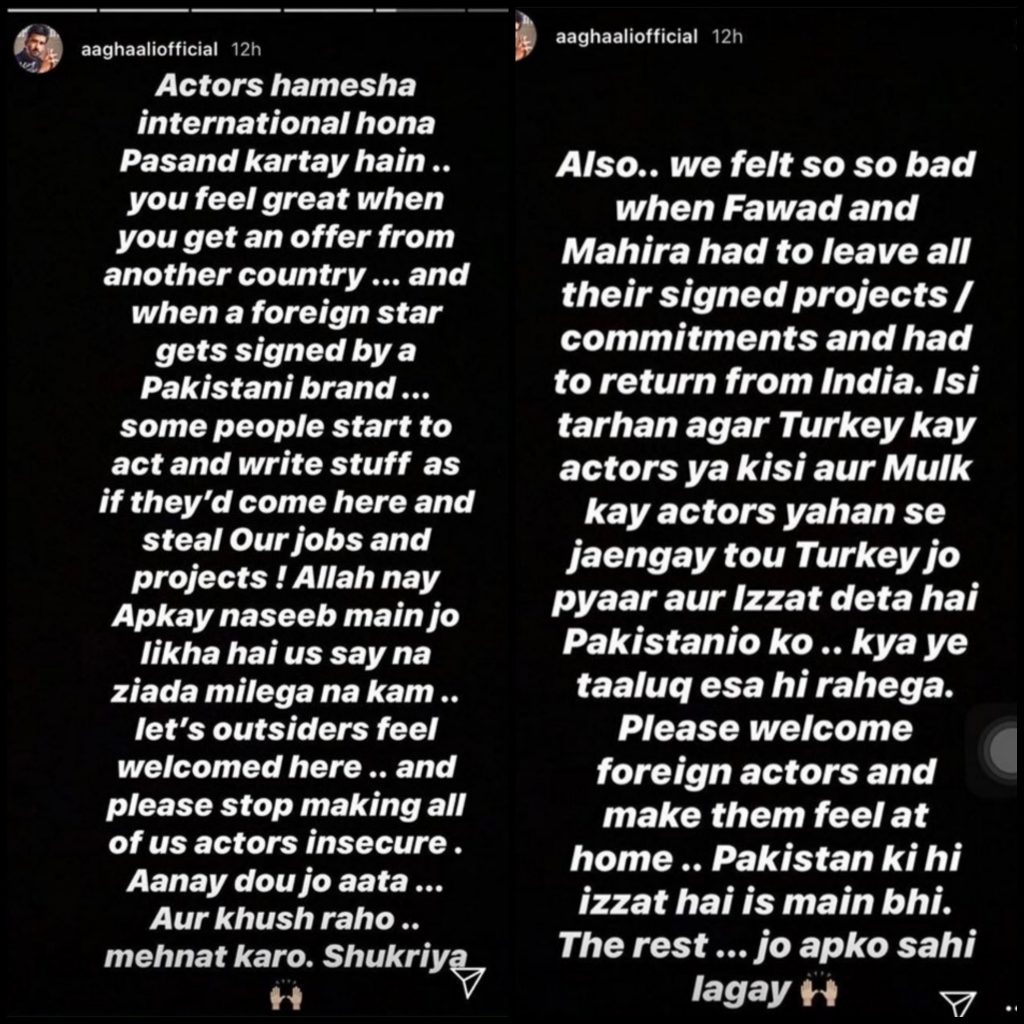 In the comments section, Anoushey Ashraf too graced us with her positive outlook on the situation: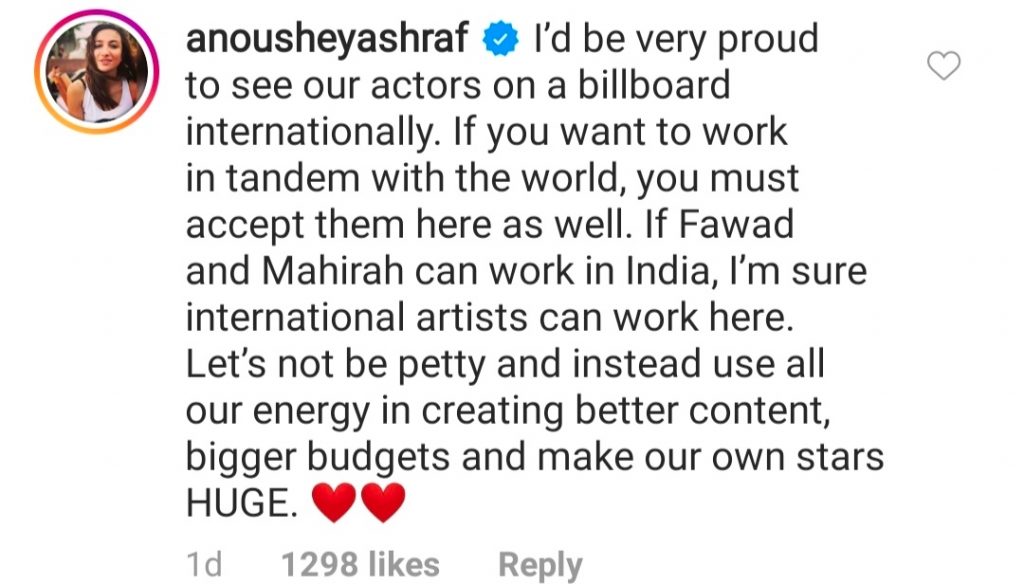 To explain the technical side of how brands work, designer Umar Sayeed too gave his 2 cents: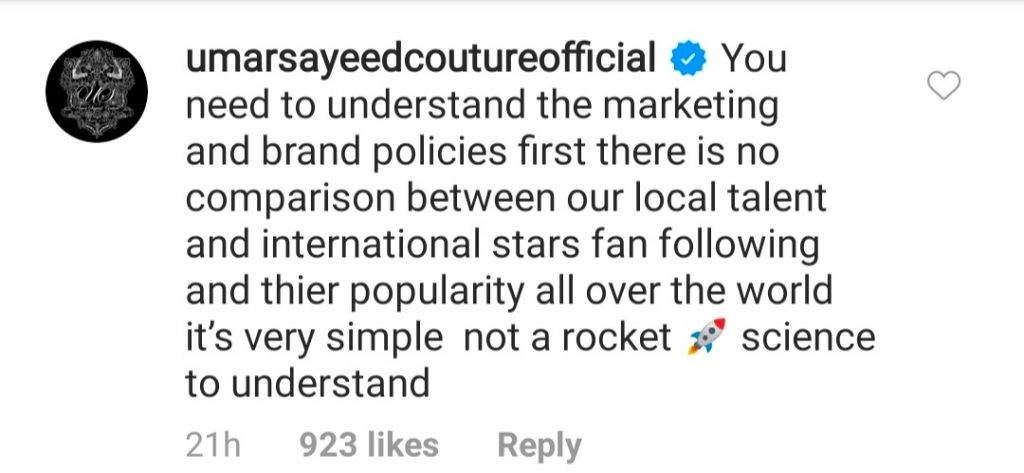 Actress Rabya Kulsoom too shared how she doesn't find anything wrong in signing international talent: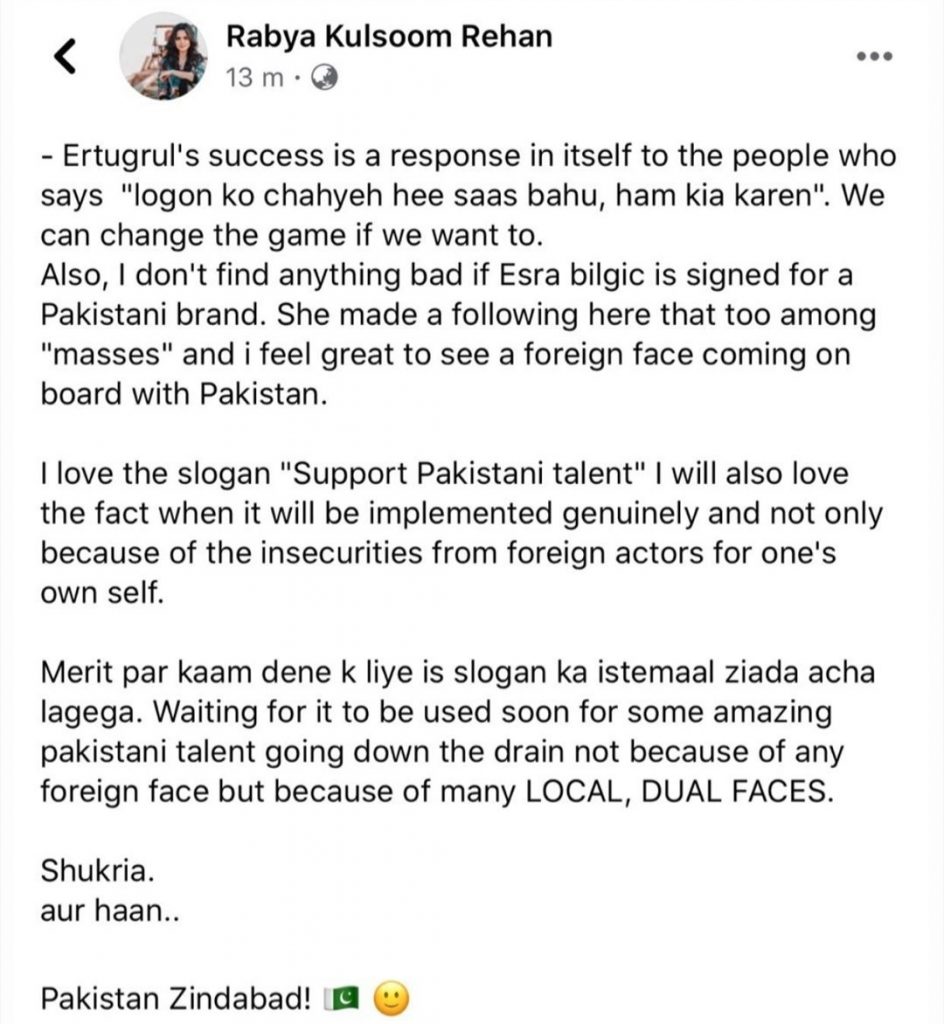 Apart from these celebrities, the netizens too found themselves on board with the decision to sign internarional celebrities and had a lot to say regarding Yasir's opinion:
Why not make a competetive content instead of criticising brands and audience for preferring international content. Ab Yasir Hussain 'jhooti' jasay dramay bnaey ga to than you can only fight for your space on social media. Ajeeb fazool ki aag lagi hui hai Pakistani celebrities ko

— M. (@mahamtahir__) July 14, 2020
Some were calling out on the hypocrisy:
When BW was having problems with our celebrities working there we were so angry and hurt, now we're doing the same thing with other foreign actors? Is this not hypocrisy? Yasir Hussain needs to shut up for real now

— آم (@AmnaKaSamnaa) July 14, 2020
So #YasirHussain Is ok with playing all indian songs on his wedding n dancing to them but does not support turkish television glorifying the beautiful past of muslims. Can Pakistanis make such dramas? N if not then can they atleast support good content? https://t.co/jjynhCrQ9y

— 💜☔ (@Raaz_ia) July 14, 2020
Many called him out for creating a divide:
It's easy for people like Yasir Hussain, Minal Khan, etc to crib about how international actors are becoming brand ambassadors for Pak products/services- Why are these people hell bent on putting DIVIDES when it comes to talent/art. Have all the money in the world yet CRIB.

— Anita Malik (@anita9218) July 13, 2020
Some called Minal Khan out on supporting Yasir Hussain:
#MinalKhan why not ki baat nhi ha. Pessa mile ga to bno gi hi brand ambassador. #YasirHussain ne to bs story dal Di k brand ambassador Pakistani ho. Honeymoon pe abroad jao award shows abroad me krwao. Tb Pakistan yad nhi ata inhe. pic.twitter.com/14yEkYzpHV

— Faiq Ahmad (@FaiqAhm65838192) July 13, 2020
And while many were disagreeing with Yasir and his stance, some agreed!
On the rare occasion when I agree with Yasir Hussain, why can't we have a Pakistani brand ambassador for a Pakistani brand? our actors are so replaceable, it's so sad.

— 🔅 (@pkpopculture) July 13, 2020
And while everyone had their 2 cents to add to the fire, Iqra Aziz became the saving grace and asked people to stop pointing fingers at each other and learn to disagree:

What do you think about this whole situation? Let us know in the comments below!