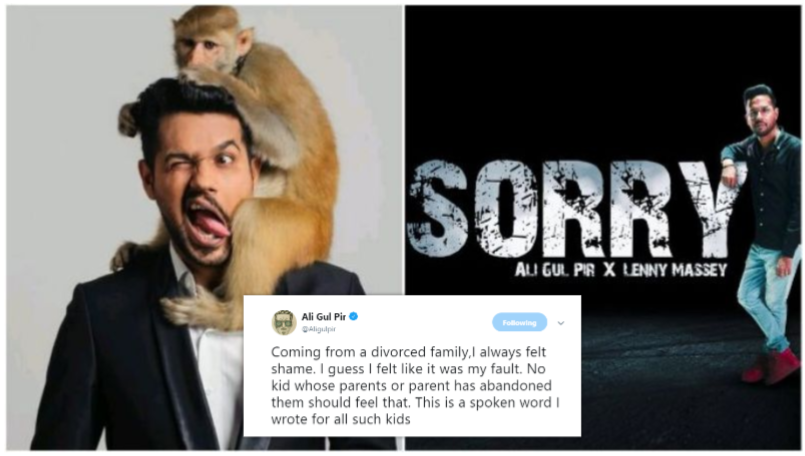 Known for his hard hitting satire, Ali Gul Pir has been in the industry for quite a while now. From Waderay Ka Beta to recreating popular celebrity pictures to anday wala burger, Ali Gul Pir has always left us amused! From his songs to his videos, each and everything is well thought of and takes comedy to the next level.
However, this time Ali Gul Pir has shown a completely different side of his personality to the audience. He released his song 'Sorry I Wasn't Enough' in collaboration with Lenny Massey and his raw, unbridled story struck a chord with many people.
He shared the song in a tweet and opened up about how having divorced parents bought to him a sense of shame and how he spent most of his life blaming himself for the separation. In a society where family dynamics matter the most, kids from broken homes often blame themselves and go through major trauma. And the pain is not just limited to having a parent missing from their life but also the bullying and the judgments that comes from the society: it can break you in ways unimaginable.
Coming from a divorced family,I always felt shame. I guess I felt like it was my fault. No kid whose parents or parent has abandoned them should feel that. This is a spoken word I wrote for all such kids https://t.co/76rshDsL8w #Sorry #NewSong

— Ali Gul Pir (@Aligulpir) April 20, 2019
Fans all over the internet loved the song and praised Ali for his bravery and talking about a topic that not many people talk about. In a reply to a tweet Ali further said that he's seen how children from broken families tend to develop psychological issues without even realizing it.
While growing up, I met many kids from broken homes who did not make it out. They have severe psychological issues now. That's why we need to talk about our stuff now so it doesn't hurt us tomorrow https://t.co/76rshDsL8w #Sorry https://t.co/r9HJCsvRwa

— Ali Gul Pir (@Aligulpir) April 21, 2019
Fans also requested him to elaborate on how he dealt with the situation
this clearly tells the story of many out there. brilliantly put @Aligulpir. I hope you will soon share how you fought with it back than. https://t.co/88y9pVqR0F

— Fahad Ibne Adam (@echoZIDANE) April 20, 2019
Yesss, a 100% yes!
Stop stigmatizing kids of broken families https://t.co/wOtoh1zV8i

— Bushra (@bushraiqbalhusa) April 20, 2019
People opened up about their own experiences being raised in a broken family
I felt this way as a kid bcos my dad wasn't around after my mom died, it's like somehow you are responsible for having an abandoning parent & ppl and their judgements make it worse. https://t.co/Gyg9obMSsP

— Sephora (@seraphina444) April 21, 2019
Many talked about the damage it causes to children
This is heart breaking. Between two hostile spouses or hostile in laws, it's always the child that suffers. Always 💔 whether spouses separate or keep the hostile relationship going, it's always the child that suffers the most. https://t.co/Nh9uYsGKFs

— Nadiya Niazi (@NadeyahN) April 21, 2019
Even people who don't come from broken families could relate to it
Bravo! @Aligulpir my father didn't leave me, instead he just passed away. Maybe fathers who don't leave get left by the kids. But your song reminded me of what a father is, and how well my mine fit that ideal, and for that I salute your courage and honesty https://t.co/PyokczeGWM

— talha bin hamid (@talhamid) April 21, 2019
We're super proud of Ali for starting up a healthy conversation that many are a part of now, you go Ali!