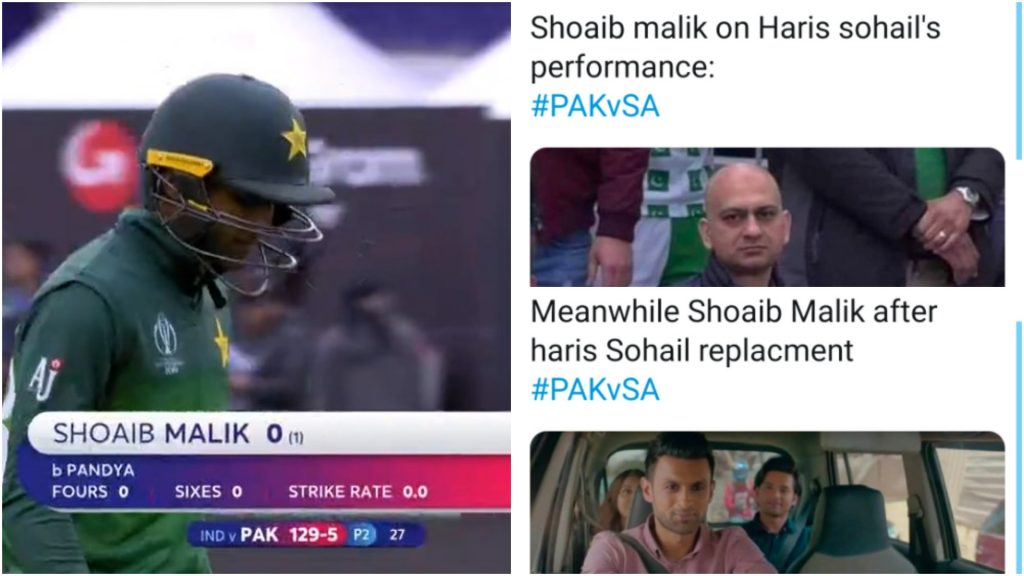 After a few disappointing performances in the World Cup matches, the netizens are upset with Shoaib Malik and want him out of the team.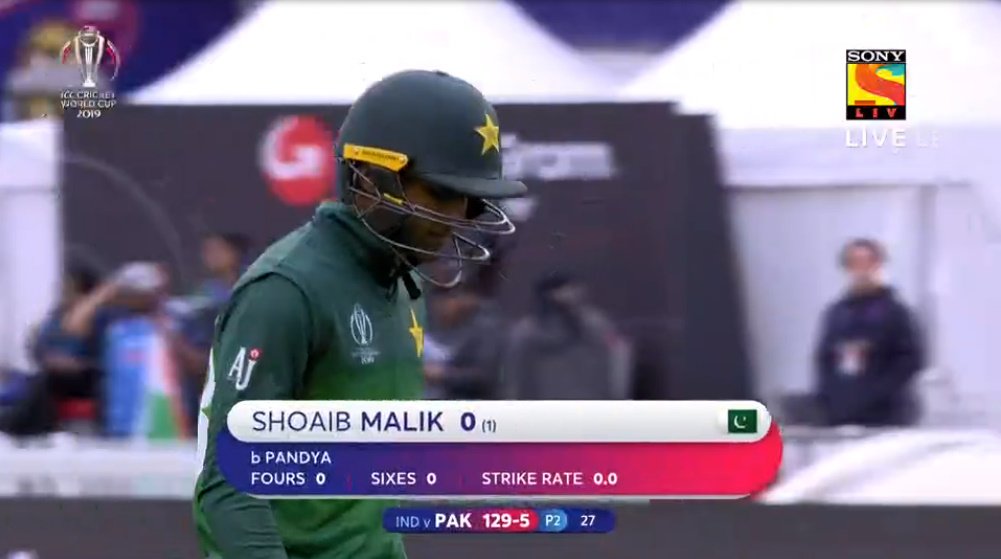 The internet was absolutely mad about Shoaib's performance!
Shoaib Malik after watching Haris Sohail's batting. pic.twitter.com/ZGqlRKNuC4

— B-Rabbit (@iamnomi11) June 26, 2019
There were some brutal tweets:
Don't let Babar Azam's inning distract you from the fact that Haris sohail again ended career of Shoaib malik.

— Haroon (@ThisHaroon) June 26, 2019
There were memes:
*Contribution of Shoaib Malik in this world cup* pic.twitter.com/j9GQsi9e5y

— Tweetless (@tweetlessss) June 27, 2019
A ton of memes:
Man of the match should be given to Shoaib Malik for not being a part of the team today 😍#PAKvSA pic.twitter.com/GkdEU59uhl

— Raجa🇵🇰 💕 (@MEMESBYRAJA123) June 23, 2019
Needless to say, people were really upset:
The real men of the match are shoaib malik and hassan ali for not playing #ICCCricketWorldCup2019 #PAKvsNZ pic.twitter.com/G820BdWqDz

— Shayan adeel (@shayanadeel) June 26, 2019
Shoaib Malik congratulated the team on beating New Zealand via a tweet but ended up being trolled for his performance in the match:
Well done team 💪🏼

Pakistan Zindabad 🇵🇰 #WeHaveWeWill pic.twitter.com/872oqVWAyk

— Shoaib Malik 🇵🇰 (@realshoaibmalik) June 23, 2019
But people did not spare him:
Where is your resignation? Shameless?

— Umair Ahmad (@UMINAIR) June 23, 2019
Woah!
Ab tou crowd mei beth kar hi match dekhna parey ga

— baz (@KhaNuBya) June 23, 2019
Uber jokes came in:
Uber chalao bhai aap

— M i R ز A Y Y Y 🙂 (@Mirzayyyyyy) June 23, 2019
Razor jokes too!
Ya bina cut wali shave bnao😜😜

— Jameel Chughtai 🇵🇰 (@Jameel040) June 23, 2019
Memes were shared:
— E M M Y ツ 🇵🇰 (@EmmySayss) June 23, 2019
Fans thanked him for NOT playing:
Well Done Shoaib, it's all because of you 😂😂

— Ambreen PTI (@AmbreenPTI1) June 23, 2019
Yar…
Apki kami bilkul mehsoos nahi hui shoaib bhai

— m. (@dafahojaoo) June 23, 2019
Sania Mirza Malik too, tweeted after the PakvsNZ match and people came at her with derogatory remarks for her husband:
What an incredibly great leveler sport can be 🙃😏

— Sania Mirza (@MirzaSania) June 26, 2019
And people came right back at her:
*Haris Sohail Scoring Back to Back 50s*

Meanwhile, Shoaib Malik in his Uber: pic.twitter.com/gPUZSpa3ej

— Asad🇵🇰 (@GoStudyAsad) June 26, 2019
The meme guy made an appearance too!
Malik seeing Pakistan win without him 🤣 pic.twitter.com/0j0MsHo38M

— Haris Abbasi (@Abbasirock2) June 26, 2019
Well…
All credit goes to Shoaib Malik for not playing 🙏

— Rameez Raja (@RameezR00140289) June 26, 2019
There was a ton of sarcasm!
All thanks to your husband for not disappointing the team thrice :p

— Fara Yousuf (@Farayous) June 26, 2019
Many thought he should just enjoy his vacations:
No thank you! Jiju can enjoy the vacations there.

— عثمان آفریدی (@TBag_afridi) June 27, 2019
Many thanked Shoaib for giving Haris Sohail a chance:
Babar Azam & Haris Sohail were amazing. Thanks to Shoaib Bhai for giving Haris the opportunity to play.

— Anjum Kiani (@AnjumKiani) June 27, 2019
Some bought in the sheesha incident:
Thankyou for the sheesha pictures. Uske bagher abhi tak Malik khelra hota. Love you.

— Areeba 🇵🇰 (@areeba_fasihi) June 26, 2019
There were furious netizens:
Haris Sohail ki last 2 innings Shoaib Malik ky 20 saal ky career se bht behtar hain

— Asad🇵🇰 (@GoStudyAsad) June 26, 2019
And while the Pakistanis were at it, this Indian parody account tried using the 'agent' joke on us…
Haters gonna hate but deep down we all miss our secret agent Shoaib Malik. Hope they give him a chance in the next match. 🙏 #PAKvNZ #NZvPAK #CWC19 pic.twitter.com/r0qaa0ki1L

— Sir Jadeja fan (@SirJadeja) June 26, 2019
People were ruthless…
And please tell your husband to not interfere until we have won the #WC19. Phir celebrations mai usko bhi dance Karne ka poora moqa milega

— Farhan Bashir (@I_m_Farru) June 26, 2019
And while many were trolling Shoaib Malik there were a few genuine fans who demanded respect for him:
Guys respect everyone please. Everyone has bad days. Don't tweet bad against him. If sarfaraz can be respected now bina kuch team ke liye kiye then why not shoaib. Repeat your players, they need support 🌸 https://t.co/H3cGcvJuAz

— Hermaine (@Hermxxni) June 23, 2019
Some shared how they jave been missing him:
Missing You.
Wish you best best best luck for come back again

— Malik Asad Aslam (@500Muhammad) June 23, 2019
Yaaaas!
Haris Sohail scoring top notch doesn't mean to curse/troll Shoaib Malik. A player doesn't get out of form himself. Bad patch is a part. Every player wants to end his career in the best of his abilities. Let this moment be of Haris as he proved well for team & respect💞

— A a M e r (@AaMir_Speaks) June 23, 2019
Many shared how he still is one of the best players:
shoain ki form dekhni hain tu last Asia cup dekh lena bai.jabh hr banda fail hova wahan iss ki batting dekhna par hum bhool jatay hain jaldi

— Irfan Nazeer🇵🇰عرفان (@r_irfann1986) June 24, 2019
Schooled right!
A player who has already announced that this is his last World Cup. How can he do such foolish things? He's out of form. But not selling himself.

— ♡Gumnaam☆ (@Gumnam_TM) June 23, 2019
Someone even shared a video of him with his fans:
He is not performing well but look at this video he's always there for his fans❤ pic.twitter.com/Up0PHszZFr

— SARP🕴 (@Justin12393LEE) June 24, 2019
Many urged that people.stop criticizing him:
Shoaib Malik During Practice 😔
Don't Criticize Him pls 🙏
He is Very Talented player 👍❤#PAKvSA #WeHaveWeWill pic.twitter.com/on638DGWL6

— i๓คคຖ🇵🇰♥ (@imaanAli_10) June 24, 2019
Many shared how he is a legend:
Bhai malik shahzada hai.. Koi baat ni is #WorldCup mein performance itniii achii ni thi balk bilkul achi ni thi… Lykin legend hai humri team k.. Or hum support kry gy unko hr haal mein @realshoaibmalik ❤️

— Muhammad Irfan (@Muhamma31920403) June 27, 2019
People asked for support for every player including Shoaib Malik:
Pakistan should include @realshoaibmalik in the playing 11 now as team is in a good rhythm. We need a senior player like shoaib malik. Its time to support each and every player ❤️❤️

— مهمد شهریار (@shehryar968) June 27, 2019
Life Is Full Of Ups and downs… Shoaib Malik Played Many brilliant INNINGS for Pakistan… He saved us Many times For Example VS AFGHANISTAN IN ASIA CUP…. We Need To Support Him in this Bad Time In his career…. ❤️ ❤️ ❤️ ❤️ MAY ALLAH BLESS HIM WITH MORE N MORE SUCCESS

— Rashid Latif (@rashidlatif_470) June 26, 2019
Fans reminded the haters of his previous performances:
Every player got their own talent and Shoaib Malik got his own, never forget his most match winning performances.Every player get through bad times and we must Support @realshoaibmalik at this stage of his Career.

— Shahzad Anwar (@ShahzadLowerDir) June 26, 2019
Ups and downs are a part of life:
Not at all. @realshoaibmalik is the most fit and stylish player in Pakistan team. Don't forget about his performances for Pakistan's victory. There may be a hard time for him but like Pakistan, he also knows how to bounce back like always. Support him rather than doing this. 👍🏻

— Shaheer Ahmad (@Shaheer1122) June 27, 2019
Agreed!
Shoaib Malik spotted crying during namaz in stadium… winning or losing are a part of game and we must support our team in every crucial tournament❤ pic.twitter.com/v25fKdpULg

— Sana Malik (@sana928601) June 26, 2019
Fans wished him good luck and sent prayers his way:
@realshoaibmalik you're one of the finest players of all time. I stand by and support you in your hard times. Best of Luck ahead champ for your upcoming tournament and make this tournament a memorable one.
Best wishes for team @TheRealPCB 🇵🇰 #Wehavewewill #CWC19

— ammar nayyar (@AmmarNayyar2) June 24, 2019
What do you think about Shoaib Malik's performance in this World Cup? Let us know in the comments below!