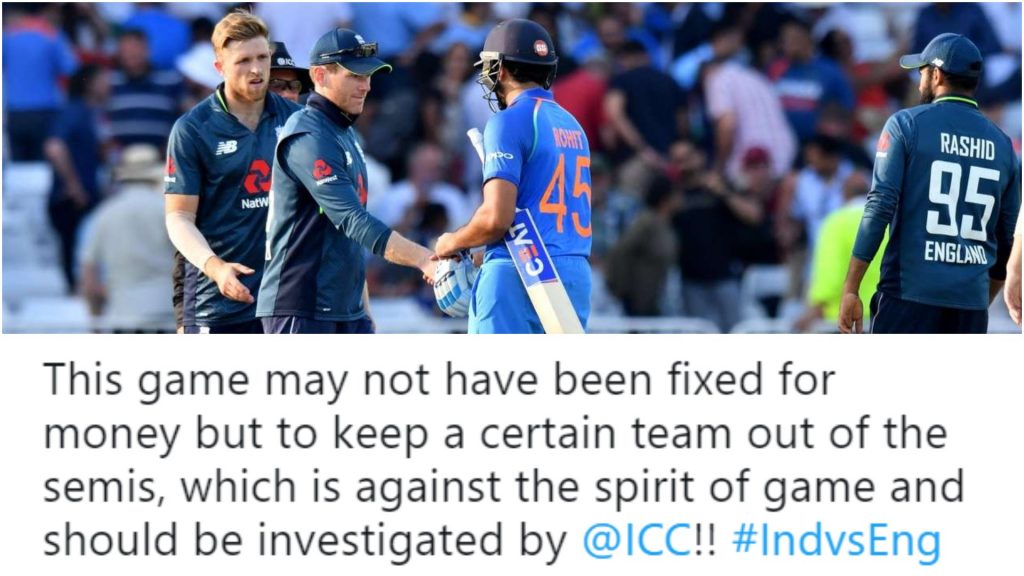 Yesterday India played against England and lost, a ton of Pakistanis were rooting for India to beat England. Had India won the match, the chances of Pakistan making it to the semi-finals could have been much better. But team India and their intent was pretty clear from their body language and lack of interest and the internet was not happy about it!
This game may not have been fixed for money but to keep a certain team out of the semis, which is against the spirit of game and should be investigated by @ICC!! #IndvsEng #ENGvIND @SkySports @ARYNEWSOFFICIAL

— Ismi Caan (@ismi_caan) June 30, 2019
Many knew exact reason why:
Why India Lost the match ?#IndvsEng #indiavsEngland #Fixed pic.twitter.com/RHEzPKBi8V

— Faisal (@FaisalViewss) June 30, 2019
Well…
Name a more fixed match, I'll wait. #INDvsEng

— Momina (@MominaWarraich) June 30, 2019
Many compared world class.Indian team to that of Lagaan 😂
Better team than Indian Team#fixed #indiavsEngland #IndvsEng #IndvEng pic.twitter.com/8fPWj31Ygt

— Faisal (@FaisalViewss) June 30, 2019
People thought the team showed zero interest in winning:
0% effort and 0% interest shown by indian team today in a world cup match which u r playing for your country,im really disappointed as a genuine cricket fan! Small people small mind! #INDvsEًNG #fixed

— Usman khan (@imUsmankhan7) June 30, 2019
People had questions…
How on earth Indian team hit their first Sixer in the 50th over while chasing 337. They played like a Test Match in the final 5 overs. A lot of questions are being raised. #IndvsEng #ENGvIND. Did ICC and BCCI together fixed this match ? Has indian mindset currupted ICC as well ?

— Adnan 🇨🇦 (@RealAdnanSays) June 30, 2019
Many called it a surgical strike:
India carried out a surgical strike on itself to stop Pakistan from making it to Semi finals. #INDvsEًNG #fixed

— Kashif (@mrKashif_) June 30, 2019
Definitely fishy:
Batsman like Virat Kohli and Rohit Sharma on strike.. Making just 28 runs in first 10 over.. Hitter like MS Dhoni didn't hit six.. Something fishy.. Something fixed.#indveng #engvind #cwc19

— Muhammad Arshad 🇵🇰🇵🇰 (@ArshadOfficials) June 30, 2019
People lauded Virat for his acting skills:
Virat hitting boundaries so it doesn't look soo obvious that the match is fixed, a good captain, a good batsman and a good actor too.

— شاہ زیب خان (@shzbkhn) June 30, 2019
Many thought it was a part of a more sinister plan:
For @ICC investigating India's suspicious loss to England is a clear case of match-fixing – a whole match fixed, not just spot-fixing. A whole team fixed a match to lose as per a sinister plan. @ICC wil lose moral authority by not conducting an inquiry in2 India's off performance

— Murtaza Ali Shah (@MurtazaViews) June 30, 2019
People couldn't get over the fact that the first six was scored after 50 overs:
70 meters boundary.
Big Indian batting lineup.
Well settled Rohit-Kohli.
27-1 in first ten overs.
Flat pitch.
Just 1 six in 50 overs.
Didn't try to hit ball hard in last six overs.
Lost just five wickets.
This is how a fixed match looks like.#ENGvIND #INDvENG #CWC19

— Malik Danish🇵🇰 (France 🇫🇷) (@oyemal1k) June 30, 2019
Aunty Gormint made an appearance:
After watching Indian performance.😂
ICC like this.😅#CWC19 #ENGvsIND #fixed #Dhoni pic.twitter.com/muMTcIXm8F

— Muhammad Asim (@HMAsim44) June 30, 2019
People claimed that the Indian team was scared of the men in green:
I told you guys this match was fixed. #TeamIndia knows it well that Green Shirts are in great form. India lost it deliberately – they don't want to see Team Pakistan in the semi-finals. Shame on you India!#INDvsENG #indiavsEngland

— Maira Tariq🇵🇰 (@mairatariq) June 30, 2019
People shared how even the commentators were baffled and in disbelief over a performance so poor:
Eng vs ind.If this match is nt fixed thn wat is.even commentators r baffled.I cant explain this says gaurav ganguly.give it a go atleast says nasir Hussain.On the biggest international stage, WC, &this happens,right under the nose of ICC.shameless.koi sharam,koi haya hoti hai

— Kashif Abbasi (@Kashifabbasiary) June 30, 2019
There were memes:
Dhoni and Kedar eating dot balls today. #INDvENG pic.twitter.com/S8r1ZxzZta

— Neeta Ambani Fan (@Neetahoon) June 30, 2019
But none the less, there was hope!
Tu kya hua agar kohli se nae hua chase, abhe hamare paas aik aur scheme pari hai pic.twitter.com/m6fnmY9PNx

— Ayeshay (@champagne_lassi) June 30, 2019
Do you think the match was fixed too? Let us know in the comments below!