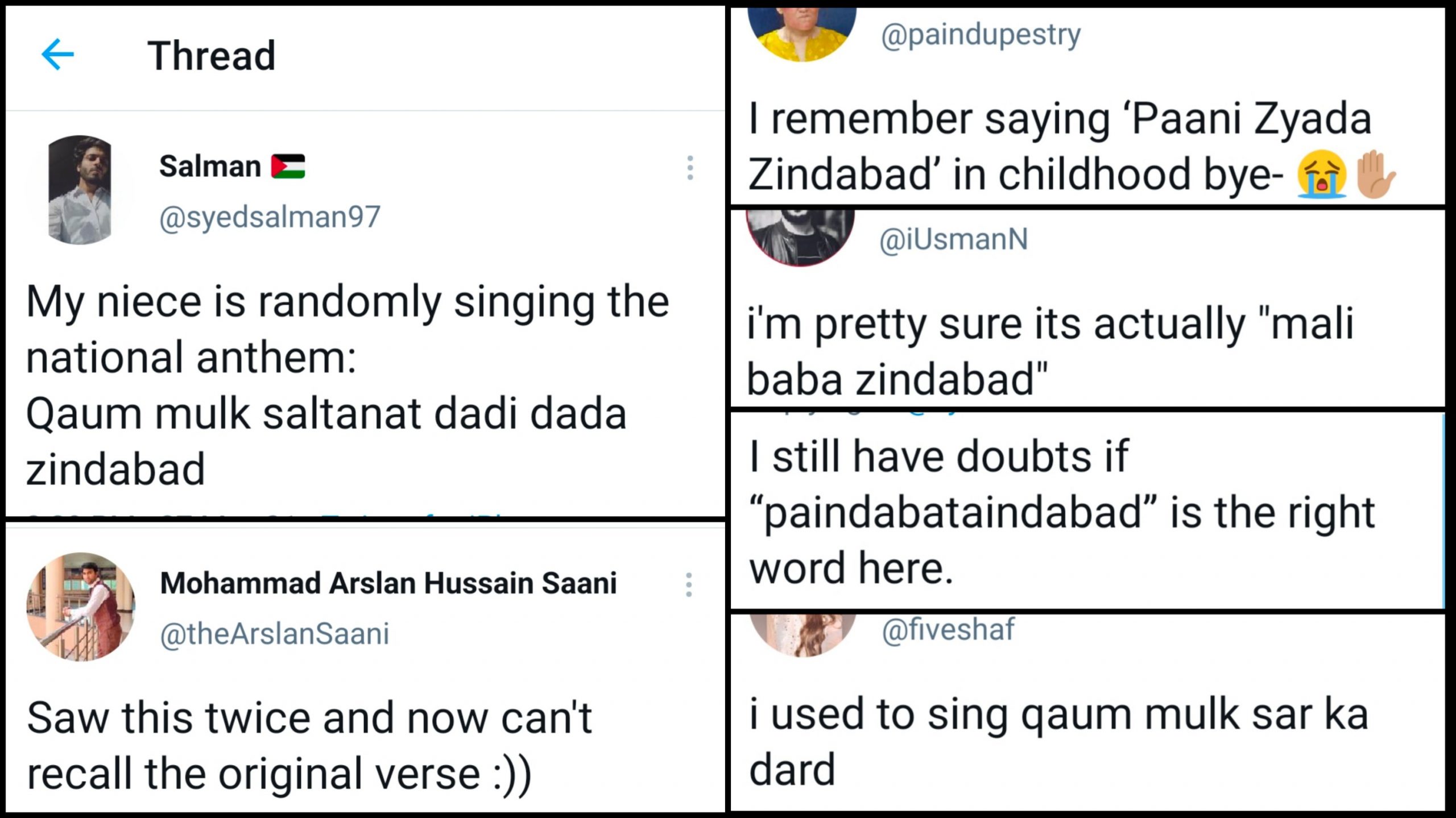 We've all gotten the lines to national anthem wrong as kids at some point and with schools being closed for more than a year now, children too have been deprived of singing the national anthem everyday.
A Twitter user took to the platform to share what his niece was singing:
My niece is randomly singing the national anthem:
Qaum mulk saltanat dadi dada zindabad

— Salman 🇵🇸 (@syedsalman97) May 27, 2021
And fellow netizens are sharing their hilarious takes on what they used to sing as kids:
i used to sing qaum mulk sar ka dard https://t.co/jTgAvLNBxC

— 🇵🇸 (@fiveshaf) May 27, 2021
Why is it always this line?
Haahahahaha. When i was a kid i used to say "PaiDaadaPindabad" 🤣

— Sir Saith Abdullah 🇵🇸🇵🇰 (@SaithAbdullah99) May 27, 2021
Girl, we…
I still have doubts if "paindabataindabad" is the right word here.

— 𝕾 🇵🇸 (@seennzoned) May 27, 2021
🤦‍♀️🤦‍♀️🤦‍♀️
😂 better than what I used to say: maali baba zindabad. https://t.co/HcxAkXr5Ft

— Saqib Mehmood (@notcelestial_) May 27, 2021
Yar 😂
Lol! Why is it always this line. My son used to say, 'Qaum mulk saltanat, paani la ke deta ja' 🤦🏽‍♀️

— Zahra Raza Barlas (@ZedBeee) May 27, 2021
Matlab 😂😂😂
I used to say pani dada https://t.co/btW1FPDvMM

— Bilal (@Akhund_Bilal1) May 27, 2021
Kids these days…
Once heard a child singing: 'Qoum mulk sarhak dharak painda tabinda bad' 😂 https://t.co/aMdl04Hmyg

— I. 🇵🇰 (@soooperwoman) May 27, 2021
Pani ziada? Karachiites can't relate!
I remember saying 'Paani Zyada Zindabad' in childhood bye- 😭✋🏽 https://t.co/D05HX4UawX

— 🇵🇸 (@paindupestry) May 27, 2021
It's a first!
@LahoreWali_ Ever heard "paain sada zindabad"

— izzah 🇵🇸 (@izzah_adnan1) May 27, 2021
Hahahahahahahaha 😂
When I was in 8, I sung it like
Gol Mol Saltanat 😂

— Neha Malik (@NehaMalik_Views) May 27, 2021
😂😬
I used to sing "Qaum mulk Sultanat Bhai Dada zindabad and then life happened😂

— Deadly Doraemon (@frenchtoast63) May 28, 2021
Lmao, nai karo yar 😂
It's like 'us k dada ki tareef mumkin nhi afreen afreen 😁

— Arab khan Marwat (@Arabkhan) May 27, 2021
What are y'all?
And we used to sing,
پائی (بھائی) ساڈا زندہ باد 🤣😁

— The Futuristic (@sajid_cma) May 27, 2021
We know right?
Yh parh k asli wala bhool gya hy 😭😭😂

— SHEIKHNI 🇵🇸🇵🇰 (@oyesheikhni) May 27, 2021
Oh bhaeee, it's in Farsi 🤦‍♀️
The person who wrote the national anthem should have known hamain itni mushkil Urdu nahi aati 😔😔😭😭😭😭😭

— 𝗙𝗶𝘇𝘇𝗮 𝗔𝗯𝗯𝗮𝗰𝗶 (@FizzaAbbaci) May 27, 2021
Batao batao!
Meanwhile Nani Nana: pic.twitter.com/rbOKrBwwgM

— Steve Carell'a – اسٹیو کریلا (@MeekalShaukat) May 27, 2021
Some had a moment of clarity!
So this isn't what the national anthem is saying? https://t.co/l8Qaol4Qdj

— nur (@imignoored) May 27, 2021
People could relate!
Thats what I used to sing as well when I was a kid . LoL 😆 https://t.co/8KymnOe9Po

— Dr Ayesha (@Dr_AyeshaNavid) May 27, 2021
Haha, jo baat hai!
Or koi khush hona ho, uskay daadi dada bohat khush hongay

— REAL_Fanatic (@faaz_aoun) May 27, 2021
We all do!
I randomly sing 🎤 Dil say mein nay Dekha Pakistan 🇵🇰

— Ayesha Liaqat ⭐️ (@economistayesha) May 27, 2021
Guilty!
We all have done the same at some point 🤣 https://t.co/GIrQ6ATMjX

— NOAH 🇵🇰 (@DalChawal_) May 27, 2021
What did you guys sing as kids? Let us know in the comments below!