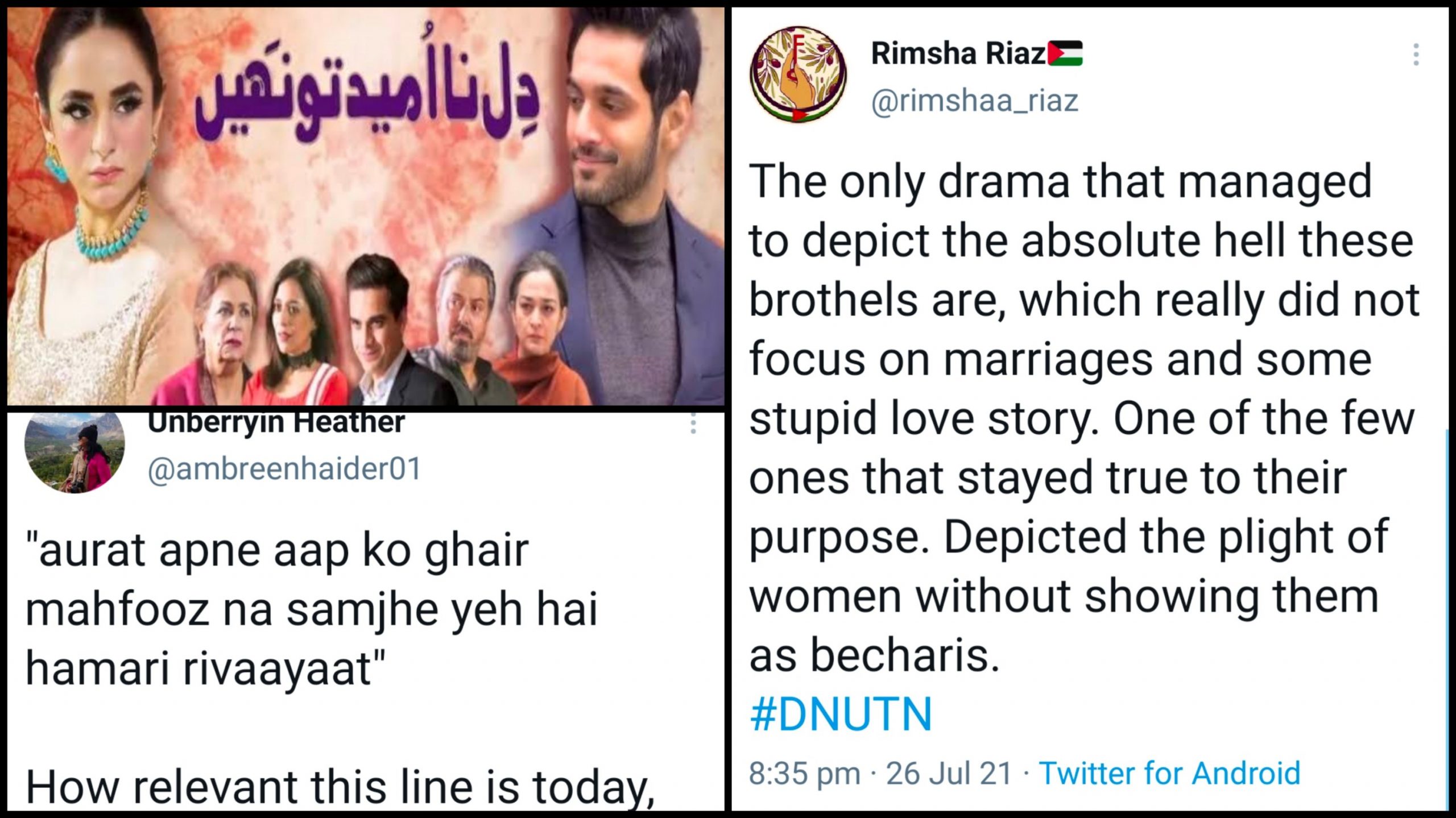 Dil Na Umeed Toh Nahi took us on a journey, a journey that showed us the gruesome realities of life that hundreds and thousands of girls and women face in the country. From child marriages to human trafficking, child abuse to abusive parents to the loug kya kaheinge mentality.
The drama finally came to an end, and dare we call it, the need of the hour considering the recent femicide happening all over the country. The drama ended on a rather hopeful yet bittersweet note, not everyone is as resilient and lucky as Sumbul, not everyone has a Jamshed and Zulfi to save them and that doesn't mean that we should give up. Just like the drama itself, its ending was very close to real life, telling us how happily-ever-afters are a lie, life has its ups and its downs, some days you laugh, some days you cry and we simply loved it!
Here's what the netizens think!
The only drama that managed to depict the absolute hell these brothels are, which really did not focus on marriages and some stupid love story. One of the few ones that stayed true to their purpose. Depicted the plight of women without showing them as becharis.#DNUTN

— Rimsha Riaz🇵🇸 (@rimshaa_riaz) July 26, 2021
Absolutely!
"aurat apne aap ko ghair mahfooz na samjhe yeh hai hamari rivaayaat"

How relevant this line is today, to the circumstances endured the last few days: femicide in Pakistan, to what Quratulain, Saima and #NoorMukaddam endured #DNUTN #DilNaUmeedTohNahi

— Unberryin Heather (@ambreenhaider01) July 26, 2021
People were lauding Jamshed and Zulfi for trying to convince Naseem Zehra's father:
#DilNaUmeedTohNahi well done Jamshed & Zulfi for talking some sense into Naseem's father while bearing his abusive & maddening tone. The amount of social issues highlighted in that single scene alone is just amazing. Well done again to writers of this amazing drama. Hats off! 💯 pic.twitter.com/GZROGPykOE

— D.v.J. (@JVguy3) July 26, 2021
Each one of them a master of their craft!
damn, what an extremely powerful & chilling beginning of the episode, giving literal goosebumps. uff, noorulhassan, saima mumtaz, wahaj, omair rana, kashaf mehmood, fajar – spectacular performance. 👏🔥 #DilNaUmeedTohNahi

— 🌸 (@Izanxious) July 26, 2021
❤
ہنستی رہا کرو اچھی لگتی ہو.
Jamshed & Rakhi…for the final time.#DilNaUmeedTohNahi ❤️💯#YumnaZaidi #WahajAli pic.twitter.com/rkch0bvCOA

— D.v.J. (@JVguy3) July 26, 2021
Same 😭
"haan lekin main hero nhi hon."
"kaam tou saare hero wale hai tumhare. han bas tum dance nhi karte aur na gaa'ate ho."🤣
—pls, i'm going to miss these goofy babies so much. love love this entire scene & their beautiful convo.😭#DilNaUmeedTohNahi

— 🌸 (@Izanxious) July 26, 2021
The tales of their bravery and resilience will forever live in our hearts:
Thankyou for giving us #Jimmyrakhi ❤️🥺 They are very precious & Special For me🥺 I am Gonna miss this Masterpiece 😭🙌 @iamwahajali @yumnazaidi3
Hope we see you guyz again Onscreen 🥺😭❤️🤧#DilNaUmeedTohNahi #Dnutn#yumnazaidi #wahajali pic.twitter.com/8QaolMDmq4

— Mk Creationz (@CreationzMaryam) July 26, 2021
Our heart breaks for women who have to see monsters like him every day:
Ikram is a beast, my heart literally start racing the moment I see his face. I can't begin to imagine what women who face such monsters go through every day. It is so scary, I feel like crying. #DilNaUmeedTohNahi

— 𝐤𝐞𝐧𝐳 ✿ (@sprinkleswind) July 24, 2021
I think Sawera got her closure in the second last episode:
there wasn't any sawera scene???? whyyyy??????#DilNaUmeedTohNahi

— 🌸 (@Izanxious) July 26, 2021
LOUDER!
"behayai mere jism mein nahi, unki aankhon mein hai." —LOUDER GURL!!!!🔥#DilNaUmeedTohNahi

— 🌸 (@Izanxious) July 26, 2021
So simple and yet so deep:
دل نا امید تو نہیں ناکام ہی تو ہے.
لمبی ہے غم کی شام پر شام ہی تو ہے.
What beautiful words to end this beautiful show. Kudos & top marks. 💯✅💙#DilNaUmeedTohNahi

— D.v.J. (@JVguy3) July 26, 2021
How did you like the last episode? Let us know in the comments below!