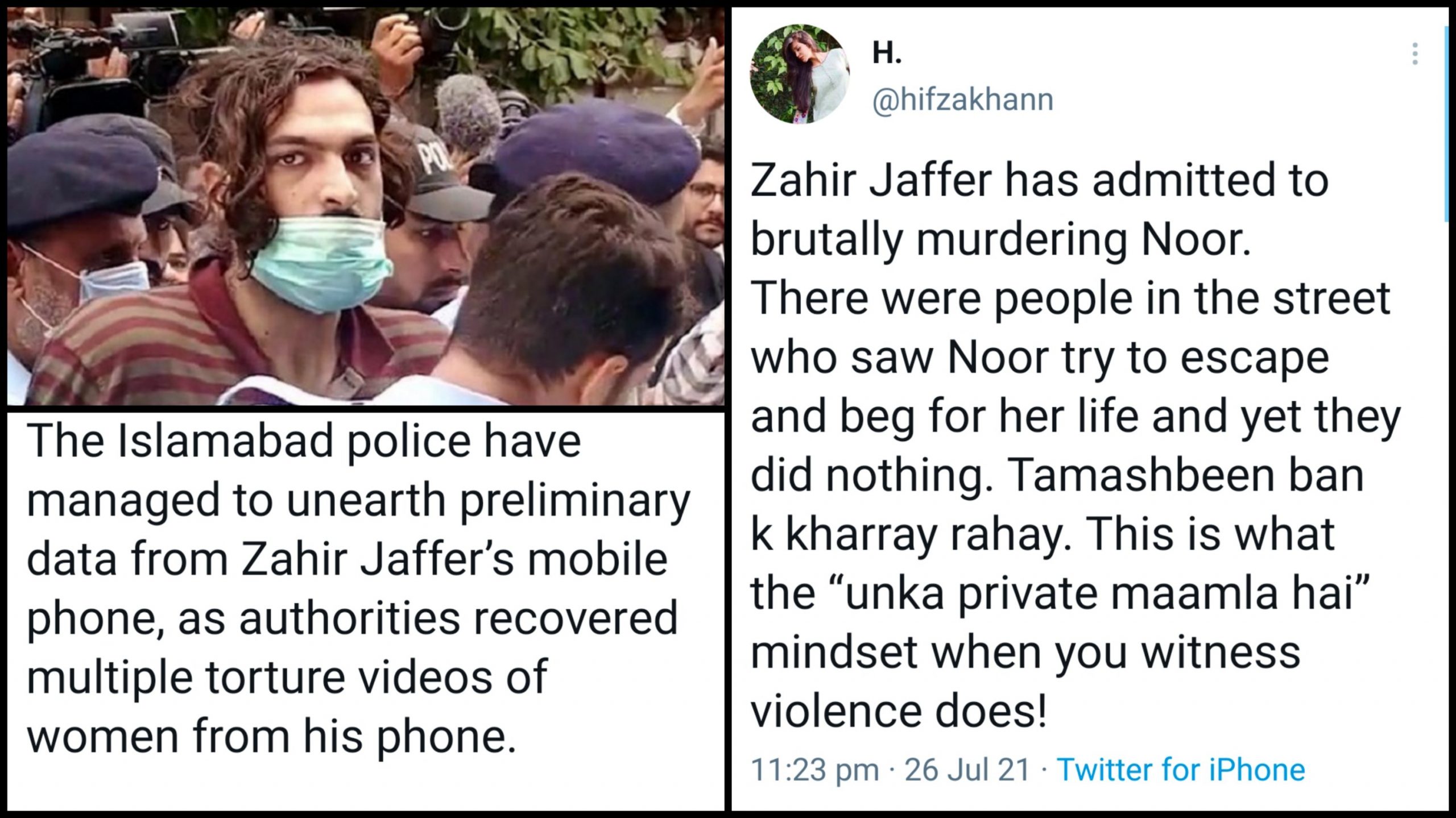 The nation has been in great shock after Noor Mukaddam was found beheaded at Zahir Jaffar's house. Zahir Jaffer, after being under physical remand finally confessed to brutally murdering Noor.
Zahir, in his confession also shared the grotesque details of how Noor was dragged on the street outside his residence and onlookers chose to do nothing. Zahir's friends were also aware of the situation and we're outside his residence but none of them bothered calling the police.
It was also revealed that when Noor went missing, her friends came to Zahir's house but weren't let in by the guards, Zahir, from the terrace, lied to them that he didn't know anything about Noor. Noor at one point, jumped off of the terrace to save her life but the guards did not help her escape, they eventually forced her back into the house. It was also revealed by Zahir that he assaulted Noor for 3 hours before killing her. Like we said, the more details we find out, the more traumatizing it gets.
The data in his mobile phone has also been recovered and has videos of him torturing multiple women including Noor.
And Pakistanis want nothing but an example to be made out of Zahir and his enablers. They are also demanding that Therapy Works also be held accountable for hiring an unlicensed therapist like him. Ever since the murder, netizens have been taking it to social media and protesting on the streets to hang the culprit.
Make these faces known to the public, the murderer #ZahirJaffer, & accomplices – his father #ZakirJaffer & mother #AsmatAdamjee. I hope their lives, business, family everything is ruined forever. #JusticeForNoor pic.twitter.com/i8uf1lTMVl

— . (@sluttysavitriii) July 24, 2021
Everyone involved should be held accountable!
Why aren't we naming and shaming #ZahirJaffer friends who were there at the time of the murder and did nothing and those who have visited him in jail?#JusticeForNoormukadam

— aloo آلو (@kachalooooo) July 25, 2021
To all residents of Islamabad:
Who are the friends who were at #ZahirJaffer house whilst Noor was being murdered.
It's 100% confirmed a crowd of friends were there. They DID not call police. NAME AND SHAME THEM #NoorMukaddam #JusticeForNoor #NoorMukadam #Islamabad

— BabyJalebi (@babyjalebiz) July 24, 2021
Therapy Works is sealed. The parents of #ZahirJaffar in jail. Now the friends of jaffar and Noor who knew about the situation and did not call the police also need to see the inside of a jail cell… pic.twitter.com/z9ciuwaW4G

— Dr.Mahra Butt (@MahraButt) July 25, 2021
💔
I saw people hugging their daughters with the fear of what if she's next,this trauma will stay with us all for long,I know I will be there for every hearing until the justice is served!This is fight of all the girls we are unaware of💔
#NoorNeedsJustice #ZahirJaffer #EndFemicide pic.twitter.com/UVskUQC7wK

— Syeda Kashmala (@ESehar) July 25, 2021
They are equally responsible!
SSP investigations says had #ZahirJaffer parents called police instead of Therapy Works, she might have survived….The parents are complicit and culpable. Surely they should be charged with aiding and abetting a grievous murder. https://t.co/0RVRF8rml3

— Quatrina (@QuatrinaHosain) July 24, 2021
Murderer!
The murder of Noor Mukadam is not about anything but #ZahirJaffer's indescribable barbarity. Why he killed is of no consequence – other than for a psychological study of a horrific killing. The only thing that is of relevance is that #ZahirJaffer butchered a woman in his home.

— Mehr Tarar (@MehrTarar) July 24, 2021
Bone-chilling!
Can't even imagine the horrors of this case:CCTV footage shows #NoorMukadam trying to escape by jumping from the first storey & rushing towards the (locked) main gate.
Hid herself in a guard's room & #ZahirJaffar breaks into the room drags her back into the house.#JusticeForNoor pic.twitter.com/8ZesJexO3F

— Raza Ahmad Rumi (@Razarumi) July 27, 2021
Disgusting!
Multiple victims 🙂
*no one knew* not the parents,not the elite who coddled him,not therapy works.
None of them felt comfortable and safe enough to speak up,all suffering in paralysing fear.
How does an animal of this nature go undetected and unreported? https://t.co/0LHxdzmz0c

— #merajismmerimerzi (@thesedcat) July 27, 2021
Aameen!
May Zahir Jaffar n every Zahir Jaffar that roams in this world rot in hell. I'm pissed. I'm frustrated. Nothing will noor bring back. I'm so frustrated. No torture will be equal to wot he rlly deserves #JusticeForNoor https://t.co/94UoA3WJvZ

— 🌿🌸Rida🌸🌿 (@ditch_karao) July 27, 2021
This needs to change today, now, right this second!
People on street saw Zahir Jaffer torturing Noor and did nothing, this is exactly what happens when we teach ourselves, domestic violence is acceptable. No matter what happens next door is none of our business. Shame#JusticeForNoor#JusticeForNoormukadam#ZahirJaffar

— Ahmad Mujtaba (@TheAhmadM) July 27, 2021
Horrific!
Just saw a video of Noor Mukadam and Zahir Jaffar dancing together on a wedding. It was terrifying. She trusted him, laughed with him, danced with him. We are doomed, there's no place for justice. Absolutely horrified!

— eman. (@peachyflights) July 26, 2021
We can not even imagine the pain and the fear:
The more I read about #NoorMukaddam case the more fucked up Zahir Jaffar gets. I am sitting here crying my eyes out at just how barbaric men in our society can be.
I keep thinking about her last thoughts, her fear, her cries. I can't.

— Hareem (@arayhareem) July 26, 2021
We should have one.
Why can't we have a law where people like #ZahirJaffar, with clear evidence of committing a murder, should be hanged straightaway for their heinous crimes instead of these court hearings and giving the powerful opportunities to get away with their crimes. #JusticeForNoor

— Suhayb (@SuhaybALi) July 25, 2021
Monster!
My friend asked me about zahir jaffar, is he a well educated nescient? i replied no, he is a well educated Beast.#JusticeForNoor #ZahirJaffar pic.twitter.com/pXGMzLkeuk

— Malik ali (@imalikali) July 25, 2021
What do you think should be the punishment for Zahir Jaffar? Let us know in the comments below!