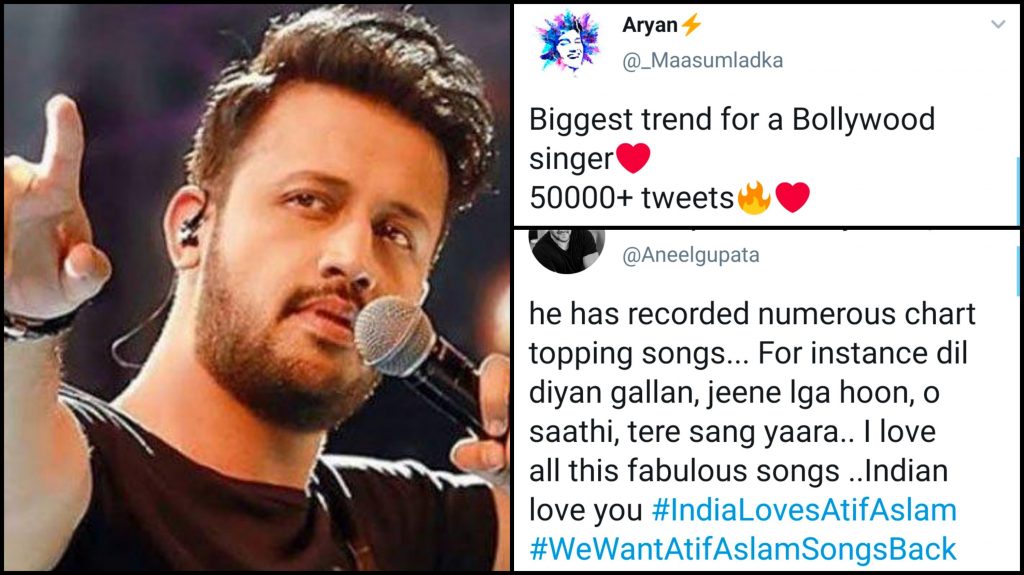 2 days after releasing Atif Aslam's version for Kinna Sona from the movie 'Marjavaan,' T-Series faced tons of flak from Indians as they trended the hashtag #AtifAslamNotWelcome and demanded that the song be removed asap!
The trend also caught the attention of Maharashtra Navnirman Sena (MNS) and their President of Cine Wing issued them a stern warning to take the song down:
WARNING TO TSERIES
Take down Pakistani singer Atif-Aslam song from your TSeries youtube channel immediately else we will take a major action against @TSeries. #TakeDownAtifAslamSong @itsbhushankumar @mnsadhikrut @rajupatilmanase

— Ameya Khopkar (@MNSAmeyaKhopkar) June 23, 2020
The music label has since then taken the song down and has issued an apology for not complying with the All Indian Cine Workers Association (AICWA) which has banned artists from Pakistan from working across the border.
And while hastags like against Atif Aslam have been trending in India, his fans have started #IndiaLovesAtifAslam and #WeWantAtifAslamSongsBack to support him!
Indeed #IndiaLovesAtifAslam I grew up listening to your hymns ❤@TSeries please we want him back

— Mechanophilia_51 (@Mechanophilia51) June 24, 2020
His fans were full of love!
he has recorded numerous chart topping songs… For instance dil diyan gallan, jeene lga hoon, o saathi, tere sang yaara.. I love all this fabulous songs ..Indian love you #IndiaLovesAtifAslam #WeWantAtifAslamSongsBack pic.twitter.com/g2nwCDAXUR

— Anil Gupta Salman bhaijaan fan💞 (@Aneelgupata) June 24, 2020
People were sharing what others had to say about his kindness:
See what Atif aslam said when indian film director @IamOnir asked him to sing for a low budget movie
"PURAANE RISHTE HAI HAMARE"
~ @itsaadee #IndiaLovesAtifAslam pic.twitter.com/2uBOPLzCQ5

— Aryan⚡ (@_Maasumladka) June 24, 2020
The trend had more than 50k tweets in support:
Biggest trend for a Bollywood singer❤
50000+ tweets🔥❤
.
Congratulations to each n every @itsaadee fan.
We did it. We won Mr. STARK❤#IndiaLovesAtifAslam #atifaslam pic.twitter.com/pD38ZACQqR

— Aryan⚡ (@_Maasumladka) June 24, 2020
Many were throwing shade at other fans:
#IndiaLovesAtifAslam trends for more than 10 hours on Twitter with over 45k+ tweets

Le other Bollywood singer to their fandom: pic.twitter.com/HjFbimm4bu

— Aryan⚡ (@_Maasumladka) June 24, 2020
Singer Tony Kakkar too tweeted in support of Atif Aslam but deleted the tweet after facing severe backlash:
Music Has No Boundaries ❤️ @TSeries @itsBhushanKumar#WeWantAtifAslamSongsBack #IndiaLovesAtifAslam #AtifAslam pic.twitter.com/iCcBS4R3IZ

— Abhishek Singh Rawal (@Abhishe51982268) June 24, 2020
Fans were adamant that Atif Aslam cannot be replaced!
He is everyone's favorite..
You can't just replace him#WeWantAtifAslamSongsBack @TSeries pic.twitter.com/TzZ3hMw03D

— Wolfie Aadeez (@TheWhiteWolf595) June 23, 2020
Lol!
#IndiaLovesAtifAslam #WeWantAtifAslamSongsBack
Atif Aslam haters right now: pic.twitter.com/o1aXYfiiZF

— Aryan⚡ (@_Maasumladka) June 24, 2020
Music has boundaries when it's India 🤷‍♀️
We want our voice king ATIF ASLAM. Music has not boundaries #WeWantAtifAslamSongsBack #WeWantAtifAslamSongBack @TSeries pic.twitter.com/8ptpcdN9xU

— Risha dilrukshi (@YesPilana) June 24, 2020
What do you think about this whole fiasco? Let us know in the comments below!