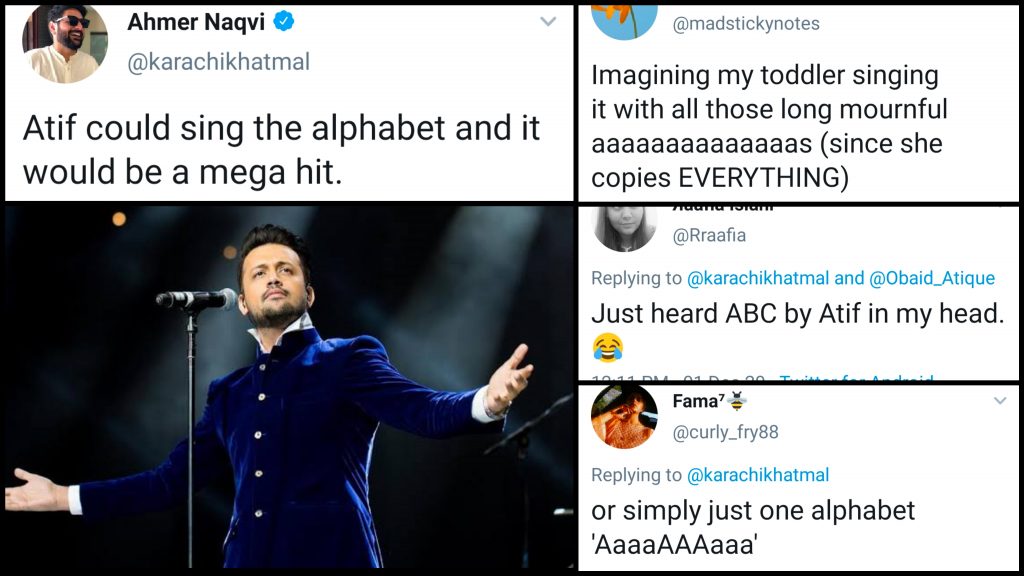 Atif Aslam is a name that needs no introduction, even across the borders, the man has a reputation of turning everything he sings into gold, even the alphabets!
Atif could sing the alphabet and it would be a mega hit.

— Ahmer Naqvi (@karachikhatmal) December 1, 2020
And this is the first time we've seen the internet unanimously agree!
or simply just one alphabet 'AaaaAAAaaa'

— Fama⁷🐝 (@curly_fry88) December 1, 2020

Oh my God!
That too, in lower case.

— Asim Fayaz (@asim_fayaz) December 1, 2020
The most melodious version of ABC we've heard:
Just heard ABC by Atif in my head. 😂

— Яaafia Islahi (@Rraafia) December 1, 2020
Absolutely!
I believe it has to do with him being true to his art and type and also his voice is quite unique from all the other contemporaries I guess!

— Shuja Hasan (@shujahoonmein) December 1, 2020
People were especially in love with his rendition of Kadi Te Hans Bol:
my parents almost always hate renditions of old songs with lots of extra music so i played his velo song for them saying apko nahi pasand ayega waise and they've been making me play it each time we'vr gone out ever since https://t.co/cXi3fLw6Uj

— #kainatday (@sohaaari) December 1, 2020
We refuse to believe Atif has any haters!
Haters ko tamacha marna koi apse sikhe🥳🥳#AtifAslam https://t.co/XJbaOEUwNJ

— HBD Naeem & Abhi Darling (@IamAfju) December 1, 2020
Nowhere!
Aaaaaaaahhhh…. (Atif croon)
Where is the lie. https://t.co/DdYUoJh8Eb

— Nitin Parmeshwar (@gyaan_doo) December 1, 2020
Hahaha!
HONESTLY grateful to him for not having sung it already I have a toddler my life would have been OVER https://t.co/IlZqt592vA

— Husn Hai Suhana (@Fatmounh) December 1, 2020
Many were in awe of his ability to resonate with the masses:
Some people are blessed. He has unique ability to resonate with messes. The first legend of Pakistani Music in 21st century along with @AliZafarsays #AtifAslam https://t.co/eV6uC5uh1s

— Unconventional Pakistani (@TheBaryarLens) December 1, 2020
Yaaas!
King for a reason🤴 https://t.co/zGnxJWSOMs

— humna🌻 (@Humssssss) December 1, 2020
I mean, no one does it better than him!
For instance "aaaaaaaaaaaaaaaaaaaaaaaaaaaaaaaaaaaaaaaaaaaaaaaaaaaa" https://t.co/qyoB8XcMII

— hairaan pareshan do kilo naan (@mahobili) December 1, 2020
Fans were recalling the early 2000s when cassettes were all the rage:
I still remember buying my first ever cassette when his first album was released. It's been a wonderful journey. Still love his music like I did back in the days. He has earned it to hit big even if he sings ABC.@itsaadee ❤

— Kanwal Wahab (@kiwiiwahab) December 2, 2020
How can anyone ugh him!
I SWEAR. He has grown as a singer over the years so much that I recently went from 'ugh' to 'mera fita!'

— oye maraaa (@Mara_ness) December 1, 2020
Exactly!
And an even bigger hit in India

— A spiked lee joint (@sharmadishant) December 1, 2020
Power in every vocal he holds!
power in the ballad voice he holds

— Abbas Ali (@AbbasAl2020) December 1, 2020
Haha, it'll save teachers a lot of time!
Imagining my toddler singing it with all those long mournful aaaaaaaaaaaaaas (since she copies EVERYTHING) https://t.co/QM1LP6mZMi

— ~fatsomama~ (@madstickynotes) December 1, 2020
People were wholeheartedly agreeing!
Agree with that lol.

— Afifa Aadil 🇵🇰🇨🇦 (@aafifa) December 1, 2020
Couldnt agree more!

— Hopeless ™ (@Panaceaaaa) December 1, 2020
Couldn't agree more 🤩

— Maria Rauf (@mari23392) December 1, 2020
Do you agree with the netizens? Let us know in the comments below!