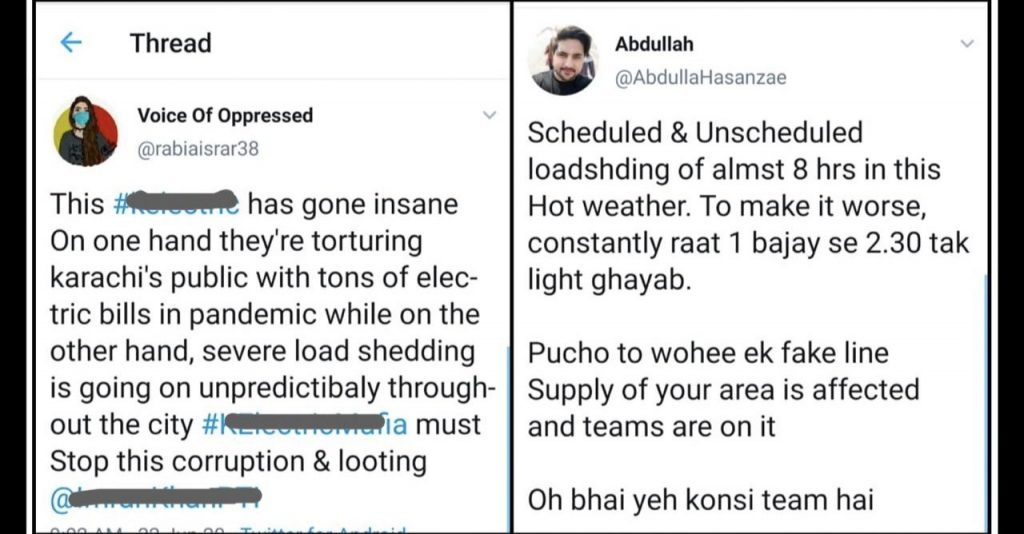 As Karachi witnesses one of the hottest summers, power outages have been more frequent and longer for the citizens, with some areas experiencing load shedding for 5-6 hours almost daily in the name of 'technical faults.'
With the weather so humid and hot, the unannounced outages have the citizens furious, various protests were held today against this injustice, and the internet has lots to add to the issue!
We are facing 7.5 Hours or more Loadshedding per day in our area۔
Whenever we asked about relief they say that we are not getting full recovery۔
If we try to argue they make as defaulter۔#KElectric is a Mafia#KElectricMafia pic.twitter.com/PsgdpOiDxx

— ⒶⓏⒶⓂ ⓎⒶⓈⒺⒺⓃ 🇵🇰 (@Azam_Yaseen) June 24, 2020
People were asking if Karachi was even owned by someone:
What the is wrong with #KElectric? Load shedding in the name technical faults that too in this Hot weather is not on! Any owner of #Karachi?

— mohsin (@M0H5IN) June 24, 2020
People were also furious at the overbilling:
KE is crossed all limits, over billing, fuel adjustment, taxes, unscheduled load sheddings are routines.

They deliberately choose month's last dates for billing, so salaried persons can't pay it thus KE charge thousands as late fees.#KE_ShamefulServices #KElectric @PakPMO

— Fight with Corona (@dr_naveedkanju) June 24, 2020
People were very angry!
You're Gonna Burn in Hell….
2 hours Off, 10 minutes On, 4 hours Off, 2 minutes Off
You don't even pay for our Appliances and charge us Heavy after wrong readings…
Do you even have a Family or just exist to irritate us @KElectricPk #KElectric #imrankhanPTI #Loadshedding

— Saqib Punjwani (@SaqibPunjwaniX) June 24, 2020
People were also complaining at the odd hour loadsheddings:
What the hell is wrong with you? @KElectricPk How could you do load shading in the 5AM in the morning. Don't you have other schedules in the day? You are mentally torture people. Don't you care about kids and old people? 5AM in the morning? #KElectric #KE_ShamefulServices

— Sikander (@sekandaraly) June 22, 2020
Unacceptable!
Nowadays #KElectric has started a new stupidity. Exactly at 2 o'clock in the midnight, for one and a half hours, the whole of Karachi is plunged into darkness.#KElectricMafia pic.twitter.com/bNabTKDKTj

— Muhammad Hasan ⚠🔞⛔🚫♠️♠️♠️ (@Markhoor_Says) June 22, 2020
People wanted answers!
Hey @KElectricPk ,

Can you please let me know the reason of this prolonged load shedding in this intense heat and humidity. Why this insensitivity?#KElectric

— Javeria Khan (@ImJaveria) June 24, 2020
Some were fuming!
Unannounced loashedding along with announced loadshedding in area which they state exempted from loadshedding…no light daily since morning till evening….in the name of maintainance shutdown following fault shutdown etc#KElectricMafia#kelectric #chorkelectric @KElectricPk pic.twitter.com/93OFe2JbEz

— Bahjatmusab (@iambahjat) June 22, 2020
People were sick of the same replies:
Scheduled & Unscheduled loadshding of almst 8 hrs in this Hot weather. To make it worse, constantly raat 1 bajay se 2.30 tak light ghayab.

Pucho to wohee ek fake line
Supply of your area is affected and teams are on it

Oh bhai yeh konsi team hai
#KElectricMafia#kelectric

— Abdullah (@AbdullaHasanzae) June 22, 2020
Some have been wanting to file a case against them:
Does anyone know how to file a human rights violations case against @KElectricPk in international Court of Law for Karachites?
Pakistani judiciary and federal and provisional government seems to be on #KElectric payroll, so no hope from them.#KE_ShamefulServices @ImranKhanPTI

— Umair Munawwer (@Umair_Munawwer) June 23, 2020
People from middle class were worried:
300 sy uppar units per 17.60 ka rate lagana totally unjustified hai.
Middle class ko ragra dy kr rkha hwa hy #Kelectric my :/

— Nouman Younas (@Noumaan22) June 17, 2020
People were furious at their customer service:
Dear @KElectricPk
Even after paying all the hefty bills and heavy taxes, your services still remain worst.
PLEASE PLEASE Get lost if you can not solve the issue of loadshedding in 21st century!! #KE_ShamefulServices #Loadshedding #KElectric

— owaisbehra (@Owais_OB) June 24, 2020
Some were asking where the Sindh government was:
Our old age citizens of Karachi are dying due to this load shedding in this extremely hot weather,where is sindh gov ,where is humen organizations #KElectric

— Shafiullah (@Shafiul54050011) June 23, 2020
People were done with the games:
This #kelectric has gone insane On one hand they're torturing karachi's public with tons of electric bills in pandemic while on the other hand, severe load shedding is going on unpredictibaly throughout the city #KElectricMafia must Stop this corruption & looting@ImranKhanPTI

— Voice Of Oppressed (@rabiaisrar38) June 22, 2020
What do you think about this shortfall? Let us know in the comments below!