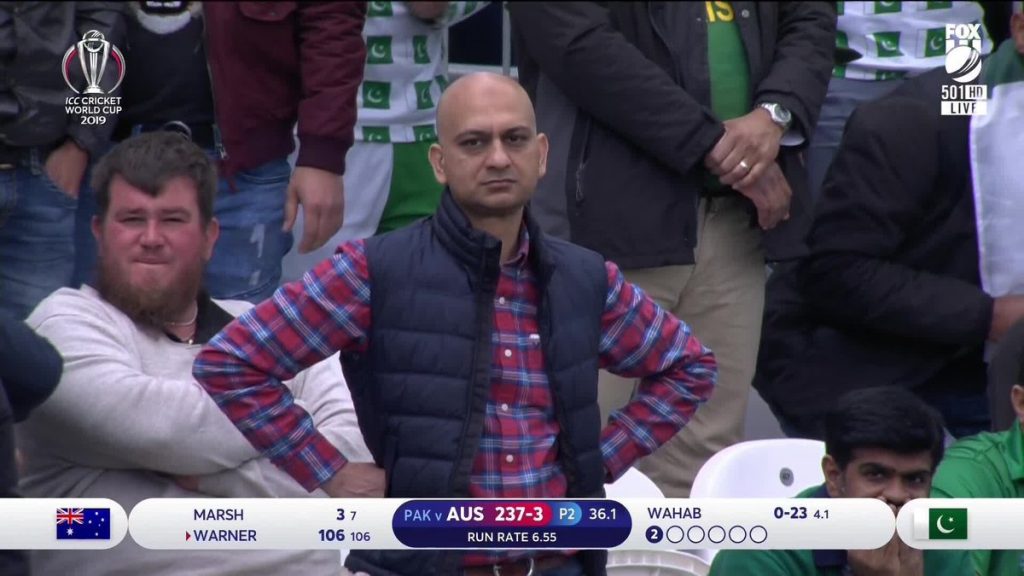 The internet is a funny place, one minute you're a nobody and the very next minute you're a legendary meme! Same happened with one of the match attendees in London during Pak vs Aus match whose reaction (other than summing up yesterday's match) caught the attention of so many that he is now an epic meme and is all over Twitter and Faebook!
This Guy is the Mood of whole Awaam watching the teams fielding…. pic.twitter.com/RK9OTGQlXb

— Taimoor Zaman (@taimoorze) June 12, 2019
This is exactly how this guy turned into a meme with his epic reaction and the memes that have been floating around are absolutely hilarious and will put you in fits of laughter, because relatable AF!
Dettol kills 99.99% germs. The .01% germ after all its friends died pic.twitter.com/gHilDobfI6

— Rao (@CasualRao) June 13, 2019
You don't mess with the genie
Me: And for my last wish, I want 3 more wishes

The Genie: pic.twitter.com/aqcYuxj2eZ

— Ghaura (@ghauraghaura) June 12, 2019
Farishton, why?
*Buys a dog*

Rehmat ky farishte: pic.twitter.com/tQuD2L2D3t

— Moiz Writes (@WritesMoiz) June 12, 2019
He probably recommends Colgate:
9 out of 10 Doctors recommend Sensodyne

10th Doctor : pic.twitter.com/mQz7mwbMKj

— KHURRAM NASEER 🇵🇰 (@BhattiGalSun) June 12, 2019
Hahaha, STOP!
92 mein be awam ky yehi expressions thay pic.twitter.com/2IbW5R4zgs

— Elon Khusk (@therealsnorky) June 12, 2019
Ganday anday!
How my mom looks at me when the e molvi in her iPad is giving lecture on obeying parents https://t.co/1BabbQ3H9O

— Mav (@404mav) June 12, 2019
She be lyin'
When mom tells you that she won't beat you up if you tell the truth. https://t.co/H5MuzMYVHH

— dionysus (@baapeazam) June 12, 2019
Thesis breaks are real, okay?
my one brain cell looking at me when i type two sentences of my thesis and take a break https://t.co/1EiefjQVvm

— daenerys will always be my queen (@aliciamayemory_) June 12, 2019
Chhittar!
When you come home past curfew and dad is standing at the door https://t.co/RVeHDy85vV

— Ghaazaalaaa (@GhazalaSulaiman) June 12, 2019
Thenx, luv it…
Me looking at myself in the mirror after I tell the barber I really love the haircut pic.twitter.com/Vm1AyAhW1L

— Mav (@404mav) June 12, 2019
*sobbing*
Us watching our batting collapse for the 1968719th time: pic.twitter.com/WRJLO3uqid

— QUEEN. (@Cocaa_Caine) June 12, 2019
Tordoh, sub tordoh!
10 yr old me Breaks a glass
My mom: pic.twitter.com/EuuGtANiDi

— Rana Talha Asfar (@RTAluvzAfridi) June 12, 2019
Bahaaron phool barsao…
Me standing at the airport waiting for the team to return. pic.twitter.com/Sk3ybg9ya4

— Jerry (@HeyyJerryy) June 12, 2019
Yes, the only two moods we have, there's no in between:
My only two moods. pic.twitter.com/LoYemumpRz

— Jibran T. Siddiqui (@jibransiddiqui) June 12, 2019
SAME!
8 yr old me when uncle would ask "mama ziada pasand hein ya papa?" pic.twitter.com/ETqnIkyiwv

— Mav (@404mav) June 12, 2019
Nai ayega *cries*
Me : Apna time aye ga
Time pic.twitter.com/Uve9CreLkU

— Talha Butt (@TalhaBu85745004) June 12, 2019
Umm, sorry maa!
Drinks directly from the bottle

Mom: pic.twitter.com/SOLnuid0nG

— nma (@namaloomafraaad) June 12, 2019
Major Adnan Sami, FTW!
Adnan Sami realising all the secret agent memes are coming back pic.twitter.com/DFqbFljnFP

— Mav (@404mav) June 12, 2019
Umpire: Am I a joke to you?
The umpire when Shadab takes a review pic.twitter.com/8B9JwPi0ZT

— Halaku Khan (@HalakuKhan_) June 12, 2019
Hello? Eat us!
Teenday in freezer watching me order pizza for the 3rd time this week pic.twitter.com/k7ZYhs0V7i

— Mav (@404mav) June 12, 2019
Ooof, desi parents 1 – 0 aulaad
"gandi aulaad na maza na sawad" pic.twitter.com/rZRSV6Ma3M

— A h m e d (@Ahlvled_) June 12, 2019
SNAKES!
When you see your friends enjoying their life without you. pic.twitter.com/OaHcsc4n7c

— Shumail (@Shumyl) June 12, 2019
Paisay toh darakhton pe lagtay hain na?
desi dad looking at you as you turn on the air conditioner pic.twitter.com/midsOvbZ2Z

— Ranting Pakistani (@RantsPakistani) June 12, 2019
Time to break out!
Your skin every time you drink coke/Pepsi (stay hydrated, friends) pic.twitter.com/qYZfi91HyF

— Mav (@404mav) June 12, 2019
Hahaha, can all the husbands relate?
Husband: Breaths

Wife: pic.twitter.com/XagTPPWs9p

— Faisal❗️ (@FAlahori) June 12, 2019
Yar, ami!!!
Jab aap poora shehar ghoom kar ajayein, aur phir amma bolein anday double roti laanay hain pic.twitter.com/6cm48fwJWh

— کاظمی (@HaayeShabbir) June 12, 2019
Oh…
My weighing scale looking at me when I open food panda pic.twitter.com/kscS0ryR7X

— Mav (@404mav) June 12, 2019
Ah, someone pay him!
When you accidentally become a meme but don't get paid for it: pic.twitter.com/rWwHxiCd2l

— Paul (@mrithejester) June 12, 2019
As the memes started trending, ICC joined in too by dedicating a symbol emoji to him!
(•_•)
<) )>
/ #WeHaveWeWill#CWC19 pic.twitter.com/gkDwE2MMji

— ICC (@ICC) June 12, 2019
Haha, close enough!
(•_•)
<)   )>
/    \
What are your favorite memes? Let us know in the comments below!