By Zurain Imam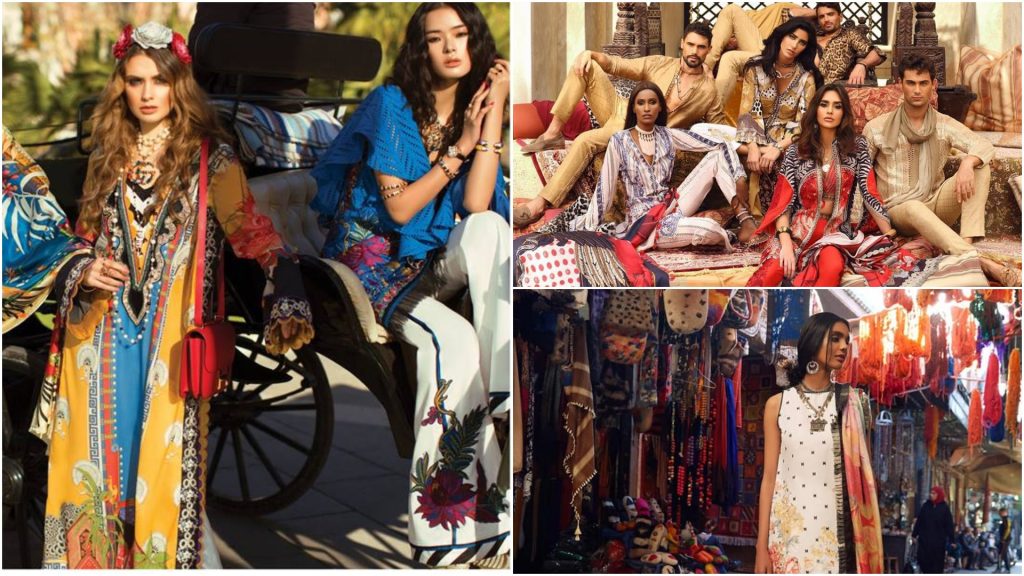 With a new lawn collection launching every other day, shopping for lawn this year may seem a little daunting. Here are DIVA's top 7 picks for the most enchanting and covetable spring/summer lawn collections of 2019. Come on ladies, you know you can't resist…
ÉLAN'S 'ROAD TO MALLORCA '19'
Set against the backdrop of an island whose ancient stone walls bear the mark of myriad cultures melds lawn, organza and silk into 15 designs and takes inspiration from exotic eastern tapestries. Using a bright and colourful palette with hints of lilacs, lavenders and dusky pinks juxtaposed with vibrant hues of moss and saffron that brighten up the lush foliage the collection is priced from PKR.7,490/ to PKR 8,290 has a Boho-chic resort vibe.
 "The Elan Lawn 2019 campaign brings you the ultimate manifestation of summer, rendered in vivacious colours and crafted on sumptuous fabric keeping with the adventurous spirit of the Elan Woman. It is a collection that will enthrall you."
– Khadijah Shah
SANA SAFINAZ SS19 LUXURY LAWN
Shot in romantic Venice, ostensibly a travelogue of the brand's wanderlust, features 16 designs that make use of an alluring meld of white and wispy soft pastels with dramatic pops of prints for the suits and pure silk and tulle for the oversize floral printed dupattas. The painstakingly developed lattice-work, embroidery techniques and add-on printed borders that can be used on statement pants or sleeves and 3D embroidered separates allow the SS woman to breathe through the summer heat in classic style.  Sana Safinaz SS19 Luxury Lawn offers a variety of sophisticated summery looks starting from PKR 7,490 to PKR 7,990.
"We have received excellent feedback from happy clients on the paler hues used and an emphasis on embroidery rather than print.  It's a softer, more feminine look that is particularly suited for our hot climate.  Luxury Lawn is formal enough to be worn to a monsoon wedding and you can even use the silk dupatta and style it as a chic tunic.  The possibilities are endless."
–       Sana Hashwani and Safinaz Muneer
ZARA SHAHJAHAN's 'MOROCCO: A LOVE AFFAIR WITH MARRAKECH' LAWN '19 COLLECTION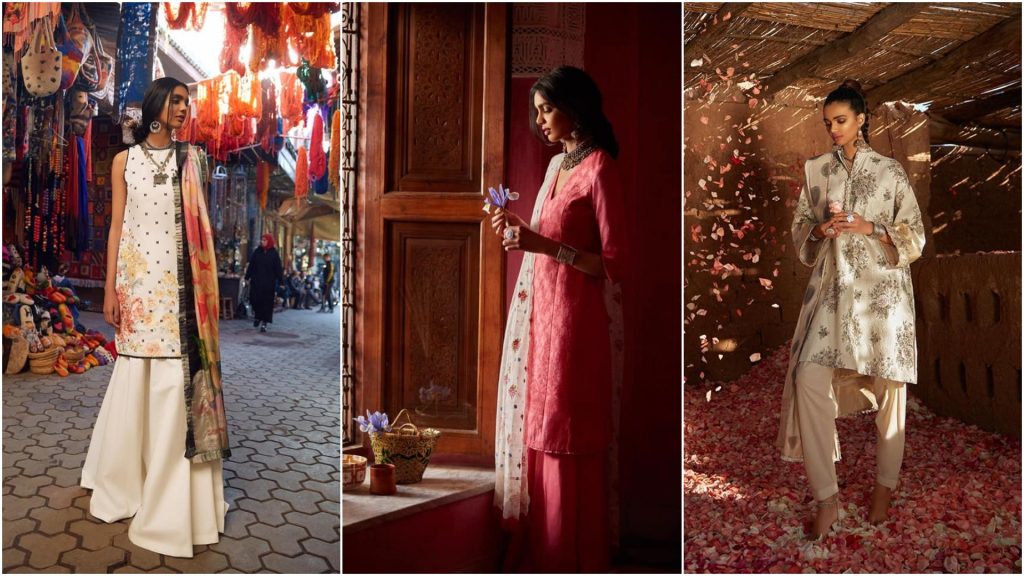 Inspired by a locale that is renowned for its timeless influence in the fashion world includes 15 designs including white, ivory, soft mint, sunflower and light cerise,  The focal appeal of the collection is the experimental fusion of myriad fabrics combining jacquard, silk, chiffon and pure Pima cotton, put together creatively through a range of techniques including Shiffli, cross-stitch, kantha and tie dye. Prices range between PKR 6,850 to PKR 8,100.
 "I want the brand to show a balance between femininity and subtlety, which transcends traditions into present day." This philosophy leads the brand through its various collections, representing women from all walks of life."
– Zara Shahjahan
ZAINAB CHOTTANI's SPRING SUMMER" LAWN 2019 COLLECTION
Inspired by the bucolic summery landscape of the Cameron Highlands and the vibrant freshness of spring and summer, the collection uses fine Supima cotton in dewy hues and enchanting pinks, melding floral embroidery with prints inspired from Renaissance heritage  and Persian art to create 10 summery designs with embroidered laces on organza; chikankari embroidery; embroidered necklines and cutwork borders  dovetailed with specially-made hand loom dupattas in vivid Spring colours providing the perfect touch of value added luxury at PKR 7,690  to PKR 8,690.
 FARAZ MANAN'S RUSTIC GLAMOUR' SPRING SUMMER 2019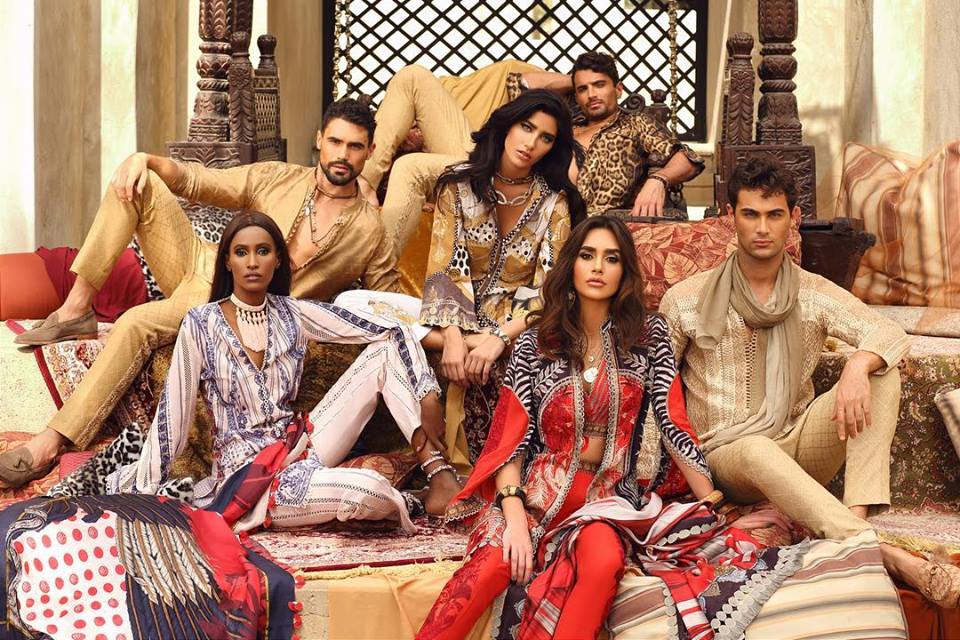 FARAZ MANAN's SPRING SUMMER 3-piece Lawn 2019 collection 'RUSTIC GLAMOUR' is inspired by the purity of organic Nature and is created with 100 % Pima cotton with 20 unique designs using vibrant colours set against earthy colours, accentuated with plumage, animal skin and palm tree prints and the addition of cutwork organza borders, Schiffli embroideries and offset with pure silk dupattas. Each individual 3 piece suit is priced at PKR Rs. 7,500
"Rustic Glamour' is a collection of 20 unique designs to be worn and enjoyed in  the long summer days and evenings for the Faraz Manan woman who believes in elegance, comfort style and quality."
– Faraz Manan
FARAH TALIB LAWN 2019 SPRING/SUMMER COLLECTION
Buoyed by 15 designs in hues ranging from delicate rose and lavender to sunny amber and kiwi; to vibrant fuchsia and ruby to noir black embellished with intricate Mogul, mosaic and floral embroidery offset with floral silk dupattas. Cool, summery and sophisticated collection is priced at PKR 7,890.
ASIM JOFA LUXURY LAWN 2019
With Sonya Hussyn as its face and shot at London's Kew Gardens & Moor Park Golf Club, the collection is inspired by the transition into spring which comprises of three-piece suits in 12 designs.  Highlighted with architectural and geometric embroidered motifs created with  experimental anchor-thread, kachcha resham, aari, tanka and lorex along with conventional threadwork, zari and sequins. Short and elongated shirt silhouettes and crinkle chiffon, net and organza add-ons offer versatility and elegance at PKR 7,990.
"With this collection I have tapped into the beauty of nature drawing inspiration from an array of flora, diversity of colours and pattern to formulate a collection that blends both aesthetic and comfort to give my clients a complete experience of luxury and style."
– Asim Jofa