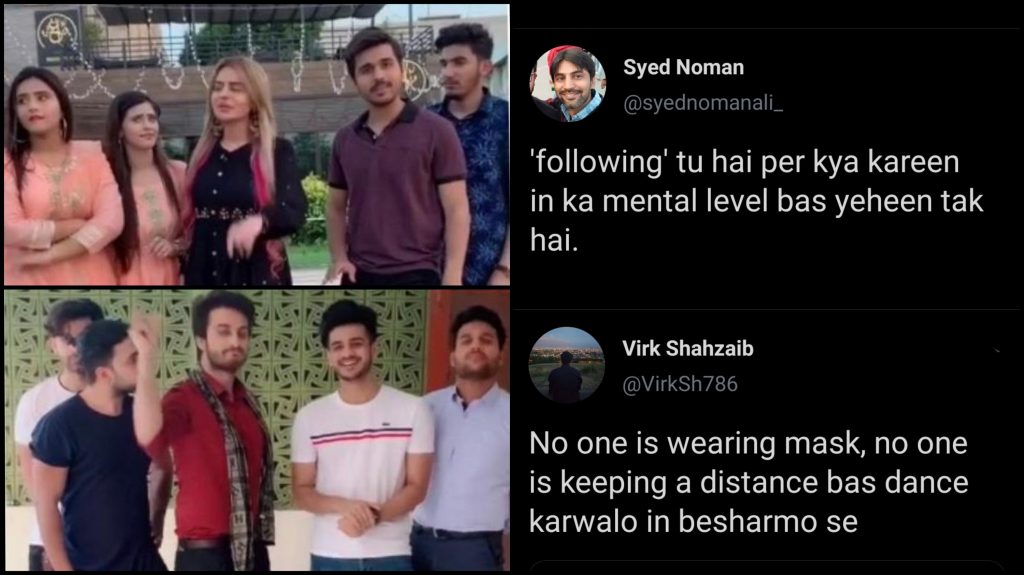 In an attempt to educate the masses on Corona and the recommended SOPs, Punjab government strategised for an initiative where they planned to use TikTokers for creating general awareness. The decision was met with some criticism initially but a lot of people agreed on how big the reach was in Pakistan and how the strategy might as well pay off!
Using TikTok stars to create awareness about the Corona Virus is probably the best thing the Governor of Punjab has done throughout this Corona virus outbreak.

Don't let your classism undermine the impact TikTok content creators can have in making a difference! https://t.co/qeTb85iBa2

— Shehzad Ghias Shaikh (@Shehzad89) June 4, 2020
However, as the videos started rolling out, people found most of them to be in bad taste:
People took to Twitter to share how they felt:
Considering one of these tiktokers was invited to the session in order to raise the awareness regarding the SOPs of Coronavirus. pic.twitter.com/wPsPKBIZw7

— ~S (@ssabasays) June 10, 2020
People who were initially supporting the decision were disappointed too!
Nothing is working for us lol. I actually thought Tik Tokers could be of some help seeing they have MILLIONS of followers and can spread actual awareness especially to the lower middle class who is an active user of Tik Tok, but screw this. https://t.co/jqQJu9CT4z

— Rana Talha Asfar 🇵🇰 (@RTAluvzAfridi) June 11, 2020
Some were angry that the information being provided wasn't even accurate:
" thori see cheez per test" lmaoo corona starts with flu/99 temperature (for some) wtf are you on about? https://t.co/q4Yniqtdk3

— . (@Khaaksaar__k) June 11, 2020
Many found the message to be straight up flawed:
oh so the govt is using tiktokers for the same bullshit message "ghabrana nahi hai" and shit? I'm disappointed actually said that it was good to reach masses but of no use if the message is flawed. Rest in peace, in advance https://t.co/fIKKyd0hB5

— anastipu (@teepusahab) June 11, 2020
People were also furious at how none of them were following the SOPs themselves:
Distance rakhe bagher, mask pehne bagher, koi informative baat kiye bagher, bas mujra kr ke awareness phela di inhone, chutiye! https://t.co/ZEjXkraoMQ

— Sir Saith Abdullah (@SaithAbdullah99) June 11, 2020
No one is wearing mask, no one is keeping a distance bas dance karwalo in besharmo se https://t.co/0OejvslDUZ

— Virk Shahzaib (@VirkSh786) June 11, 2020
People were throwing shade at the Punjab government:
"they have millions of followers. they can reach and create awareness among audiences who are reluctant to follow SOPs"
Ae lo panday wich pai twadi awareness te millions of followers. https://t.co/vkL7c1wvpk

— Sakhwa.🇵🇰 (@sakhwa) June 11, 2020
Honi bhi chahiye!
I'm sorry lekin ab mujhe thori thori ghabrahat honay lagi hai https://t.co/Zvytnvr16T

— aaminah anam siddiqui 🇵🇰 (@amethystress) June 11, 2020
People were impressed with how ✌detailed✌ the video was:
Influencers 🤩 wow beautiful i must say everything is explained wd details 👏🏻 https://t.co/bHe1eb59Bp

— Fiza (@fizaabrar05) June 11, 2020
Kaash!
Yeh video dekh ker Corona wesay he Bhaag jaaye gaa. https://t.co/qOCG7fANFG

— Hassan (@hi__hassan) June 11, 2020
People were not amused:
Yeh kia bakwasiat haiiiii https://t.co/L9IiUJqu1R

— Uncle Shady (@dontlikepalak) June 11, 2020
Bht he koi bakwas 👏🏻👏🏻👏🏻 https://t.co/UyRJoJxrGD

— Rao Absar (@MohdAbsii) June 11, 2020
dunya kathm krdo please https://t.co/POCXoYZx3R

— Mohammed FURQAN (@iBrownWOLF) June 11, 2020
Some had lost hope!
inko agr parha likha k acha content krwane ka samjhaogy na, mgr karengy phr bhi ye mujraa hiii https://t.co/ItSjCAz9el

— Raja mallah. 🇵🇰 (@Rmfied) June 11, 2020
👏👏👏
Bohat zaida awareness phela di ha ,taliyaaan . https://t.co/Ve9mnHni4j

— ف (@PseudoMolvi) June 11, 2020
People had a lot to say:
'following' tu hai per kya kareen in ka mental level bas yeheen tak hai. https://t.co/YR8KA3dZlj

— Syed Noman (@syednomanali_) June 11, 2020
Needless to say, people are furious at the distasteful content that these tik tok stars are churning out in the name of awareness. And while most of the videos are pretty bad, here's the kind of content they'll brighten up your day!
The content we need!!!!!! pic.twitter.com/B2i829mC99

— Shehzad Ghias Shaikh (@Shehzad89) March 24, 2020
What do you think about the awareness videos these Tik Tok stars are making? Let us know in the comments below!