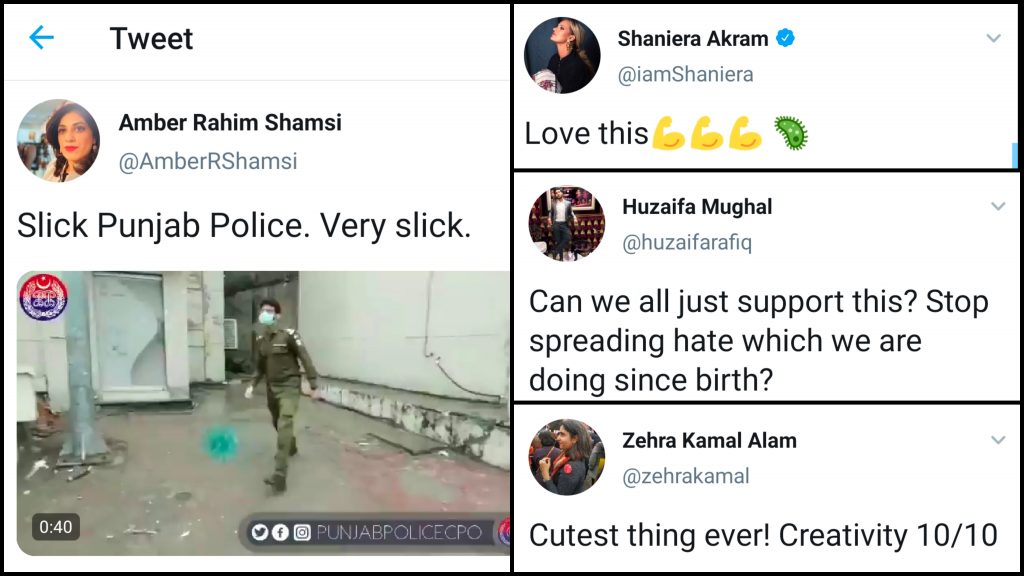 It's commendable how the police force is playing a pivotal role in controlling the spread of corona. Putting themselves at risk, they're doing everything they can to make sure people are following the given SOPs.
And to have people see that, Punjab Police made a special video on them kicking corona's ass, metaphorically and literally:
Slick Punjab Police. Very slick. pic.twitter.com/8mWSmapsLj

— Amber Rahim Shamsi (@AmberRShamsi) May 20, 2020
And their video has the internet adoring them!
This is actually pretty cool tho https://t.co/v0iiA56gbJ

— WPCION Pakistan & International (@WPCION) May 20, 2020
People were living for the creativity:
Cutest thing ever! Creativity 10/10 https://t.co/uEhjYojqhY

— Zehra Kamal Alam (@zehrakamal) May 20, 2020
Amen!
Nicely done. Punjab Avengers. May your struggles be fruitful for the good of people you protect. IA. https://t.co/AwBfUSaUAC

— thearslankhalid (@thearslankhalid) May 21, 2020
Us too, you go girl!
I am genuinely impressed with the high kick of female Punjab police. pic.twitter.com/mWQK0SNTzd

— Sameena E. (@SameenaERana) May 20, 2020
Yaaaas!
This is the content I'm here for. https://t.co/CdVJxFrP1H

— Hashim (@hashim_i) May 20, 2020
Some had other ideas:
It also makes perfect sense if you replace corona with 'awaam' https://t.co/J6s0ihR1dy

— شاخِ نہالِ غم (@sarmadard) May 20, 2020
You've got to do what you've got to do 🤭
Acha so the policeman at 0:08 who puts the gun down and uses a disinfectant, he seems like a rational fella https://t.co/oBQaGGpUCp

— Meshal Malik (@MeshalMalikk) May 20, 2020
People were feeling for the police and risks they put themselves through to help us:
Don't you love it that these underpaid police officers in this video trying to raise corona awareness, will be the people constantly exposed to the virus as the government recklessly opens up the country. Haha. https://t.co/t3t3tHhs8D

— No (@Bluemagicboxes) May 20, 2020
Even Shaniera turned out to be a fan!
Love this💪💪💪 🦠 https://t.co/13pZoH5xJ7

— Shaniera Akram (@iamShaniera) May 21, 2020
😂😂😂
Premier League moments of the season 2019-20 | best league in the world https://t.co/wBmVlk0pd4

— paki stan (@allfunandjamess) May 20, 2020
Agreed!
coolest thing on the internet today😂 https://t.co/X3N6hQvud2

— hasan (@hasansheikh98) May 20, 2020
Some found it endearing:
Only in Pakistan 🤪😂😂😂
It's rather endearing https://t.co/K1AXuQZskB

— Laaleen لعلین ✒ (@laaleen) May 20, 2020
They're never coming slow!
Punjab police is not going slow😂 https://t.co/1iycavxVwH

— ریحان🔥 (@tmhara_kashif) May 20, 2020
🔥
Punjab police kills the style also🔥 https://t.co/Vl5FVObcPJ

— Reader (@PDF_downlod) May 20, 2020
Heh, Punjab Police!
Damn son…Who's the real gangsta now… https://t.co/FV0x6eYMNm

— Majid khan (@Itsyourkhan) May 20, 2020
People were loving it!
I LOVE THIS UFF https://t.co/2iJLSRNC3g

— maim (@Mximnat) May 21, 2020
It is what it is:
O MY GOD THE ENDING, THE THRILL https://t.co/ickPoaGHla

— swe etta lker (@aceariver) May 20, 2020
They're in a league of their own:
NO ONE CAN BEAT PUNJABI HUMOUR https://t.co/VyVF18dxmQ

— 🐼 (@pandafluencer) May 21, 2020
And while many found it endearing, others had a hard time looking at it:
While the sentiment is to be admired…..had a hard time not cringing. Makes the problem seem less serious than it is. https://t.co/daLwEVt3Fj

— Aiza Azam (@Aiza_Azam) May 20, 2020
Some were way too picky:
Which genius conceived this idea….

And the gloves are a source of cross contamination. Why did he touch the khajoor with it!??? https://t.co/yYEdNeHJYa

— Nida Khalid Rasool (@Nidakhalidrl) May 20, 2020
Some found opportunities for Punjab Police:
Punjab Police should explore Tiktok. The opportunities it offer are immense https://t.co/8q7aHkLIKY

— Peshawari Elite (@SfeakerSb) May 20, 2020
Some were just not having it:
This is sending a very wrong message. You CAN NOT FIGHT corona away! And the guy is eating with THE GLOVE STILL ON!!! What is the point of keeping your hands clean if you're going to eat with possibly contaminated gloves. yeh kia soch ke banatay hain log, samajh se bahar hai. https://t.co/AqvJoDOJ84

— Anaya (@Anaya_kh95) May 20, 2020
What do you think about this little video? Let us know in the comments below!